Competition Pack from BMW M certainly implies track battles and knife-edged races against the stopwatch.  Every advantage that can be fed down from the top 500HP M4 GTS will be precious seconds closer to the top of any laptime board.
But Competition Pack has a second meaning to us: the M3 and M4 are feeling major heat from all sides, in a segment they once owned wholeheartedly. The Lexus RC, C63 and even Cadillac ATS-V are all very valid, and oftentimes preferred, rivals to the BMW twins.  Therefore, the Competition Pack helps address some of the odd standard M3/M4 style choices.  The heavy chrome of the standard cars, for example.  Or their kitty-cat exhaust notes.  And perhaps, whisper it, a lack of visceral power?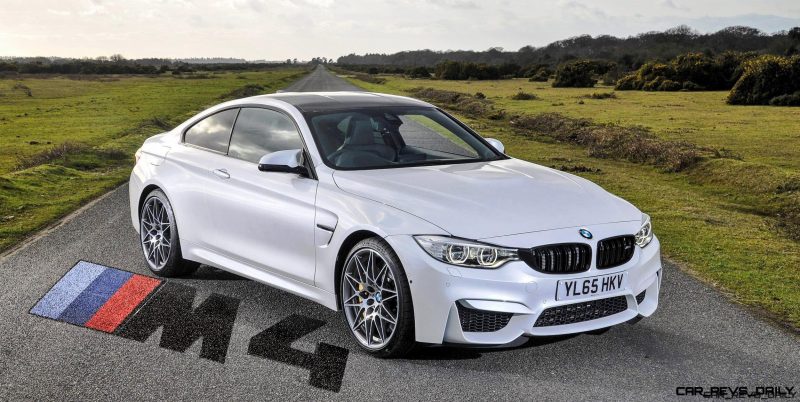 The M3/M4 Competition Pack adds 19-horsepower to achieve a round 450HP, and an equally round 4.0-seconds to 62-mph for the M3 and M4 Comps.
The M4 Cabrio is close behind at 4.3-seconds — with all likely to crack the 3-second ballpark in the USA.
That M4 Cabriolet will enjoy the new gloss-black grilles, windowlines and badging all around… just as much as the hardtops.  But it will get extra joy from the COmpetition Pack's standard M sport exhaust and black chrome tailpipes!
We're confident this UK-launch spec will be headed stateside as well.  The new GTS-inspired OLED taillamps are present on the M3/M4 Compeition Pack models… as well as the Pilot SS2 rubber of the GTS.  But not the carbon-composite alloys of that top GTS model — despite this new-style rim for the upgraded model.
2017 BMW M3 Competition Pack
NEW COMPETITION PACKAGE HEIGHTENS PERFORMANCE OF BMW M3 AND BMW M4
The BMW M3 Saloon, M4 Coupé and M4 Convertible will now be available with a special Competition Package from BMW M GmbH that further enhances the driving dynamics. Upgraded chassis tuning is combined with a 19hp power hike that takes output to 450hp with extra exclusive equipment added too.
Model
Price
from

OTR

Power
Hp
Torque
Nm
0 – 62mph Seconds
Top Speed Mph
Combined Mpg
CO2 Emissions g/km
M3 Saloon with Competition Pack
£59,595
450
550
4.0
155*
32.1 (34.0)
204 (194)
M4 Coupé  with Competition Pack
£60,055
450
550
4.0
155*
32.1 (34.0)
204 (194)
M4 Convertible  with Competition Pack
£63,350
450
550
4.3
155*
31.0 (32.5)
213 (203)
*Electronically limited
The suite of upgrades means an improvement to overall performance. The BMW M3 Saloon and BMW M4 Coupé with optional 7-speed M Double Clutch transmission go from sprint from rest to 62mph in just 4.0 seconds, while the BMW M4 Convertible reaches the same speed in 4.3 seconds. The sprint time for models with the standard 6-speed manual transmission is likewise 0.1 seconds faster in all cases compared to the standard car.
The Competition Package includes Adaptive M Suspension, which has been extensively tuned to the enhanced performance and handling, features new springs, dampers and anti-roll bars, along with reconfigured driving modes (Comfort, Sport and Sport+). The standard Active M Differential on the rear axle and DSC Dynamic Stability Control have likewise been configured to match the upgraded dynamics. Exclusive forged, machine-polished, weight and rigidity optimised 20-inch M alloy wheels with exclusive multi-spoke M styling and mixed tyres (front: 265/30 R20, rear: 285/30 R20) complete the list of chassis upgrades.
2017 BMW M4 Competition Pack