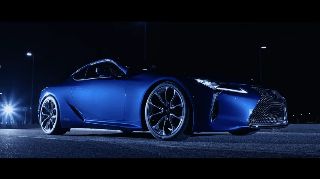 Full details on the new LC500h from Lexus!
Very interesting advancements… conforming to few of the hypotheticals we initially posed below.
For example, would it be a PHEV?  Would it run a V8?
No and no on those fronts.
But fear not: a new Li-ion battery system and four-speed EV transaxle in back complements the3.5-liter V6 up front to deliver a ballparked 4.7-second sprint to 60-mph.  That is deeply impressive for a machine that also offers a new Hybrid manual gear-shift mode and far less CVT drone than possible before.  Lexus's explicit promise of "well under 5 seconds to 100-kph" is great news all around. It mostly points toward the LC500 proper being a 3.9-second stunner!  The extra thrust from its 467-pony V8, ultra-light new chassis architecture and all-new transmission are sure to be nearly a second quicker than the V6 hybrid LC500h.
LC500C Digital Renderings – LC 500 Cabrio
No total power outputs are available yet for the LC500h, but we do have two new see-through mechanical renderings and a few new photos.
Most notable design elements?  Still definitely the extremely low, extremely wide new nose and long-hood proportions. A slimline glasshouse and pinched roofline are both exceptionally sporty details — and make the wide shoulders out back even more pronounced.
So will this be a viable BMW i8 rival?  Perhaps!
Lexus seems to be chasing the e-boost strategy of the Porsche 918 or McLaren P1 more closely than it is mirroring BMW's turbo triple PHEV layout.
Lastly, a new cabin look for Geneva is gorgeous: wearing all-new tech in a nautical-inspired blue, creme and saddle motif that is innovative and sexy — even in pre-show photos!
2017 Lexus LC500h – Latest 25 Images