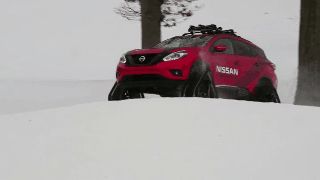 Nissan just revealed three deeply cool concepts for the Chicago Auto Show!
These three comfy family crossovers might be slightly unlikely candidates for tank tracks, and that is what makes them so cool.
The Winter Warriors are crossovers upgraded with black wraps, Nissan accessories and Dominator brand truck tracks.  Sleek red foil wraps look shimmery over dechromed V-motion grilles.  On a white backdrop with dark tints all around makes these quite captivating to see.   Our favorite part of the new look — besides the tracks! — might be the extended V shape in black up the hoods of the machines.  It is a cool idea for DIY guys.
Check out the action video below, along with 60 pics of what was undoubtedly a very fun adventure — driving UP the ski slopes!
2016 Nissan WINTER WARRIOR Concepts
Nissan unleashes trio of aggressive "Winter Warrior" concepts just in time for the Chicago Auto Show
Custom-built Pathfinder, Murano and Rogue ready to conquer extreme winter weather with full snow track systems
Transformation from stock to "Warrior" mode includes Nissan Design America (NDA) – designed custom body wraps and full use of Genuine Nissan Accessories for the outdoor enthusiast
Winter Warrior trio draws attention to record-breaking sales of new Murano and Rogue crossovers in 2015 and full crossover lineup in 2016
CHICAGO – There's winter, then there's Warrior Winter. Snowfall, ice, drifts – conditions that challenge even the most capable of all-wheel drive vehicles. But not these aggressive Nissan models.
In celebration of the Chicago Auto Show, Nissan is giving three of its popular crossovers a little competitive edge – creating one-off versions of its popular Pathfinder, Murano and Rogue equipped with sets of heavy-duty snow tracks. The three custom Nissan "Winter Warrior" crossovers are ready to tackle even the record-breaking snowfalls experienced by many parts of the country already this year.
"Rogue, Murano and Pathfinder are proven all-wheel-drive crossovers that are very popular with customers, judging from exceptional sales results in 2015 and now in January 2016," said Christian Meunier, senior vice president, Nissan Sales & Marketing and Operations, Nissan North America, Inc. "With the Winter Warriors, we wanted to take that idea to the extreme, enhancing the vehicles' advanced systems with special snow tracks, Genuine Nissan Accessories, and a custom exterior appearance."
All three Nissan Winter Warriors feature custom heavy-duty track systems with custom matte-black finish frames. The DOMINATOR® Tracks, from American Track Truck, Inc., are 48 inches long, 30 inches high and 15 inches wide and replace the vehicles' wheels and tires. The suspensions and wheel wells were modified to fit the snow tracks, but otherwise all drivetrain components, including the engines and Xtronic transmissions, are factory fresh.
Nissan Design America (NDA) created identical, custom matte red-chrome body wraps featuring a unique "track" design and Nissan "Winter Warrior" signage. A range of Genuine Nissan Accessories are also fitted to the three Winter Warriors, including cargo area protectors, all-season floor mats, roof rail crossbars and rear bumper protectors. They also each feature 9×9-foot hatch tents for true hardcore winter camping enthusiasts.