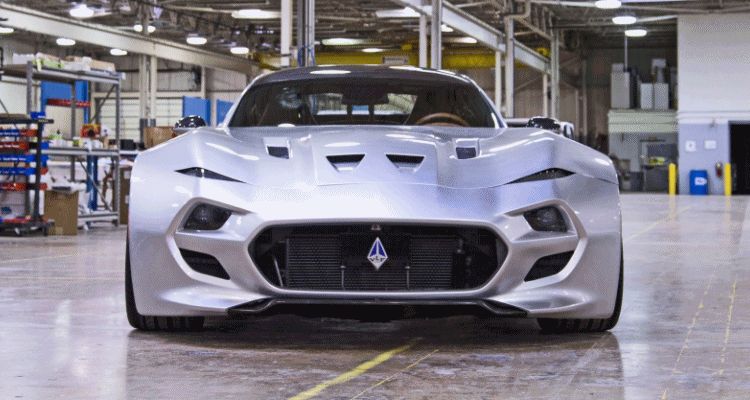 A new supercar is always a welcome surprise — and this one is like a gift that keeps on giving!
The Force 1 V10 is the second launch model of rapidly-expanding VLF Automotive — a collabo and evolution on the VL Destino plans revealed in 2012. That car is now available for sale to owners as a Fisker Karma with an LS9 V8 engine swap instead of its previous turbo EREV powertrain.  A new nose and tail — now with quad square exhaust pipes — now tops out at 200-mph and delivers a 3.9-second sprint to 60-mph.  The unreal lowness of the four-seat super-sedan is still live and in effect — with the 21-inch alloys almost half as tall as the vehicle's roof!  A gorgeous machine, and only the first step for the VLF ramp-up.
VL Is Now VLF
So how did "VL" become "VLF" ?  It gained a new partner!
THE "V" and "L" stand for Villareal and Lutz, by the way, the original partners in this project. Lutz needs no intro but Villareal might: Gilbert is a manufacturing and engineering expert who shares a nice 'meta' view of the car business. And the potential for small-batch manufacturing for startups to sell road-legal cars to US and global shoppers.
The VL now adds two more partners, Henrik Fisker and Bob Keating — a Viper racing guru.
Fisker is now a managing partner for the firm — adding that "F" to the name.
MAKE IT BEAUTIFUL
The headline and neck-swirling effects of Henrik Fisker's beautiful design vision are well-proven.  This is the man behind the BMW Z07 and Z8, after all, not to mention the Aston Martin DB9 and many others. More recently, Fisker has been killing bespoke customs and OEM motorcycles for a variety of firms. Galpin Auto Sports — a huge Ford dealer group's in-house skunkwerks in SoCal — green-lit the custom Fisker ROCKET Mustang coupe and Speedster.  Their all-carbon upgrades take the Mustang design to new heights — a real-life concept car you can drive to work and the grocery store. All-carbon panels for the Mustang are quite spendy mods, though: the Rocket's $130k price limits its appeal.
Not to mention limited revenue upside for Fisker, we have to assume.
MAKE IT FOR REAL
VLF looks like a good home for Fisker's small-batch exotic designs. As a likely equity partner, he has skin in the game for VLF Automotive and will be heavily invested in turning dreams to greens. 
Yes, just like us, Fisker and VLF Automotive want that plata!  Revenue for the firm will be modest in 2016: production estimates for the new Auburn Hills factory are under 500 units this year.  Just 50 of those will be Force 1s.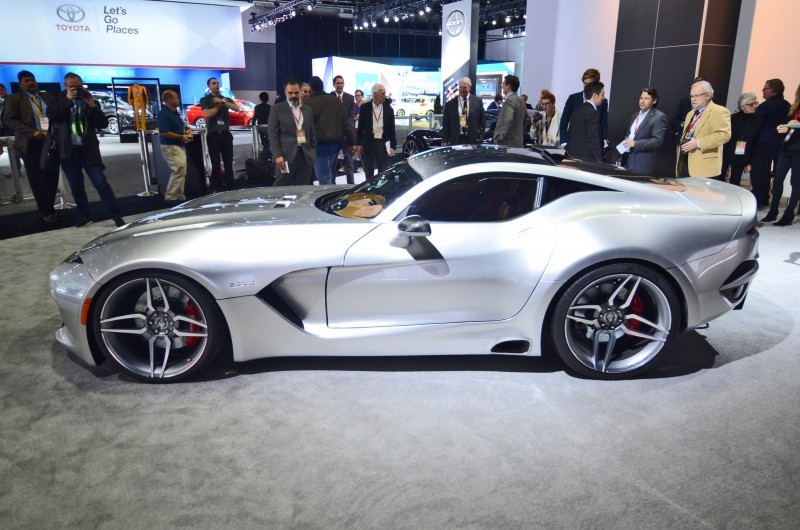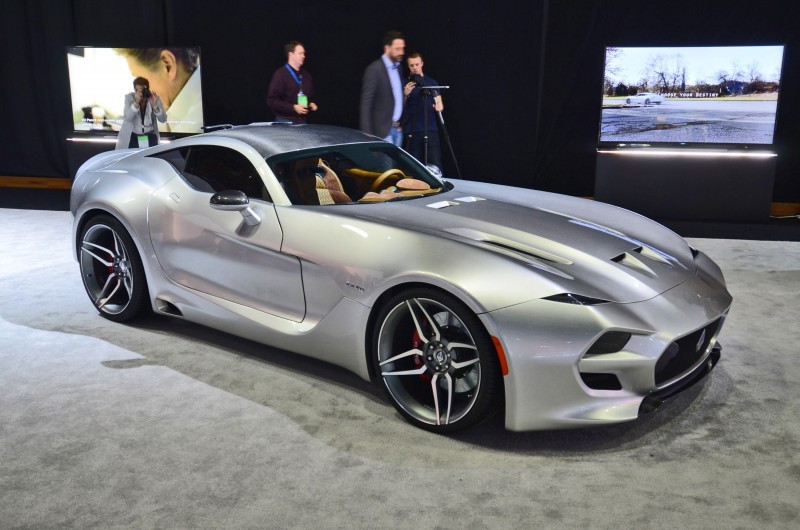 MAKE IT LEGAL
The Destino's Karma origins are easy enough to understand, and will let the car's existing crash-test approvals and cerification stay valid for the Destino evolution of the car.  Similar pre-approvals for the LS9 V8 engine shortcut what is often an excruciating and expensive — not to mention labor-intensive — US road legality pre-requisites.  This is similar to Fisker's mid-2000s restyling ventures — upgrading the BMW M6 and SL63 with unique and exotic exteriors.
That template applies to this new Force 1 as well: it is an upgraded Viper under the new all-carbon exterior.
MAKE IT EXOTIC
The design of the Force 1 is enough to make a pants tent.
Its extreme chopped intakes, carved-out central intake and scowling LEDs make for a look unlike any Viper.  There is a blocky, mechanical purity to the F1 (for short) design that feels more modern, more exotic and much sexier than the factory Viper.
The proportions obviously need no introduction — WIDE and LOW in all caps from all side.  A clean re-expression of the glasshouse is a win/win: this flowing sliver of black quarter-window glass arcs up and tight to the fastback roofline in profile. The up-kick of the side glass also brings the HUGE real fenders into stark relief.
It is a seriously gorgeous exotic supercar.  One unlike anyone will ever have seen before or since.
Old cliches like a 'future Cobra Daytona' are often just lip service. But seriously… the Force 1 is as close as any supercar has come to delivering a 2020 Cobra coupe style.  We love the look from all sides.
Every angle of the Force 1 is dripping with sexy boner energy, somehow.
Our least favorite detail?  The rear badge, which looks and cheap beside the stunning reverse-vents expelling hot air from the front and back wheels. The carved-out rear bumper itself is a piece of art. Gorgeous.  Avoids some of the blob-like angles of the Viper design and even its Maserati-concept cousin, the Alfieri.
MAKE IT FASTER
Clearly, the VLF group likes to go fast. The Destino V8 is proof of the interest there, for sure.
In the Force 1, VLF is still on its mission to be faster, louder and just plain better than their parts-donors ever were.  This means a 100-horsepower bump for the SRT10's 8.4-liter V10 engine: from 645 up to 745. We assume this is achieved through a racing cam profile, intake and exhaust tweaks. All good moves — and well-proven on the racing circuit by years of Viper LeMans thunder.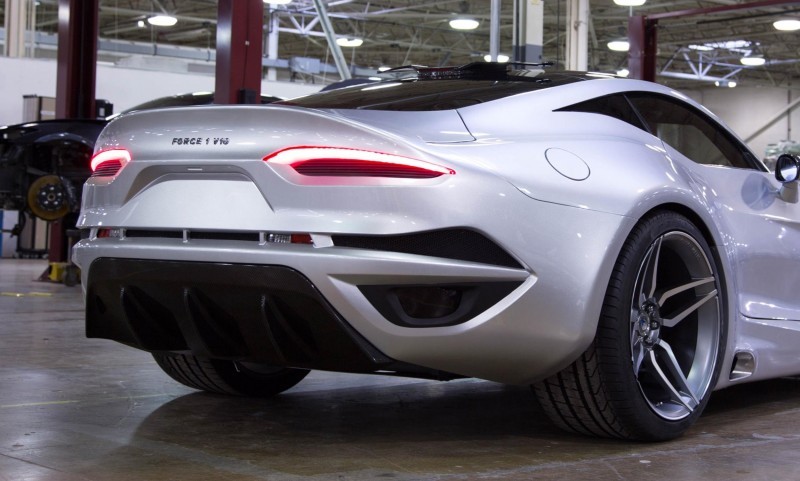 MAKE IT SCARY
The Force 1's engine and exhaust mods — we hope — solve for one of the Viper's big initial let-downs: its exhaust note on startup and idle. While the V10 in the factory Viper loves to sing on hard throttle and up high in its tach, the engine fires up like a tired turd.  (Sorry Dodge.)
It is just farty and bellowy and grumpy and lumpy as you pull away for the first time.  It does not take a Bob Lutz to know this is a turn-off among supercar shoppers — who often decide in the first block of a test drive if they will buy the car. Just like all car shoppers, then.
VLF will make the Force 1 fire up like a mad Nascar from hell. We hope a remote-switchable exhaust offers a dual mode setting for calm or shouty modes on command.
KEEP IT RARE
The Force 1 is awesome for all these reasons and more.  But our favorite detail?  The order book is open RIGHT NOW!
Just 50 units will be made, all sold by ViperExchange.com and priced at $269,000.
A weight loss of 200 pounds versus the stock Viper, plus the power and new grip on 21-inch racing Pirellis, will work wonders for the Force 1's dragstrip cred and overall performance stats.  a 3.0-second sprint to 60-mph and 218-mph are each much better than any non-ACR Viper can deliver.
MAKE IT FRESH
Juicy tidbit?  The Force 1 can be ordered with the standard six-speed stick, just like the Viper. With its similar intimidating throw feel among gears and its awkwardly-placed, long-travel clutch.  This is fine for purists, sure.
But unlike any Viper ever, however, a six-speed automatic is available on the Force 1 V10.  Yes!  SOOO much power, paddle shifters and torque like a dumtruck!?  YES!  This engine with an automatic is something we have begged FCA to produce for years; so far to no avail.  They like that the Viper is extreme and hard-to-master…. That is part of its legend in the firm.
But as the new Corvette Z06 and its 2.95-second automatic prove: there is wisdom in self-shifters.   The automatic is so smart to offer buyers, and just another way VLF Automotive hopes to fill cracks in what the major OEMs are offering shoppers.
SERVE IT UP!
This juicy prime rib certainly whets the appetite for more from VLF Automotive.
Doubling the price of the Viper is intimidating — but you have to focus on the massive improvements the Force 1 brings to the table, its one-off exotic design for every piece of the body, and its general balls.  This is a ballsy group — guys like Lutz who gives the middle-finger to TARP funds. Villareal with the cash to make things happen.  And now Fisker to turn crank up the design volume.
Welcome, VLF Automotive, to the Huracan and 911 Turbo S knife-fight for buyer wallets.  When the 570S is too much of a Corolla, and the Corvette too much of a cialis-prescription-confirmation — you find this orgasmic original in the Force 1 V10 and Destino V8.
You need any ballsy PR guys? =]
TASTE THE DREAM
Check out the tech specs, company intro, exec bios and how-to-order info links below.  We'll take ours as a 2019 VLF Force 2 — a roofless speedster with the Hellcat engine and an automatic!?  =]
Sacrilege?  Nope.  Just extreme personalization for full-throttle hedonists like us.
Buy this car!  First orders start shipping around May of this year to their rockstar owners.
2017 VLF Automotive FORCE 1 V10