We knew Lexus was bringing some kind of supercoupe to the Detroit show, but had no idea the LC500 would be SO DAMN SEXY!
Far from a GS two-door as some have imagined, the new LC500 is actually an all-new supercar flagship for the marque.
Seating is 2+2 in layout, while the roof looks ready for a cabrio conversion, the LC500 is far lower, meaner and more intense than even the cherished RC-F — our 2015 Car of the Year here at Car-Revs-Daily.com.
What makes the new LC500 so special?  Forceful power from every angle: this machine is leaner, lighter and meaner than any Lexus since the LF-A. Extreme details include the sunken engine up front that makes for a Corvette-hunter level of sportiness and low/wide appeal.  Same for the trimmed front overhang, forward-shifted front axle and giant rear fenders. Those massive wings out back hide rubber that looks a cool 2-inches wider than any Lexus on the showroom floor now — and speaks to the supercar-performance mission of the LC500.
467HP from the 5.0-liter RC-F V8 is standard on this production car, as is rear-drive and a sprint time under 4.5-seconds to 60-mph. A ten-speed automatic with millisecond-fast shifts sends power to the back wheels exclusively — where the LC500 runs optional 21-inch forged alloys.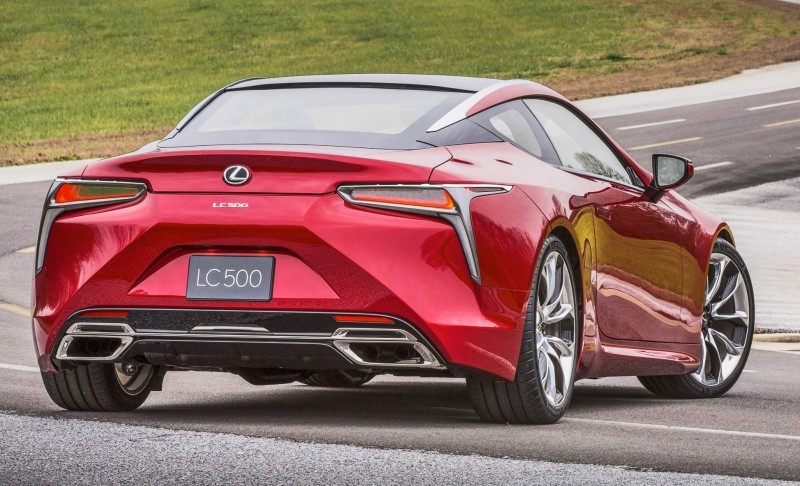 Where previous critiques of the RC-F's weight and dynamics might have shaded the excellent M4 rival, the new LC500 spares no expense in its quest for Nurburgring glory. 52:48 is the front-rear weight balance, while overall heft should lop 300-pounds from the 4000-lb RC-F. Advanced materials are to thank here — with elements under the skin possibly related to an expected 2018 Toyota Supra Turbo.  And, as such, the BMW platform that Toyota is developing with its new Bavarian partners.
All that finely-honed performance translates easily to streets worldwide, of course. Sharper turn-in and Porsche-chasing dynamics for a Lexus?  No longer a fantasy.
The LC500 will be a rare and special sight on the roads.
Inside the incredible new machine?  Yet more uncompromised beauty and tech — all focused on delivering cheek-pulling G forces!
The price for this SL500/Porsche 911 rival? Likely to be as high as our expectations… with an $88k estimated base tally when the new LC500 arrives in US showrooms around August of 2016 as a 2017 model-year.
2017 Lexus LC500
Global Debut of All-New 2017 Lexus LC 500 at the 2016 NAIAS Signals Dawn of a New Era for Lexus
Alluring, expressively designed luxury coupe defines a new era for the global luxury brand
The coupe's styling, performance, and craftsmanship help position the vehicle as one of Lexus' flagship products
LC 500 utilizes the brand's new architecture that promises enhanced dynamic capability and performance
A symbol of an evolving vehicle development culture that embraces heightened collaboration between Design and Engineering teams
January 11, 2016
DETROIT (Jan. 11, 2016) — When the Lexus LF-LC Concept debuted at the 2012 North American International Auto Show, the press, loyal customers, and enthusiasts wondered if the concept's arresting styling and dramatic proportions could ever evolve into a production 2+2 coupe. Today, four years after the debut of the breakthrough concept that inspired it, Lexus has revealed the all-new LC 500 luxury coupe. This provocative, athletic flagship coupe makes the strongest statement yet about Lexus' future product direction.