The A4 Allroad has carved a nice little niche for itself in the US market, where it replaced the standard A4 Avant among most shoppers seeking a low and sporty wagon.  The current Allroad will gain all the new tech and style of the A4 sedan, but wears a more butch stance all around.  A very macho nose redesign brings vertical grille slats, some rough-rough fender flares and even a brushed-alloy chin spoiler in the nose.
We are trying to get on-board with this next-gen A4 appearance.  Really trying. And the Allroad has generally been a great showcase of the A4 Avant's overall aesthetic appeal.
Unfortunately, the new A4 is still just too generic and anodyne for our tastes. It looks like a cheap Xerox of the current models… but designed on crappier computers?  There are good elements: like the longer wheelbase and shrunken front overhang versus the current model.  We can't help feeling the new A4 and Q7 look cheap and disconnected outside.  Examples?  Sharp nose LEDs and grille + rounded tailights.  Sharp fender details and beltline crease + rounded glasshouse. It just does not feel cohesive; clashing even with itself somehow.
But if the outside is 'meh,' the inside is a 'yea.'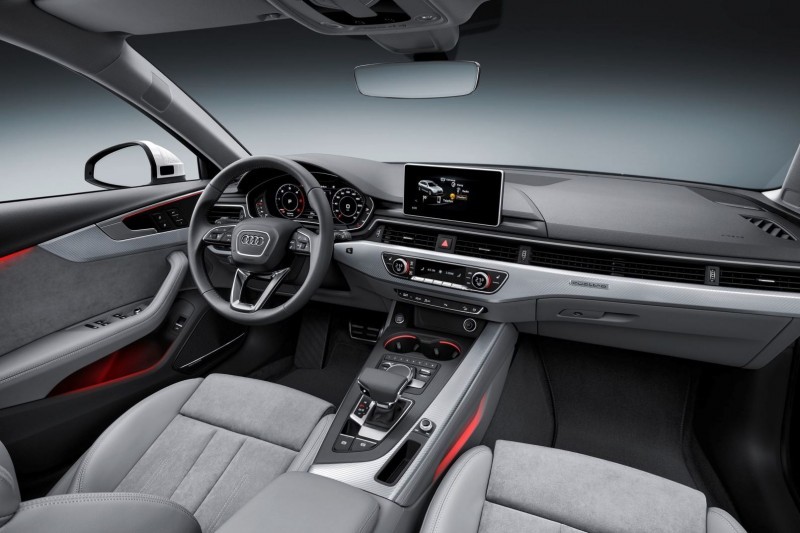 So, the next A4 Allroad also ditches the clean and seamless look Audi has been known for.  Somewhat choppy creases and beltline details create more shadow for the design details… but let's hope it looks better in the flesh than it does on the show-stands. As it is, the latest C-Class and 3-series feel much more emotionally and visually appealing.  Practically speaking, the A4 Allroad competes most directly with the 328i GT — but includes everything from the Q5 to the Merc GLC among its broader competitive set.
The new A4 is set for first Euro deliveries around May of this year as a 2017 model, and we hope the US models start arriving by August.  For the S4 and Allroad, a November 2016 arrival is likeliest — both wearing similar pricing to the current models. That is ~$44k as a base for the A4 Allroad, and from ~$51k for the S4.
2017 Audi A4 Allroad
Perfect companion in any situation: the new Audi A4 allroad quattro
The new Audi A4 allroad quattro* embodies a unique concept: It combines high driving comfort with off-road qualities, thus enjoying a unique position in its segment. Thanks to the standard quattro drive and increase ground clearance, it also keeps on driving where the paved road ends.