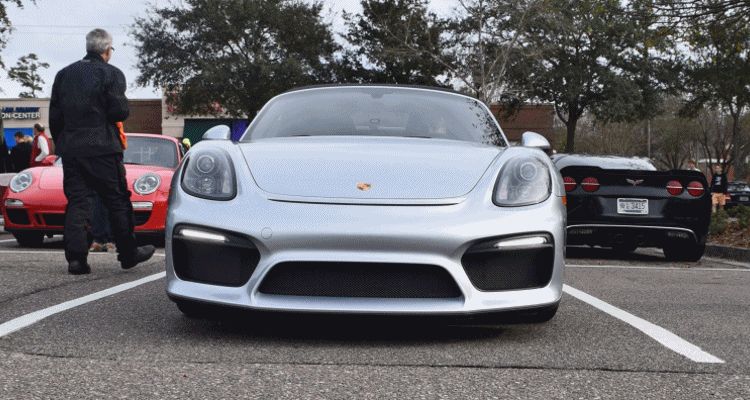 Incredible intro to the 380HP Porsche Boxster Spyder today!  The car is absolutely gorgeous, with upgrades dripping in aggression and hypercar hints of the top 918 Spyder.
The sound on startup is suitably aggressive, with a deep baritone thrummmm after the initial startup bark. Smoked finishes all around and a liquid silver paintjob are only half the battle. The giant double bubble tonneau cover with mid-mounted brake light reminds many of the Carrera GT, or especially the Carrera GT by Zagato.
What really makes the Boxster Spyder so impressive in the flesh?
It is almost a total redesign.  By our count, only the upper fenders front and rear carry over from the standard car. Those sharply swirling front intake extensions?  Fully formed and part of an all-new aero style up front. The entire rear bumper is new too: now integrating a serious diffuser down below its twin central pipes.
LOVE!  This is the hottest Boxster ever.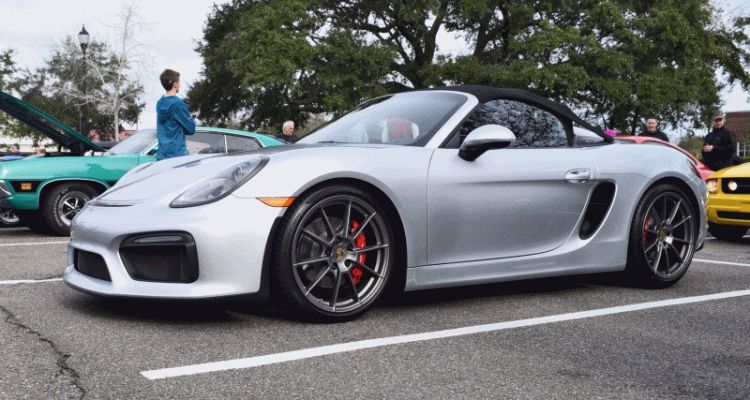 2016 Porsche Boxster Spyder
 
 
ORIGINAL ARTICLE
Porsche is getting serious about the flagging sales of the Boxster and Cayman. The fact of the matter is that Porsche is selling every 911, Macan, Panamera and Cayenne it can make — and usually selling those models with a hefty $30,000 in options per car. That is a profit-machine extraordinaire.
But the Boxster and Cayman are really not hitting the right notes with shoppers. The average days for these cars on Porsche dealer lots in the US is a shocking five months on average. To make matters worse, those who are buying Boxsters and Cocksters are ordering them with custom options right from the factory.