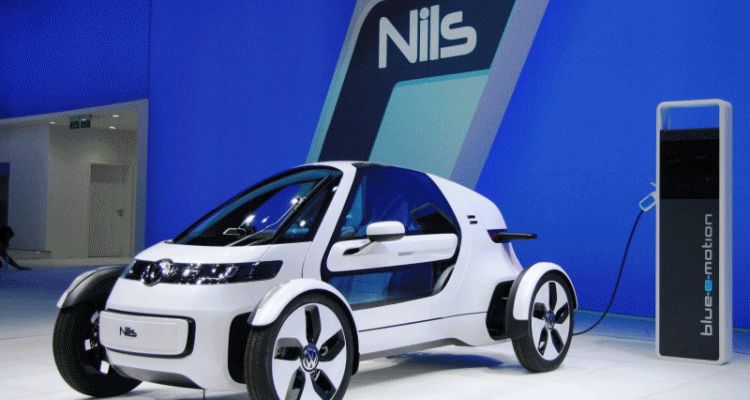 It is very, very challenging to read (and write) about VW's eco mobility ideas in light of the company's current emissions scandals.
The "diesel issue" — as it is known in German — really puts all the last ten years of innovative, visionary concept cars in the shameful, punishment corner of the automotive universe. What about the "C02 issue"?  Oh, that has resolved itself.  Not a pattern of lies and systemic fraud.  Hooray!
Super, super trustworthy company, obviously.
Beyond that obligatory caveat… This NILS concept shows how seriously the VAG once took its mission to mass-produce zero-emissions automobiles.
VW was actually up to some clever things until they realized they could just cheat instead.
Take this NILS concept for example. A single-seat commuter car with the electric drive motor in back and absolutely tiny dimensions, the NILS promised about 44-miles of range and a top speed of about 75-mph.  The NILS supposedly meets real-car crash tests, which would have theoretically made it road-legal worldwide.
Alas, the vehicle was not green-lit for production.  The last painful irony?  The NILS concept was underwritten by the pushovers and yes-men of the Federal Ministry of Transport.  What a joke. Lip-service and greenwashing to the core, this NILS.
Sidebar: The German Federal MoT is now known… get this… as the Ministry of Transport and Digital Infrastructure.  Guffaw.
Of course, the devil's advocate might say, 'Renault made a car like this for London in the Twizzy… and the car has been a total market failure.'
Yes, you would be right.  But in terms of brand affinity, Renault now seems like a huggable friend versus cold, calculating VW.   Criminal Conspiracy is all that comes to mind when delving into VW lately.
To close this rant:  NILS as a name for this concept seems like a dark joke, referencing its chances for production: Nil.
2011 Volkswagen NILS
Wolfsburg / Frankfurt, 13 September 2011
NILS – World Debut at the IAA
Volkswagen presents high-tech single-seater:NILS travels like an arrow into the urban future
The 460 kg lightweight single-seater with electric drive was specially designed for commuters
NILS research project is supported by Federal Ministry of Transport
Volkswagen AG is presenting a car for the urban world of tomorrow at the 64th International Motor Show (IAA) in Frankfurt: NILS. The single-seat electric vehicle reflects a new, fascinating form of minimalist mobility. The concept car – with its pro-gressive aluminium space frame, wing doors and free-standing wheels – exhibits a high level of dynamic performance, yet travels with zero emissions and silently towards the future. The project is supported by the German Federal Ministry of Transport, Building and Urban Development.
Technically realistic and economically supportable. "NILS is a vehicle that anticipates the future. It looks as though someone had projected it back from the year 2030 to the world of today. This study melds sustainability, design and lifestyle in a new way. A high-tech vehicle from the Volkswagen company with an electric drive, but very realistically conceptualised," says Dr. Ulrich Hackenberg, member of the Board of Management and Head of Development for the Volkswagen Brand. Prof. Dr. Jürgen Leohold, Director of Volkswagen Group Research explains the project from the research perspective: "In the context of the growing influence of electric mobility, cutting edge vehicle concepts like these – which are based on intensive analyses of future and vehicle research and on strong networking ties to Marketing – will play an increasingly important role. That is because new, very target group specific requirements will be placed on cars with the advent of electric mobility. These new vehicle concepts –  together with the electrification of existing models – will help to advance electric mobility to a breakthrough." In this context,  Dr. Ulrich Hackenberg explains further: "The goal of the NILS project is  to work out a technically concrete and economically feasible vehicle concept for micromobility, which restructures individual transportation to make it more efficient and environmentally compatible based on electric drive technology." Prof. Dr. Jürgen Leohold adds: "Therefore, Group Research intensively analysed all facets of commuter transportation with the goal of making it sustainable for the future. The results of these analyses were made available to individual vehicle development departments. And so, all of the company's brands –  from A for Audi to V for Volkswagen – are benefiting from the think tank of Group Research.
"Networked know-how. Dr. Ulrich Hackenberg comments, member of the Board of Management of the Volkswagen Brand for Development:  "The close cooperation with Group Research has meant that we at Volkswagen are really able to put cutting-edge vehicle projects in motion. We benefit from the networked know-how of the company here.  This also includes the Volkswagen Design Centere in Potsdam. There, under the leadership of Thomas Ingenlath, an entirely new interpretation of Volkswagen design was accomplished in NILS. Those viewing this concept car can look far into the future of our brand and of the automobile itself. NILS is anything but a dry-run exercise; it is very realistic.  Despite its compact dimensions, the concept fulfils all safety requirements for contemporary vehicles, for example. Commuters would not only drive in an eco-friendly way, but would also be very safe in this car.
"With a range of 65 kilometres, the 130 km/h NILS would certainly be the ideal vehicle for the majority of commuters in Germany. According to  the German Federal Statistical Office, 73.9 per cent of all commuters residing between Berlin and Munich cover less than 25 kilometres on their way to work. So, NILS is designed to be a reflection of a new era.
NILS defines new segment
Electric traction changes mobility. Automobiles have always been mirrors of the times with their design styles and technological standards always reflecting the status quo of a particular era. Consider Volkswagen: at the turn of the century, the age of downsizing gained momentum in the powertrain area. At the same time, a new quality of styling took hold, which today is still marked by maximum clarity and precision. Currently, we are experiencing yet another developmental thrust: the long-term breakthrough of electric traction. Many Group models in the higher vehicle classes are already available with hybrid drives, where the electric motor supports the conventional drive system. This emissions-reducing drive technology is now breaking into high-volume segments.
Golf with E-drive debuts in 2013. TThe first high-volume models with a pure electric drive will soon reach production readiness;  the Golf, the best-selling car in the world, will debut with an electric drive  (Blue-e-Motion) in 2013. In addition, electric traction will lead to entirely new concepts; they will result in vehicles that fulfil specific needs profiles more than ever. One of these needs profiles is that of the commuters who commute to their jobs by the millions every day in the world's urban areas. For a long time now, public transportation has not always been the first choice of commuters for various reasons. In Germany, for example, about 60 per cent of all commuters travel by car according to the Federal Statistical Office; of these, over 90 per cent travel alone. Zero emissions vehicles like NILS will offer these frequent drivers a new eco-friendly mobility solution.
NILS leaves a small footprint in traffic
Narrower, lower, shorter, different. The concept is a very compact car that requires extremely little space in traffic. NILS is only 3.04 metres long, making it about 50 cm shorter than the new Volkswagen up!  The width of the NILS, from wheel to wheel, is 1.39 metres; the body itself measures only 0.86 metres wide. The concept car is 1.2 metres tall.  By means of comparison: a Porsche 911 is taller at 1.31 metres.
Design was created in Potsdam. More important than its dimensions is the layout of its body. NILS shares the same basic body layout as a Formula-1 race car body: driver in the middle, engine in back, aluminium wheels outboard and free-standing. The 17-inch alloy wheels are equipped with 115/80 (front) and 125/80 (rear) tyres optimised for low rolling resistance. The clean, distinctive styling of the NILS car has its origins at the Volkswagen Design Centre in Potsdam, just near the gates of Berlin. Designer Thomas Ingenlath, the centre's director, comments on the research vehicle: "NILS was designed to make a visual statement and transport a vision of the automotive future to the present. The car had to visually highlight the theme of sustainability, on the one hand, while showing a future-oriented look and simply being fun. I think that we have successfully integrated both of these aspects. Although our mission here was to come up with an entirely new body concept for the brand, NILS matches the Volkswagen design DNA 1:1." Consider the bumpers: it is no coincidence that they remind one of the bumpers on the new up! with their black borders around the impact surfaces. Thomas Ingenlath continues:  "I am especially pleased that we managed to implement the concept of the 2 glass wing doors. This allowed us to create large transparent surfaces and simultaneously make entering and exiting the vehicle very comfortable, even in the most cramped of parking spaces."