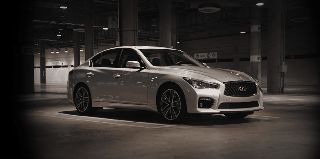 HUGE news on the Infiniti front today: An all-new pair of twin-turbo 3.0-liter V6s join the new 2.0-liter turbo four and 360HP hybrid. Dubbed the VR-series engines, the top output is the headline 400HP and 350-pound-feet of torque unit. This stump-puller will be offered in rear or AWD, with its torque starting a long plateau from just 1600-rpm.
Kicking things off right is a limited-run model with giant alloys and sport cabin under the guise of Red Sport 400.
This badge steps in for Eau Rouge nicely!
No word on sprint pace, but the time should be comfortably in the 4's — we'd ballpark a 4.7-second for the quickest new Q50.
The mid-range engine option is a single-waterpump version of the same displacement V6, but putting out 300HP and 295-pound-feet of torque. Both drop around 50-pounds from the front end versus the 3.7-liter unit they replace.
Along with the new engines comes very sporty new chassis tunes, adaptive and customizable drive programs, and enhanced ride control programs. All to keep the four-door buttoned down with so much new power!
The 2016 Q50 lineup with the huge new twin-turbos are arriving VERY soon, with a possible showroom arrival as soon as January 1st.
2016 pricing for the base 2.0-liter should slide in a bit below the current $37k total, with the Hybrid coming in from $44k as before. The new V6s are likely at $38k and $42k base prices — which is fantastic value versus the C400 and 340i for 2016, both of which are $50k and up.
Infiniti VR 3.0-liter V6 Twin-Turbo Specifications
Specifications are based on the latest product information available at time of printing
Mechanical
Engine
 
300 HP
400 HP
Construction
V6 configuration, aluminium block with arc sprayed mirror coating to cylinder bores, aluminium cylinder head with

integrated exhaust manifold, lightweight resin and lower oil pan, compact twin direct-mount turbos, twin-intercoolers

Displacement
3.0-liter (2997 cc)
Bore & stroke
86.0 x 86.0 mm
Cylinder Angle
60 degree
Compression ratio
10.3:1
Cylinders
6
Valves
24 (four per cylinder)
Valve control
Intake; electronic variable Valve Timing Control (VTC) Exhaust; hydraulic continuously variable VTC
Turbos
2x turbo chargers with electronic wastegate actuator
Turbo control
–
Optical speed sensor
Turbo chargecooling
Twin water-to-air charge coolers with one water pump
Twin water-to-air charge coolers with two water pumps
Oil system
0W-20 low viscosity oil. Electronically controlled variable displacement oil pump
Fuel system
High pressure multi-split direct injection gasoline (DIG), one injector per cylinder
Engine weight
486.4 lb

220.6 kg

Power
300 hp

224 kW

304 PS

@ 6,400 rpm

400 hp

298 kW

405 PS

@ 6,400 rpm

Torque
295 lb-ft/400 Nm

@ 1,600-5,200 rpm

350 lb-ft/475 Nm

@ 1,600-5,200 rpm
2016 Infiniti Q50 sports sedan: New engines and chassis technologies deliver empowering performance and a more rewarding driving experience
2016 Q50 adds trio of new powerful and efficient turbocharged engines, including a 400-horsepower 3.0-liter twin-turbo V6
Next-generation Direct Adaptive Steering™ (DAS) leads technology enhancements
New Dynamic Digital Suspension (DDS) offers engaging ride and handing options
New 400-horsepower Q50 Red Sport 400 heads line of five models in North America
NASHVILLE – The new 2016 Infiniti Q50 sports sedan is being launched with a number of performance and dynamic upgrades that deliver a more empowering and rewarding drive experience. The comprehensive updates include a trio of all-new advanced turbocharged engines, along with next-generation ride and handling technologies.
The Q50 – Infiniti's top-selling model in North America – was developed from the outset to showcase Infiniti's daring design, dynamic performance and class-leading technologies within the sports sedan segment. Now in its third year, Q50 global sales between January and October 2015 reached almost 50,000 models – representing a 65 percent increase compared to the same period in 2014.
Four advanced powertrain options are offered with the 2016 Infiniti Q50, including an all-new 3.0-liter V6 twin-turbo gasoline engine with direct injection. This new "VR30" engine is available in two states of tune: 400 horsepower or 300 horsepower – both developed to provide an ideal mix of drivability, efficiency and performance.
Also available on the Q50 is a new 2.0-liter four-cylinder turbocharged engine producing 208 horsepower, and a 360-horsepower hybrid powertrain, which combines a 3.5-liter V6 and a compact laminated lithium-ion battery with an innovative one-motor, two-clutch control.
Also making its debut on the 2016 Infiniti Q50 is the Infiniti's industry leading Direct Adaptive Steering, comprehensively modified from the groundbreaking first-generation system. Infiniti has enhanced the Direct Adaptive Steering after gathering customer feedback from around the world and completing 625,000 miles of real-world testing. The standard steering mode now offers advanced levels of steering feel and feedback – more akin to that of a conventional steering system. In addition, the upgraded system offers even more options to personalize and tailor the steering system's levels of response and feel to suit the driver's preferences.
The new Q50 also features Infiniti's Dynamic Digital Suspension (DDS) for the first time, which gives the new Q50 sports sedan an optimal blend of ride comfort and class-leading response and agility. For drivers looking for a blend of dynamic settings tailored to their own particular requirements and tastes, the Q50's Drive Mode Selector (DMS) can be augmented with "Personal" mode, which permits a tailored mix of engine, suspension and steering characteristics.
"The new Infiniti Q50 takes the core elements that have driven its global appeal to date, and now we have made it even better by offering a number of new and stand-out technologies. With the upgraded Q50, we are furthering Infiniti's position on innovation."
Francois Bancon, Infiniti Vice President Product Strategy
Infiniti's most advanced V6 leads the refreshed engine line up
The all-new 3.0-liter V6 twin-turbo engine, from the new and exclusive "VR-series" powertrain family, has been developed to deliver optimal power and torque, alongside greater fuel efficiency. The high-output version of the power unit delivers 400 horsepower (298 kW) at 6,400 rpm and 350 lb-ft (475 Nm) maximum torque at 1,600-5,200 rpm. The standard output version produces 300 horsepower (224 kW) at 6,400 rpm and 295 lb-ft (400 Nm (295) torque at 1,600-5,200 rpm.
These outputs have been achieved while ensuring an expected improvement in fuel efficiency of up to 6.7 percent, representing a high power-to-efficiency ratio for the 400 horsepower power unit. This power-to-efficiency performance was made possible thanks to a combination of newly developed powertrain features.
An advanced new twin-turbo system contributes to the smooth and immediate power delivery while promoting gains in efficiency. The combination of a new turbine speed sensor and an optimized turbine blade design realize greater performance with more immediate response. The turbine speed sensor allows a 10 percent increase in turbine speeds, enabling the turbocharger to revolve at up to 220,000 rpm. With greater capacity for faster revolutions, the twin turbochargers enable the engine to deliver greater power and torque.
Advanced valve timing control incorporating a new electric motor mounted to the valve timing system delivers quicker reactions to driver inputs. Along with improved response, more immediate valve timing also helps the engine operate more efficiently, precisely controlling fuel and air quantities entering the combustion chamber.
A new high-pressure direct injection gasoline (DIG) system, introduced for the first time, allows for precise control of fuel injection into the combustion chamber depending on throttle position and current engine speed. DIG contributes significantly to making the new engine the cleanest and most efficient V6 that Infiniti has ever offered.
2.0-liter turbo and hybrid powertrains blend performance and efficiency
Complementing the new 3.0-liter V6 is a 2.0-liter four-cylinder turbocharged unit, producing 208 horsepower at 5,500 rpm with peak torque of 258 lb-ft (350 Nm) available from 1,500 rpm. This 1,991 cc unit has been engineered to achieve the same goals as the 3.0-liter V6 unit, blending response and performance with efficiency.
Direct injection and a high-efficiency compact turbocharger combine to achieve high levels of torque from low engine speeds for an enhanced driving experience. The high-pressure direct injection system with 200 bar piezoelectric injectors, multi-spark ignition and lean-burn combustion technologies also contributes significantly to efficiency. This is complemented by a variable camshaft design on the intake side, which enables a switchover from a standard cam for higher loads and engine speeds where increased power is required, to a "small" cam for partial engine loads.
In addition, to minimize friction losses on the small cam a maximum valve lift of 3.8 mm has been specified. The main advantage is a reduction of charge exchange losses and a nearly throttle-free operation in a relatively broad range of scenarios for exceptional efficiency.
A lightweight aluminum block and cylinder head with chain-driven dual-overhead camshafts, die-cast aluminum cylinder crankcase and optimized crank assembly promote further weight savings, reduce friction and improve efficiency. For the first time, the Q50 will offer an idle stop-start system (ISS) in combination with a 2.0- liter four-cylinder turbocharged engine.
The Q50's advanced hybrid powertrain remains unchanged, featuring the Direct Response Hybrid® system with Intelligent Dual Clutch Control. It combines a 3.5-liter 24-valve DOHC aluminum-alloy V6 and a compact laminated lithium-ion battery with an innovative one-motor, two-clutch control. The system's V6 is rated at 302 horsepower and 258 lb-ft of torque, while the advanced 50 kW electric motor is rated at 67 horsepower and 214 lb-ft of torque. The hybrid system net power is 360 horsepower, providing strong acceleration and lean fuel economy.
The hybrid powertrain is designed to put performance first, while bringing significant benefits for fuel efficiency. It takes full advantage of the electric motor's instant torque for exceptional acceleration and, in combination with the 3.5-liter V6, provides an energetic feel under all driving conditions.
Smooth shifts from seven-speed automatic transmission
All 2016 Q50 powertrains are matched to an advanced seven-speed electronically controlled automatic transmission with manual shift mode and steering column-mounted magnesium paddle shifters.
Adaptive Shift Control enhances gear selection by using a lateral acceleration sensor to detect changes in the road, such as hills and turns. Sport mode allows the driver to select a more aggressive shift pattern with automatic up- and down-shifting at higher rpm. The combined effect is for any driver to enjoy quick, smooth shifts and gear choices that are appropriate to both the road and the desired driving style.
The new Q50 can be configured by the customer with one of two driveline options – rear-wheel drive or Intelligent All-Wheel Drive. Both are available with any of the four engines.
Dynamic performance from innovative technology
A range of new and innovative ride and handling technologies deliver on the promise of the Q50's daring design and instill confidence in all driving conditions.
Infiniti Q50 models equipped with the new 3.0-liter V6 twin-turbo engine, or the hybrid powertrain, are available with the second-generation Infiniti Direct Adaptive Steering. The system has undergone significant re-tuning to enhance steering feel and feedback.
The changes to Direct Adaptive Steering – the world's first digital steering system – have been made following extensive consultation with existing Q50 customers around the world and over 625,000 miles of testing.
For the new second-generation Direct Adaptive Steering, engineers have optimized the control logic to improve feedback from the road. They have fine-tuned parameters so that the default setting better mimics the feeling drivers are used to from conventional systems.
The new system also provides more customization options, fully utilizing the potential that Direct Adaptive Steering offers, giving drivers' flexibility to choose the level of steering assistance and feedback according to personal preferences.
Direct Adaptive Steering actively adjusts the steering ratio and effort according to vehicle speed and scene. In slow-moving situations, such as city driving or parking, the system is tuned for ease of maneuverability.