This concept IAA is the best-looking among the trio of piloted-drive, alternative-propulsion concepts from big Benz this year. But how to love its active rear flange and sleek roofline, when the nose hits you like a punch in the cheek?
Seeing the machine out in the wilds of natural light*, the integrated lighting up front creates a nicer glow. With so much solid white OLED in the grille slat edges, the inner portion resembles a more traditional V-shaped element. Even if it is just a matter of distance or movement, the IAA is undoubtedly stunning in these new photos —- in ways the original concept might have missed in the Frankfurt showlights in September.
Look for the IAA all over the circuit this year, from CES to Detroit and beyond.
* – some of these may be digital renderings, we think, not photos. But gorgeous all the same.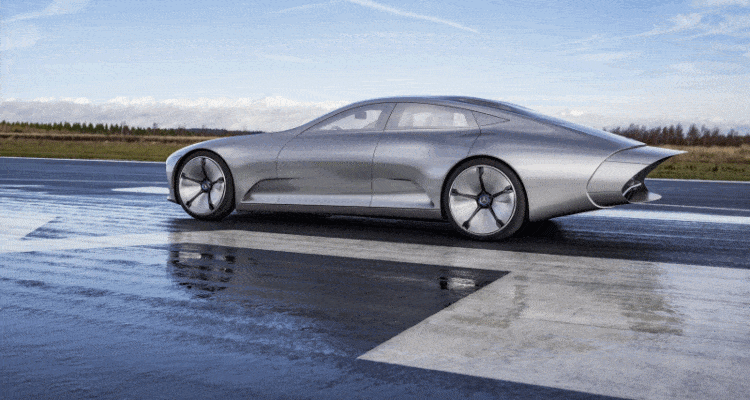 2015 Mercedes-Benz Concept IAA
PREVIOUS

A few of Mercedes-Benz's most advanced projects and engineering specialities come together for this all-new Concept IAA.
The Intelligent Aerodynamic Automobile proves that the self-driving tech shown at CES last year can be applied to a sportier shape than the rolling lounge concept. Secondly, this Concept IAA proves that the billion-dollar new wind tunnel in Sindelfingen is paying dividends. Beyond the obvious crown jewel of a constructor and driver championship in F1, of course!
The proportions of the 0.22-cD Concept IAA are mouthwatering in profile and around back. The nose is spooky, but not a big deal. Must work for aero.
The look of that ultra-long and low hood is interesting with such a bluff hood edge and grille cutoff. Swept-back shoulders and roofline in the Concept IAA vaguely recall a better Audi A7 stance.
But the real showstopper?
Active aerodynamics like something out of a sci-fi wet dream. At highway speeds, the front flanks extend into airfoils, the wheel modules close with grille shutters up front. And out back, a long-tail slice of CFRP extends back from within the bodywork. This long piece acts in concert with other systems to optimize its impact on mileage and efficiency.
The execution of that long clamshell extending back is quite shockingly advanced. The ring of red LEDs are a delicious sight; always visible even with the slipstream device extended.
Power for the concept comes from a plug-in hybrid system with 279 total horsepower. A 66-mile EV range is also cited.
Fabulous day today, and its barely 4:15pm as we type!
2015 Mercedes-Benz Concept IAA