The new Elantra is pretty impressive!  Competing for LA attention with the new Civic twins from Honda, the Cruze/Volt twins from Chevy and many others… the Elantra had its work cut out for it from day one.
Luckily, the new model holds its own versus those rivals. A seriously generous helping of premium style, roominess and tech makes the Elantra quite a contender.
The 2017 model is about an inch longer and wider, with a much sleeker aero rating — down to just 0.27 cD in the wind tunnel. This is achieved via a new full-frame grille, underbody aero shrouds, and a long-tail trunklid design.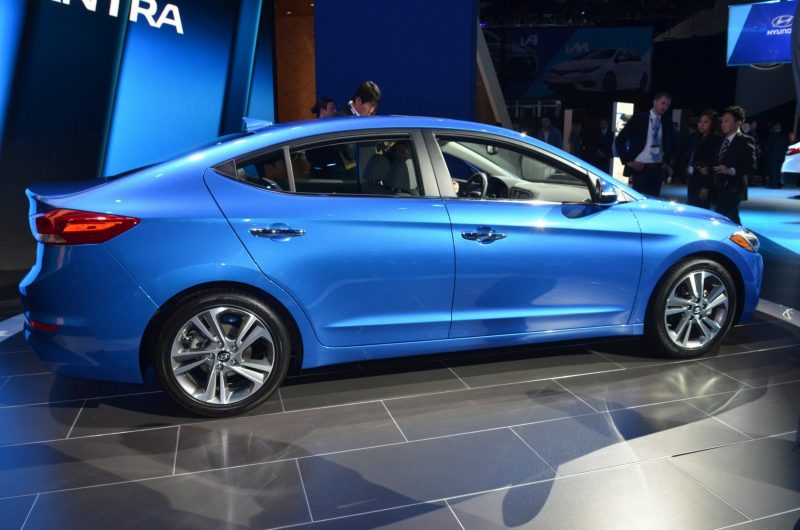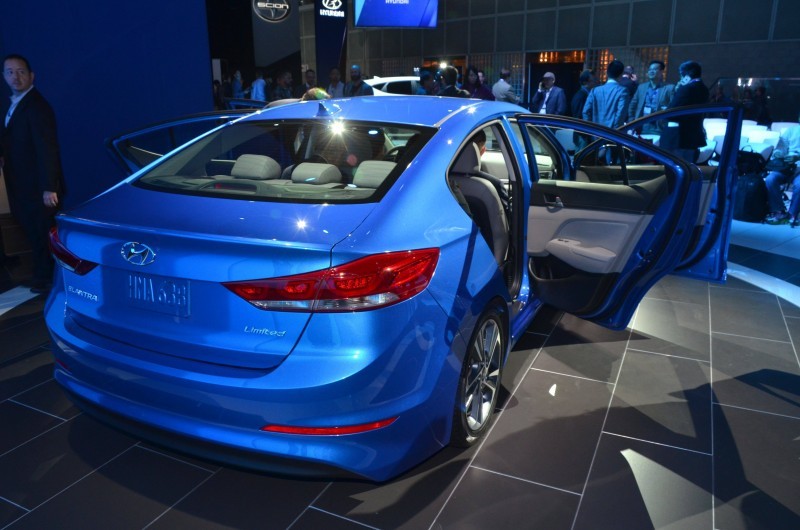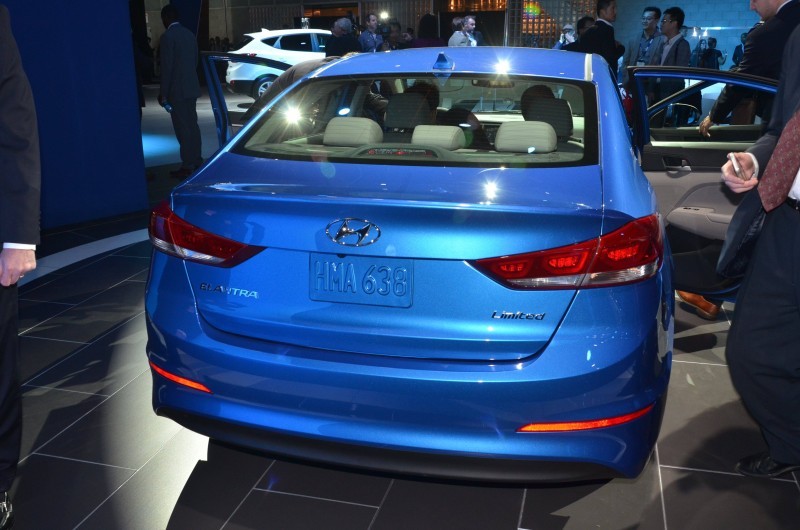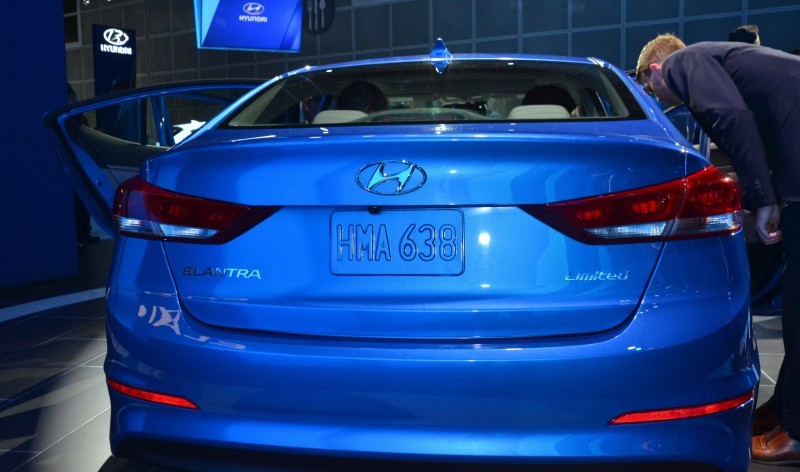 The overall proportions take a big (visual) push rearward via this new design, with a more formal roofline and rear three-quarter appearance than the current car.  The grown-up size is paired with LED taillamps, LED DRLs in the headlights and front bumper, and five fresh colors for the next-gen model.
There are clear Genesis and Sonata influences all over the new Elantra, especially in the cabin. This new model ditches the wildly swirling dashboards and interior trim in favor of a more somber, but far better-quality, dashboard and cabin theme. With the formality of the new dashboard comes Bluelink3, Hyundai's tech suite and connected apps. Sharp angles for the center stack and defined upper and lower dashboard elements feel much wider and timeless than the norm for the compact class.
'Class-above' features has become a seriously irritating cliche in car launches, but the new Elantra makes good on the hype pretty well. How?  The cabin and trunk are huge!   So big, in fact, that the 2017 Elantra is not technically a compact anymore: its 110-cubic-feet of interior volume are officially in the mid-size class. This really helps in the back seat, which is extremely airy for the price.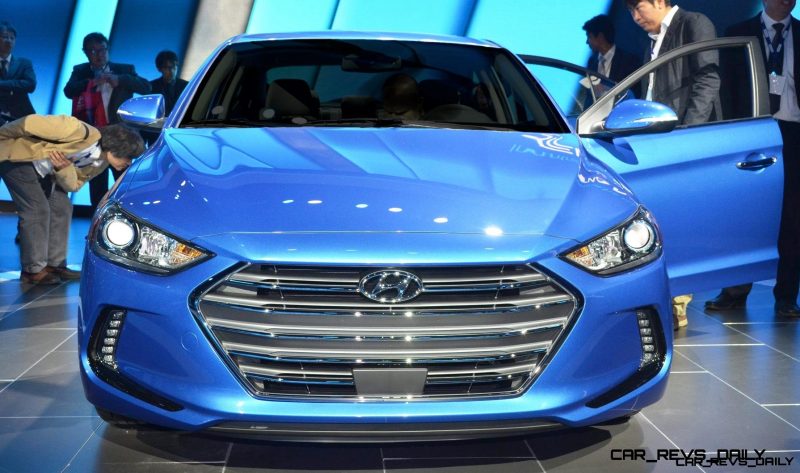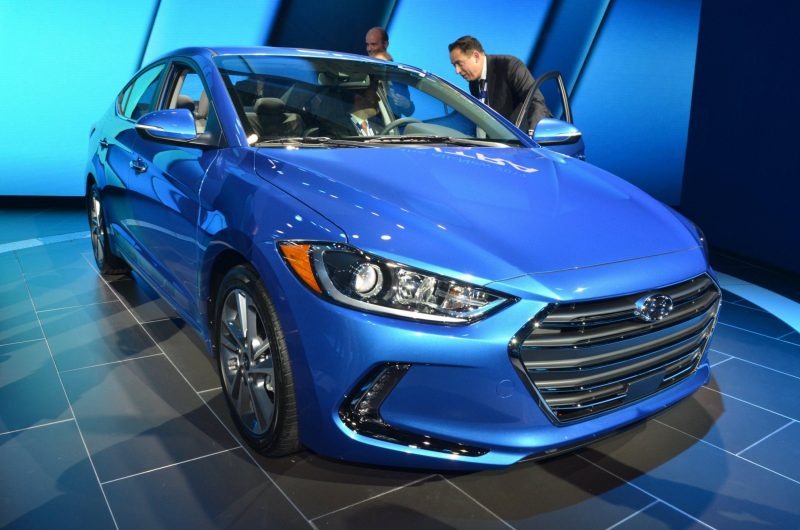 A quick chart from Hyundai below proves how giant the new Elantra is inside: comfortably bigger than the 2016 Audi A4 (the current model, not the redesign for 2017) and the Acura ILX.
Versus its direct competitors, however, the Elantra is growing in near lockstep with the large new Civic and Corolla: all three are very capacious for their $20k prices.
Power for the 2017 Elantra comes from a new Atkinson-cycle 2.0-liter four-cylinder making 147 horsepower, through a standard six-speed manual or optional six-speed automatic. The overall package is more efficient, by around 5-percent, versus the existing Elantra sedan.
A late arrival to the 2017 Elantra party — which kicks off around ~March of 2016 for first deliveries — is a new Elantra Eco model with a 1.4-liter turbo engine and a jump in mileage: a predicted 35-mpg combined versus the predicted 33-mpg average for the base motor.
2017 Elantra Class-Above Interior Volume
| | | | | | |
| --- | --- | --- | --- | --- | --- |
| Specification (cu.ft.) | 2017 Hyundai Elantra | 2016 Ford Focus | 2016 Mazda3 | 2016 Honda Civic | 2016 Toyota Corolla |
| Passenger Volume | 95.8 | 90.7 | 96.3 | 97.8 | 97.5 |
| Cargo Volume | 14.4 | 13.2 | 12.4 | 15.1 | 13.0 |
| Total Interior Volume | 110.2 | 103.9 | 108.7 | 112.9 | 110.5 |
| EPA Size Classification | Midsize | Compact | Compact | Midsize | Midsize |
Premium Model Comparison
| | | | |
| --- | --- | --- | --- |
| Specification (cu.ft.) | 2017 Hyundai Elantra | 2016 Audi A4 | 2016 Acura ILX |
| Passenger Volume | 95.8 | 90.6 | 89.3 |
| Cargo Volume | 14.4 | 12.4 | 12.3 |
| Total Interior Volume | 110.2 | 103.0 | 101.6 |
| EPA Size Classification | Midsize | Compact | Compact |
2017 Hyundai ELANTRA Sedan
ALL-NEW 2017 HYUNDAI ELANTRA MAKES ITS DEBUT AT THE LOS ANGELES AUTO SHOW
New Elantra Combines Striking Styling, Segment-First Features and Advanced Safety Technologies
LOS ANGELES, November 18, 2015 – Hyundai today reveals its all-new 2017 Elantra at the Los Angeles Auto Show. As one of Hyundai's all time best-selling models, the new Elantra enters its sixth-generation building on the momentum and success of its proven award-winning formula and strong value proposition by offering a bold aerodynamic design with sophisticated styling, all-new efficient powertrains for enhanced fuel economy, better ride quality and noise insulation, and comprehensive safety with class-above features.
Assembled in both Montgomery, Alabama and Ulsan, South Korea, the new Elantra distinguishes itself from the compact car class with the addition of segment-first premium convenience and safety technologies, and is expected to receive a Top Safety Pick+ rating from the Insurance Institute for Highway Safety (IIHS) and a 5-Star Safety Rating from the National Highway Traffic Safety Administration (NHTSA). The 2017 Elantra will arrive at Hyundai dealers in January.
STRIKING EXTERIOR DESIGN
The new Elantra projects confidence with sculpted body forms complemented by smoothly contoured lines that reveal the underlying inspiration of Hyundai designers. Inspired by the concept of dynamic precision, Elantra's architecture was a perfect platform for collaboration between Hyundai designers and engineers to blend advanced styling with functional aerodynamics.
From the front, the new Elantra is defined by Hyundai's signature hexagonal grille that projects a distinctive character when combined with its modern lighting signatures, including available HID headlights with Dynamic Bending Lights and unique vertical LED daytime running lights, which are firsts for Elantra. Elantra's sporty lower front fascia integrates functional front wheel air curtains, a component that is derived from the Sonata Hybrid that helps manage air flow from the front of the vehicle and around the wheels to minimize turbulence and wind resistance. In addition, underbody covers, an aerodynamic rear bumper bottom spoiler and rear decklid designed with an expanded trunk edge contribute to Elantra's 0.27 coefficient of drag.