Unique WORKSHOP Portable Vac Pairs Big HP with Easy-Carry Square Shape!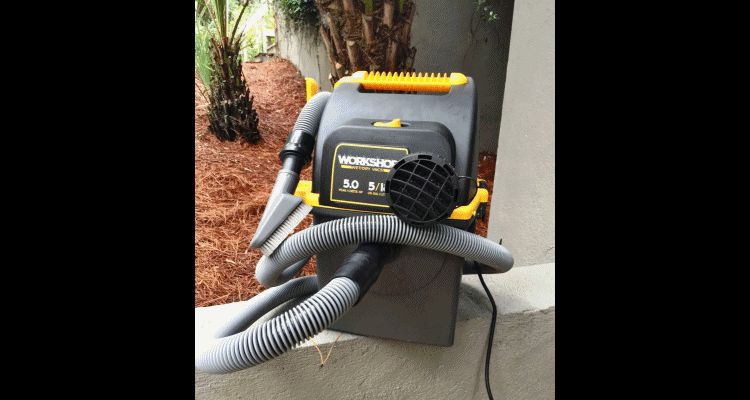 This WORKSHOP 5HP wet/dry vac is incredible!  Replaced old R2D2 garage shopvac with this smaller model, which still has 5HP but a more-compact square drum. No wheels but EASY handle and carrying. It is pretty light, too, and small enough to use inside a car.  Very handy not to worry about dragging vacuum across driveway, but still have the power of a full-size wet dry vac and blower.  The blower and the nozzle attachments work great in between seats and for audio buttons -- moving and dislodging gunk before being sucked up.
The vacuum comes with normal and XL hoses, the longer of which is massive. With the tall end attachments, you can even leave the vacuum in its wall mount for most car clean-ups.
When you want it down, you just press the Release button and go.  Easy. and includes a helpful top tray to wrap unused hoses neatly.
My one tip if you decide to put up the wall mount stand:
--- Be sure to find a wall stud behind your garage drywall before mounting the vac!  And some drywall anchor screws are highly recommended.  Though the vac is light when empty, a full can or being tugged by hoses could jostle the mount if it is not secured.  Maybe they could include some in the kit in the future?
I really like knowing that the vac is always there in garage for cleanups.   No compromises in power or cleaning quality to the car wash units.  Definitely worth the upgrade to new motor electrics and much more versatile shape than old-school drum vac!!
For $100, this vac is a great gift for every car guy and gal.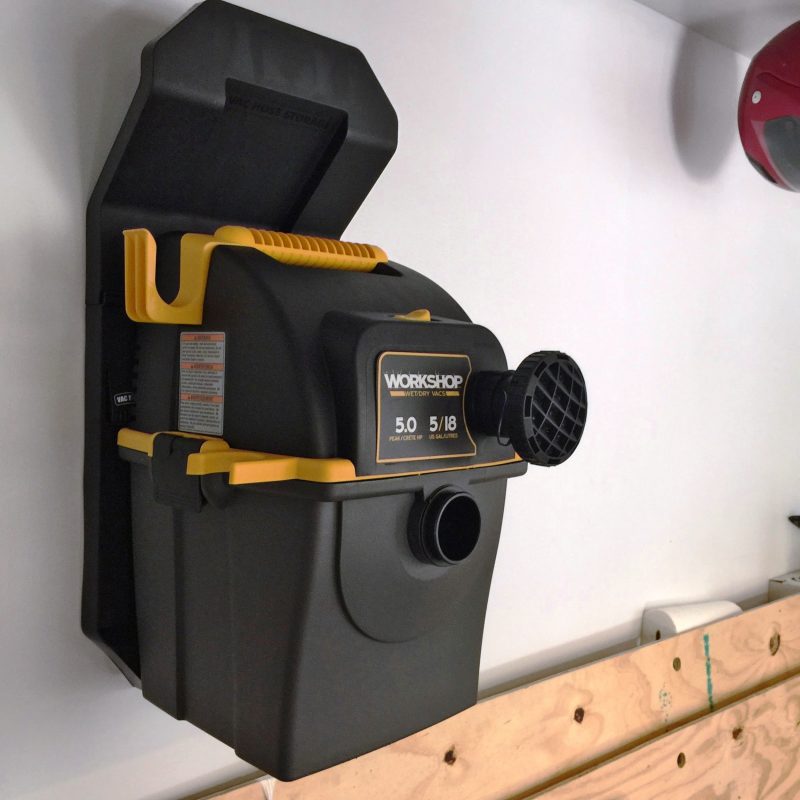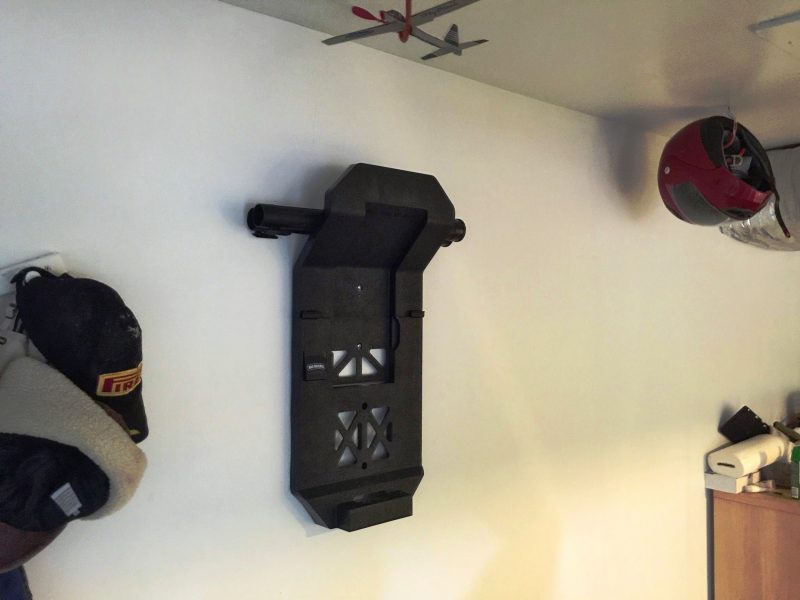 PREMIUM AUTO KIT
I've been using the $40 optional auto cleaning kit with my 5HP wall-mounted Workshop vacuum, and been very impressed.
The standard vacuum comes with a great set of kit and long hoses as standard. Wasn't sure that the auto kit would make a difference --- BUT IT DOES!
The grey Premium Auto pack has super bendy-but-soft hose to replace the rougher and less flexible black standard hose.
great attachments for auto carpets, consoles, between seats and even dashboards.  Spend most vacuuming time in the car with the Auto Kit-exclusive flat 4-inch nozzle. This does the trick for dog hair, sand and even garbage from all over the car.  POWERFUL suction with great versatility -- in either suck or blower modes with vacuum.
Also really like the hard and soft brushes, which are great for getting crumbs and dust from center console and dashboard buttons.  overall, definitely a big thumbs up for the exclusives in the Premium Auto Cleaning Kit.
Overall Vacuum Grade: A
Emerson WORKSHOP 5HP Portable Wall Mount WetDry Vac
5 Gallon 5.0 Peak HP Portable Wall Mount Wet/Dry Vac
Because standards matter!
At WORKSHOP, we design our UL-Listed wet/dry vacuums to measure up to American Society for Testing and Materials (ASTM) testing methods, unlike some competitors who use lab methods.
Specifications for the WORKSHOP Wet/Dry Vacuum WS0500WM:
Drum Size
5 Gallon*
Peak Horsepower*
5.0
Voltage
120
Amps
8.5
CFM (Airflow)*
92
Inches (Lift)*
42
Max Air Watts*
138
U.L. Listed
Yes
Blowing
Yes-Port
Cord Length
20'
Hose Length
• 2'-7' Expandable
• 14' Locking
Drain Port
No
Construction
Polypropylene
Accessory Size
1-7/8"
Accessory Storage
Yes-Bin
Replacement Filters
WS21200F, WS22200F, WS23200F
Replacement Dust Bag
WS32200F
Optional Filter
WS24200F