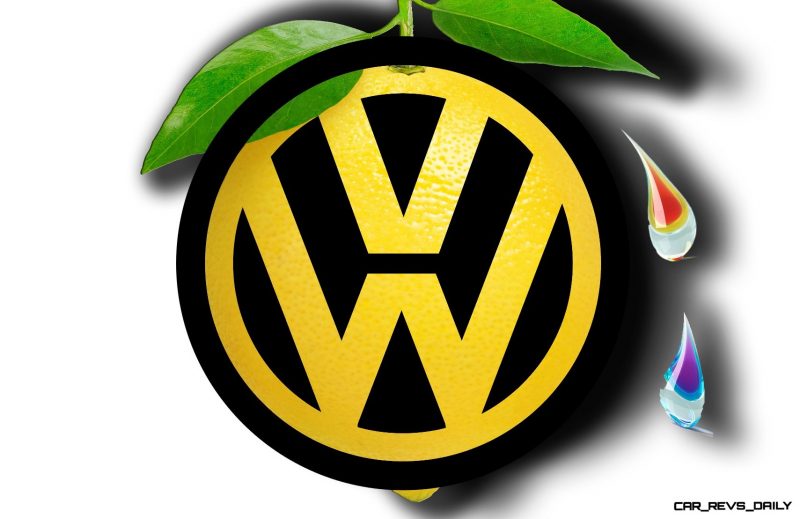 Updated 11.14.15
Any press release with bad news is best to send out on a Friday evening.
This is generally a way to slide by the major news cycles -- hoping to sidestep making the front page of business newspapers.
Volkswagen will not be so lucky this time with their deceitfulness: the latest revelation is perhaps the most damning yet.
Since the initial TDI NOx emissions scandal was announced by the EPA on September 18th, the Volkswagen Group has been in a panicked paralysis.  The actions of the firm have led to widespread credit rating downgrades, a 5.3-percent drop in sales globally in October 2015, and even more nuclear secrets on the horizon.
The new revelation clarifies the "CO2 Issue"  -- aka cheating -- is far more widespread than known or acknowledged previously.
Entire engine groups, model lines and even brands have 2016 model-year vehicles on sale that faked their CO2 results. The reason for this is competitive advantage when selling cars in Europe and other markets that tax new vehicle sales based on their carbon output.  The other advantage is in promising buyers lower running costs and better resale value for their vehicles.
130 models are included in the list just revealed; all will face massive scrutiny before they are road legal. That's right: an effective stop-sale order for a half-million cars currently on Eurpean forecourts.
The scale of this scandal keeps snowballing rapidly. Just before revealing the latest CO2 cheaters list, Volkswagen confirmed it is seeking $21.5-billion in new financing to shore up its balance sheets.
At first reading of that notice to bulk up their treasure chest by the end of 2015, the smart money knows that more scandals, more cheating and more pain for Wolfsburg's finest is virtually a sure thing.
The widespread pattern of lies and deception are starting to feel like a criminal conspiracy. Recently-ousted Martin Winterkorn will go down as one of the most repugnant CEOs of any global company in business history. If he does not serve time in prison, he will serve it in endless litigation and crown a once-proud career as a disgrace to all of Germany.
What does this mean for USA models? Nothing yet.
But with such a broken, dictatorial managerial structure and the damning evidence on the roads worldwide --- any confidence that owners still had in Volkswagen is now being thrown back in their face like an acid bath.
The next consumer headlines will not teach you just how to remove your TDI badge. But rather, the VW badge itself.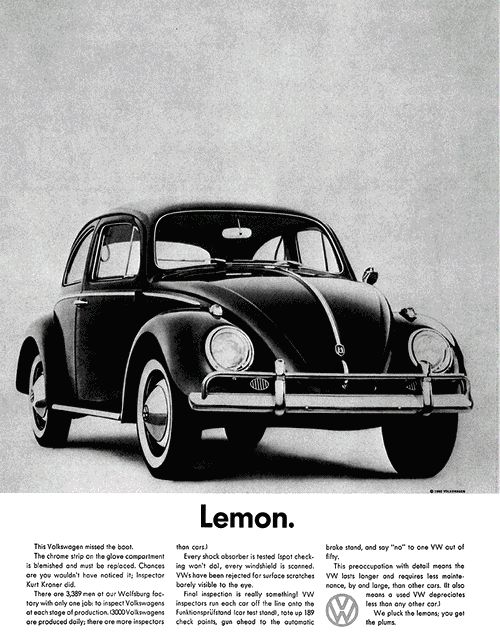 What Did VW Disclose on Friday 11.13.15?
Volkswagen revealed a list of 2016 models that have fake C02 ratings. The full list is included below, and includes virtually every Volkswagen Group brand and model with small TSI and TFSI gasoline engine options.
The new 1.4-liter turbocharged four-cylinder just introduced on the American-market Jetta (and others) is on the list, as are the 2.0L and 1.8L turbo fours powering numerous VW and Audi models worldwide.
Why is this a big deal versus the stop-sale for all USA TDI models?
This reason this revelation is a big deal is multi-pronged.
--- First, it shows a willful attempt at long-running consumer fraud, which the company would never have disclosed were it not under the microscope already.
--- Second, this list of 2016 models with problems is quite long. Not a fluke, and not an accident. Total vehicles included in the list is 130 various model/powertrain configurations, of which 430,000 have been produced already.
--- They keep making more every day.
Production of these cars cannot just stop on a dime. Even if they were able to be fixed by reflashing the ECU at dealerships, the glacial pace of VW's response means that cheater models could languish on showroom lots for up to the next 12 months waiting for a guru to get to them. It must be done individually, car by car, via a man with a laptop and OBDII port. The flash takes up to 30 minutes per car, and only the gasoline models can be fixed with software. The TDI engines need far more retrofitting and hacking at the bodywork to fit a new exhaust, engine computer and electronic control system in full. Wiring the new AdBlue urea tanks, creating nozzles for refilling, and getting cars back on the road could take a 2-week service appt for owners.
--- The list just has a X denoting that its numbers are faked, but not by how much, nor what year the engine emissions faking started.
--- While it seems Volkswagen in China skirted the TDI controversy thanks to a near-outright ban on diesel engines in the People's Republic, the CO2 matter is quite different. China does tax and certify new vehicle sales and property taxes, city stickers and insurance rates based on CO2. So any admission of these 2016 models could have devastating results via a 2016 stop-sale worldwide.
Can VW even fix this before the 2017 model-year?  They sure do not seem capable of much of anything besides appointing new executives.
How will this play out and influence the investigations?
The most damning element of the new info is that these engines are not new, in most cases. They have been on sale for at least five to six years, expanding the total universe of VW cheater models into the 40-million-units range.
This should spur a firestorm of new lawsuits from owners and governments around the world, all of whom may decide to act unilaterally to punish VW, help consumers, and set a precedent.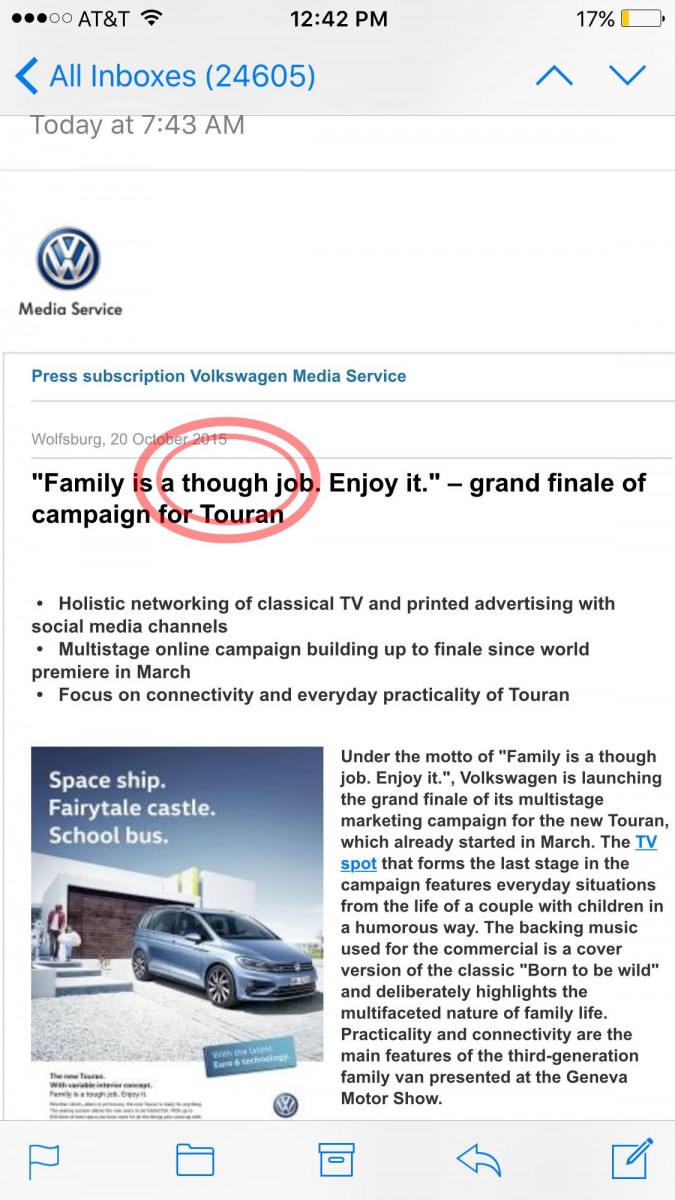 Above: Head of VW Communications is out as of this week.  Press releases with egregious typo's do not help.
Next Steps?
We strongly feel that VW has been, and is, lying about all of this.  Admitting the minimum information, taking no actual steps to repair the vehicles, and putting all the onus on their current, furious customers.
Typing in a VIN code for your car is complex, and VW's websites once your car has been identified give no next steps. Just "we'll call you."
Lastly, VW appears to be sneakily trying to get owners to sign damage liability waivers to owners in order to:
-- have their cars fixed
-- receive the much-touted TDI Goodwill giftcards, worth $500 in cash and $500 in dealer credits.
You sign up for the cards, they are sent (not any time soon, mind you), then customers are told to go to their VW dealership to have them activated.
--- VW USA, by the way, is now even more tightly controlled via Germany than ever before -- in direct contrast to what the plan was just a month ago.
Negative Prospectus
All I know is, the scandal is far from over -- and is actually getting worse by the hour for embattled Volkswagen.
The only way we see VW as able to repair the problem is to split into two companies, retest all 2016 models OUTSIDE THE COMPANY CHEAT CENTERS, and perform buy-backs for all owners who request it.
And do not ask anyone to sign anything. Like grinding salt into open wounds, VW's arrogance extends all the way to client sadomasochism.
VW Fraud
Wolfsburg, 13 November 2015
Next step in clarifying the CO2 issue
•   Affected Volkswagen Group models of the current model year have been identified
•   Customers being informed via website
•   Discussions with the authorities have begun
The Volkswagen Group reports that the vehicles of the 2016 model year affected by the CO2 issue have been identified. There is thus now clarity about the new vehicles of the current model year out in the marketplace. On 3 November 2015, the Group had already reported that irregularities may have arisen in determining the CO2 figures for type approval of around 800,000 vehicles. This was identified during its own currently ongoing investigations and had been made public.
The internal investigations into the current vehicles of the 2016 model year provide results for narrowing down the actually affected vehicles with implausible CO2 figures. In total for the 2016 model year approx. 430,000 vehicles are affected across the Group. A list of the individual brands' affected models is attached.
In order to expedite any possible reassessment of the vehicles' CO2 figures without delay, the relevant authorities are being informed of the latest findings. At the same time the Volkswagen Group is informing its importers and trading partners.
The next step will now be, for example for the Volkswagen brand, for the new CO2 figures to be determined under the supervision of the German Federal Vehicle and Transport Authority (KBA).
Over the coming week, the brands' national customer information pages on the Internet will also be added to with information on the CO2 issue. By entering their vehicle identification number (VIN), customers can find out here whether their vehicle is affected. For the Volkswagen brand in Germany, for example, the link is www.volkswagen.de/info.
To what extent models of previous years are affected continues to be looked into in conjunction with the authorities. Based on what is known at present, the Volkswagen Group continues to anticipate that this will be the previously communicated total figure of around 800,000 vehicles. The Volkswagen Group is in addition already in dialogue with the respective countries' financial and fiscal authorities so that all taxes arising in direct relation to the CO2 issue are charged straight to the Volkswagen Group and not to the customers.
What is sure is that the vehicles' safety is definitely not affected and there is therefore no need for any technical measures to be taken.
List of critical CO2 vehicles, model year 2016
Car
Engine
Gearbox
Audi
SEAT
SKODA
Volkswagen
VW Comercial   Veh
Total
Audi A1
R3 1,4l
66kW(90PS) 230Nm 4V TDI CR
DQ200‐7F
X
X
Audi A1
R3 1,4l
66kW(90PS) 230Nm 4V TDI CR
MQ250‐5F
X
X
Audi A1
R4 1,6l
85kW(115PS) 250Nm 4V TDI CR
DQ200‐7F
X
X
Audi A1
R4 1,6l
85kW(115PS) 250Nm 4V TDI CR
MQ250‐5F
X
X
Audi A1 Sportback
R3 1,4l
66kW(90PS) 230Nm 4V TDI CR
DQ200‐7F
X
X
Audi A1 Sportback
R3 1,4l
66kW(90PS) 230Nm 4V TDI CR
MQ250‐5F
X
X
Audi A1 Sportback
R4 1,6l
85kW(115PS) 250Nm 4V TDI CR
DQ200‐7F
X
X
Audi A1 Sportback
R4 1,6l
85kW(115PS) 250Nm 4V TDI CR
MQ250‐5F
X
X
Seat Ibiza 5 Türer
R3 1,0l
70kW(95PS) 160Nm 4V TSI
MQ200‐5F
X
X
Seat Ibiza 5 Türer
R3 1,4l
55kW(75PS) 210Nm 4V TDI CR
MQ250‐5F
X
X
Seat Ibiza 5 Türer
R3 1,4l
66kW(90PS) 230Nm 4V TDI CR
DQ200‐7F
X
X
Seat Ibiza 5 Türer
R3 1,4l
66kW(90PS) 230Nm 4V TDI CR
MQ250‐5F
X
X
Seat Ibiza 5 Türer
R3 1,4l
77kW(105PS) 250Nm 4V TDI CR
MQ250‐5F
X
X
Seat Ibiza 3 Türer
R3 1,0l
70kW(95PS) 160Nm 4V TSI
MQ200‐5F
X
X
Seat Ibiza 3 Türer
R3 1,4l
55kW(75PS) 210Nm 4V TDI CR
MQ250‐5F
X
X
Seat Ibiza 3 Türer
R3 1,4l
66kW(90PS) 230Nm 4V TDI CR
DQ200‐7F
X
X
Seat Ibiza 3 Türer
R3 1,4l
66kW(90PS) 230Nm 4V TDI CR
MQ250‐5F
X
X
Seat Ibiza 3 Türer
R3 1,4l
77kW(105PS) 250Nm 4V TDI CR
MQ250‐5F
X
X
Seat Ibiza Sport Tourer
R3 1,0l
70kW(95PS) 160Nm 4V TSI
MQ200‐5F
X
X
Seat Ibiza Sport Tourer
R3 1,4l
55kW(75PS) 210Nm 4V TDI CR
MQ250‐5F
X
X
Seat Ibiza Sport Tourer
R3 1,4l
66kW(90PS) 230Nm 4V TDI CR
DQ200‐7F
X
X
Seat Ibiza Sport Tourer
R3 1,4l
66kW(90PS) 230Nm 4V TDI CR
MQ250‐5F
X
X
Seat Ibiza Sport Tourer
R3 1,4l
77kW(105PS) 250Nm 4V TDI CR
MQ250‐5F
X
X
Seat Toledo
R3 1,4l
66kW(90PS) 230Nm 4V TDI CR
DQ200‐7F
X
X
Seat Toledo
R3 1,4l
66kW(90PS) 230Nm 4V TDI CR
MQ250‐5F
X
X
Seat Leon
R3 1,0l
85kW(115PS) 200Nm 4V TSI
MQ200‐6F
X
X
Seat Leon
R4 1,4l
110kW(150PS) 250Nm 4V TSI ACT
DQ200‐7F
X
X
Seat Leon
R4 1,4l
110kW(150PS) 250Nm 4V TSI ACT
MQ250‐6F
X
X
Seat Leon
R4 1,6l
81kW(110PS) 250Nm 4V TDI CR
DQ200‐7F
X
X
Seat Leon
R4 1,6l
81kW(110PS) 250Nm 4V TDI CR
MQ250‐6F
X
X
Seat Leon
R4 1,8l
132kW(180PS) 250Nm 4V TFSI
DQ200‐7F
X
X
Seat Leon
R4 2,0l
110kW(150PS) 340Nm 4V TDI CR
MQ350‐6F
X
X
Seat Leon
R4 2,0l
135kW(184PS) 380Nm 4V TDI CR
MQ350‐6F
X
X
Seat Leon SC
R3 1,0l
85kW(115PS) 200Nm 4V TSI
MQ200‐6F
X
X
Seat Leon SC
R4 1,4l
110kW(150PS) 250Nm 4V TSI ACT
DQ200‐7F
X
X
Seat Leon SC
R4 1,4l
110kW(150PS) 250Nm 4V TSI ACT
MQ250‐6F
X
X
Seat Leon SC
R4 1,6l
81kW(110PS) 250Nm 4V TDI CR
DQ200‐7F
X
X
Seat Leon SC
R4 1,6l
81kW(110PS) 250Nm 4V TDI CR
MQ250‐6F
X
X
Seat Leon SC
R4 1,8l
132kW(180PS) 250Nm 4V TFSI
DQ200‐7F
X
X
Seat Leon SC
R4 2,0l
110kW(150PS) 340Nm 4V TDI CR
MQ350‐6F
X
X
Seat Leon SC
R4 2,0l
135kW(184PS) 380Nm 4V TDI CR
MQ350‐6F
X
X
Seat Leon Sport Tourer
R4 1,6l
81kW(110PS) 250Nm 4V TDI CR
DQ200‐7F
X
X
Seat Leon Sport Tourer
R4 1,6l
81kW(110PS) 250Nm 4V TDI CR
MQ350‐6A
X
X
Seat Leon Sport Tourer
R4 1,6l
81kW(110PS) 250Nm 4V TDI CR
MQ250‐6F
X
X
Seat Leon Sport Tourer
R4 1,8l
132kW(180PS) 250Nm 4V TFSI
DQ200‐7F
X
X
Seat Leon Sport Tourer
R4 2,0l
135kW(184PS) 380Nm 4V TDI CR
DQ250‐6A
X
X
Seat Leon Sport Tourer
R4 2,0l
135kW(184PS) 380Nm 4V TDI CR
MQ350‐6F
X
X
Skoda Fabia
R3 1,4l
55kW(75PS) 210Nm 4V TDI CR
MQ250‐5F
X
X
Skoda Fabia
R3 1,4l
66kW(90PS) 230Nm 4V TDI CR
DQ200‐7F
X
X
Skoda Fabia
R3 1,4l
66kW(90PS) 230Nm 4V TDI CR
MQ250‐5F
X
X
Skoda Fabia
R3 1,4l
77kW(105PS) 250Nm 4V TDI CR
MQ250‐5F
X
X
Skoda Fabia Combi
R3 1,4l
55kW(75PS) 210Nm 4V TDI CR
MQ250‐5F
X
X
Skoda Fabia Combi
R3 1,4l
66kW(90PS) 230Nm 4V TDI CR
DQ200‐7F
X
X
Skoda Fabia Combi
R3 1,4l
66kW(90PS) 230Nm 4V TDI CR
MQ250‐5F
X
X
Skoda Fabia Combi
R3 1,4l
77kW(105PS) 250Nm 4V TDI CR
MQ250‐5F
X
X
Skoda Rapid Spaceback
R3 1,4l
66kW(90PS) 230Nm 4V TDI CR
DQ200‐7F
X
X
Skoda Rapid Spaceback
R3 1,4l
66kW(90PS) 230Nm 4V TDI CR
MQ250‐5F
X
X
Skoda Rapid
R3 1,4l
66kW(90PS) 230Nm 4V TDI CR
DQ200‐7F
X
X
Skoda Rapid
R3 1,4l
66kW(90PS) 230Nm 4V TDI CR
MQ250‐5F
X
X
Skoda Yeti
R4 2,0l
81kW(110PS) 250Nm 4V TDI CR
MQ350‐6A
X
X
Skoda Octavia
R4 1,6l
81kW(110PS) 250Nm 4V TDI CR
DQ200‐7F
X
X
Skoda Octavia
R4 2,0l
135kW(184PS) 380Nm 4V TDI CR
MQ350‐6F
X
X
Skoda Octavia Combi
R4 1,6l
81kW(110PS) 250Nm 4V TDI CR
DQ200‐7F
X
X
Skoda Octavia Combi
R4 1,6l
81kW(110PS) 250Nm 4V TDI CR
MQ250‐6F
X
X
Skoda Octavia Combi
R4 2,0l
135kW(184PS) 380Nm 4V TDI CR
MQ350‐6F
X
X
Skoda Superb
R4 1,6l
88kW(120PS) 250Nm 4V TDI CR
DQ200‐7F
X
X
Skoda Superb
R4 1,6l
88kW(120PS) 250Nm 4V TDI CR
MQ250‐6F
X
X
Skoda Superb
R4 1,6l
88kW(120PS) 250Nm 4V TDI CR
MQ250‐6F
X
X
Skoda Superb
R4 2,0l
110kW(150PS) 340Nm 4V TDI CR
MQ350‐6A
X
X
Skoda Superb
R4 2,0l
140kW(190PS) 400Nm 4V TDI CR
MQ350‐6F
X
X
Skoda Superb Combi
R4 1,6l
88kW(120PS) 250Nm 4V TDI CR
DQ200‐7F
X
X
Skoda Superb Combi
R4 1,6l
88kW(120PS) 250Nm 4V TDI CR
MQ250‐6F
X
X
Skoda Superb Combi
R4 2,0l
110kW(150PS) 340Nm 4V TDI CR
MQ350‐6A
X
X
VW Polo
R3 1,0l
70kW(95PS) 160Nm 4V TSI
DQ200‐7F
X
X
VW Polo
R3 1,4l
55kW(75PS) 210Nm 4V TDI CR
MQ250‐5F
X
X
VW Polo
R3 1,4l
66kW(90PS) 230Nm 4V TDI CR
DQ200‐7F
X
X
VW Polo
R3 1,4l
66kW(90PS) 230Nm 4V TDI CR
MQ250‐5F
X
X
VW Polo
R3 1,4l
77kW(105PS) 250Nm 4V TDI CR
MQ250‐5F
X
X
VW250/0SA Polo PA1 EU/RdW
R3 1,4l
55kW(75PS) 210Nm 4V TDI CR
MQ250‐5F
X
X
VW250/0SA Polo PA1 EU/RdW
R3 1,4l
66kW(90PS) 230Nm 4V TDI CR
DQ200‐7F
X
X
VW250/0SA Polo PA1 EU/RdW
R3 1,4l
66kW(90PS) 230Nm 4V TDI CR
MQ250‐5F
X
X
VW250/0SA Polo PA1 EU/RdW
R3 1,4l
77kW(105PS) 250Nm 4V TDI CR
MQ250‐5F
X
X
VW Tiguan
R4 2,0l
110kW(150PS) 340Nm 4V TDI CR
DQ500‐7A
X
X
VW Tiguan
R4 2,0l
135kW(184PS) 380Nm 4V TDI CR
DQ500‐7A
X
X
VW Jetta
R4 1,2l
77kW(105PS) 175Nm 4V TSI
MQ200‐6F
X
X
VW Jetta
R4 1,4l
92kW(125PS) 200Nm 4V TSI
MQ200‐6F
X
X
VW Scirocco
R4 2,0l
135kW(184PS) 380Nm 4V TDI CR
DQ250‐6F
X
X
VW Scirocco
R4 2,0l
135kW(184PS) 380Nm 4V TDI CR
MQ350‐6F
X
X
VW Golf Cabriolet
R4 2,0l
110kW(150PS) 340Nm 4V TDI CR
DQ250‐6F
X
X
VW Golf Cabriolet
R4 2,0l
81kW(110PS) 250Nm 4V TDI CR
MQ250‐5F
X
X
VW Golf
R4 1,4l
110kW(150PS) 250Nm 4V TSI ACT
DQ200‐7F
X
X
VW Golf
R4 1,4l
110kW(150PS) 250Nm 4V TSI ACT
MQ250‐6F
X
X
VW Golf
R4 1,6l
66kW(90PS) 230Nm 4V TDI CR
MQ250‐5F
X
X
VW Golf
R4 1,6l
81kW(110PS) 250Nm 4V TDI CR
DQ200‐7F
X
X
VW Golf
R4 1,6l
81kW(110PS) 250Nm 4V TDI CR
MQ250‐5F
X
X
VW Golf
R4 1,6l
81kW(110PS) 250Nm 4V TDI CR
MQ350‐6A
X
X
VW Golf
R4 1,6l
81kW(110PS) 250Nm 4V TDI CR
MQ250‐6F
X
X
VW Golf
R4 2,0l
110kW(150PS) 340Nm 4V TDI CR
MQ350‐6F
X
X
VW Golf
R4 2,0l
162kW(220PS) 350Nm 4V TFSI
DQ250‐6F
X
X
VW Golf
R4 2,0l
162kW(220PS) 350Nm 4V TFSI
MQ350‐6F
X
X
VW Golf
R4 2,0l
221kW(300PS) 380Nm 4V TFSI
DQ250‐6A
X
X
VW Golf
R4 2,0l
221kW(300PS) 380Nm 4V TFSI
MQ350‐6A
X
X
VW Golf Variant
R4 1,6l
66kW(90PS) 230Nm 4V TDI CR
MQ250‐5F
X
X
VW Golf Variant
R4 1,6l
81kW(110PS) 250Nm 4V TDI CR
MQ350‐6A
X
X
VW Golf Variant
R4 1,6l
81kW(110PS) 250Nm 4V TDI CR
MQ250‐6F
X
X
VW Golf Variant
R4 2,0l
135kW(184PS) 380Nm 4V TDI CR
DQ250‐6A
X
X
VW Golf Sportsvan
R4 1,6l
66kW(90PS) 230Nm 4V TDI CR
MQ250‐5F
X
X
VW Golf Sportsvan
R4 1,6l
81kW(110PS) 250Nm 4V TDI CR
DQ200‐7F
X
X
VW Golf Sportsvan
R4 1,6l
81kW(110PS) 250Nm 4V TDI CR
MQ250‐5F
X
X
VW Touran
R4 2,0l
110kW(150PS) 340Nm 4V TDI CR
DQ250‐6F
X
X
VW Touran
R4 2,0l
110kW(150PS) 340Nm 4V TDI CR
MQ350‐6F
X
X
VW CC
R4 2,0l
135kW(184PS) 380Nm 4V TDI CR
DQ250‐6F
X
X
VW Passat
R4 1,6l
88kW(120PS) 250Nm 4V TDI CR
DQ200‐7F
X
X
VW Passat
R4 1,6l
88kW(120PS) 250Nm 4V TDI CR
MQ250‐6F
X
X
VW Passat
R4 1,6l
88kW(120PS) 250Nm 4V TDI CR
MQ250‐6F
X
X
VW Passat
R4 2,0l
110kW(150PS) 340Nm 4V TDI CR
DQ250‐6F
X
X
VW Passat
R4 2,0l
110kW(150PS) 340Nm 4V TDI CR
MQ350‐6F
X
X
VW Passat Variant
R4 1,4l
110kW(150PS) 250Nm 4V TSI ACT
MQ350‐6A
X
X
VW Passat Variant
R4 1,6l
88kW(120PS) 250Nm 4V TDI CR
DQ200‐7F
X
X
VW Passat Variant
R4 1,6l
88kW(120PS) 250Nm 4V TDI CR
MQ250‐6F
X
X
VW Passat Variant
R4 2,0l
110kW(150PS) 340Nm 4V TDI CR
MQ350‐6F
X
X
VW Passat Variant
R4 2,0l
162kW(220PS) 350Nm 4V TFSI
DQ250‐6F
X
X
VW Passat Variant
R4 2,0l
162kW(220PS) 350Nm 4V TFSI
DQ500‐7A
X
X
VW Passat Variant
R4 2,0l
176kW(239PS) 500Nm 4V TDI BiT CR
DQ500‐7A
X
X
VW Caddy
R4 2,0l
55kW(75PS) 220Nm 4V TDI CR
MQ250‐5F
X
X
VW Caddy
R4 2,0l
75kW(102PS) 250Nm 4V TDI CR
MQ250‐5F
X
X
VW T6
R4 2,0l
110kW(150PS) 340Nm 4V TDI CR
DQ500‐7F
X
X
VW T6
R4 2,0l
110kW(150PS) 340Nm 4V TDI CR
MQ500‐6F
X
X
15,733
32,161
83,282
281,617
17,253
430,046