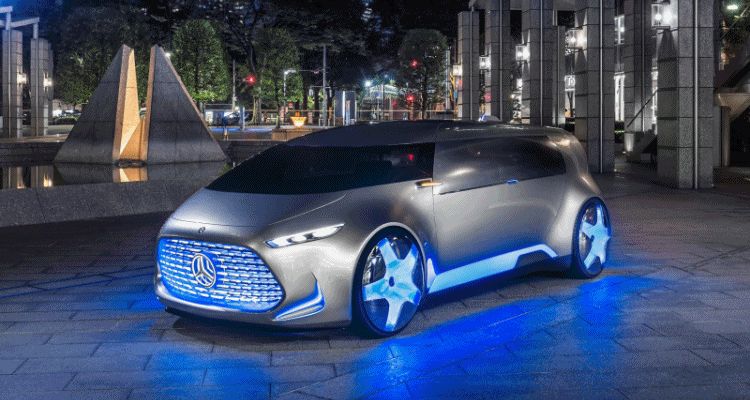 Tokyo has long been the global auto show to see some weird, wild and wacky stuff. Futuristic dreams on four wheels, usually with brightly lit color-schemes and adaptive video screens to boot.
The show this year is still tech-rich, but a bit more somber than previous years. A firm production focus appears to be the concept-car focus so far.
But here glides in an unlikely hero for wild and crazy concept cars, none other than Mercedes-Benz!?
The Vision Tokyo is a funky style wagon aimed at chic yuppies stuck in traffic. As opposed to chic oldies in the back of the F015 concept from Vegas, perhaps?
Both share their autonomous drive technologies, plus some new Fuel Cell PHEV tech for the Vision Tokyo. The car features a 1000-mile range thanks to a large inductively-charged battery pack chipping in 200 miles atop the 800 from the Hydrogen fuel cell-charged power unit. So the fuel cell powers a special electric motor with juice based on a high-pressure gas charging system to fill the tanks under the floor of the Vision Tokyo. This hydrogen is converted into electricity and spins the wheels. Another unique battery for full EV mode is the contactless charging unit — letting drivers juice up just by parking atop a special pod in their garage.
The style is certainly cool and ready for Hollywood's vision of a dystopian future. Proportions and details are more realistic than the F015 in some ways, but the giant gullwing doors and fully-autonomous drive system are still a bit of good-old Tokyo future-magic. =]
2015 Mercedes-Benz Vision Tokyo
Mobile club lounge for young, urban trendsetters: Mercedes-Benz Vision Tokyo: Connected Lounge
Stuttgart/Tokyo
Oct 28, 2015
Stuttgart/Tokyo.  The Vision Tokyo is the latest trailblazing spatial experience to come from Mercedes-Benz: its monolithic structure, futuristic design idiom and unique lounge ambience in the interior define it as luxurious, young and progressive – thus making it a fitting tribute to the sophisticated megacity and trendsetting metropolis that is Tokyo.
Spatially efficient, versatile and intelligently connected, the Vision Tokyo – which is also capable of driving autonomously – is an urban transformer that reflects the growing youthfulness of the Mercedes-Benz brand.
At the same time, this innovative five-seater continues a tradition of visionary design-study showcars that has included the Vision Ener-G-Force (Los Angeles, November 2012), AMG Vision Gran Turismo (Sunnyvale, 2013) and G-Code (Beijing, November 2014).  
Japan's capital city Tokyo represents home to some nine million people, in an area that is just 622 square kilometres in size – smaller than Paris but with more than four times as many people. This megacity represents a fascinating combination of tradition and contemporary high tech and is constantly defining new trends – making it the ideal location for the premiere of the Mercedes-Benz Vision Tokyo. It will be on display to an international audience for the first time at the Tokyo Motor Show (30 October to 7 November 2015).