The new MINI ragtop is here and vastly improved!  An all-new and wider platform houses two new engines, an all-new cabin and some sweet new tech and style options.
The Cooper and Cooper S both run turbo engines for the next-gen model, with standard six-speed manuals or six-speed automatics available. But there is a big difference for the S in this generation: a whole extra cylinder!  That;s right, the base MINI runs a 1.5-liter triple!  This new modular engine series powers all future BMW's; the 340i just revealed its 3.0-liter version of the same engine, but as a six-cylinder. A four-liter V8 version is on the way soon.
Each piston now takes up a round 500CC of displacement, so adding power is fairly simple, like working with building blocks.  The advantage for the new MINI is that it benefits from the latest twin-power turbo technology with variable vane fins inside the booster — not waiting for the tech to trickle down over the years from BMW flagships.
The new engine is still quick and even torqier for both base and Cooper S trim levels of the MINI Convertible, delivering sprint times in the high 6-second range. Just a tenth or so slower than the hardtop, which is testament to the new and ultra-modern chassis under the familiar panels outside.
The new MINI Convertible arrives stateside in March of 2016, with a possible 2017 model-year designation. Pricing should stay similar to the existing softtop, meaning a $3k premium over the Hardtop at all of its $21k – $33k price levels.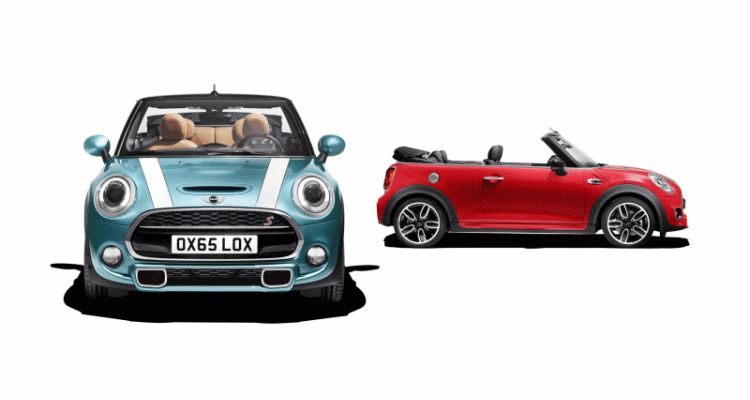 2017 MINI Cabrio
Open Driving Excitement: Introducing the New MINI Convertible
Newest member of MINI lineup goes on sale in U.S. in March 2016
First open top MINI powered by BMW Group engine technology and architecture
Woodcliff Lake, NJ – October 22, 2015 – MINI USA introduced today the newest addition to its iconic product line, the new MINI Convertible. As the first open top MINI powered by BMW Group engines and architecture, the new MINI Convertible is a premium four-seater soft-top convertible that is both practical and customizable for unlimited open-air motoring fun.