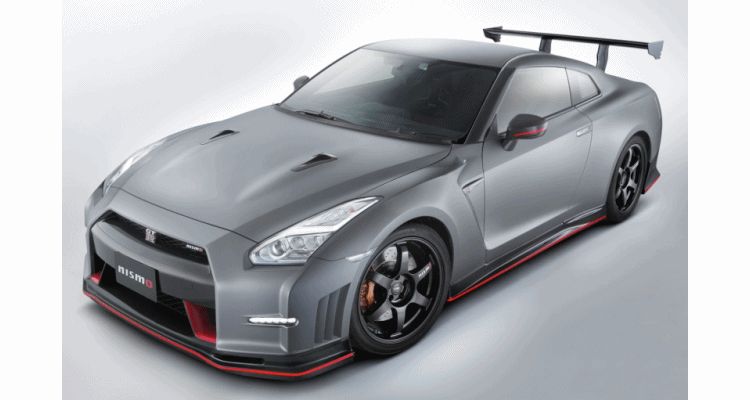 Not sure how this even-hotter-than-ever NISMO GT-R slid by us when it was announced in August of this year, but we are all over it now!
The new N Attack Package is a major overhaul of the factory NISMO GT-R — letting any OEM driver have the exact specification that delivered a Nurburgring production track record earlier in the year.
In Japan, the assembly of the N Attack pack is handled in-house by NISMO, but in the USA (and worldwide) the distributor and official installation partner is long-time Nissan guru STILLEN.
This upgrade is massively involved. We have the full new-parts list outlined below, and it is amazingly deep. Bodywork goes hardcore with all-new dry carbon fenders with integrated flics and hot-air vents, while a new spoiler in back is far taller and more aggressive than the standard NISMO unit. the N Attack spoiler sits much higher on the trunktop, with far deeper vertical fins on either edge of its bare-carbon surface. A rubber front lip extension is the final exterior tweak, but big things will go on under the hood and throughout the chassis in the conversion.
Carbon-fiber intakes and turbo piping are new for the N Attack, as is an even-more-hardcore ECU module to up the power output to a round 600HP. Dedicated limited-slip differentials front and rear are new, with the front employing a steel plate while the back diff runs carbon-fiber internals. [Titanium STILLEN exhaust is available, but may not officially be in the N Attack Pack — at least as detailed in the table below.]
Nissan GT-R NISMO (Eurospec) — upper photo
Nissan GT-R NISMO N Attack Package — lower photos

Carbon fiber also makes it inside the cabin, with an all-new rear bulkhead that radically increases chassis rigidity. The front brakes are swapped for new-material pads, while 4-way-adjustable OHLINS dampers all around let you tune the ride height as well as handling traits.
STILLEN outlines two choices for shoppers: the A kit or the B kit. The A kit includes all of the above, plus carbon-backed hardshell bucket seats up front and some new trim details. The B kit is a lighter upgrade, focusing on the aero and performance essentials — for a cheaper overall price.
No word on those prices, by the way, for USA buyers. We'd start saving up: the parts alone seem worth perhaps $25,000, with labor and transport adding an easy $10k more.
Pricing in Japanese yen for the A kit is $68k, while the B kit is around $35k. The pricing may not be a direct conversion to dollars, and likely does not include installation for USA NISMO owners.
The GT-R N Attack Package will make its USA debut at SEMA in a few weeks, but interested buyers can place their orders today via STILLEN. In addition to the tech upgrades detail, we've also grabbed a few component images from STILLEN's blog documenting the project and installation of these go-faster goodies.

Nissan GT-R NISMO N Attack Package
Nismo Offers NISMO N Attack Package Dedicated Option Package for Nissan GT-R NISMO (R35) in the U.S.
YOKOHAMA, Japan – Nissan Motorsports International Co., Ltd is offering the "NISMO N Attack Package", a bundle of dedicated option parts for the Nissan GT-R NISMO(R35), in the U.S.
The "NISMO N Attack Package" consists of the dedicated parts that were especially developed through the time attack project at Nurburgring in Germany, where the Nissan GT-R NISMO recorded a time of 7 minutes 8.679 seconds, the fastest recorded time for a volume production vehicle. The NISMO N Attack Package was developed to achieve optimal speed and includes components such as aerodynamics necessary for superior down-force, suspension that can handle such a punishing road surface full of undulations and turbulent fluctuations, and full bucket seats essential to maintain the optimal driving position even under powerful g-force. In Japan, these parts are combined and assembled at the Nismo Omori Factory, whose mechanics participated in the time attack project, while, in the US, Steve Millen Sportsparts Inc. (STILLEN) was chosen to conduct sales as the official installer and certified sales agency.
STILLEN has a long history with Nissan and Nismo through motorsports activities, as the president and CEO, Steve Millen, was a Nissan racing driver who brought home many victories with his famous tricolor 300ZX. In addition to their racing expertise, the company has been specializing in high performance parts for a long period of time. In order to become the certified sales agency and official installer of the NISMO N Attack Package, STILLEN has been trained at the Nismo Omori Factory in Japan on all the techniques required for special assembly processes, servicing and maintenance for each N Attack Package.
Interested customers can contact STILLEN for pricing and installation at www.stillen.com.
About the Nismo by STILLEN N-Attack Package
The Nissan GT-R Nismo by STILLEN N-Attack Package is a special edition package that includes specially designed engine control and drive system parts, suspension parts, aerodynamic parts and more. See the table below for details.
Parts
Components
Specifications
A Kit
B Kit
Engine Power Train
Dedicated intercooler piping
Carbon
Yes
–
Dedicated ECM
Characteristics changed part
Yes
Yes
Dedicated front L.S.D.
Dedicated mechanical 1.5 way, steel plate
Yes
–
Dedicated rear L.S.D.
Dedicated mechanical 2 way, carbon plate
Yes
–
Suspension Brake
Dedicated shock & spring
Dedicated shock: OHLINS-manufactured vehicle height adjustable type, damping force adjustment 4 way
Yes
Yes
Dedicated stabilizer
Roll stiffness variable type
Yes
Yes
Dedicated front brake pad
Friction material changed
Yes
Yes
Exterior
Dedicated carbon front fender
Dry carbon, with flick
Yes
Yes
Dedicated front add-on spoiler
Rubber
Yes
Yes
Dedicated carbon rear wing
Wing: Dry carbon, Base: Aluminum + Dry carbon cover With height adjusting function: 2 levels, With angle adjusting function: 12 levels
Yes
Yes
Interior
Dedicated full bucket seat
Right and left sides, RECARO-manufactured carbon shell type
Yes
Optional
Quilting cloth mat
Set with front full bucket seat, rear seats abolished
Yes
–
Dedicated carbon rear bulkhead
Dry carbon
Yes
–
NISMO N Attack Package configuration
[Engine power train]


Dedicated intercooler piping
Dedicated LSD

[Underbody brake]


Dedicated shock & exclusive spring
Dedicated front brake pads

[Exterior]


Dedicated carbon front fender
Dedicated front add-on spoiler