Quickest and fastest Audi's of all time? Certainly among four-door models!
The just-revealed top spec for the already-mighty RS6 and RS7 focuses under the hood, so delivers its S-Model-smacking performance upgrades in fairly subtle fashion. Certainly when static, the RS6 and RS7 performance (low-case P in Performance is on purpose by Audi) just looks like a loaded existing model. One featuring the largest forged alloys available, matte silver detailing and quattro 3D script in the front bumper.
Versus even the RS6 Plus from before, however, the V8TT in the new 'performance' trims is mighty impressive. Power leaps up to 605-ponies from the original 560, while new wave-pattern brake discs are offered for the first time as a cheaper alternative to the also-available full carbon-ceramic stoppers. A reprogrammed transmission and torque curve for the insatiable 4.0-liter V8 engine helps to achieve the performance models' signature stunt — the 62-mph sprint!  Pace is now a dizzying 3.7-seconds to the benchmark sprint, while the quarter mile passes in just 12.1-seconds, a big 1.4-second improvement over the current RS siblings.
This new launch zoom was needed: Mercedes-AMG's new 4Matic as standard on the E63 and others is exceptionally effective. Where traction issues once slammed the door on AMG hammers at aroun 4.0-seconds to 60-mph, the latest rear-biased AMG AWD system is now down to the mid-3's — and still getting quicker model by model. Audi takes its launch prowess quite seriously, obviously, so the Performance RS models are a direct rebuttal to this rising AMG competition.
The final treat for these autobahn UFOs? A new Dynamic option group that lifts the stock speed limiter from a very prude 155-mph to a stout 189.5-mph.  This will make the RS6 Avant performance and RS7 Sportback performance models some of the fastest German production vehicles of all time.
The RS6 Avant performance and RS7 performance hit showrooms and first buyers next month in Germany, with no word yet on their availability outside the home market. Pricing is about 120k in Euros before the many options — including new Ascari blue paintwork outside and custom, honeycomb-stitched racing seats inside. All in, do not expect much change from $150k for these ultimate Audi barnstormers.
Pretty sweet.  But one final thought.  Is this as hardcore and extreme as any RS6 might ever be?  At least without help on the aftermarket?
Perhaps!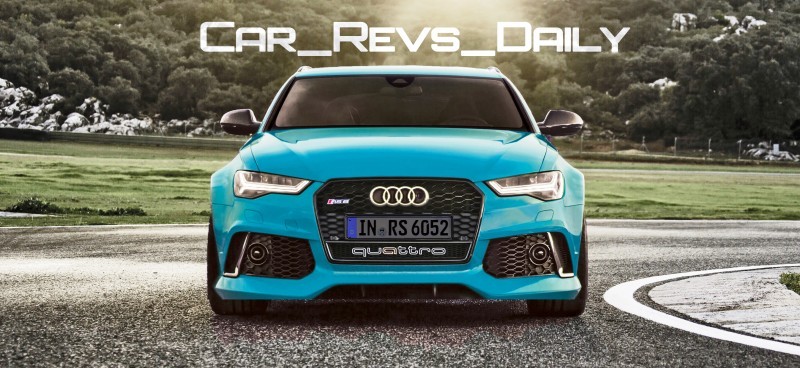 2016 Audi RS7 Sportback performance
10/22/15
Ingolstadt
Audi MediaCenter
Plus performance: the new Audi RS 6 Avant performance and RS 7 Sportback performance
4.0 TFSI now with 445 kW (605 hp) and up to 750 Nm (553.2 lb-ft)
Like a supercar: from 0 to 100 km/h (62.1 mph) in 3.7 seconds
New model designation hones brand's sporty profile