Caveat on the header image!  Porsche is not resto-modding its priceless racing icons.  Just a bit of photoshop fun for the header graphic — melding 917K with 2016 Cayenne quad LEDs.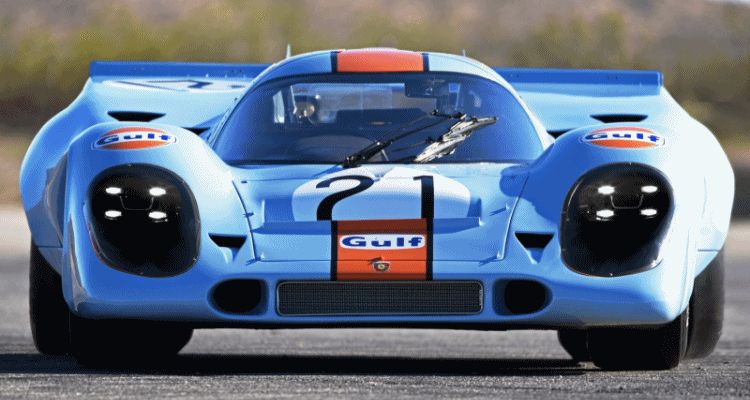 The Gulf-Porsche 917K LeMans-winner must be one of the most iconic racecars of all time. Celebrated and hated in equal measure by track opponents during its competitive reign, the stunning champion is now a universal all-star at classic races like the Mitty Reunion at Road Atlanta every Springtime.
Porsche knows its classic racecar owners love nothing more than tracking and competing hard — so is rolling out a multi-prong effort to support classics and racecars much more than ever before.
The new motorsport services program aims to both restore and care for classic Porsche racecars out of the new LA Porsche Experience Center — opening in mid-2016.  The plan is to be a one-stop-shop for owners wanting their classics to be at race-ready condition year-round. Full restorations, mechanical work and racing services are part of the Porsche Motorsport Classics business plan. The Porsche Motorsport Classics program is even set up to be a full transport and on-track pit crew for a few all-star clients. This means the owners can just arrive and drive at global events — their car brought and carefully prepped by factory experts.
On a more mass-market level, Porsche Classic itself has now launched a branded lineup of car care and maintenance products. Along with the upgraded Becker-look audio system with an updated nav system, the new Porsche Classic mission is to celebrate and hold close the firm's very enviable racing legacy.
917K – Digital LED Restomod
Porsche Motorsport Classics — Gulf-Porsche 917K
Restored Porsche 917K returns to US race track after 40 years
Porsche provides new services for historic motorsport
Stuttgart. Historic Porsche race cars represent many victories at the 24-hour classics of Le Mans and Daytona. And they also celebrated memorable successes at 1,000-kilometre events on storied circuits such as the Nürburgring and Spa-Francorchamps. To ensure that these vehicles can still be admired at race tracks today, Porsche now also offers customers a comprehensive service for historic motor racing in Germany and the USA. The priorities of the new business field are to restore vintage race cars as true to the original as possible as well as to repair and maintain them.