Reviewing this nearly all-new 2016 Peugeot Dakar racer almost brings tears to a racer's eye! And the blatt of the V6TT making 800Nm of torque is just the immersion to make your month.

Will this make Peugeot and Red Bull's year down in Chile in January? You'd be a fool to bet against this breathtaking prototype from the far future.
Check out this animated evolution in GIF form showing the huge change in scale, proportions and stance for the newly-renamed Peugeot 2008 DKR16 racer.
As we scroll through the past year, the original 2015 spec became the 2015+ configuration for the Silk road China rally.
But this menace was clearly waiting in the wings: the much lower, much longer and much wider DKR16!



The transition is remarkable. A few hard landings in video footage from the final signoff testing in Morocco proves the LWB move is smart. Where the previous truck really seemed unhappy with rough landings, the new DKR16 has flow and incredible poise even in hell-on-earth dune jumps.
Favorite new design detail? The exposed rear end with big diff shining proudly is a smart refresh of Group B ideas. But the coolest new detail has to be the side intakes. Moving these from full-height scoops behind the doors has freed up the main bodywork for twin spare wheels. It has also shifted the intake up to the tophat portion of the all-carbon shell. These intakes should be able to pull in cleaner, cooler air to cool the F1 or LM-spec turbo's inside. The look is otherworldly — so cool and badass, it almost recalls the new F-35 Raptor fighter planes. Definite jet-proven principles in the aero purity of the look.  But the visuals are almost as rewarding!
The new DKR16 is a stunning racecar — and one we hope finds great success at Dakar 2016!
Watch this space for updates on the leadup and race action.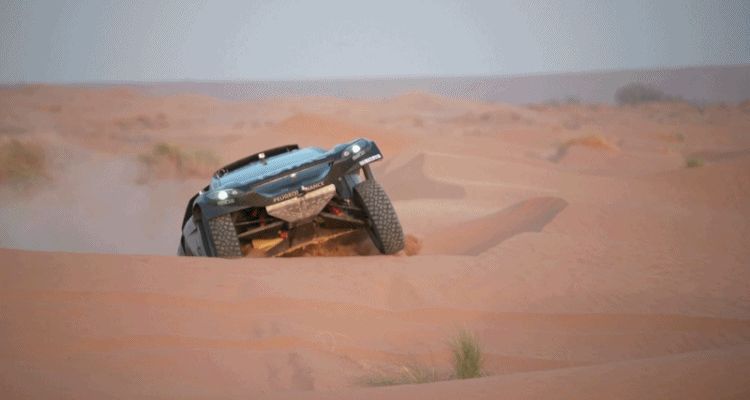 2016 Peugeot 2008 DKR16
The PEUGEOT 2008 DKR16 just got bigger – and better!