Yes yes, it is easy to focus on amazing concept cars for the flashback pieces. But what about the functional stuff? The wild and hideous?
EOE coverage here… with a look back at the 2012 Toyota FT-Bh from Geneva of that year.
As a sculptural piece, and an achievement in aerodynamics… the FT-Bh is clearly impressive. It is a large wagon variant about the length of the current Prius V, but much lower and wider.
What we saw in the FT-Bh was the next step in Toyota hybrid aero styling. By comparison, the Mirai fuel cell production car is far more elegant and easier to stomach. Even rejecting its unpleasant style, you can see the logic in the thousand hours needed to achieve 0.235 cD in the wind tunnel, and 135-mpg averages on the street. All while potentially seating seven within this shape.
2012 Toyota FT-Bh
KEY POINTS
New Toyota concept targets minimised emissions from a vehicle that uses economically viable technologies and manufacturing methods
Longer than a Yaris, but 25 per cent lighter thanks to comprehensive weight-saving
High aerodynamic efficiency, with 0.235 drag coefficient
Full hybrid powertrain featuring high-efficiency two-cylinder 1.0-litre petrol engine
Average134.5mpg and 49g/km CO2 emissions – new performance benchmarks for a full hybrid vehicle
Flexibility of Toyota Hybrid Synergy Drive gives potential for future compressed natural gas hybrid and plug-in hybrid versions with even lower carbon emissions
World premiere at the Geneva motor show
Toyota's new FT-Bh concept is a vehicle designed to take the efficiency of full hybrid vehicles to new heights. Making its debut at the Geneva motor show, it is an ultra-light concept, weighing less than 800kg, which demonstrates what can be achieved in terms of fuel consumption and CO2 emissions in an affordable family supermini.
Thanks to its low weight, exceptional aerodynamic quality, very low driving resistance and its highly efficient powertrain, FT-Bh can achieve an average 134.5mpg fuel consumption and 49g/km CO2 emissions.
Those figures are from a vehicle that is close in size to today's Yaris, at 3,985mm long, 1,695mm wide and 1,400mm tall, with a 2,570mm wheelbase. The emissions are about half the level of those produced by a 1.0-litre Yaris.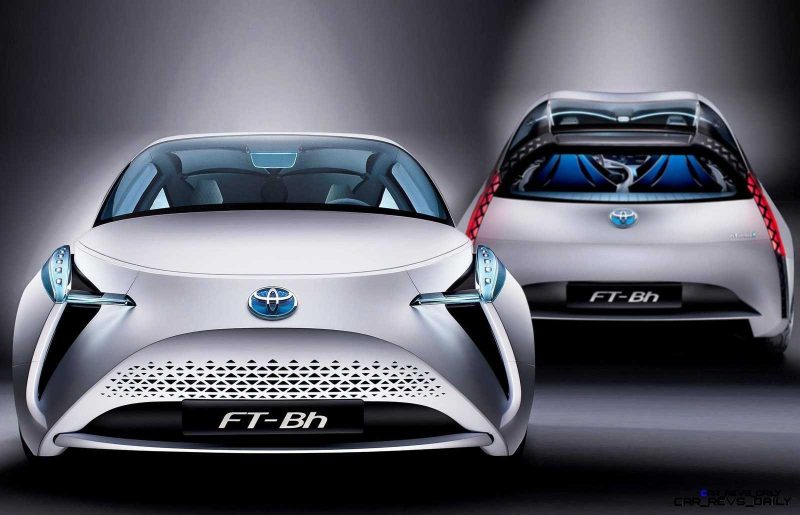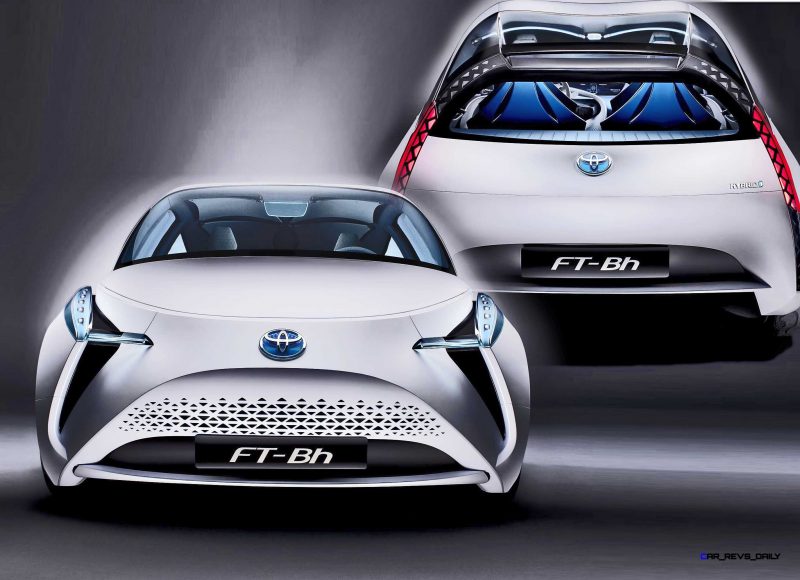 In their mission to achieve the best possible fuel economy and emissions, the design team focused on five key areas: reducing weight; driving resistance (including aerodynamic and tyre performance); powertrain efficiency; thermal energy management; and electricity savings.
Toyota recognises that a real-world reduction of total global vehicle CO2 emissions can only be brought about if an affordable, ultra-low emissions vehicle can be manufactured and sold in sufficiently high volumes. That made it important that the concept did not require exotic, expensive materials or complex manufacturing procedures, but used instead only those that are already commonly available in the motor industry.
Design
"Ecomotion" was the theme for styling FT-Bh, with its shape demonstrating a new approach to bodywork design. Key panels, such as the roof, are formed to represent the way fabric can be stretched taut between fastening points, to reflect their ultra-light weight.
The front end of the car broadcastsToyota's current design language with its large lower grille, together with a sculpted bonnet and headlamps that are integrated into the front wings. Ultra-slim A and C-pillars maximise the glazed area for better visibility and a greater sense of space in the cabin.
The way in which the cabin merges seamlessly into the rear of the vehicle, with an uplifted rear bumper and chevron-shaped corner elements, helps achieve the best possible aerodynamic performance and deliver a drag coefficient of just 0.235.
The stretched fabric-look carries through to the minimalist interior, with a concave centre console creating a driver-focused cockpit, while maintaining the overall feeling of light and space.
Weight saving
The target for FT-Bh was a 25 per cent saving on the 1.0-litre Yaris's 1,030kg kerb weight. Using a combination of high-tensile steel, aluminium and magnesium in the construction has trimmed the weight to just 786kg.