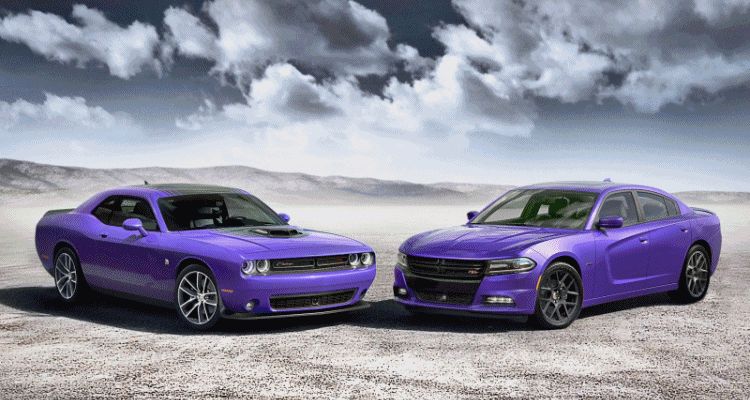 Dodge just released two 2016 special editions in the brand's famous Plum Crazy paint color. This special-order hue will be offered on all engines and trims, up to and including the thunderous Hellcats.
While the Charger is our pick hands-down among the two, the Challenger two-door will always be far more valuable as a collector classic. This is the general rule in classics: two-doors always sell for more than four-doors on the classic auction market. This is doubly true for musclecars.
Dodge makes a convincing case for Plum Crazy via some never-before-released production numbers for the limited-production and special edition Chargers and Challengers over the last decade… which may be helpful to know how rare the vehicles are.
PLUM CRAZY 2016 Charger and Challenger
DODGE DEBUTS PLUM CRAZY HERITAGE HUE FOR 2016 CHALLENGER AND CHARGER AT WOODWARD DREAM CRUISE
New 2016 Dodge Challenger 392 HEMI Scat Pack Shaker and Charger R/T Scat Pack Models in Plum Crazy Will Be Shown at the Dodge Display at 13 Mile and Woodward Ave in Royal Oak, Mich.
Back for a limited-production run, iconic Plum Crazy exterior paint will be made available on 2016 Dodge Challenger and Charger models, including the ultimate-in-performance, 707-horsepower SRT Hellcat models and 485 best-in-class naturally aspirated R/T Scat Pack models
Originally debuting in 1970, Plum Crazy hue spans several generations of muscle-car collectors and enthusiasts and has been a signature Dodge muscle car color ever since
Plum Crazy will open in September, one month early for sold orders only on 2016 Dodge Challenger or Charger models with production beginning this November
Regular dealer orders for Plum Crazy are scheduled to open in October and will only be available for order until the end of the year
Pulled from the archives: for the first time ever, Dodge brand provides its full production numbers of limited-edition and high-impact hues since Charger and Challenger's return to market in 2006 and 2008, respectively
Limited-edition models and limited-production paint colors add collectability, accounting for less than 11 percent of the entire global production of Dodge Charger and Challenger to date
August 11, 2015 , Auburn Hills, Mich.

– Beyond its rich muscle car legacy, which is highlighted today by the Challenger and Charger SRT Hellcat models – the most powerful muscle cars ever, Dodge continues to produce some of the most recognizable high-impact and heritage hues that have ever hit the blacktop. And for this year's Woodward Dream Cruise, Dodge will debut the next limited-edition color from its archive: Plum Crazy. "Powerful muscle cars painted in impactful colors make Woodward Dream Cruise the perfect setting for Dodge to debut the newest generation Challenger and Charger models in Plum Crazy," said Tim Kuniskis, President and Chief Executive Officer – Dodge Brand and SRT Brand, FCA – North America. "And with our strongest muscle-car arsenal ever, we knew it was time to reach into our Dodge paint code archive and offer our high-performance R/T Scat Pack and SRT Hellcat models in one of the most iconic exterior colors of all time." Plum Craziness: 46 years of Dodge brand's iconic color Since 1970, Plum Crazy has been one of the most desired paint colors for the Dodge Challenger and Charger. Today, the enthusiast demand for this heritage hue is stronger than ever – as the signature paint color is directly associated with high collectability and the famed "Mopar-or-no-car" legacy. Add in the widest performance range ever for the 2016 Challenger and Charger, and there hasn't been a better time to paint the Dodge brand's iconic muscle car arsenal in the nostalgic color. "From the aggressive and in-your-face styling of the SRT Hellcat models, the reverberating black stripes on our Shaker models, to the nostalgic dual A-line side stripes in satin black or gloss white on the R/T Classic model – Plum Crazy further builds on Dodge brand's muscle-car roots and adds to Challenger and Charger's vibrant legacy," said Mark Trostle, Head of Dodge and SRT Design, FCA US LLC. Plum Power: up to 485 naturally aspirated, or 707 supercharged horsepower Dodge dealers will take orders in September for the 2016 Dodge Challenger or Charger in Plum Crazy, with production beginning this November. Models available with Plum Crazy include:2016 Dodge Challenger models:
Challenger SXT Plus

3.6-liter Pentastar V-6 engine with 305 horsepower, standard TorqueFlite eight-speed automatic transmission and 30 mpg on the highway

Challenger R/T, R/T Plus, R/T Classic, R/T Shaker and R/T Plus Shaker

5.7-liter HEMI® V-8 engine with up to 375 horsepower paired to a standard six-speed manual transmission, or available with the paddle-shifting TorqueFlite eight-speed automatic transmission

Challenger R/T Scat Pack,  392 HEMI Scat Pack Shaker and SRT 392

6.4-liter HEMI V-8 engine with 485 best-in-class naturally aspirated horsepower paired to a standard six-speed manual transmission, or available with the paddle-shifting TorqueFlite eight-speed automatic transmission

Challenger SRT Hellcat

6.2-liter Supercharged HEMI V-8 engine with 707 horsepower – the most powerful power plant ever in a muscle car, mated to a standard six-speed manual transmission, or available with the paddle-shifting TorqueFlite eight-speed automatic transmission
2016 Dodge Charger models
Charger SXT (when equipped with 20-inch wheels)

3.6-liter Pentastar V-6 engine with 292 or 300 horsepower, paired to a standard TorqueFlite eight-speed automatic transmission

Charger R/T and R/T Road & Track

5.7-liter HEMI V-8 engine with 370 horsepower and paddle-shifting TorqueFlite eight-speed automatic transmission

Charger R/T Scat Pack and SRT 392

6.4-liter HEMI V-8 engine with 485 best-in-class naturally aspirated horsepower and paddle-shifting TorqueFlite eight-speed automatic transmission

Charger SRT Hellcat

6.2-liter Supercharged HEMI V-8 engine with 707 horsepower – the most powerful power plant in a muscle car ever – and paddle-shifting TorqueFlite eight-speed automatic transmission
Dodge Challenger and Charger limited-edition paint colors and models
Released for the first-time ever: production numbers for high-impact hues Dodge Challenger and Charger owners are among the most loyal and performance-hungry automotive enthusiasts. These men and women have a deep appreciation for their rides and for the first time ever, the Dodge brand has reached in to its archive to provide these gearheads with the limited-edition and high-impact hues production numbers. "For years, our Challenger and Charger owners have wanted to know just how unique their rides are, and the team at Dodge wants to further the collectability of these modern muscle machines with the actual production numbers," added Kuniskis. "From limited-edition models like the Mopar '10 and Challenger SRT8 Yellow Jacket, to limited-production Challenger and Charger models in high-impact paint colors such as Sublime, TorRed, Go Mango and Green With Envy, we're excited to share our factory-backed production numbers to our current and future collectors and enthusiasts." With nearly 1.5 million Dodge Charger and Challenger models produced since both nameplates returned to market in 2006 and 2008 model years respectively, these limited-edition models and limited-production colors are highly collectable and represent less than 11 percent of the entire global production. Furthermore, each model year is detailed below:Dodge Charger Limited Edition Paint and Model Production (Global: 2006 to 2015MY)
MODEL YEAR
PAINT DESCRIPTION
PAINT CODE
MODELS
VOLUME
2006MY
Go ManGo
PVE
R/T Daytona
4,210
 
Top Banana
PYH
R/T Daytona
4,295
 
TorRed
PR3
R/T Daytona
2,326
 
 
 
 
 
2007MY
Plum Crazy
PHG
SRT8
300
 
Plum Crazy
PHG
R/T Daytona
1,520
 
Detonator Yellow
PYB
SRT8
1,000
 
Sublime
PFB
R/T Daytona
1,650
 
TorRed
PR3
All
6,519
 
 
 
 
 
2008MY
B5 Blue
PQD
SRT8
1,000
 
Hemi Orange
PLC
R/T Daytona
1,750
 
TorRed
PR3
All
8,190
 
 
 
 
 
2009MY
Hemi Orange
PLC
SRT8 Super Bee
425
 
TorRed
PR3
All
4,516
 
 
 
 
 
2010MY
TorRed
PR3
All
6,030
 
 
 
 
 
2011MY
Pitch Black
PX8
Mopar '11
1,500
 
Toxic Orange
PVG
All
5,205
 
 
 
 
 
2012MY
Blue Streak
PCL
All (Exclude SE)
963
 
Stinger Yellow
PYV
SRT8 Super Bee
711
 
 
 
 
 
2013MY
Daytona Blue
PB6
R/T Daytona
1,229
 
Plum Crazy
PHG
SRT8 and SRT8 Super Bee
152
 
Hemi Orange
PLC
SRT8 and SRT8 Super Bee
48
 
Copperhead
PLB
SXT and R/T
728
 
TorRed
PR3
All (Exclude SE)
667
 
 
 
 
 
2014MY
Plum Crazy
PHG
R/T and SRT
658
 
Header Orange
PL4
All (Exclude SE/AWD)
1,638
 
Header Orange
PL4
SRT Super Bee
74
 
TorRed
PR3
All (Exclude 100th)
7,724
 
High Octane Red
PRR
100th Anniversary Edition
1,490
 
 
 
 
 
2015MY**
B5 Blue
PQD
SXT, R/T and SRT
2,978
 
TorRed
PR3
SXT, R/T and SRT
2,272
Total Dodge Charger limited-edition models and paint colors
71,768
Dodge Challenger Limited Edition Paint and Model Production (Global: 2008 to 2015MY)