Stunning reveal today for the SRT Tomahawk Vision GT car for Gran Turismo.
The details are as great as the sweeping airfoils all around the Tomahawk's graphene glass and bodywork.
Three variants of this ultra-futuristic supercar prototype are engineered and raceable at different levels of the game. All with record-setting levels of theoretical performance! A mid-mounted, wide-block V10 engine provides primary thrust, with the front axle on-demand AWD.
Performance will be obscene. All run a combination of wide-block V10 plus hydaulic AWD and active aero.
The Tomahawk S comes in with 1007-horsepower, while the GTS-R is race-optimized throughout. The white range-topper with nine adaptive wings is the Tomahawk X.
The top X model puts numbers up on record-boards effortlessly. Nearly 2600HP and a theoretical 404-mph top speed. Very cool.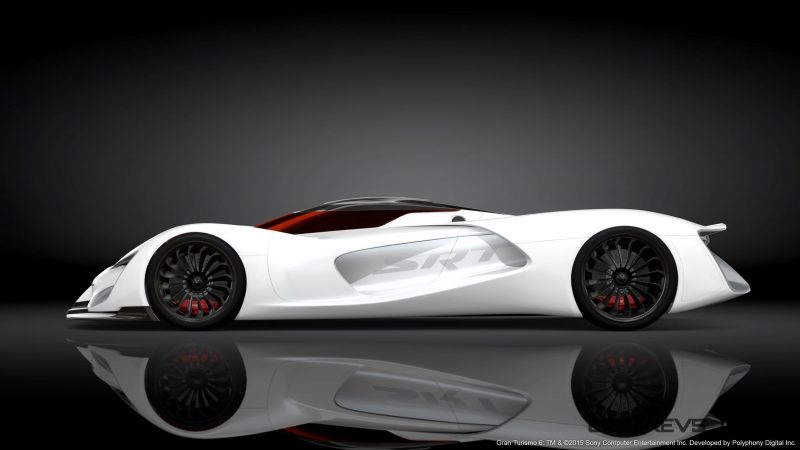 Three Performance Levels
The SRT Tomahawk Vision Gran Turismo comes in three variations:
Entry-level S: Game players must first master the base version of the SRT Tomahawk Vision Gran Turismo. The 7.0-liter wide-angle V-10 is tuned to deliver 792 hp (compared with 645 hp for the 8.4-liter V-10 in the 2015 Dodge Viper). The pneumatically driven front wheels add 215 hp, for total system output of 1,007 hp. With a curb weight of 2,026 pounds, this version of the SRT Tomahawk Vision Gran Turismo is the heaviest, yet it has a top speed in excess of 250 mph.
Racing version GTS-R: Race tuning pushes output of the V-10 to 1,137 hp, while the air-driven front wheels add 313 hp for total system output of 1,450 hp. Aggressive weight-cutting techniques whittle the curb weight of the Tomahawk Vision Gran Turismo GTS-R to 1,459 pounds (the lightest of any version) and the top speed in excess of 300 mph.
Experimental technology ultimate version X: This is the ultimate Tomahawk Vision Gran Turismo. With a redline set at 14,500 rpm, the V-10 engine pumps out 2,168 hp (nearly three times the output from the base Tomahawk Vision Gran Turismo S) The front wheel drivetrain contributes an additional 422 hp at peak, for total output of 2,590 hp. That gives the Tomahawk Vision Gran Turismo X a top speed of 404 mph. Due to the extreme performance of the X version, the driver is required to wear a G-suit for protection.
 SRT Tomahawk X
 SRT Tomahawk GTS-R
 SRT Tomahawk S
FCA US LLC Looks 20 Years Into the Future With SRT Tomahawk Vision Gran Turismo
Single-Seat Hybrid Powertrain Concept Vehicle to be Released Exclusively in Gran Turismo®6
Engineered by the SRT (Street and Racing Technology) engineering team, the SRT Tomahawk Vision Gran Turismo is the latest vehicle to be released in Gran Turismo 6 as part of Polyphony Digital Inc.'s Vision Gran Turismo collaboration with leading automotive manufacturers, design houses and other leading global brands
Single-seat SRT Tomahawk based on a 20-year forward vision of existing and future potential technologies
Aggressive, functional exterior design selected from sketch competition open to entire FCA US design community
Three powerful versions – S, GTS-R and X – offering increasing levels of performance and technology
Futuristic hybrid powertrain combines wide-angle V-10 with pneumatically driven front wheels
Range-topping SRT Tomahawk Vision Gran Turismo X boasts 2,590 hp combined
NEXT PAGE -->