Porsche has three core racing 911's for 2015: the brand-new GT3 R, the GT3 Cup and works racing 9911 RSR.
All three are now on the 991 platform now that the GT3 R is updated from its previous 2013-2014 iteration.
Only the GT3 R and GT3 Cup are offered for sale, with pricing ratcheting up to multiples of the traditional Carrera GT3 road car. The Cup comes in around $250,00 while the new GT3 R is priced for customer racing teams at euro $430,000. If the RSR were for sale today, it would likely come in around $800,000.
In terms of the specification of the 911 racecars, the new R is far closer to the RSR than it is to the Cup. In fact, the four-liter boxer six of the new GT3 R produces "over 500-horsepower," dropping from this estimaed 570HP only with race-mandated restructor plates. These contstrict airfow to the engine, drastically limiting power output, and used like a golf handicap as a way to level the racing field.
Speaking of race classes, the new R has its eyes set firmly on one: the FIA GT3 group.
Options for the GT3 R even include a quad set of bumper lights, replicating the RSR look almost exactly.
Overall, the new GT3 R's design is marked out by its far slimmer main intake up front. This intake shoots all its warmed strategically out and back through the hood and fenders. Those fenders are also pure RSR: a massive width stretch combined with the lower rear part of the bodywork chopped out to drain out any remaining airflow from the wheel-well.
2015 Porsche 911 GT3 R (991)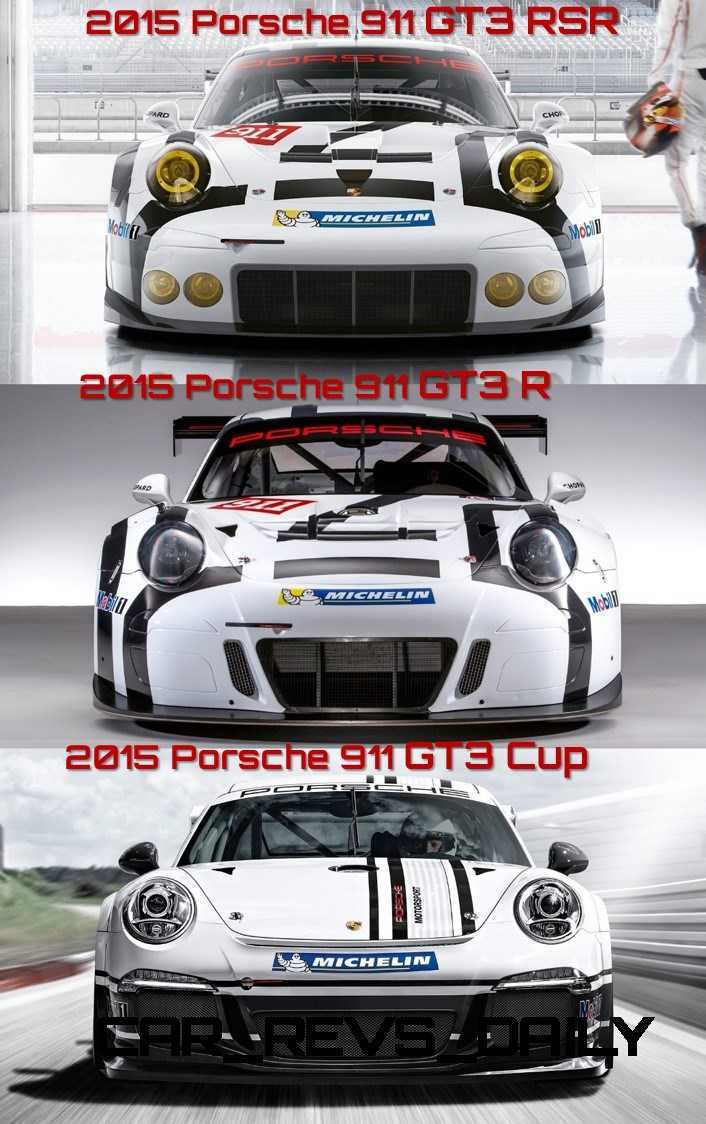 2015 Porsche 911 GT3 R vs. GT3 Cup vs. GT3 RSR – Visual and Specs Comparison
| | | |
| --- | --- | --- |
| 2015 Porsche 991 GT3 R | 2015 Porsche 991 GT3 Cup | 2015 Porsche 911 RSR (991) |
| Concept: | Concept: | Concept: |
| Single-seat customer racecar | Single-seat customer racecar | Single-seat racecar |
| Basis: 991 GT3 RS | | |
| | | |
| Engine: | Engine | Engine: |
| | | |
| Water cooled six-cylinder Boxer engine (rear mounted) | Aluminum six-cylinder rear-mounted boxer engine | Naturally aspirated engine with intake above rear side panel |
| 4,000 cm3; stroke 81.5 mm; bore 102 mm | Sealed | Water cooled four valve flat six cylinder engine |
| Power: Subject to FIA BoP classification (air restrictor) | 3,800 cc; stroke 76.4 mm; bore 102.7 mm | 3,996 cc; stroke 80.4 mm; bore 102.7 mm |
| Single mass flywheel | Max. power: 338 kW (460 hp) at 7,500 rpm | Required fuel quality: 98 octane, unleaded |
| Four-valve technology | Max. rpm: 8,500 rpm | Dry sump lubrication |
| Direct fuel injection | Single-mass flywheel | Sequential multi-point fuel injection |
| Fuel quality: Super Plus lead free to E20 (minimum 98 octane) | Water cooling with heat management for engine and gearbox | Returnless fuel system |
| Dry sump lubrication | Four valves per cylinder | Modular light weight race exhaust system |
| Engine control unit (ECU) BOSCH MS 6.4 with integrated data acquisition (basic memory 1GB, max. 100 freely selectable channels, sample rate 50hz) | Sequential multi-point fuel injection | Muffler with twin, centrally aligned tail pipes |
| Race exhaust system (motorsport catalyst and country-specific pre-silencer available) | Required fuel quality: minimum 98 octane, unleaded | Additional oil tank |
| Rear silencer with twin tailpipes mounted centrally | Dry-sump lubrication | Quick oil refill system via front deck lid |
| Two electronically activated throttles | Electronic engine management (Bosch MS 4.6) | |
| | Race exhaust system with regulated race catalytic converter | |
| | Rear silencer with centered exhaust pipe | |
| | Electronic acceleration pedal | |
| | | |
| Transmission: | Transmission | Transmission: |
| | | |
| Porsche six-speed constant-mesh gearbox (sequential) | Porsche six-speed sequential dog-type gearbox | Newly developed Porsche six-speed racing gearbox with pneumatic paddle shift system |
| Gear ratios (FIA homologated, other ratios available on request): | Gear ratios: | Gear Ratios: |
| CWP 14/22 i = 1.571 | Ring & pinion gear 14/22 i = 1.571 | CW & P Gear 14/22 i = 1.571 |
| Final drive 17/41 i = 2.412 | Final drive 17/41 i = 2.412 | Final drive 17/41 i = 2.412 |
| 1st gear 13/41 i = 3.154 | 1st gear 13/41 i = 3.154 | 1st – 6th gear according customer request |
| 2nd gear 17/39 i = 2.294 | 2nd gear 17/40 i = 2.353 | Internal pressure-oil lubrication with active oil cooling |
| 3rd gear 20/37 i = 1.850 | 3rd gear 19/36 i = 1.895 | Mechanical limited slip differential with viscous unit |
| 4th gear 19/29 i = 1.526 | 4th gear 19/29 i = 1.526 | Single-mass flywheel |
| 5thgear 24/31 i = 1.292 | 5th gear 24/30 i = 1.250 | Triple-disc-carbon racing clutch with forged housing |
| 6th gear 31/34 i = 1.097 | 6th gear 34/35 i = 1.029 | Hydraulic operated central clutch operator |
| Internal pressurized oil lubrication with active oil cooling by oil/water heat exchanger | Internal pressure-oil lubrication with active oil cooling | Oil-water heat exchanger |
| Mechanical limited slip differential | Limited slip differential | |
| Motorsport clutch (carbon) | Triple-disc sintered metal race clutch | |
| Pneumatic gear shift activation (paddle shift) | Pneumatic paddle shift system | |
| | | |
| Bodyshell: | Bodyshell: | Bodyshell: |
| | | |
| Lightweight body featuring intelligent aluminum-steel composite design | Lightweight bodywork with smart aluminum-steel composite construction | Lightweight bodywork with smart aluminum-steel composite construction based on 911 C4 type 991 with add-on carbon parts |
| Integrated (welded) roll-cage (according to FIA Appendix J) | Welded-in roll cage, in compliance with FIA Homologation Regulations for safety cages | Removable roof section to apply KED |
| Front cover with two air intake ducts for cockpit ventilation, quick release fasteners | Front bonnet with two air inlets for cockpit ventilation and quick fasteners | Rescue bar analogue DTM system |
| Removable escape hatch in roof in accordance with latest FIA safety regulations | Removable roof section | Carbon add-on parts: |
| Pickup point for lifting device (identical to DTM system) | Rescue bar analogue DTM system | Front end cover with front lip |
| Lightweight design exterior panels: | Modified and widened 911 GT3 fenders | Air intake and outlet for center cooler |
| CFRP doors with sport design mirrors | Modified rear wheel arches | Front deck lid with louvers |
| CFRP rear cover with quick release fasteners | Modified and widened 911 GT3 front-end with spoiler lip | Fender and wheel house protectors |
| CFRP adjustable rear wing | Modified 911 GT3 rear-end with integrated rain light, in compliance with FIA Homologation Regulations | Sill covers |
| CFRP front extended wheel arches and louvres | Lightweight exterior: | Doors with side-screen frame and plastic mirrors |
| CFRP front fairing with cooling-air ducting and spoiler lip | CRP doors with sport-design rear-view mirrors | Rear wheel arch extensions with side intake air duct |
| CFRP rear fairing with integrated rain light in accordance with FIA regulations | CRP rear engine lid with quick fasteners | Rear wheel arch cover |
| Polycarbonate front, rear and side screens | CRP rear wing; adjustable | Rear deck lid with adjustable rear wing |
| Removable polycarbonate door windows in accordance with latest FIA safety regulations | PC rear window | Rear end cover with wheel house air de-ventilation |
| Rear underfloor with air ducting for brake and driveshaft cooling | Underbody tray with air routing for brake- and driveshaft cooling in the rear | Quick demount couplings for front and rear end cover |
| Modified 911 cockpit: | Modified 911 cockpit: | Closed flat bottom with rear diffuser |
| Ergonomic center console aligned towards driver for ease of operation | Magnesium sub-frame in light weight design | Pedal box |
| Switch covers with fluorescent labelling | Ergonomic driver-oriented center console | Built-in air jack system (four legs) with safety pressure valve |
| Steering wheel with quick release coupling, switch panel and shift paddles | Switch mask with fluorescent lettering | Race bucket seat (driver side only) with fire retardant upholstered cover |
| Racing bucket seat with fore/aft adjustment in accordance with FIA standard 8862/2009: | Steering wheel with quick release coupling, control panel and shift paddles | Six-point safety harness modified for use with HANS |
| Adjustable padding system to suit individual drivers (delivery with size M) | Race bucket seat with longitudinal adjustment: | Electrically activated fire extinguisher system |
| Six-point safety harness | Homologated to latest FIA requirements | Approx. 94l FT3 safety fuel cell |
| FT3 safety fuel cell (approx. 120 liter) with fuel cut off safety valve in accordance with FIA regulations | Individual padding system | Heated glass windscreen |
| Air jack system (four jacks) | Six-point seat belt | Modified 911 cockpit: |
| | 100 liter fuel cell (FT3 safety fuel cell) | Magnesium sub-frame in light weight design |
| | Built-in air jack system (three legs) | Ergonomic driver-oriented center console |
| | | Switch mask with fluorescent lettering |
| | | Multi-function steering wheel with quick release coupling, control panel and shift paddles |
| | | |
| Suspension: | Suspension | Suspension: |
| | | |
| Front axle: | Front axle: | Front axle: |
| | | |
| McPherson strut, adjustable in height (ride-height), camber and toe | McPherson suspension strut, adjustable in height, wheel camber and track | Double wishbone type front axle |
| Fabricated steel control arms: | Forged struts: | Four-way Multimatic shock absorbers |
| Stiffness optimized | Optimized stiffness | Twin coil spring setup (main and helper spring) with adjustable platform |
| High-performance spherical bearings | Double shear tie rod connection | Adjustable anti roll bar via both side blades |
| Wheel hubs with center lock wheel nuts | Heavy-duty spherical bearings | Electro-hydraulic servo assisted steering |
| Adjustable motorsport dampers | Wheel hubs with center lock | |
| Machined aluminum top mount with camber adjustment | Racing shock absorbers, non-adjustable | Rear axle: |
| Adjustable anti-roll bar blades (left & right) | Forged supporting mounts | |
| Power assisted steering with electrohydraulic pressure feed | Double-blade-type anti-roll bar | Multi-link rear axle |
| | Electrohydraulic power steering | Four-way Multimatic shock absorbers |
| | | Twin coil spring setup (main and helper spring) with adjustable platform |
| Rear axle: | Rear axle: | Adjustable anti roll bar via both side blades |
| | | Tripod type driveshafts |
| Multilink independent rear suspension, adjustable in height (ride-height), camber, toe | Multilink rear suspension, adjustable in height, wheel camber and track | |
| Machined aluminum control arms: | Forged struts: | |
| Stiffness optimized | Optimized stiffness | |
| High-performance spherical bearings | Double shear tie rod connection | |
| Wheel hubs with center lock wheel nuts | Heavy-duty spherical bearings | |
| Adjustable motorsport dampers | Wheel hubs with center lock | |
| Machined aluminum mounts | Racing shock absorbers, non-adjustable | |
| Adjustable anti-roll bar blades (left & right) | Forged supporting mounts | |
| | Double-blade-type anti-roll bar | |
| | | |
| Brake system: | Brake system | Brake system: |
| | | |
| Two separate brake-circuits for front and rear axles. Adjustable by driver via brake balance bar System | Two independent brake circuits für front and rear axle, adjustable by the driver via brake balance system. | Two independent brake circuits for front and rear axle, adjustable by the driver via brake balance system |
| | | |
| Front axle: | Front axle: | Front axle: |
| | | |
| Six-piston aluminum-monobloc racing brake caliper | Aluminum four-piston racing calipers in mono-bloc design | Aluminum six-piston racing calipers with quick release coupling in single-piece design |
| Ventilated and grooved steel brake disc D = 380 mm, aluminum disc bell | Multi-piece steel brake discs; internally vented and slotted, 380 mm diameter | Ventilated steel brake discs, D = 380 mm |
| Motorsport brake pads | Racing brake pads | Race brake pads |
| Optimized brake cooling ducts | Optimized ventilation routing | Optimised brake cooling ducts |
| | | |
| Rear axle: | Rear axle: | Rear axle: |
| | | |
| Four-piston aluminum-monobloc racing brake caliper | Aluminum four-piston racing calipers in mono-bloc design | Aluminum four-piston racing calipers with quick release coupling in single-piece design |
| Ventilated and grooved steel brake disc D = 372 mm, aluminum disc bell | Multi-piece steel brake discs; internally vented and slotted, 380 mm diameter | Ventilated steel brake discs, D = 355 mm |
| Motorsport brake pads | Racing brake pads | Race brake pads |
| Optimized brake cooling ducts | Optimized ventilation routing | Optimised brake cooling ducts |
| | | |
| Wheels/tires: | Wheels/tires: | Wheels/tires: |
| | | |
| Front axle: | Front axle: | Front axle: |
| | | |
| One piece BBS alloy wheels according to Porsche specification and design, 12.0 x 18 offset 17 | Single-piece light-alloy rims according to Porsche specification and design with center lock, 10.5J x 18 ET 28 | Forged single piece aluminum rims (BBS) 12.5J x 18 offset 25 with center-lock nut |
| Michelin transport tires, tire dimensions: 300/650-18 | Michelin tires; tire size: 27/65-18 | Michelin transportation tires 30/68-18 |
| | | |
| Rear axle: | Rear axle: | Rear axle: |
| | | |
| One piece BBS alloy wheels according to Porsche specification and design, 13.0 x 18 offset 37.5 | Single-piece light-alloy rims according to Porsche specification and design with center lock, 12J x 18 ET 53 | Forged single piece aluminum rims (BBS) 14J x 18 offset 50 with center-lock nut |
| Michelin transport tires, tire dimensions: 310/710-18 | Michelin tires; tire size: 31/71-18 | Michelin transportation tires 31/71-18 |
| | | |
| Electric: | Electrics | Electrics: |
| | | |
| COSWORTH color display ICD (basic memory 512MB, extendable) | COSWORTH color display ICD | COSWORTH ICD color display with integrated data acquisition |
| COSWORTH power module IPS32Race ABS | COSWORTH electrical system control unit IPS32 | COSWORTH IPS – programmable multi-function system control unit |
| Race ABS | Electronic throttle system | COSWORTH telemetry |
| Traction control | Fire extinguishing system (extinguishing agent: gas) | Bosch MS 5.0 – Engine control unit |
| Fire extinguisher system (agent: gas) | Battery 12 V, 70 Ah (AGM), leak-proof, placed in the co-driver foot well | Electric throttle |
| Battery 12 V, 70 Ah (AGM), leak proof, mounted in passenger foot well | Alternator 150 A | Shiftec – Paddleshift system |
| 180 A alternator | Fan in light weight design | Electrically adjustable mirrors with memory function |
| Windscreen wiper with direct drive | Wiper with direct drive | Rear view camera |
| Lighting system: | Lighting system: | Bosch data recorder C50 without WinDarab licence |
| Xenon main headlights | Bi-xenon-headlight | Oil level indication via telemetry and level sensor in the oil tank |
| LED technology taillights and rain light | LED daytime running light | Battery: 12 V 18 AH lithium ion |
| | LED rear lighting system and rain light | 140 A Alternator |
| Options: | | Damper travel sensors |
| | | Tire pressure monitoring system |
| Endurance kit: | | Brake disc temperature sensors |
| 4x Xenon extra headlights in front fairing | | Driver drink system |
| Engine oil quick refilll | | Light-weight car wiring loom (with ACO logging – connection) |
| | | Lighting system: |
| PAG options: | | Xenon main and additional (4x) headlights |
| | | LED rear lighting system and rain light |
| COSWORTH ICD memory expansion (1024MB memory) | | Leader Light System |
| Mini IPS (expansion connections for high-current consumers) | | Air conditioning system: |
| BOSCH MS 6.4 | | Air conditioning lines including quick release couplings |
| Option 1: channel expansion for internal data acquisition to maximum 720 freely selectable channels, highest resolution data sample rate 1000Hz | | Compressor in gearbox areaCondenser in vehicle front |
| Option 2: data copy from data acquisition from internal memory onto an external USB stick | | Condenser in vehicle front |
| Country-specific race catalyst | | Fabric cockpit separation panel |
| Illuminated start number panels | | Temperature sensor |
| TPMS System | | |
| Cockpit illumination | | |
| | | |
| Weight/dimensions: | Weight/Dimensions | Weight/Dimensions: |
| | | |
| Total weight: approx. 1,220 kg (subject to BoP) | Total weight: approx. 1,200 kg | Weight approx. 1,220 kg (ACO) |
| Overall length: 4,604mm | Total length: 4,547 mm | Total length: 4,537 mm |
| Overall width front axle: 1,975 mm | Total width: 1,851 mm | Total width: 1,962 mm (FA), 2,002 mm (RA) |
| Overall width rear axle: 2,002 mm | Total height: 1,280 mm | Wheel base: 2,465 mm |
| Wheelbase: 2,463mm | Wheel base: 2,458 mm | |
2015 Porsche 911 GT3 R (991)