Part Four of Six – Alfa Romeo Racing Icons Series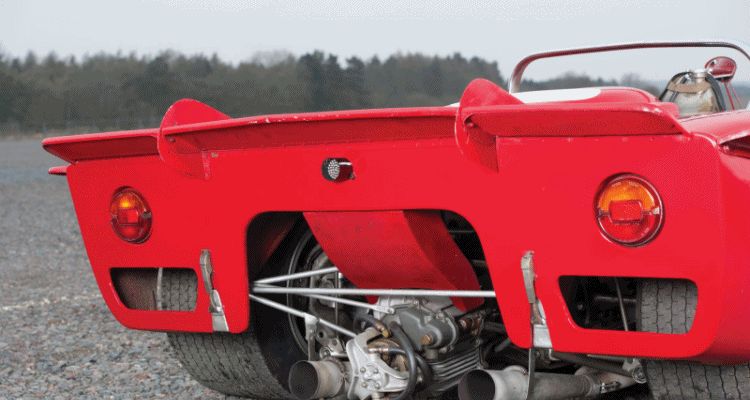 Proof that beauty and open-air thrills are critical elements of a million-dollar sale? Yes indeed!
Even with pure-bred racecars like this Sports Racer Tipo 33 from Alfa Romeo, the most important details are often obvious to classic-car shoppers and spectators alike.
Even though this Sports Racer was not one of the quickest T33 Alfa's on the world's racetracks, it is clearly the most desirable today versus its younger siblings -- and arguably more visually sublime than its fabulous hard-top older brothers.
The reason for this is clear: there is still much elegance and purity to the visual forms of the bodywork of the Sports Racer, which was one of the last alloy-bodied racecars Autodelta would campaign with Alfa Romeo. With the exit of steel and aluminum in favor of composites, we lost a great deal of detailing in the spoilers all around and NACA ductwork of the Sports Racer's hips.
As a stunning vintage racecar today, few vehicles are more desirable than a bright red Tipo 33 Sports Racer like this.
Sold in 2012 by RM Auctions for $1.37 million, this little gem may be in the top five most-valuable Alfa's of all time.
1969 Alfa Romeo T33 Sports Racer

Monaco
11-12 May 2012
Lot 373
1969 Alfa Romeo Tipo 33/3 Sports Racer
To be auctioned on Saturday, May 12, 2012
Sold for €1.232.000
440 bhp, 2,998 cc DOHC V-8 four-valve engine, Lucas indirect fuel-injection, five-speed manual gearbox, independent front and rear suspension with double wishbones, coil springs and anti-roll bars, and four-wheel hydraulic disc brakes. Wheelbase: 2,240 mm (88.2")
• Built and raced by Autodelta
• Sold directly from Carlo Chiti's Autodelta, as last raced, to its first owner in 1973
• A virtual 'time warp' with recent, full mechanical and sympathetic body restoration
• Only test mileage since restoration in 2006