Updated with High-Res Photos. Thanks Fred!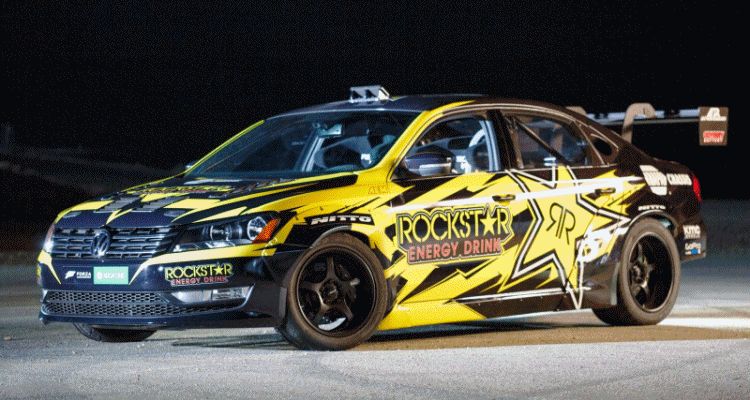 450 cubic inches.
7.37 Liters.
That is the size of Tanner's new V8 Formula Drift car from Rockstar Energy and Nitto Tire. Juiced with nitrous, this engine puts out a stunning 900-horsepower.
Those dimensions feel familiar and might show some NASCAR roots for the hottest VW Passat of all time. Unburstable engines are an asset in the delicate but brutal world of drift driving, with its stump-pulling torque just a side benefit of all that displacement.
Check out the teaser video below to hear it in action!
 Tanner Foust VW Passat Formula Drift Car






TANNER FOUST DEBUTS ROCKSTAR ENERGY DRINK / NITTO TIRE VOLKSWAGEN PASSAT
Two-time Formula Drift champ makes return to drifting in Long Beach  
NEWPORT BEACH, Calif. (April 7, 2015) – Two-time drift champion Tanner Foust on Tuesday unveiled the brand-new Rockstar Energy Drink / Nitto Tire Volkswagen Passat drift machine that he will drive this weekend in his much-anticipated return to Formula Drift.
VIDEO LINK:  https://www.youtube.com/watch?v=pQMdSTj0gWg
The rear-wheel drive converted Volkswagen Passat from Tanner Foust Racing will produce some 900 nitrous-boosted horsepower from a V-8 engine.
 "One of the things I have always loved about drifting in the United States is how inventive you can get with the car builds. You can put a high-horsepower V-8 into a Volkswagen Passat to make something completely unique," said Foust. "You don't see that in another series in the word."
The driver, who has won two Global Rallycross championship titles since he shifted focus from drifting to rallycross after the 2010 season, said he wanted to bring that level of creativity to the 2015 Rockstar Energy Drink / Nitto Tire Volkswagen Passat.
The car features a four-speed dog-engagement transmission, a Tilton clutch, AEM Infinity-10 fuel injection, RS-R suspension and an extroverted APR Performance swan-mount wing. Its distinctive supercar exhaust note comes from a specially designed eight into one sequential collector. It rides on KMC wheels wrapped in sticky rubber from Nitto Tire.
"The Rockstar Energy Drink / Nitto Tire Volkswagen Passat will be a one of a kind competition vehicle for the Formula Drift series and it's a good chance for us to prove the versatility of the NT05 max performance tire," said Harry Kong, brand publishing and social media strategist for Nitto Tire.
Foust, who drives for Rockstar Energy Drink and Volkswagen in multiple competition disciplines around the world, said he is excited to join Nitto Tire for his return to Formula Drift. The NT05 has been the tire of choice for top competitors in the series since 2009 and is favored for its predictability and durability even under the most demanding conditions.
"Nitto Tire has been a longtime supporter of drifting and it's great to be working with a company with such deep roots in the sport," said Foust. "It gives me confidence knowing that we have a tire that can handle whatever power we throw at it."
The Rockstar Energy Drink / Nitto Tire Volkswagen Passat is the latest special build from Tanner Foust Racing. Vehicle builds represent a growing area of interest for Foust, who debuted the RAUH-Welt Begriff Volkswagen Beetle at SEMA last year.
"At the heart of it, I'm an enthusiast," said Foust. "Having the chance to dream up something incredible and then work with a team to modify and build and make it real is incredibly rewarding."
The 2015 Rockstar Energy Drink / Nitto Tire Volkswagen Passat will also be featured in upcoming special projects, including the upcoming "Tanner Foust Back on Track" video.
Foust's first of three select rounds of the Formula Drift championship will take place at the season opener, Streets of Long Beach, April 10 and 11. He will also compete at the Road to the Championship round in Braselton, Ga. (May 8-9) as well as the season endingFinal Fight in Irwindale, Calif. October 9-10.
It is a much-anticipated return to drifting for Foust, who is the only driver ever to win back-to-back Formula Drift championships (2007 and 2008). He scored the runner-up position in 2010, his last season of Formula Drift competition.
Drifting is a high-skill, high-powered motorsport with an emphasis on car control skill. Drivers compete in knockout heats on a closed course, sliding sideways in trials judged on speed and style. With origins in Japan, it is one of the fastest growing forms of motorsport in the world.
The versatile driver's 2015 calendar will see him challenge for the Global Rallycross Championship title while also racing in select stops of the FIA World Rallycross Championship, Formula Drift and the Lucas Oil Off Road Racing Series. He will make his return to X Games in Austin this summer for the action sport festival at Circuit of the Americas June 4-7.
# 34 ROCKSTAR ENERGY DRINK / NITTO TIRE VOLKSWAGEN PASSAT (RWD)
Driver: Tanner Foust
Team: Tanner Foust Racing
Crew chief: Mitch Terry 
Vehicle Chief: Aldo Villagran
Spotter: Stephan Verdier
Tires: Nitto Tire NT05 255/40-17 (f); 295/40-18 (r)