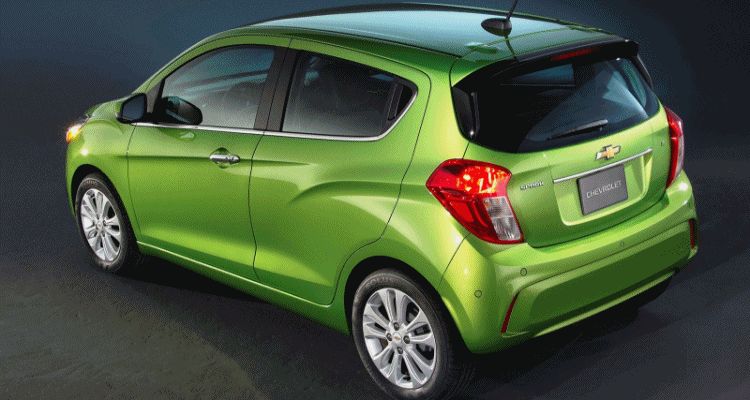 Chevrolet is not likely to admit this, but the Spark's success in the US market has been a huge surprise. 2014 Calendar Year sales topped 39,000, making the Spark the best-selling subcompact in the US. It dominates the Mitsubishi Mirage, Mazda2 and Kia Rio easily. Combined with its Sonic big brother, the Spark has made Chevy the main player in minicar sales since its launch in 2012.
The latest Spark will continue this trend with a more refined and tech-infused cabin, a new turbo 1.4-liter engine, and a sportier driving position.
This lower feel from the drivers seat comes with a lower roof overall. With an estimated 98-horsepower, the Spark still needs to be flogged hard to feel the rush of speed, but the flipside is effortless efficiency.
Style-wise, the Spark is also far more mature and respectable for 2016, with some cool new strakes in the sides and rear fender plus a hidden back door handle in the blacked-out window area.
Advanced tech includes the latest 7-inch MyLink touchscreen, proximity door locks and active safety tech like blind-spot and collision warnings. Not often seen in this segment, the new Spark's upgrades will be appreciated by all owners.
The Spark has some new competition in the minicar segment in the form of the new Mazda2 its fresh Scion iA sedan sibling, but is likely to undercut those two of pricing again.
2016 Chevrolet Spark
Innovation is the Spark behind Chevrolet's Minicar
Redesigned, more refined global minicar offers greater efficiency, safety and connectivity
New 1.4L engine offers 16 percent more horsepower than current model
New available active safety features include Forward Collision Alert, Lane Departure Warning and Side Blind Spot Alert
On sale in the fourth quarter of 2015
NEW YORK – Chevrolet today introduced the all-new 2016 Spark – a completely redesigned and more sophisticated execution of the brand's global minicar. It offers greater efficiency and refinement, along with new, available safety and connectivity features.
As one of Chevrolet's most global vehicles, the 2016 Spark will be offered in more than 40 markets around the world.
"Chevrolet is fast becoming one of the world's most important mini- and small car manufacturers, offering customers around the globe a new road to the refinement, efficiency and connectivity features that resonate with them," said Alan Batey, president, GM North America and Global Chevrolet.
"The redesigned 2016 Spark builds on a strong legacy and takes the segment to a higher level with features and technologies not typically offered."
The new Spark has a sleeker appearance, thanks to a slightly longer wheelbase, and an overall height about 1.6 inches (40 mm) lower than the current model. The lower profile reduces aerodynamic drag to help improve efficiency and interior changes maintain the Spark's traditionally generous headroom.
It is also built on an all-new, more robust architecture that serves as the foundation for its more sophisticated driving experience. The stronger body structure enabled engineers to tune ride and handling more precisely, for greater feelings of control and refinement, while fostering a quieter ride.
"At its core, the new Spark is still the fun, agile urban car that made the first-generation model so popular, but it delivers that fun driving experience with greater sophistication," said Sam Basile, executive chief engineer. "And while it's a truly global car, it is targeted for more developed vehicle markets, allowing engineers to focus more precisely on the materials and technologies that resonate with customers in those markets."
Additional new and enhanced vehicle features: