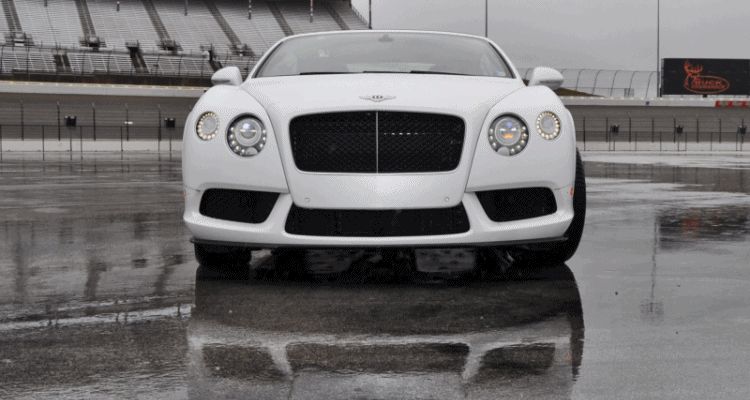 The Bentley Continental GT V8S is the real sweet-spot of the range – with monster power in the form of 528-horsepower to an optimized and sportified chassis re-engineer. There are just no words to describe the nimble, light and resolutely rear-drive feel of this twin-turbo V8. Yet there is grip for days and the ability to drive hard, rain or shine, with pace to make supercars blush.
Nothing else with 502-pound-feet of torque is this race-able in a complete downpour, including the Continental's new nemesis: the Mercedes-Benz S550 4Matic.
The Bentley somehow feels small and accurate in its typical size and price class. The full load of torque hits at just 1700-rpm in the tachometer, romping to 60-mph in an official 4.5-seconds.
As a convertible, the car is perhaps even more delightful. There is a superb and unshakeable sense of rigidity to this ragtop, which is also unbelievably quiet and insulated.
HD DRIVE VIDEO
This 2015 Mulliner Driving Specification car has the limited-edition, black-spoked 21-inch wheels and a variety of stunning options. The most noticeable? A delicious White Satin paintjob. This is a stunning finish, with depth and metallic fleck unlike any matte finish. But like a matte finish, this White Satin finish lacks a glossy topcoat. The result is unique and visually stunning in the flesh.
Claret is the name of the red top and cabin, which also featured the Naim premium audio system.
Back to the stunning pace, handling and feel :as shown in the below video, the Bentley V8S has a fantastic sense of presence when you floor the throttle. Unlike some giant luxury cars, the spec here ensures there is no 'floor it and hang on' type of feel, where you momentarily lose feel and a bit of control. The V8S is always present and in the moment, with control inputs that can only be described as fun and playful.
At the same time, its air suspension and adaptive dampers make cornering flat and bumps disappear.
The Sport Exhaust is a stellar option, while you are adding cool features. Check out the full engine bellow in the Dallas Motor Speedway infield tunnel below….
2016 UPDATES
This 2015 model is already a bit dated, however. The freshened front fascia shown in Geneva is already featured on the BentleyMotors.com configurator — with its new-shape lower bumper the main difference.
Most of the other 2016 updates are about applying the chassis sportiness from this V8S to the other engines and trim levels of this — the world's most luxurious and most-comfortable rally ragtop!
Your passenger and back seats will soon be filled by three new best friends — enjoying the Conti GT lifestyle, rain or shine.
2015 Bentley Continental GT V8S Convertible
EXTERIOR
Build your own and check out the 2016 range over at the below link….
Extended Sport Specification
Mulliner Driving Specification (Black Limited Edition Wheel)
Additional Features – Exterior
Dark tint lamps

Sports exhaust
Additional Features – Interior
'Naim for Bentley' Premium Audio
Massage and ventilation to front seats
2015 Bentley Continental GT V8S Convertible
INTERIOR