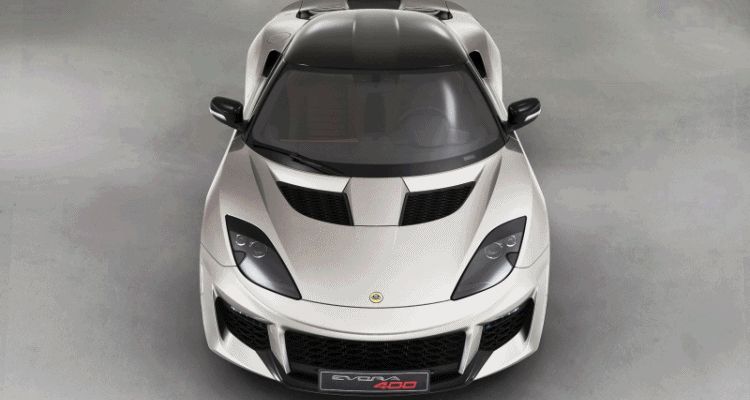 First look tonight at the new Lotus Evora 400 — a tweaked and updated version of the promising sports-car with mid-mounted V6 power, a supercharger with 50 extra horsepower to deliver 4.1-second sprints to 60-mph, and even an available IPS automatic transmission.
The big news of the Evora 400 is its cooler style, better aero slipperiness combined with almost double the downforce of the existing Evora S.
Inside, the new Evora 400 is far more advanced with new controls and new tech throughout. The center stack is incredibly modern and delivers Porsche-beating design details for things as everyday as the HVAC controls. In addition, a more accommodating back seat is both lighter and more spacious than before.
The new nose visage is far more aggressive with sculpted and angular intakes that lose most of the silly grin of the first-gen Evora. The rear end is also far more intense, with an exotic feel to the integrated rear wing, giant diffuser and venturi channels a central part of the new look.
2016 Lotus Evora 400
The all new Lotus Evora 400
All new supercar from Lotus
Fastest and most powerful production Lotus ever
Lighter and more efficient than before
The new Lotus Evora 400 is the latest pure and focused supercar from Lotus, combining high performance with the legendary Lotus benchmark handling. It is faster and dynamically more capable than the previous Lotus Evora leading to greater agility and a more involving drive.
Maximum speed is 186 mph (300 km/h) and acceleration 0-60 mph is just 4.1 seconds (0-100 km/h in 4.2 seconds). This enables the new Lotus Evora 400 to lap the challenging test track at the Lotus Headquarters in Hethel, Norfolk, a scintillating SIX seconds faster than the previous model.
Over two thirds of the Lotus Evora 400 is new, including its supercharged and charge-cooled mid-mounted 3.5-litre V6 engine producing 400 horsepower and 410 Nm of torque. A new aluminium chassis incorporates a new interior and the lightweight composite body has changed significantly both front and rear.
Following the core values of the company, not only is the new Lotus Evora 400 faster than the previous model, it is also 22 kg lighter, achieved through careful and clever design and attention to detail. This weight reduction is even more impressive considering that the supercar has more power and a higher standard specification than before.
In describing the remit for the new Lotus Evora 400, Jean-Marc Gales, Chief Executive Officer for Group Lotus plc, states, "A requirement for all Lotus cars is to be a benchmark for handling, to be the quickest car from A to B and to provide the driver with a pure and involving driving experience. The Evora 400 is the fastest road-going Lotus that we have ever produced, possessing performance that can only be matched by cars costing significantly more. It delivers supercar looks allied to supercar performance."
Jean-Marc Gales continues, "We have always said that to make a car better, you must make it faster and lighter. We have achieved this, of course, but we didn't stop there, as the considerable number of changes in the interior, chassis, engine and body design have warranted emphatically, the title of a new Lotus Evora.
"Our dealer network stands at 168 worldwide, which is still growing to reach 200 dealers by the end of 2015, while our sales volumes have increased by over 50% in the last 10 months. The new Lotus Evora 400 will make its mark as a significant milestone in the history of Lotus. Looking to the future, the Lotus Evora 400 will remain core to our product line up for many years to come, with more exciting derivatives planned within the next few years."
The new Lotus Evora 400 will enter production for European markets in the summer and deliveries will commence in August this year. North American markets will receive the Evora 400 as a 2016 model year presentation in the Autumn.
Combined production for all Lotus models, the Elise, Exige and Evora, will increase to 70 cars per week by September 2015 and an additional 150 highly skilled operators and craftsmen and women will be recruited in the next four months to accommodate this rise in production.
Prices will be announced closer to the on-sale date.
The Lotus Evora 400 in more detail:
Supercar Performance
Fastest production Lotus ever, laps Hethel SIX seconds faster than previous model
Aerodynamic downforce of 32 kg at 150 mph (242 km/h)
Engine power has been increased from that of the Evora S; a respected 345 hp (350 PS; 257.3 kW) to 400 hp (406 PS; 298.3 kW) at 7,000rpm. The supercharger fitment ensures strong bottom-end torque and the figure has also been increased to 302 lbs ft (410 Nm) achieved between 3,500 to 6,500 rpm. This translates into even more strident acceleration for a 0-60 mph time of just 4.1 seconds (0-100 kph in 4.2 seconds).
Traction slip thresholds ('Drive', 'Sport' and 'Race' settings) can be altered via a driver-selectable switch, which allows the driver enhanced vehicle control before intervention is required. Both 'Sport' and 'Race' settings increase throttle responsiveness.
Its top speed of 186 mph (300 km/h) propels the Evora 400 to the upper segment of supercar performance expectations. The benchmark lap time at the Lotus Test Track at Hethel, has been slashed by a phenomenal SIX seconds due to higher engine power, revised spring and damper settings, a Limited Slip Differential (LSD) and a downforce figure of 32 kg (70 lbs) at 150 mph (242 km/h). This downforce equates to 12 kg, 26 lbs front; 20 kg, 44 lbs rear, achieved by the Evora 400's flat-floor, lightweight composite rear diffuser, three-element rear wing and airflow management strategy.
Despite the luxury fittings and equipment expected of a modern supercar, Lotus remains true to its lightweight, dynamic remit and the new Evora 400 tips the scales (unladen) at just 1,415 kgs (3,119 lbs; auto: 1,419 kg, 3,128 lbs), which amounts to a reduction of 22 kg, or 48 lbs (automatic option: 23 kg / 50lbs) from the outgoing Evora model.
Powertrain