Track Drive Video Review
Re-publishing this article from October with the new page-top gallery, and to celebrate shooting a video review that is 'watchable.'
This 3-lap blast in a 2015 Mustang GT six-speed-manual at Autobahn Country Club is our most-watched video of all time over at http://www.youtube.com/user/thetomburkart
The new Mustang GT is a real favorite watch the above to find out why!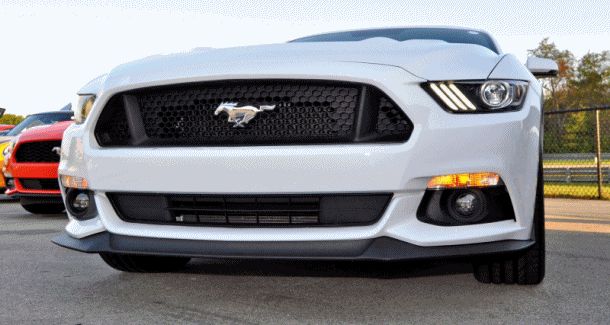 2015 Ford Mustang GT
Awww yeah!
Track time with the new Mustang GT!
It felt so fantastic to fire up this pony-car for the first time.
Could not help but smiling even to find the new GT and EcoBoost Mustangs in the parking lot that morning.
They look outstanding in the flesh, with the GT adding some additional cooling functions via grille inserts to direct air where it is needed. Out back, the 5.0-liter V8 is announced by its large GT badge where the turbo cars have another pony logo. A 5.0 badge lives in the front fenders on both sides, but otherwise you would be hard-pressed to know which Mustang is which for the 2015 model year.
The GT is in white below, while the turbo is in orange.
This makes sense between these GT and EcoBoost trim levels: they are the top two available at launch. The 3.7-liter V6 is the base engine now, and might look a bit less cool without the painted rear diffuser and some of the largest gloss-black alloys.
But these two are ready to bring the heat to any stoplight competitor, but in different ways.
The V8 GT was our natural pick for a hot track session, and the car was a delight out there.
It feels hands-on fun and small and fast right after hopping out of the BMW M4 and into the Ford. It is not nearly as grippy and ferocious as the Camaro 7/28 around the same corners, but feels like an MX-5 versus the jumbo and scale-busting mass of the Challenger R/T.
The Mustang's new-found handling joy is perhaps its most notable element. There simply is none of the old "Hold on!" cornering style that came standard with the live rear axle. This 2015 Mustang GT flows and hunkers down over and bumps taken on throttle and around corners, for perhaps the first time ever.
Check out your sweaty author hustling the Mustang GT around the racetrack for three laps in the included 4K video. Mercifully, the camera angle shifts over the hood during the real track action -- letting you truly experience the event with your own eyes and ears.
Lasting impressions? The Mustang felt very powerful and quick with a snickety shifter but a bit more understeer than some of the other sports cars out there. We blame this on the tires, but further tests are needed to confirm if this was perhaps just operator error via the wrong track driving line...!
Regardless, the Mustang GT feels fun and frisky and fast -- all great things for this eagerly-anticipated 2015 pony-car.
2015 Ford Mustang GT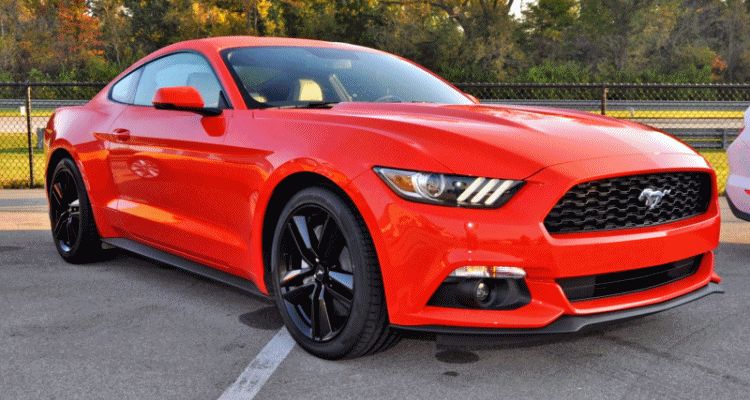 2015 Ford Mustang EcoBoost