There are a few realities to consider when asking: is this Z06 Sedan likely or even possible in the future?
The first: Many Corvette fans have pined over a four-door version for as long as the car has been around -- since 1953, then.

The second fact: Chevrolet has long sought to imbue its regular models with Corvette-like traits. Corvette engines in the Impala SS, anecdotes galore about the new Cadillac CTS-V being a 'Corvette with four doors,' etc.
Chevrolet is back on the Corvette love parade lately, with many future models like the Volt and Malibu said to benefit from COrvette styling cues. The Cadillac CTS-V, of course, shares a great deal of its powertrain with the Corvette Z06.
So then, on to the renderings. Why make a Corvette sedan if the CTS-V and other Chevy models share so much of the Corvette's magic?
Update1
MonaroSS Renders Sportier Roofline
Original Renders

Well, transferring Corvette magic into regular volume models has never really delivered the goods, per se. In additon, four-door coupes are more popular now than any time in history.
Would it sell? Yes, yes it would. Would it be possible with the Corvette's frame + fiberglass body? Yes.
But is it likely, and would there even be the capacity to add a four-door to the Bowling Green production line?
No.
But fun to see, regardless. It really is a striking piece of Photoshop. Here are ten drafts showing how we got to this result.
2015 Chevrolet Corvette Z06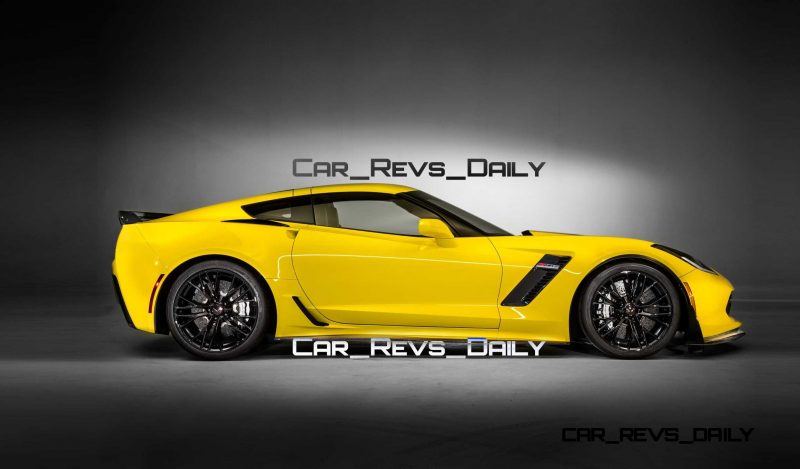 2017 Chevrolet Corvette Z06 Sedan
Renderings
2017 Chevrolet Corvette Z06 Sedan
Draft Layers