Your chance to own not just an incredibly upgraded Mustang GT500 with custom widebody, aero pieces and mechanical improvements throughout -- but a famous movie hero as well?
This Mustang GT500 is one of three driven by the stars in the 2000 movie Gone in 60 Seconds. Yes, that means Angelina Jolie will have driven your car!
The Mecum Austin auction is the first-ever event for the powerhourse auction specialist. More than 600 cars are set to be sold this weekend, December 12th and 13th, starting on Friday -- just two days from today!
1967 SHELBY GT500 Eleanor Mustang
1967 Ford Mustang Eleanor
1 of 3 Hero Cars Built for Gone in 60 Seconds
Engine  351 CI

Trans  4-Speed

Color  Gray
---
This 1967 Ford Mustang is number 7 of 11 "Eleanor" versions built by Cinema Vehicle Services of North Hollywood, California, for the 2000 remake of the original 1974 cult classic "Gone in 60 Seconds." The car is one of only three used in scenes involving the cast of Gone, which included Nicholas Cage, Giovanni Ribisi and Angelina Jolie, and it incorporates the now-famous design features originally penned by famed hot rod designer Steve Stanford.
The front grille was opened up and filled with simple horizontal bars; this treatment was repeated below in the front valence, which is also fitted with trim tabs and twin driving lights, the latter reminiscent of the 1967 Shelby. There is more Shelby influence in the prominent hood bulge, dual racing stripes, upper and lower side scoops, quick-fill fuel tank filler cap, integrated rear spoiler and Thunderbird-style tail lights. The Eleanor styling package is brought home with bold fender flares and side exhaust (the latter added by Cinema Vehicle Services after filming was complete), Halibrand-style Schmidt 17-inch wheels and distinctive two-tone Silver and Charcoal paint.
A Ford Racing 351 CI crate engine with Holley 700 CFM 4-barrel carburetor and high-volume fuel pump, 4-speed manual transmission and Positraction rear end combine for Eleanor-grade performance. A Fluidyne Racing Products aluminum radiator and Total Control front reinforcement braces were critical performance additions. The car is further equipped with air conditioning, 4-wheel disc brakes, a Lecarra steering wheel and Auto Meter Sport Comp tachometer. Designated by CVS as car number 7 in the series, this trend-setting movie star car comes with a letter of authenticity from Cinema Vehicle Services founder and president Ray Claridge. 
HIGHLIGHTS
- Hero Car from the 2000 remake of Gone in 60 Seconds
- 1 of 11 original Eleanor cars built by Cinema Vehicle Services
- 1 of 3 Hero cars used in the film (used for scenes involving the actors)
- Letter of authenticity from Ray Claridge of CVS included
- Designated by CVS as car #7
- VIN 7R02C173895
- An iconic and timeless design by Steve Stanford
- Custom body kit with fender flares, side exit exhaust, trunk lid and hood
- Ford Racing 351 CI crate motor
- 4-speed transmission
- Go Baby Go shifter knob
- Schmidt 17" wheels
- 4-wheel disc brakes
- Holley 700 CFM 4-barrel carburetor
- Positraction rear end
- Air conditioning
- High volume fuel pump
- Lecarra steering wheel, sport comp tach
- Side exit exhaust added by CVS after the movie's completion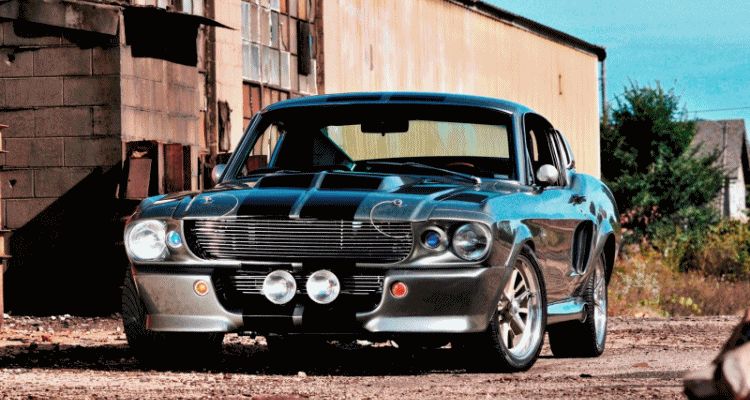 Photos Courtesy of David Newhardt/Mecum Auctions