Updated 10.10.14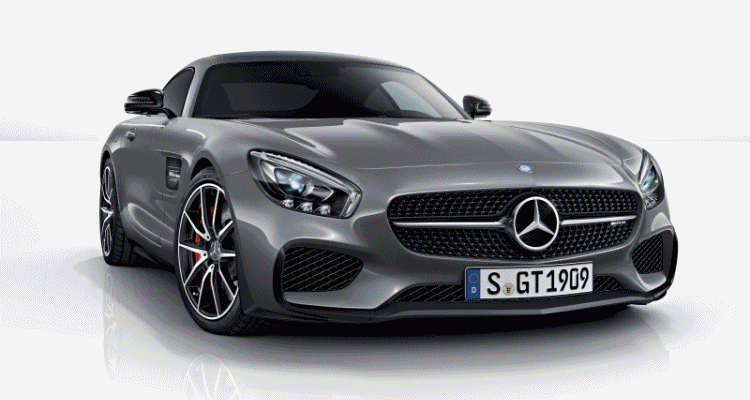 The wraps have come off the AMG GT's Edition 1 package!
2015 Mercedes-AMG GT Edition 1
PREVIOUS
The relationship between PlayStation and Mercedes-Benz has been very strong since the AMG SLS was the cover car for GranTurismo 5. That relationship is a three-way affair: among AMG, Polyphony Digital as the GT game developers, and Sony itself in extending the reach of PS4.
The new DRIVECLUB game seeks to be a new type of social racing experience — where friends battle one another for track glory both in real-time and as part of championship leagues.
Sony hopes to leverage the PS4's social features in ways that many GT6 drivers do not prioritize. So the AMG GT being the marquee car is a special achievement and great achievement for the three parties above… plus another one: us!
DRIVECLUB launches on October 8th, with full details below.
2015 Mercedes-AMG GT
DRIVECLUB Mercedes-AMG GT

Worldwide cooperation by Mercedes-AMG and Sony Computer Entertainment to mark launch of new racing game: Mercedes-AMG GT launches exclusively in DRIVECLUB on PlayStation®4
Stuttgart.
Just four weeks after its world premiere on 9 September 2014, the sensational new Mercedes-AMG GT sports car will feature exclusively in DRIVECLUBTM, Sony Computer Entertainment Europe's next generation racing game only on PlayStation®4. DRIVECLUB will be available in Europe from 8 October 2014 and fans will be able to download the new AMG GT for free in the first week of launch. DRIVECLUB also features five other models from Mercedes-Benz's high-performance brand: the A 45 AMG, the CLA 45 AMG, the C 63 AMG Coupe Black Series, the SL 65 AMG and the SLS AMG Coupe Black Series.
Mercedes-Benz is supporting the launch of the game with a range of activities. The highlight of these is the "Journey of Stars", a global online competition available in a variety of social networks. From 9 September to 9 October 2014, gamers can take part at www.journeyofstars.com and test themselves against their friends around the world. Each winner will receive a PlayStation 4 with the brand-new DRIVECLUB game.
In a world first for Mercedes-Benz, the AMG GT will be launched short after its world premiere in DRIVECLUB. Working side-by-side with AMG engineers armed with technical specifications and data, Evolution Studios was able to recreate the AMG GT in DRIVECLUB with breathtaking accuracy. With access to the Mercedes-AMG GT on the test track, Evolution Studios was also able to directly record the sound, allowing the team to recreate the every aspect of the car with total authenticity. With six AMG models, from the sporty compact class to the super sports car, Mercedes-Benz is the premium manufacturer with the widest range of models in the game.

"The Mercedes-AMG GT is an outstanding sports car and we're pleased to be able to offer it to gamers in DRIVECLUB before it rolls off the production line. It will be available as a free download within the first week of launch," says Paul Rustchynsky, Game Director at Evolution Studios. "We're delighted that Mercedes-Benz is so strongly represented in DRIVECLUB. This proves the brand's attraction and importance, because only the world's most exciting and prestigious sports cars are selected by the game developers," says Dr. Jens Thiemer, Head of Marketing Communication at Mercedes-Benz Cars.
Global activities to mark launch of Mercedes-AMG GT and DRIVECLUB
From 9 September 2014, gamers from all over the world will be invited to form a club at www.journeyofstars.com to compete around the world with their friends on social networks including: Facebook, Google+ and Twitter. They will need to master a series of gaming challenges themed around both Mercedes-Benz and PlayStation.
To win, the members of a club must join forces to overcome as many of these challenges as possible while creating the longest-possible line of worldwide connections. This mirrors the core social concept behind DRIVECLUB: success and fame are best achieved through teamwork within clubs. Each member of the victorious club will receive a PlayStation 4 and a copy of DRIVECLUB. The "Journey of Stars" ends on 9 October 2014.
In addition to the online competition, gamers can also experience PlayStation 4 and DRIVECLUB first hand in racing kiosks at selected Mercedes-Benz branches and events as well as at trade fairs.
DRIVECLUB: the world's first truly social racer
Developed exclusively for the PlayStation 4 by Evolution Studios, DRIVECLUB is all about you and your friends. It's about teamwork; it's about everyone fighting for one another and earning rewards together – and most importantly it's about sharing in the sheer thrill of every race. Enjoy the excitement of high-speed solo racing, or join a racing club to discover what DRIVECLUB is all about. Created specifically with the next-generation gamer in mind, DRIVECLUB uses the networking power and social capabilities of the PS4 to seamlessly and immediately connect you and your friends, always allowing you to share your experiences, send and receive challenges, and keep up to speed with your team's performance.
DRIVECLUB brings to life the heart and soul of car culture. An incredible, authentic and immersive driving experience, DRIVECLUB makes you feel the exhilaration of driving the most powerful and beautifully designed cars in the world; all rendered in staggering detail, inside and out as you race them in richly detailed real-world locations alongside your Club.
PREVIOUS
Huge news today from AMG! The eagerly-anticipated AMG GT supercar has arrived in full: 100-plus photos and full launch details below.
Two trims will come on the AMG GT: the standard with 463-horsepower and a 3.9-second sprint to 60-mph, or the top-line AMG GT S — which is packing the headline 3.7-seconds from its 503-horsepower slugger. The twin-turbocharged V8 lives in an alloy chassis with a very clever diff setup in back. The transaxle layout mounts the seven-speed auto on the back axle — but does not include 4Matic AWD at this time.
Style-wise, the AMG GT is a huge hit. This look is coming soon to the updated SLK and even the SL-Class roadsters very shortly after the AMG GT S arrives first in Spring 2015.
2016 Mercedes-Benz AMG GT

THE NEW MERCEDES-AMG GT: DRIVING PERFORMANCE FOR SPORTS CAR ENTHUSIASTS
AMG racetrack performance combined with superb everyday practicality
Affalterbach. The first Mercedes was a racing car and its most recent successor carries this heritage forward. With the new Mercedes-AMG GT, the Mercedes-AMG sports car brand is moving into a new sports car segment. The GT is the second sports car developed entirely in-house by Mercedes-AMG. Its front mid-engine design with a rear transaxle and use of intelligent aluminum lightweight construction form the basis for a highly dynamic driving experience. Its newly developed AMG 4.0-liter V8 biturbo engine underscores the hallmark of AMG driving performance. The first sports car engine from AMG with internally mounted turbochargers ('hot inside V') and dry sump lubrication is configured in two output ratings: as a GT with 456 hp (340 kW) and as a GT S with 503 hp (375 kW). The new GT combines driving dynamics and first-class racetrack performance with superb everyday practicality and efficiency that sets new standards in the segment.
It has everything you would expect from an authentic Mercedes-AMG sports car – from the characteristic styling, thoroughbred motorsport technology to the optimum weight distribution. The drive system tailored to consistently delivering driving dynamics perfectly complements this set-up. The centerpiece of the Mercedes-AMG GT is thethe new 4.0-liter V8 biturbo, which responds instantly with extreme power at low revs and delivers outstanding performance. Top figures such as 3.7 seconds from 0-60 mph (preliminary) and a top speed of 193 mph (310 km/h), combined with the outstanding driving dynamics will undoubtedly translate into extremely fast laps on the racetrack.
At the same time, this two-seater is a comfortable and reliable companion for everyday motoring thanks to its practical decklid, easily accessible luggage compartment, and high level of comfort on long journeys. It also features an extensive list of Mercedes-Benz Intelligent Drive assistance systems which ensure the high level of safety expected from Mercedes-AMG.
"With the new Mercedes-AMG GT, we are venturing out into a challenging sports car segment with its top-class competitive field. This is an incentive and motivation for us at the same time to prove to sports car enthusiasts around the world the kind of performance that AMG is capable of", says Prof Dr Thomas Weber, Member of the Board of Management of Daimler AG, responsible for Group Research & Mercedes-Benz Cars Development.
"With the new GT we are positioning Mercedes-AMG even more aggressively than to date as a dynamic sports car brand", says Tobias Moers, CEO of Mercedes-AMG GmbH. "With its technological substance, the Mercedes-AMG GT fulfils our high aspirations with regard to driving dynamics, agility and sportiness. The new GT is the second sports car developed fully independently by Mercedes-AMG. The car is manufactured according to the motto 'Handcrafted By Racers' – which perfectly encapsulates our heritage and our spirit."
The models at a glance:
| | | |
| --- | --- | --- |
|   | Mercedes-AMG GT S | Mercedes-AMG GT |
| Displacement | 3982 cc | 3982 cc |
| Output | 503 hp (375 kW) at 6250 rpm (6000-6500 rpm*) | 456 hp (340 kW) at 6000 rpm |
| Max. torque | 479 lb. ft. (650 Nm) at 1750-4750 rpm (1750-5000 rpm*) | 443 lb.ft (600 Nm) at 1600-5000 rpm |
| Acceleration 0-60mph | 3.7 s (preliminary) | 3.9 s (preliminary) |
| Top speed | 193 mph (310 km/h)*** | 189mph (304 km/h)*** |
* In conjunction with AMG DYNAMIC PLUS package; *** Electronically limited.
The combination of aluminum spaceframe, V8 biturbo engine with dry sump lubrication, seven-speed dual clutch transmission in transaxle configuration at the rear axle, locking differential, sports suspension with aluminum doublewishbone suspension and a low curb weight delivers racetrack performance. The front mid-engine design and rear transaxle configuration makes for a beneficial weight distribution of 47 to 53 percent between the front and rear axle. In conjunction with the vehicle's low center of gravity this translates into extremely agile handling and permits high cornering speeds. With a favorable power-to-weight ratio, the Mercedes-AMG GT self-confidently lines up alongside the very best in its segment.
Exterior design: sporty emotion and sensual purity
"The new Mercedes-AMG GT is a sports car in its purist form", says Gorden Wagener, Vice President Design Daimler AG. "Breathtaking proportions, powerfully sculpted surfaces and flowing lines turn the new AMG into a contemporary sports car which embodies the spirit of the glorious Mercedes sports cars. The GT is a consummate combination of beauty and intelligence."
The new Mercedes-AMG GT embodies pure sportiness and emotion. The two-seater is characterized by hallmark rear-wheel-drive proportions. The V8 biturbo front mid-engine ensures optimum weight distribution, which forms the basis for superb driving dynamics. The long hood with its pronounced powerdomes, the greenhouse which has been moved far back, the large wheels and broad tail end make up the distinctive looks. Additionally, the large deck lid conceals a practical luggage compartment.