Enjoyed a chance to meet the 2015 Colorado Z71 this week, and it is really handsome and macho in real life. Initially, the GMC Canyon seemed like the better-looking of the two, but side by side, the Chevy was my clear preference. A lack of LED lighting in the nose of the Colorado is the only demerit that comes to mind. Otherwise, the wide style and fender flares are rough and ready to get muddy.
To be fair, the Colorado Z71 and Canyon All Terrain we compared are the most loaded versions of each – so base models will not be as tall or pack the big running boards, Z71 grille or off-road tires of the test model pictured here.
But even without the big V6 and the off-road package, the two really seem right-sized for most buyers. They are nimble and easy to maneuver in tight parking areas — in a way that no full-size truck really is.
The light feeling in the Colorado Z71 means it is also eager to pounce off the line and change direction. Quick throttle and steering make these trucks fun and sporty on curved roads.
The new Colorado Sport concept for SEMA might only be a light dress-up of the Colorado, but seeing one in person proves it needs few accessories to rock the sales charts.
If the ColoradoFans.com website of eager buyers is any indication, the the Chevy and GMC mid-size trucks are set for a very welcome reception as they arrive in dealerships in the next few weeks.
Cruise down to see the pricing and all colors and trims of the 2015 Colorado.
Updated With Pricing and Colors 8.7.14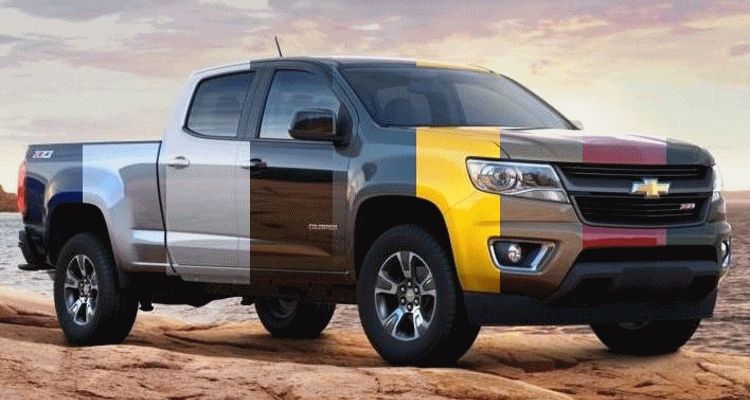 2015 Chevrolet Colorado Z71
The 2015 Colorado looks amazing!
These all-new midsize Chevrolet trucks stand tall with their big Silverado brothers. The Z71 off-road package raises the ride height, while the extra-short overhangs will surely be an asset off-road.
Capabilities will vary across the Colorado line, with engines topping out with a five-cylinder….
Just kidding!  The top engine is the excellent 3.6-liter V-6 best known from the Cadillac portfolio, but this time delivering great torque and even 302 horsepower through a standard six-speed automatic.
Even the base 2.5-liter four-cylinder has 'bulked up' – producing 193 horsepower and about the same torque level in the base trims.
Not too shabby, nor is the roomy cabin and very trendy styling throughout. This truck will be a dream for younger truck shoppers all over the world.
The Colorado arrives in late summer or fall 2014, so the waiting might be the hardest part.
2015 Chevrolet Colorado Z71 – Colors Gallery