Is there room in the hypercar market for the RUF CTR3 Clubsport - more than six years since the first-gen CTR3 debuted to rave comparisons with the Carrera GT?
Now that Porsche's top model is the 918 Spider, the RUF CTR3 is looking a little out of date -- to say nothing of the ultra-hybrid McLaren P1 and LaFerrari.
This is where the new RUF CTR3 Clubsport comes in -- more aero, more speed and more drama with optional wide-body fenders and a 200-mph-plus ground-effects package.
Merging the front crash structure of the Cayman coupe into this wider, lower, louder and twice-as-fast CTR3 still has the desired effect: huge speed. Twin-turbochargers send 777-horsepower to the back wheels, which also cope with the 707-pound-feet of torque from this 3.8-liter, dry-sump-lubed boxer six-cylinder.
With only two driven wheels, the 3.0-second 0-60-mph time is a bit off the latest pace, to be frank, with the new Turbo S 911 hitting the mark in just 2.6-seconds.
But flat out? Say goodbye and wave!!
With the right gear ratios and tire setup, the CTR3 Clubsport hits a stunning 236-mph. This, for the record, is faster than any 918 Spider, LaFerrari or McLaren P1... so far!
And quite close to the cat-less McLaren F1 record-holder of 240-mph for more than a decade.
All this for pricing that cuts the bill for a new hypercar roughly in half!?
CTR3 Clubsports for everyone!
RUF CTR 3
The RUF model with pure super sports car DNA
The CTR 3 is RUF's top model and combines decades of experience with latest technology and timeless design. As a logical consequence of the continuous development of the brand we are very proud to offer a vehicle that enthuses by far more than exceptional technology and driving dynamics: it comes with its complete own individual design. With the specific design of the front wings and a very low a-pillar the pilot of the CTR 3 has the perception of a very low seat position which enhances the race car feeling. Underneath the carbon skin various high performance components are combined. The turbo charged flat 6 engine produces impressive 777 hp and has a torque of 980 Nm (723 lb ft). This power is transferred to the rear wheels via a 6 speed manual or an optional 7 speed double clutch gear box. The mid-engine coupe has a low centre of gravity and builds very low. The rear axle construction includes horizontal springs and shock absorbers. The highest expansion stage is the CTR 3 Clubsport which comes among other details with wheel house extensions and a fixed carbon rear spoiler.
2015 RUF CTR3 Clubsport
Standard & optional equipment CTR3 Clubsport
Colours
•Exterior: standard and metallic colours to the customer's choice

•Interior: leather, alcantara and seam colours to the customer's choice
Engine
CTR 3 with 3.8 litre twin turbo engine

Output 572 kW (777 hp) at 7,100 RPM, maximum torque

980 Nm at 4,000 RPM

6 cylinder horizontally opposed engine

Aluminium block and cylinder heads

Water cooled

Four valves per cylinder

Camshaft adjustment with valve timing and lift

Hydraulic valve adjustment

Dry sump lubrication

Twin turbochargers and twin intercoolers

Electronic engine management

Fly-by-wire throttle

Direct fuel injection (DFI)

Cylinder-specific knock control

Two three-way catalytic converters with metal substrates with stereo lambda control circuits

Static high-voltage distribution with individual coils

Two-stage resonance induction

On-Board-Diagnostics to monitor exhaust emissions
Transmission
7-Speed-Doubleclutch

Rear wheel drive
Chassis
Front: 5-spoke 8.5" x 19 forged light-alloy wheels with central locking, tyres 265/30 ZR 19

Rear: 5-spoke 12.5" x 20 forged light-alloy wheels with central locking, tyres 345/30 ZR 20

Tyre sealing compound and electrical compressor

Power steering with variable steering ratio

Front: McPherson-strut suspension with anti-roll bar

Rear: multi-link suspension, horizontal coil over shock absorbers with anti-roll bar

Stability Management with ABS, ASR, ABD and ESP

Hydraulic lift system for the front axle for 50 mm

(2 inch) more ground clearance
Brakes
Front and rear: 6-piston-monobloc-fixed calipers, red painted with white "RUF" logo

Front and rear: 380 mm internally ventilated and perforated ceramic composite brake discs

Bosch ABS 8.0
CTR3 Clubsport – Model Year 2014
Body
2-seater Coupé

Front structure and floor panel, sheet steel hot dip galvanised on both sides

Body shell in kevlar-carbon composite

Clubsports-package in kevlar-carbon composite

Underbody lining

Aluminium front lid and aluminium doors

Door stops with 3 index positions

Air intakes for intercoolers in the rear fenders

Front spoiler with integrated air outlet

Sports mirrors with integrated indicators, improved aerodynamics, electric adjustable and heated

Rear diffuser with air outlets for end tips

Big one-piece rear lid

Automatic rear wing

Permanent "rear view" camera

"RUF" logo in black on the front hood and black "C

TR 3" logo on the rear lid
Electrical system
Power windows with one-touch operation and short-stroke lowering

Windscreen washer system with 2 wiping speeds, interval settings and heated dual nozzles

Sports mirrors with LED-indicator lights, electrically adjust- and heatable, aspherical on driver ́s side

Communication Management: Information system comprising 5.8-inch screen, 12 button keypad, radio with CD drive and an on-board computer with parallel display in the instrument cluster

Soundsystem with 7 speakers

CD tray area in the glove box

Pre assembly for CD autochanger (6 discs)

Central locking with remote control including trunk release

Electric luggage compartment release
Lighting
Bi-Xenon-head lights including dynamic headlight leveling and headlamp cleaning system

Separate additional lights in the front end with m

arker lights, LED indicator lights and LED day light running lights

Rear fog light

Centre high-mounted brake light in LED technology
Instruments
Three big round instruments with dial-type gauges in black with green typeface

Speedo tops at 260 mph (420 kph)

Instrument cluster with central rev counter and multi-function display

Analogue displays: Revolutions per minute, speed,

oil pressure, oil temperature, coolant temprature and tank capacity

Permanent indication of total mileage, trip mileage, time, outside temperature and speed

On board computer
Safety and security
Fullsize airbags for driver and passenger

Integrated roll cage (IRC)

Side Impact Protection System comprising:

Side impact protection in the doors

Head airbags in the door-trim panels

3-point automatic belts front, seat buckle on seat

Seat belt height adjustment, belt tensioners and belt-force limiters

Immobiliser (transponder system), safe locking system, alarm system and interior surveillance

Front and rear bumpers with integrated alloy bumpers

Air conditioning

Automatic air conditioning with integrated active carbon filter

Green tinted heat-insulating glass
Interior
Full leather interior

Kevlar carbon light weight bucket seat with integrated head rest

3-spoke sport steering wheel in leather with manual height and reach adjustment

Plastic parts with soft paint, painted in interior colo

Roofliner in alcantara

Interior carbon package

Fire extinguisher

6 point seat belts in colour for driver's and passenger's seat

Lockable, large glove compartment

Light weight door panels with storage bags

Cup holder integrated behind the decorative dashboard trim
LCD display for permanent "rear view" camera inste

ad of rear view mirror

Aluminium shift knob

Aluminium pedal set and foot rest

Stainless steel door sills with "RUF" logo
Technical data
Engine

Type Boxer

Cylinders 6

Displacement – in³ (cc) 231.9 (3,800)

Bore x stroke – in (mm) 4.02 x 3.05 (102 x 77.5)

Power 572 kW (777 hp)

At RPM 7,100

Max. torque – lb-ft (Nm) 707,96 (980)

At RPM 4,000

Compression ratio 9.8 : 1

Engine control unit EMS SDI 3.1, direct fuel inje

ction, cylinder specific

knock control, Stereo

lambda-control circuits,

fly-by-wire throttle

Gasoline 98 ROZ super plus, unleaded

Alternator 1.680 W

Starter motor 1.7 kW

Battery 80 Ah
Transmission
Power delivery Rear-wheel drive

Transmission 7-speed double clutch
Chassis
Front axle McPherson-strut, anti-roll bar

Rear axle Multi-link suspension, horizontal coil over shock absorbers, anti-roll bar
Steering
Steering ratio 16.9 : 1

Steering wheel turns 2.98 From lock to lock

Steering wheel diameter – in (mm) 14.5 (365)

Turning radius – ft (m) 34.8 (10.6)

Driver safety aids with ABS, ASR and ABD

Brakes Front and rear: 6 piston aluminium monobloccalipers ventilated and cross-drilled ceramic composite discs

Anti-lock braking system Bosch ABS 8.0

Brake disc diameter – in (mm) 15 / 15 (380 / 380)

Brake disc thickness – in (mm) 1.3 / 1.3 (34 / 34)

Wheels 8.5" x 19 / 12.5" x 20

Tyres 265/30 ZR 19 / 345/30 ZR 20

Size and weight

Length - in (mm) 175 (4,445)

Width - in (mm) 76.5 (1,944)

Height - in (mm) 47.2 (1,200)

Wheelbase - in (mm) 103.3 (2,625)

Track, front – in (mm) 59.3 (1,506)

Track, rear – in (mm) 62.4 (1,585)

Empty weight

According to DIN 3086.4 lbs (1,400 kg)

According to EG-standards 3251.8 lbs (1,475 kg)

Total acceptable weight 3582.5 lbs (1,625 kg)

Capacities

Trunk space according to VDA – cu ft (l) 3.7 (135)

Gas tank – gal (l) 23.1 (90)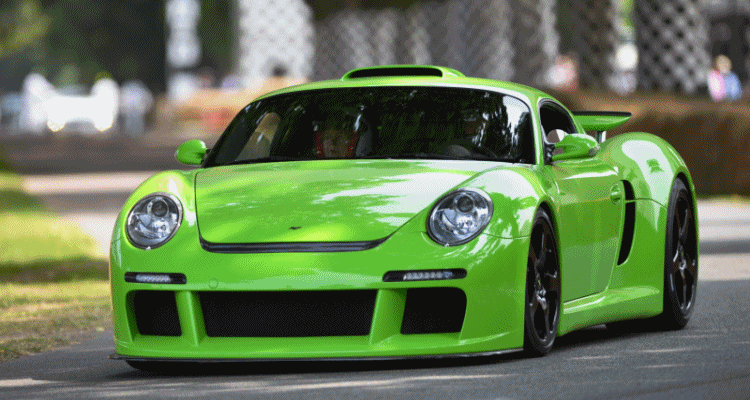 Performance
Top speed – mph (kph) 236 (380) - dependent on gear ratios

0 – 62 mph (0 – 100 kph) 3.2 s

0 – 125 mph (0 – 200 kph) 9.2 s