UPDATED 9.5.14
2014 Peugeot EXALT Concept
PEUGEOT EXALT CONCEPT: A NEW INCARNATION FOR THE PARIS MOTOR SHOW
04/09/14
European version of PEUGEOT EXALT Concept Car brings a host of innovative features

Hybrid petrol-electric power train has a combined output of 340hp

A new version of 'Newspaper Wood' returns to uniquely tailor the Concept's bespoke interior
PEUGEOT is showcasing the EXALT Concept Car in a new livery at the Paris Motor Show next month. The bodywork features shades of grey that emanate from the bare steel covering the majority of the exterior to the distinctive 'Shark Skin' rear end. Inside, the 'Newspaper Wood' finish borrows (literally) from the pages of major business dailies.
The tailgate features an ingenious opening mechanism and provides easy access to the HYbrid-kick, an innovative electric scooter, stowed below the boot floor.
With EXALT, PEUGEOT continues to build on the imposing vision of large-saloon initiated with the ONYX Concept in 2012. A vision embodied by materials that achieve a blend of balance, local sourcing, recycling-based production and more.
This new automotive experience is powered by a petrol-electric HYbrid4 drivetrain with a combined output of 340hp.

PREVIOUS:
One has to admire the resilient spirit of Peugeot Citroen.
Budgets too tight to stay in LeMans?
Take the powertrain up Pikes Peak in the new 208's body shell!  And then keep rocking that super-diesel at the 2015 Dakar rally's of Chile!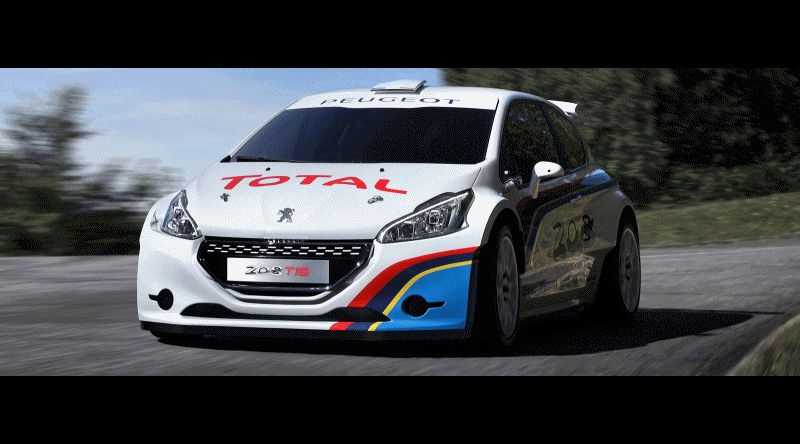 A similar feat today with the just-revealed Exalt concept for Beijing. It carries forward many of the ideas first explored on the bare-metal Onyx hypercar concept, but this time with the gorgeous proportions of a RWD four-door coupe.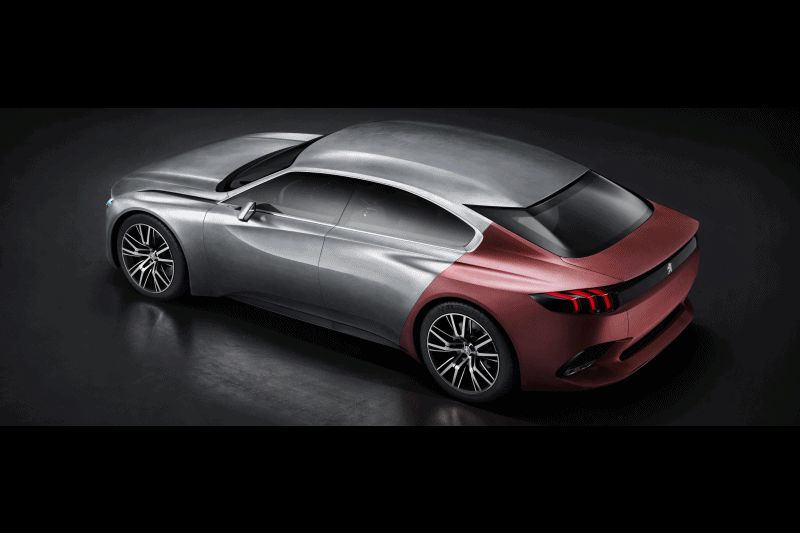 That cab-backward layout is something French engineers and the buying public have been clamoring for since the demise of the Africa-spec cars in PSA's back catalog. There simple has not been a rear-drive French-made car in decades. Prove me wrong!  I am slow this morning, but cannot think of one since the Citroen SX really tried to class up front-drive layouts.
Or the original fun-cooker: the DS.
As wonderful as the Citroen's TractionAvant ideas were when they reached the mass market of the 1950s and 1960s — twenty years before American manufacturers — and forty years before ABS, snow tires and traction control — it is a soggy mess today of bad handling that actively discourages corner speed.
Most enthusiasts cringe at the idea of owning only front-drive cars for their entire lifetime. It is a sort of forced austerity. One that grows a huge backlash of pent-up demand for oversteer.
So how has Peugeot delivered this desirable cab-backward stance? Bought in some old bones from somewhere? Oh no.
They have designed themselves out of another pickle. A tiny 1.6-liter THP turbo in the front is mounted well behind the front axle (somehow) — delivering the short-overhand look that has been woefully absent since NCAP started testing cars in France. This is a huge breath of fresh air. How do all those bottle-nose Citroen and Peugeot and Renault cars even get up the notoriously-steep driveways and mountain roads of France? A big "Scrape" must be a frightfully-common sound in Paris parking areas, to say nothing of Nice.
On further inspection, the Exalt does still have a gigantic front overhang. But it is so balanced by the long-wheelbase, low roof and rear-shifted windshield base that one might hardly notice.
This design is made more authentic by a battery-driven rear axle, using the same principle as the Lexus RS450h for more than a decade.
So it is three big leaps forward for Peugeot with the EXALT:
— cab-backward layout with a hint of "F.U." crisp and un-ruined appeal about its rear spoilers and glass
— a low roof that shows a shred of RWD coupe coolness
— and a new nose that is finally attractive, distinctive, and well-executed

But is it all sunshine and lollipops for drive-starved French drivers? Not really. The front engine delivers more than 75-percent of the total 340-horsepower output figure — meaning any tail-happiness will still be very hard to achieve.
But little by little, Peugeot seems to be carving itself anew based not on engineered mediocrity — but actual, writ-large buyer Wants.
Just in time, too.
It is not that people will not pay for a French luxury car like the would a 535i BMW. But buyers will not pay for a stretched front-drive car at these prices.
Rationality of market forces, just as the firm slices off huge chunks of equity for both foreign and domestic lifelines? Who'd have ever thought it would play out like this.
The EXALT is very fresh and very exciting. My advice for Peogeot is to listen to the least-popular vote at the table: make this car, or something like it. Do not price it in stratosphere. Achieve results.
But even better? What if the mini turbo petrol engine were in the back, and the electric hybrid stuff were in the front? Porsche seems to think that makes the 918 Spyder a fun plaything, and they are correct.

Official Details below from Peugeot.
THE PEUGEOT EXALT CONCEPT- DESIGN INNOVATOR FOR HEIGHTENED SENSATIONS

10/04/14
Imposing Concept car moves to heighten sensations

Radical styling and choice of materials make an impact at first acquaintance

Initiated with the Onyx Concept, EXALT places on show an array of potential materials and textures

With EXALT, PEUGEOT unveils its imposing vision of the saloon car by following the approach initiated in 2012 with the Onyx Concept. EXALT aims to please the senses. It stands out at first contact by its radical styling choices and the materials selected.

First seen on Onyx, the distinct line in the bodywork is reinterpreted by the association of bare metal and an efficient textile, Shark Skin, inspired by the unique texture of a shark's skin.

The remarkable acoustic comfort achieved inside permits the discovery of an array of materials – natural wool-based 'chiné' mixed fabric, aged leather, bare steel and ebony – used to finish the cabin. This high end variety of wood takes on its Chinese identity through the design created by the trio PINWU Design agency.

The technology incorporated makes every journey an experience: PEUGEOT i-Cockpit, black light, Pure Blue air purifier … this art of travel is powered by a petrol HYbrid4 drive train with an output of 340bhp.

"PEUGEOT's 125 year automobile history is punctuated by models that made their mark on their era. With the EXALT Concept, the Brand asserts its position and writes a new chapter. We are moving forward, resolutely and with confidence."
Maxime Picat, PEUGEOT Brand CEO

 

The dynamic saloon

"With EXALT, PEUGEOT unveils its vision of the saloon, combining a sleek design with versatility. This radical approach and original qualities make EXALT instantly desirable."
Gilles Vidal, PEUGEOT Director of Style

With its sleek and athletic lines, EXALT embodies the power of PEUGEOT design. Sitting on wide tracks and powerfully rounded wheel arches, this five-door saloon expresses its style over a length of 4.70m. The alliance of flat surfaces and straight cut lines reconciles aggressiveness and softness.

EXALT chooses to be radical by deleting all superfluous materials, keeping only what is really useful. Its specification comprises materials from the melding of cultures with French and Chinese expertise. Each one of the materials used has been rigorously selected for their efficiency.

"PEUGEOT EXALT is athletic, powerful and sleek, incorporating original materials. Its cabin, trimmed in natural materials, is dedicated to comfort and instinctive driving. This innovative concept makes the saloon even more attractive and more versatile, in particular the boot with its unique opening mechanism exposing a large boot."
Pierre Paul Mattei, PEUGEOT EXALT Styling Manager

In homage to the art of the French motor car from the twenties and thirties, its bare steel bodywork is hand-formed by a master panel beater.

One of a kind, it reinterprets the historical cues that make up automobile passion: taut and dynamic lines, a high waist line, a raked windscreen, a low roof (just 1.31m), a very slender profile that conceals a cabin that is still spacious, tightly shaped side panels with basalt fibre sills and 20-inch wheels.

The long bonnet grows out of the particularly expressive front end where the twin headlamps, set in the bumper, integrate the Brand's recognizable signature lighting. In the middle, the powerful grille emerges from the bodywork and provides the backdrop for the doubly symbolic lion. This is because this animal is both the emblem of the Brand and in Chinese culture, the expression of power and prestige. At the bottom, the flow of air supplying the engine is divided by 'fins' carrying the LED direction indicators.  

To improve the drag coefficient, the rear of EXALT is trimmed in Shark Skin, an efficient textile. Due to its technical grain structure, this material resulting from bio-mimicry markedly improves the aerodynamic performance of the vehicle, with the aim of reducing fuel consumption.

Its use is elevated by a straight line making the transition between the rear door and the quarter light, the transition between the grey of the steel and the red of the Shark Skin. This material contributes towards EXALT's aerodynamic performance – with an SCx of 0.6 – in association with other elements: an air extractor in the rear bumper, the curve of the roof and the profiled mirrors.

With such remarkable aerodynamics, the mark left by EXALT on its surroundings is essentially visual. A horizontal band in the hollow of the rear spoiler shows the width of the car and the sculpted facet of the lighting signature.

PEUGEOT EXALT also provides exceptional versatility for a saloon. The boot works with an innovative pantograph mechanism. This arrangement allows maximum opening while needing less space externally. The boot with its integral motorised aperture reveals a boot with a low load sill. Trimmed in wood, it presents a delightful space and facilitates the handling of luggage.

Instinctive driving

"I was inspired by the musical world for this project. Colour is a fundamental notion in it. Notes combine together to create a score which is profoundly moving. This is how technology and tradition merge together in EXALT.

In the PEUGEOT i-Cockpit, a digital instrument panel is side by side with toggle switches. The result is pure and timeless."
Alessandro Riga, PEUGEOT EXALT Interior Stylist