Okay now. Start your classic car appreciation engines!
About a hundred fantastic cars here, and triple that many amazing, high-resolution photos from 2014's Pebble Beach Concours.
The clear favorite for this non-expert and non-judge?
The fabulous 1939 Talbot-Lago T150C-SS Pourtout Coupé all the way from Hong Kong.

Forgive me if some of these are out of order. But included are generally the top-3 in every category. Enjoy!
Special Thanks to Photographer Collin Graves.
2014 Pebble Beach Concours - Class Award Winners Showcase
Class A: Antique
1st: 1910 American Underslung Traveler Toy Tonneau, William Johnston & Ronald Elenbaas (The
Brothers Collection), Richland, Michigan
2nd:   1908 Daimler TC48 Roi des Belges, The Longfield Family, Burlington, Ontario, Canada
3rd:   1915 Pierce-Arrow 48 7 Passenger Suburban, Ronald & Sandra Hansen, Fillmore, California
Class B: Early Steam Cars
1st: 1905 White Model E Light Touring Body, Michael Ersland, Chickasha, Oklahoma
2nd: 1902 White Model B Stanhope Steamer, Tom Goyne, Denver, Colorado
3rd: 1907 White Model G Runabout Prototype, Mitch & Wendy Gross, Scarsdale, New York
Class C-1: American Classic Open Early
1st: 1933 Chrysler CL Imperial Custom LeBaron Phaeton, Joseph & Margie Cassini III, West Orang
New Jersey
2nd: 1933 Cadillac 452C Fleetwood Convertible Victoria, Aaron & Valerie Weiss, San Marino, Califo
3rd: 1933 Auburn 12-165 Salon Speedster, Bill & Barbara Parfet, Hickory Corners, Michigan
Class C-2: American Classic Open Late
1st: 1934 Packard 1108 Twelve Dietrich Convertible Victoria, Frank & Milli Ricciardelli, Sarasota, Fl
2nd: 1935 Packard 1201Eight Graber Convertible Victoria, Ralph & Adeline Marano, Westfield, New
Jersey
3rd: 1934 Packard 1104 Super Eight Sport Phaeton, Larry & Susan Nannini, Daly City, California
Class C-3: American Classic Closed
1st: 1937 Chrysler Imperial C-15 LeBaron Town Car, Howard & Rosalind Kroplick, East Hills, New Y
2nd: 1933 Packard 1005 Twelve Coupe, Laura & Jack B. Smith Jr., Elkhart, Indiana
3rd: 1935 Cadillac 370D Fleetwood Town Cabriolet, Pat & Pat Brothers, Bridal Veil, Oregon
Class D: Ruxton
1st: 1930 Ruxton C Baker-Raulang Roadster, Evelyn & Jim Fasnacht, Houston, Texas
2nd: 1930 Ruxton C Baker-Raulang Phaeton, Evelyn & Jim Fasnacht, Houston, Texas
3rd: 1931Ruxton C Edward G. Budd Mfg. Co. Sedan, Academy of Art University, San Francisco,
California
Class F: Fernandez et Darrin Coachwork
1st: 1934 Hispano-Suiza J12 Fernandez et Darrin Coupé de Ville, Robert M. & Anne Brockinton Lee
Reno, Nevada
2nd: 1931Delage D8 SS 100 Fernandez et Darrin Cabriolet, The Keller Collection at the Pyramids,
Petaluma, California
3rd: 1934 Hispano-Suiza K6 Fernandez et Darrin Coupé Chauffeur, Robert M. & Anne Brockinton L
Reno, Nevada
Class G: Duesenberg
1st: 1929 Duesenberg J Murphy Convertible Sedan, John P. Shibles, Sea Girt, New Jersey
2nd: 1933 Duesenberg SJ Brunn Riviera Convertible Sedan, John D. Groendyke, Enid, Oklahoma
3rd: 1934 Duesenberg J Murphy Custom Beverly Sedan, Tony & Jonna Ficco, Wheatridge, Colorad
Class H-1: Rolls-Royce
1st: 1937 Rolls-Royce Phantom III Vanvooren Sports Cabriolet, Lord Bamford, Gloucestershire, Eng
2nd: 1929 Rolls-Royce Phantom I Brewster Riviera Town Car, Quintessence
3rd: 1914 Rolls-Royce Silver Ghost Portholme Alpine Tourer, Steven & Susan Littin, Chardon, Ohio
Class H-2: Rolls-Royce Phantom Postwar
1st: 1961Rolls-Royce Phantom V James Young Sedanca de Ville, Ken & Ann Smith, Rancho Santa
California
2nd: 1956 Rolls-Royce Phantom IV H. J. Mulliner Saloon, The Nethercutt Collection - Helen & Jack
Nethercutt, Sylmar, California
3rd: 1970 Rolls-Royce Phantom VI Mulliner Landaulette, Stephen F. Brauer, St. Louis, Missouri
Class I: Mercedes-Benz Prewar
1st: 1941Mercedes-Benz 770K W150 Offener Tourenwagen, The William Lyon Family, Newport Be
California
2nd: 1927 Mercedes-Benz 630K Hibbard & Darrin Convertible, The Keller Collection at the Pyramids
Petaluma, California
3rd: 1937 Mercedes-Benz 540K Cabriolet A, Thomas & Rhonda Taffet, Chatsworth, California
Class J-1: European Classic Early
1st: 1929 Bentley Speed Six Saoutchik Drophead Coupé, John & Gwen McCaw
2nd: 1936 Delage D6-70 Figoni & Falaschi Milord Cabriolet, Peter Harburg, Brisbank, Australia
3rd: 1931Bugatti Type 50 Million-Guiet Coupé, Peter & Merle Mullin, Los Angeles, California
Class J-2: European Classic Late Open
1st: 1938 Delahaye 135 MS Figoni & Falaschi Torpédo Grand Sport, Jeffrey & Frances Fisher, Palm
Beach, Florida
2nd: 1939 Lagonda V12 Rapide Drophead Coupe, Ron Rezek, Ashland, Oregon
3rd: 1937 Bentley 4¼ Litre Vanden Plas Roadster, Barry G. Hon, Dana Point, California
Class J-3: European Classic Late Closed
1st: 1939 Talbot-Lago T150C-SS Pourtout Coupé, The Hon. Sir Michael Kadoorie, Hong Kong SAR
China
2nd: 1937 Bugatti Type 57SC Atalante, Jim Patterson/The Patterson Collection, Louisville, Kentucky
3rd: 1938 Talbot-Lago T23 Figoni & Falaschi Faux Cabriolet, Paul Bloch, Miami Beach, Florida
Class J-4: Prewar Sports Racing
1st: 1925 Bentley 3 Litre Speed Model Taylor Tourer, Stanley & Merle Bauer, Beverly Hills, Californ
2nd: 1935 Riley MPH Roadster, Willem van Huystee, Lancaster, Pennsylvania
3rd: 1936 Aston Martin Speed Model , Michael Dee, St. Clement, Jersey
Class K: Streamlined Tatra
1st: 1936 Tatra T77 Aerodynamic Limousine, Pavel Kasik, Prague, Czech Republic
2nd: 1937 Tatra T77A Aerodynamic Limousine, Kees Smit, Amsterdam, The Netherlands
3rd: 1940 Tatra T87 Aerodynamic Saloon, Chris Ohrstrom, The Plains, Virginia
Class L-1: Prewar Preservation
1st: 1922 Packard Twin Six Brunn Cape Top Touring, Mark & Kim Hyman, St. Louis, Missouri
2nd: 1936 Horch 853 Cabriolet, Guy & Dorothy Mace, Springfield, Missouri
3rd: 1904 Turner-Miesse 10 HP Rear Entry Tonneau, Jack & Kingsley Croul, Corona Del Mar
Class L-2: Postwar Preservation
1st: 1954 Alfa Romeo 1900 SSZ Zagato Coupé, Corrado Lopresto, Milano, Italy
2nd: 1962 Mercedes-Benz 300 SL Roadster, Evan Metropoulos, Beverly Hills, California
3rd: 1967 Ferrari 275 GTB/4 Scagletti Coupe, Paul Stewart, Woburn, United Kingdom
Class M-1: Ferrari Grand Touring
1st: 1954 Ferrari 375 MM Scaglietti Coupe, Jon Shirley, Medina, Washington
2nd: 1951Ferrari 212 Inter Vignale Cabriolet, Heinrich Kampfer, Seengen, Switzerland
3rd: 1961Ferrari 400 Superamerica Pininfarina Coupe Aerodinamico, Larry & Jane Solomon, Wood
California
Class M-2: Ferrari Competition
1st: 1957 Ferrari 250 GT TDF Scaglietti 14 Louvre, Les Wexner, New Albany, Ohio
2nd: 1954 Ferrari 250 Monza Scaglietti, Dana & Patti Mecum, Walworth, Wisconsin
3rd: 1951Ferrari 212 Export Berlinetta, Dennis P. Nicotra, Fairfield, Connecticut
Class M-3: Ferrari 250 Testa Rossa
1st: 1959 Ferrari 250 TR59 Fantuzzi Spyder, John & Gwen McCaw
2nd: 1958 Ferrari 250 Testa Rossa Scaglietti Spyder, Willis Murphey, Jr. and Harry Yeaggy, Cincinn
Ohio
3rd: 1957 Ferrari 250 Testa Rossa Scaglietti Spyder, Tom Hartley Jr., Swadlincote, England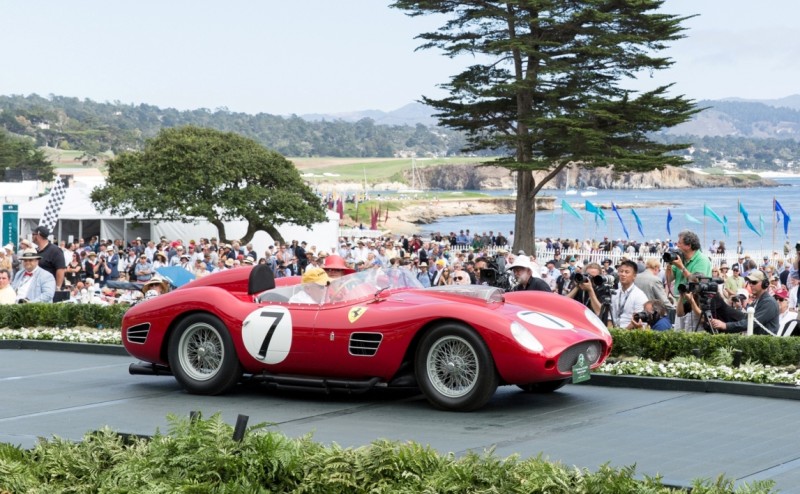 Class N-1: Maserati Centennial Racing
1st: 1949 Maserati Tipo 4CLT/48 Monoposto, Daniel Sielecki, Acassuso, Argentina
2nd: 1955 Maserati 300S Fantuzzi Spyder, Pierre F. Mellinger, Crans Montana, Switzerland
3rd: 1957 Maserati 450S Spyder, Bruce R. McCaw, Bellevue, Washington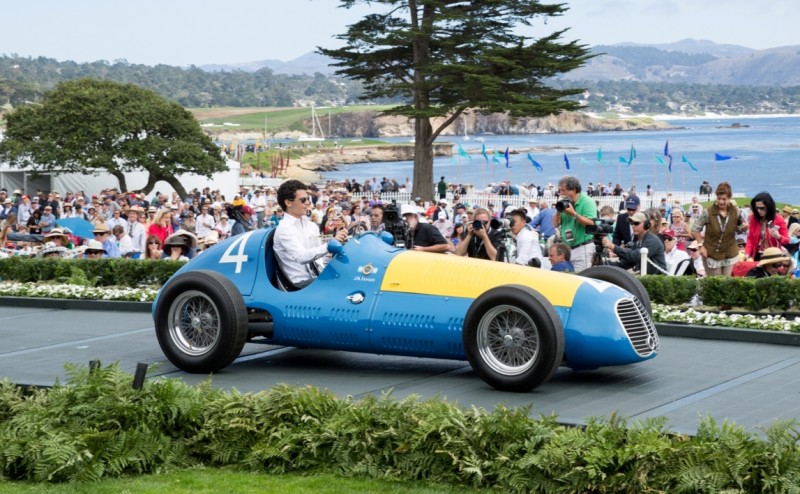 Class N-2: Maserati Centennial Coachwork
1st: 1956 Maserati A6G/54 Frua Coupé, Joe & Sharon Hayes, Chicago, Illinois
2nd: 1956 Maserati A6G 2000 GT Zagato Berlinetta, Jim Utaski, Princeton, New Jersey
3rd: 1951Maserati A6G 2000 Frua Spyder, John F. Bookout Jr., Houston, Texas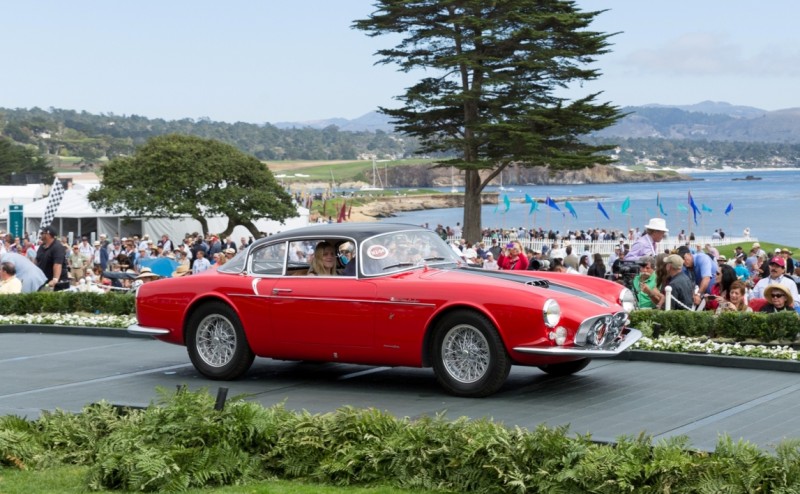 Class O-1: Postwar Touring
1st: 1951Jaguar XK120 Fixed Head Coupé, Stuart Dyble, Oxford, England
2nd: 1950 Bentley Mark VI Hooper Sports Saloon, Fred & Donna Kriz, Monte Carlo, Monaco
3rd: 1958 BMW 503 Series II Cabriolet, Karra L. Canum, San Jose, California
Class O-2: Postwar Sports Racing
1st: 1952 Jaguar XK120 Open Two Seater, Kurt A. Engelhorn, St. Moritz, Switzerland
2nd: 1957 Kurtis 500X "Caballo II" Sutton Sports Racer Open, Thomas Shaughnessy, Oceanside,
California
3rd: 1953 Pegaso Z-102 Touring Spyder, Caballeriza Collection, Redondo Beach, California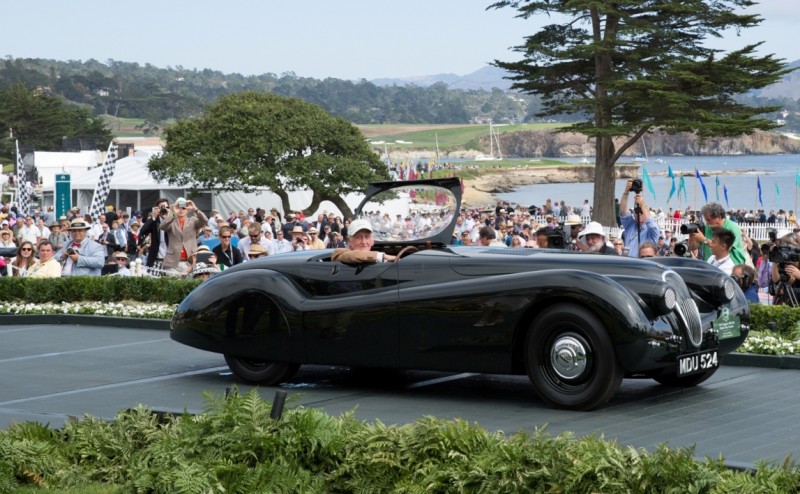 Class X: Eastern European Motorcycles
1st: 1952 IFA BK350 , Jim & Sharon Dillard, Richmond, Virginia
2nd: 1964 Zweirad Union Kavalier Type 115 , John Landstrom, Norcross, Georgia
3rd: 1960 Jawa Z15 DOHC Racer, Virgil Elings, Solvang, California