Is the Maserati Quattroporte still the sexiest limo on the market in this latest sixth-gen model?
For many eyes, nothing beats Italian glamour in a leathery four-door sedan. The rarity of the idea is itself pretty tittilating versus the dry and cold German alternatives, or the lush and colorful English brands that might be a bit too cuddly for some.
The Quattroporte draws from an enviable set of clients. Mercedes-Benz might have its sponsorship all over New York and Berlin Fashion Week -- but the Quattroporte has always been designed to appeal to Vogue Italia readers.
These are stiletto-sharp people who might also read Vogue China -- so as to stay globally aware of fashion and style trends.
As far as the crocodile-loafers and Ferregamo gentlemen, the above scenario does not apply directly. But everyone knows a beautiful passenger is the best accessory available -- and men will love the Quattroporte for how sexy it is to their leading lady/ladies.
All this appeal stood strong for the fifth-gen QP, as the big Maserati four-door is known in short-hand. But frankly, the fifth-gen car was extremely compromised. Its rear-transaxle design ensured lots of tail-happy oversteer and handling balance, but also brought a persnickety CambioCorsa that was ready and willing to ruin any smooth shift attempt in urban areas.
The autobox was finally replaced by the end of the old Quattroporte's run, but other issues remained -- limiting the Quattroporte's practical appeal in the executive limo market.
It rode very choppily, was tight in back, and tighter in the trunk. Fuel economy was abysmal and servicing intervals often raised eyebrows and demanded big investments to keep this big QP running.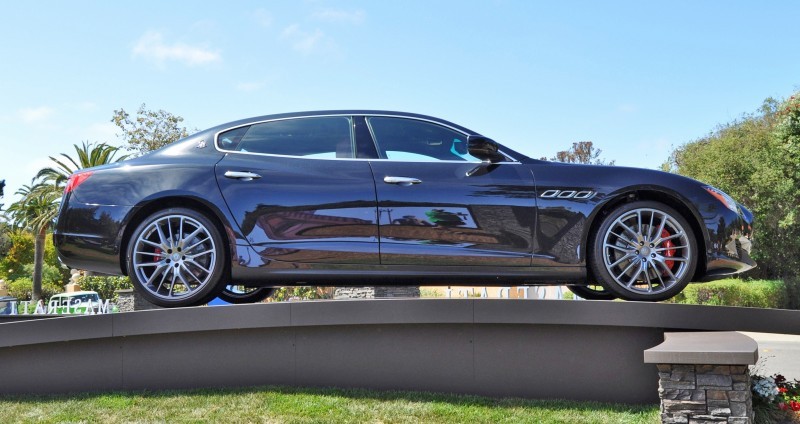 NEW HORIZONS
The new Quattroporte, we are thrilled to report, banishes almost all these skeletons from the closet.
It is smooth and posh at all times with the best trim level available in the USA: the S Q4 model with all-wheel-drive and eight-speed automatic.
The cabin is still hugely leather-lined and every aspect of the roominess and comfort is astronomically improved. The back seat is huge now, thanks to a near-ten-inch wheelbase stretch and far better packaging with minimal axle hump intrusion.
Quietness and cabin tech, long old QP sore points, are not even comparable. This car glides where the old QP shunted between potholes. The tech suite is finally current and usable, while the vast amount of leather and cabin trim options remains.

BRING ON THE "BUT"
But....
All these enhancements do, slightly, curb some of the Quattroporte's sultry previous appeal. The car still looks sexy in motion but is taller and less unique in profile than the previous model. The nose is very angle-sensitive and is not always totally gorgeous, regretfully.
Performance from the new twin-turbo V6 is 4.8-seconds to 60 mph, which is only 0.2-seconds slower than the superflagship GTS model that is $35,000 more expensive in the US market. The twin-turbo V8 with 120 extra horsepower barely moves more quickly to 60-mph than this V6TT. AWD and a big launch event keep them relatively even in the short 60-mph sprint, but the V8 is much quicker in real-world driving thanks to its nearly 200-pound-feet of extra torque.
Oh yes, the Ferrari engine design and manufacture for Maserati is still alive and well. As such, this is the best-sounding turbo V6 ever. Lovely. The exhaust bellow is still a rorty Italian snort.
For displacement and cylinder snobs, the power of this engine might still seem undercut by it being a V6 whatsoever versus a V8, but QP SQ4 is quick and eager and sounds amazing.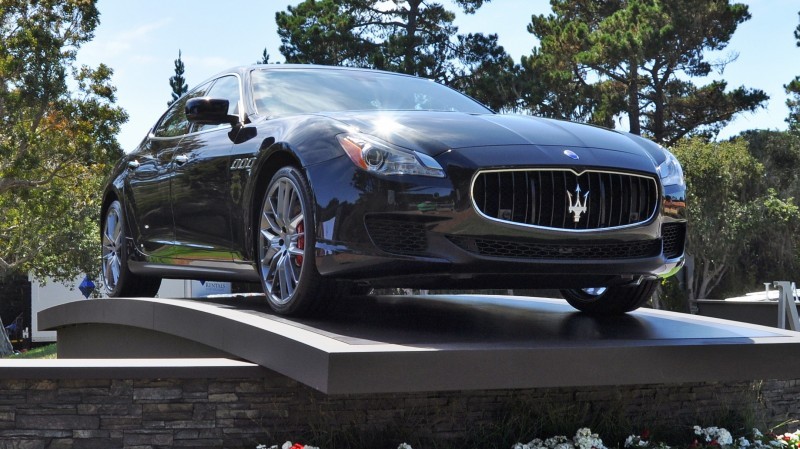 BUYING DECISIONS
As though really tailored to the sales process as much as being smooth as butter this generation, the new QP is seriously easy to buy.
No special order is necessary this time. They are all pretty lavish and there are seven or so key options to ensure your Quattroporte is youthful and fashionable and sexy.
EXTERIOR COLORS
WHEEL CHOICES

OPTION PACKAGES

INTERIOR COLORS
CABIN OPTIONS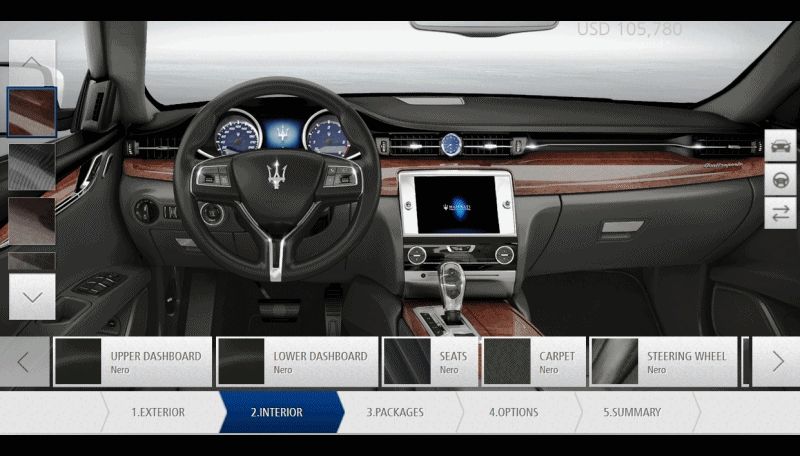 SUMMARY
So, in summary: hooray for the new Quattroporte!
All this, and it brings standard AWD to the USA or ultra-sporty GTS rear-drive. All have 50:50 weight balance. Brilliant.
It is still mighty expensive, mind you. $106,000 is the base but trims and leathers are very pricey, with our various configurations reaching $125,000 very easily.
There is a lease offer available as well, for those who are still skittish about Italian reliability.
The Quattroporte is well worth a test drive for anyone with a Panamera or Audi A8 or S550 in their sights.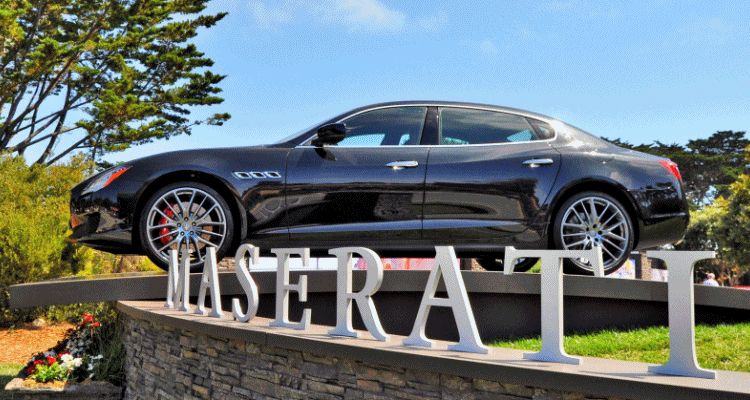 2015 Maserati Quattroporte
Build your own QP and book an appointment to try it out via this link!
 Maserati Quattroporte
The Twin Turbo 3.0-litre V6 engine delivers another distinct price and performance point for the Quattroporte S and S Q4.
The Twin Turbo V6 engines utilize much of the Twin Turbo V8's already-proven technology, including its variable valve timing, its valve drive system and its direct fuel injection.
Choosing V6 power takes little away from the Quattroporte hallmark performance, delivering 301kW (410Hp) of power and 550Nm of torque.
This is enough power to drive the Quattroporte V6 Twin Turbo to 100km/h in less than five seconds and on to a top speed of 285km/h – just 2km/h short of the superseded Quattroporte Sport GT S V8.
If a choice of two engines wasn't enough, the Quattroporte S now also offers the option of the Q4 all-wheel drive system to create the most secure all-weather performance car in Maserati's history.
The Q4 system delivers the responsiveness of a traditional Maserati rear-wheel drive combined with the added security that only an all-wheel drive can bring in critical situations, without creating extra fuel consumption. The system leaves the front wheels passive until they are needed to help with traction and then they are instantly and intelligently engaged.
The Maserati Q4 all-wheel-drive system is available with the new V6 410hp engine and perfectly matches the grand touring qualities expected of a high performance Maserati sedan, whatever the road conditions.
The sixth-generation Quattroporte was always engineered to carry both V6 and V8 engines to help it to set the high-technology tone for Maserati's upcoming Ghibli and Levante while remaining faithful to Maserati's long history in luxury sports sedans.
Accommodating the two potent engines and the large, spacious, luxuriously appointed cabin remain at the core of the Quattroporte's design, which is dominated by its long, powerful nose. Its concave Trident grille also provides a clear link to both the outgoing Quattroporte and the current GranTurismo.
Even with all of its new technology, the new Quattroporte remains true to Maserati's roots. At the top of the range, the V8 Twin Turbo makes it the fastest four-door Maserati ever built, while the V6 Twin Turbo makes it the most economical, while still capable of 0-100km/h times in less than five seconds.
Both of the engines in the direct-injection gasoline engine family have been designed by Maserati Powertrain in conjunction with Ferrari Powertrain and assembled by Ferrari at Maranello.
All Quattroportes utilize an eight-speed automatic transmission to deliver their performance and it provides seamless comfort with fast gearshift for hard acceleration.
The Quattroporte's all-new architecture retains its traditionally exquisite handling with all of its engines thanks to its perfectly balanced weight distribution, a double-wishbone front suspension and a state-of-the-art five-link rear suspension. It can now deliver the added security and all-weather assurance of all-wheel drive as well.
It also delivers new standards in quality in every area from design, development, fabrication and process controls. It is produced in a new plant that combines Maserati's traditions of craftsmanship with cutting-edge technologies that are able to guarantee outstanding quality by controlling even the tiniest details.
Traditional hand crafted detailing continues in the Quattroporte's cabin, and this has been added to with even more interior space in all seats and both four- and five-seat layouts.
Cabin luxury leaps forward technically, too, with features like the Maserati Touch Control screen, adjustable pedals, reversing cameras and the optional 15-speaker Bowers & Wilkes audio system, as well as WLAN-based WiFi and compatibility with most modern mobile phone systems.
With the original Quattroporte in 1963, Maserati invented the concept of the luxury sports sedan and the new Quattroporte continues to be the benchmark for high quality engineering, supercar performance and limousine comfort.
 
---
| DIMENSIONS AND WEIGHTS |   |
| --- | --- |
| Length | 207.2 in (5,262 mm) |
| Width (with side mirrors) | 82.7 in (2,100 mm) |
| Width (without side mirrors) | 76.7 in (1,948 mm) |
| Height | 58.3 in (1,481 mm) |
| Wheelbase | 124.8 in (3,171 mm) |
| Front track | 64.3 in (1,634 mm) |
| Rear track | 64.8 in (1,647 mm) |
| Front overhang | 38.1 in (968 mm) |
| Rear overhang | 44.2 in (1,123 mm) |
| Turning circle | 38.7 ft (11.8 m) |
| Boot capacity | 18.7 cu ft (530 L) |
| Fuel tank capacity | 21.1 gal (80 L) |
| Curb weight | 4,610 lb (2,091 kg) |
| TIRES* |   |
| --- | --- |
| Front | 245 / 45 R19 |
| Rear | 275 / 40 R19 |
| ENGINE |   |
| --- | --- |
| Number of cylinders and layout | V6 60° - Automatic 8 gears |
| Displacement | 183 cu in (3.0 L) |
| Bore | 3.4 in (86.5 mm) |
| Stroke | 3.2 in (80.8 mm) |
| Compression ratio | 9.5:1 |
| Max. power output | 404 HP / 301 kW (410 CV) |
| Engine speed at max. power output | 5,500 rpm |
| Peak torque | 406 ft-lb / 550 Nm (in overboost) |
| Engine speed at peak torque | 1,750 - 5,000 rpm (in overboost) |
| PERFORMANCE |   |
| --- | --- |
|   | S Q4 |
| Top speed | 176 mph (283 km/h) |
| Acceleration from 0 to 60 mph | 4.8 sec (0 to 100 Km/h; 4.9 sec) |
| Fuel consumption combined (city/highway) | 18 mpg |
http://www.maserati.us/maserati/us/en/index/models/quattroporte/quattroporte-gts.html
| DIMENSIONS & WEIGHT | |
| --- | --- |
| Length | 207.2 in (5,262 mm) |
| Width (with mirrors) | 82.7 in (2,100 mm) |
| Width (without mirrors) | 76.7 in (1,948 mm) |
| Height | 58.3 in (1,481 mm) |
| Wheelbase | 124.8 in (3,171 mm) |
| Front track | 64.3 in (1,634 mm) |
| Rear track | 64.8 in (1,647 mm) |
| Front overhang | 38.1 in (968 mm) |
| Rear overhang | 44.2 in (1,123 mm) |
| Boot capacity | 18.7 cu ft (530 L) |
| Turning circle diameter | 38.7 ft (11.8 m) |
| Fuel tank capacity | 21.1 gal (80 L) |
| Curb weight | 4,495 lb (2,039 kg) |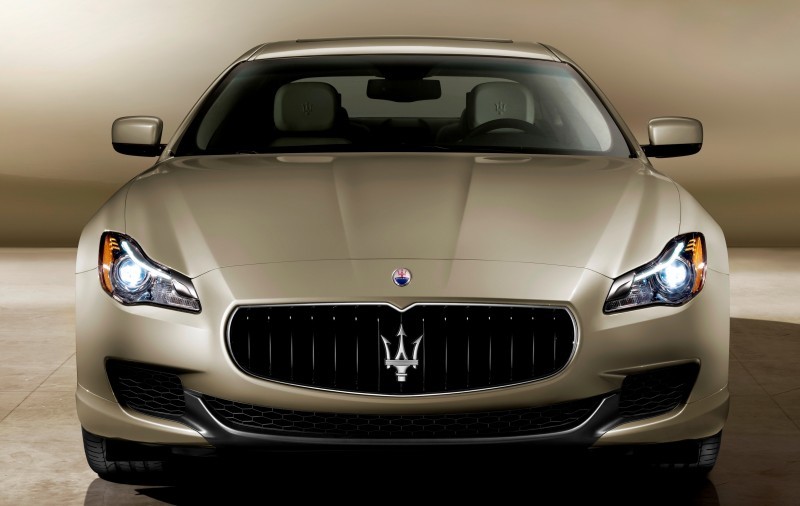 | Tires* | |
| --- | --- |
| Front | 245 / 40 R20 |
| Rear | 285 / 35 R20 |
| Engine | |
| --- | --- |
| No. of cylinders and layout | V8 90° - Automatic 8 gears |
| Displacement | 232 cu in (3.8 L) |
| Bore | 3.4 in (86.5 mm) |
| Stroke | 3.3 in (84.5 mm) |
| Compression ratio | 9.5:1 |
| Maximum power | 523 HP / 390 kW (530 CV) |
| Engine speed at max power | 6,500 - 6,800 rpm |
| Peak torque | 524 ft-lb / 710 Nm (in overboost) |
| Engine speed at peak torque | 2,250 - 3,500 rpm (in overboost) |
| Performance | |
| --- | --- |
| Top speed | 191 mph (307 Km/h) |
| Acceleration from 0 to 60 mph | 4.6 sec (0 to 100 Km/h; 4.7 sec) |
| Fuel consumption combined (city/highway) | 16 mpg |