The new Macan S might not be a total USA scoop like the extensive Amelia Island galleries were here on Car-Revs-Daily.com, but sighting one in the flesh at the Quail last week did result in three insights:
— completely overlooking the also-brand-new Cayman GTS and Targa 4S models sitting on either side of this mid-size SUV
— The Macan is definitely not an easy truck to photograph; its beauty is elusive and tricky to capture
— deep longing to own a Macan S… but *definitely* with painted "Side Blades" option checked
What is with these hideous door panel protectors pieces? They have irked your author on the Macan Turbo from Goodwood and also the configurator screens from Porsche.com. Presumably intended to provide some rough/tumble appearance as well as functional benefits, the grey plastic door covers ruin the style of the truck, to these eyes.
To provide critical buyer assistance on this super-hot model, we have researched the option box one must tick when ordering — so as to avoid this grey calamity!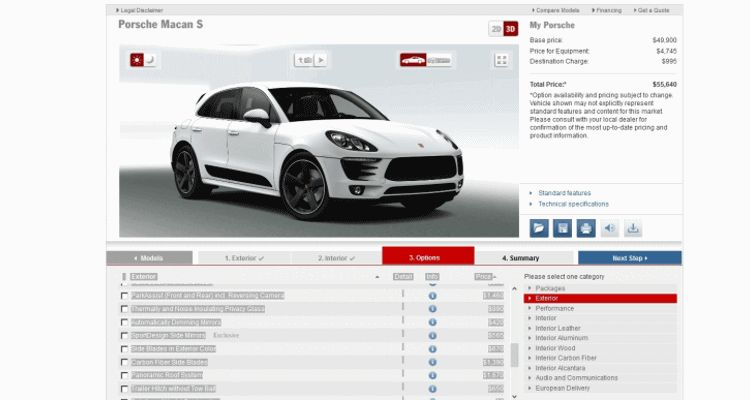 It is a $670 option called "Body Color Side Blades" and lives within the Exterior options panel of the extensive Macan Builder linked below.
Tread lightly, however, to maintain anything near the $50,000 base pricing that has been such a lure for Macan shoppers so far…
Within that same Exterior options panel, we've copied some of the extremely tasty Sport Design packages and various other selections below. They are all amazing — perhaps not as much as the wheel choices…. or the cabin customizations… or the Sport Chrono ….
But you get the point.
Any time spent with the Macan Builder is sure to add thousands to the delivered price of this tasty new Porsche.