Best Facelift? That is not a category many would aspire to win. Certainly not Argentina's embattled President, Cristina Fernandez de Kirchner, who sulked mightily in the corner of the McLaren P1 GTR launch event on Friday in Pebble Beach.
But for many luxury sedans, a great facelift can be the breath of life they need to earn new buyers and keep previous loyal owners happy at the same time.
2013's best luxury sedan facelift would certainly go to the Mercedes-Benz E350 — a car so new-feeling that its sales have jumped mightily, but so carry-over that it is almost hard to believe a nip/uck is the only cause.
For the Q70's new and youthful looks in 2014, this would be the equivalent to "CDF" -as-  the Argentines call her — trading from a Marxist econo-boy-toy and up to global superstar polo player Nacho Figueras, also from Argentina. To give a sense of his physical attractiveness and appeal: Figueras is the new face of Ralph Lauren's top fashion labels.

The 2015 Q70S is the sporty member of a hybrid and AWD-able model range. All look very fresh and very new, with strong elements of the new Q50's LED DRL and turn signal designs front and rear.
The new Q70 also brings a great sense of prestige and continuity with the design of the third-gen Q45 flagship from the early 2000s.
To call it 'just' a successful mid-life-cycle refresh sells this amazing machine short. New cabin and safety tech and great dynamics are more than skin-deep. With revamped looks and an extra 5.6-inches of rear legroom available in a USA-offered Q70L long-wheelbase model — the Q70 for 2015 has the right stuff to pay its bills as well as deliver exec sports-sedan thrills.
For all this and a huge wallop of power, the 420-horsepower 5.6-liter V8 is still available in the Q70.
Everything from the Audi A6 to the BMW 535i to the E-Class should watch out — the new Q70 is on the prowl.
2015 INFINITI Q70S
Figueras Photo credit: Polo Ralph Lauren
New Infiniti Q70L Long-Wheelbase model added with 5.6 inches of additional rear seat room – available in 3.7-liter and 5.6-liter RWD and AWD configurations
Revised exterior styling with new front and rear fascias, Infiniti signature LED headlights, taillights and fog lights, side rearview mirrors with integrated LED turn signals, and new grille design
New sport front and rear fascias – Sport Package
Three new exterior colors: Hermosa Blue, Chestnut Bronze and Graphite Shadow (Platinum Graphite no longer available)
Revised interior content and trim, leatherette replaces leather on base grades
Available Around View® Monitor with Moving Object Detection (MOD)
Revised 18-inch aluminum-alloy wheel designs
Forward Emergency Braking (FEB) and Backup Collision Intervention (BCI) added to Technology Package
Offered in five Q70 models: Q70 5.6, Q70 5.6 AWD, Q70 Hybrid, Q70 3.7, Q70 3.7 AWD
Offered in four Q70L Long- Wheelbase models: Q70L 5.6, Q70L 5.6 AWD, Q70L 3.7 and Q70L 3.7 AWD
Expected availability in September 2014
2015 Infiniti Q70
Summary
Infiniti's flagship sedan features new exterior styling, interior refinements and a new Q70L Long-Wheelbase model for 2015. It is offered in a choice of 5.6-liter V8 and 3.7-liter V6 gasoline engines and a 3.5-liter V6/electric motor hybrid.
Models/grades
Five Q70 models: Q70 5.6, Q70 5.6 AWD, Q70 Hybrid, Q70 3.7, Q70 3.7 AWD
Four Q70L Long-Wheelbase models: Q70L 5.6, Q70L 5.6 AWD, Q70L 3.7 and Q70L 3.7 AWD
Options/Packages
Premium, Deluxe Touring, Sport, AWD Sport, Sport Touring, Technology, Performance Tire & Wheel
Powertrains
420-horsepower 5.6-liter DOHC 24-valve V8, 330-horsepower 3.7-liter DOHV 24-valve V6, 360-horsepower (net) Infiniti Direct Response Hybrid™ System with 3.5-liter V6, 50 kW electric motor and Lithium-ion battery
Transmission
7-speed automatic
Drive configuration
Rear-wheel or Infiniti Intelligent All-Wheel Drive System (Q70 Hybrid rear-wheel drive only)
Suspension
Independent double-wishbone front, multi-link rear
Fuel economy
City/highway/combined
(to be confirmed)
18/26/21 mpg 3.7L 7AT RWD
17/24/20 mpg 3.7L 7AT AWD
29/34/31 mpg 3.5L Hybrid 7AT RWD
16/24/19 mpg 5.6L 7AT RWD
16/23/18 mpg 5.6L 7AT AWD
2015 Q70L fuel economy not yet available
Key features
Standard Japanese Ash wood trim (available silver powdered genuine White Ash wood trim), Infiniti Intelligent Key with Push Button Ignition, SiriusXM Satellite Radio (SiriusXM Satellite Radio subscription required, sold separately), Bluetooth® Hands-free Phone System, power sliding glass tinted moonroof and available premium audio and climate control systems
Key technology
Infiniti Drive Mode Selector, Active Noise Control, Blind Spot Warning (BSW), Blind Spot Intervention® (BSI), Eco Pedal, Active Trace Control, Infiniti Hard Drive Navigation System, Bose® Studio Surround® premium audio system, Intelligent Cruise Control (Full-Speed Range), Lane Departure Warning (LDW) and Lane Departure Prevention (LDP) systems, Distance Control Assist (DCA), Intelligent Brake Assist (IBA) with Forward Collision Warning (FCW), Front Pre-Crash Seat Belts, Forward Emergency Braking (FEB) and Backup Collision Intervention (BCI)

2015 Infiniti Q70L
Q70 3.7 standard key features:
330-hp 3.7-liter V6
7-speed automatic transmission
Rear-wheel drive
Includes
all Q70 3.7 standard key features
Intelligent All-Wheel Drive (AWD)
Includes
all Q70 3.7 standard key features
420-hp 5.6-liter V8
Climate-controlled front seats
Includes
all Q70 5.6 standard key features
Intelligent All-Wheel Drive (AWD)
PREVIOUS:

Deft Punk? Do I not meant Daft Punk?
With my ridiculous series of errors yesterday — thinking the new QX70 SUV was arriving today versus the Q70 sedan, spending time in the Photoshop to render a possible QX70L, publishing said renderings… — I would be skeptical of my accuracy at the moment as well.
In fact, I am a harsh critic of myself already.
For this reason, I am eager to share the official Q70 and Q70L for 2015 here just moments after the release arrived in my inbox!
Overall, it is a light nip/tuck but effective at updating the Q70's appearance. The LEDs and nose are all-new, along with a more pinched lighting graphic and some bolder creases in the hood panel.
What is this? It is some character from the Daft Punk video's conclusion. Narrowing his focus a bit — like the transition from M56 headlights in their wide-open setting to the slinky new Q70 look.
Similar treatment in the rear now sees a tasteful LED taillight solution that eschews the now-passe dot LED look in favor of crisp internal swoops.
The Q70L is big news for limo buyers, and does not harm the looks and sleek, upscale proportions nearly as much as expected. Overall, a solid update of this machine — which will continue with massaged versions of its 3.7-liter V6 in rear or AWD, plus the big-dog 5.6-liter V8 packing 420 buttery horsepower.
A hybrid configuration uses all the latest tech now as well, building on the latest transmission setup from the Q50 — meaning the world-first rear-drive or AWD hybrid choices from the Q50 are also expected options for the latest Q70 and Q70L.
A light refresh, but a quality update that focuses on the most-seen aspects of the car: LEDs, interior tech, plus comfort and safety advances.
So yes, indeed, the new Q70L is deft punk.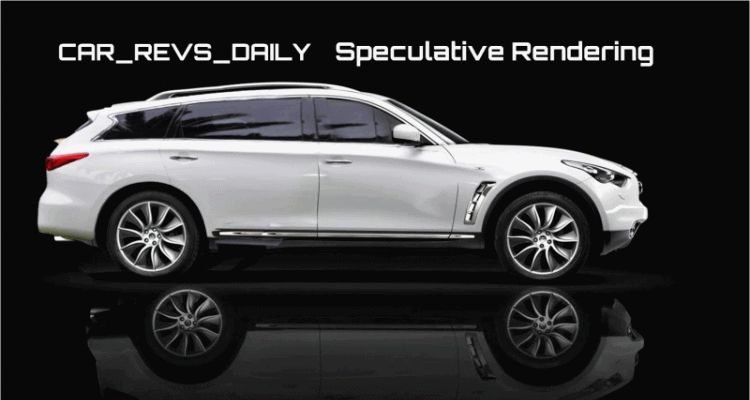 And not nearly as daft as working on renderings of the wrong model altogether…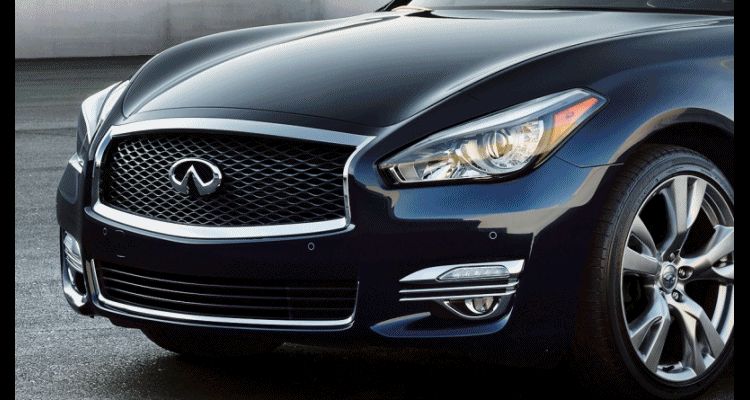 The instrument panel consists of Fine Vision gauges and a 7-inch full color vehicle information display, while the driver and front passenger's seats are leather, heated, and feature 10-way power adjustment, including 2-way lumbar support.

While the Q70 is known to have a roomy interior, the additional 5.9 inches in the long wheelbase version takes the extended sedan's rear roominess beyond what competitors offer. Rear knee room is at a best-in-class 32.4 inches, so rear seat passengers can comfortably cross their legs. The rear ingress and egress are also top in segment, which makes traveling in the back of a premium sedan a more enjoyable experience for taller passengers.

On top of offering rear door auto closure, the long wheelbase version of the new Q70 also provides additional features for rear passengers such as heated seats, reading lights, and a 12V power outlet.

The new Q70 is now quieter than before, even at high speeds. Infiniti engineers have added noise insulation materials, increased the sealing, and stiffened the wheels, resulting in a reduction of road noise on urban roads. The isolation feel at highway speeds on the long wheelbase version is a class-leading 77%, further cementing the Q70's lead ahead of competitors.

Contributing to the cultivated in-car atmosphere, the Active Noise Control feature monitors cabin noise levels and generates "canceling" sound from four door speakers to reduce noise, so it's easier to hold conversations in the car or to better enjoy the music. Premium audio systems include the Bose® Studio Surround® sound system with digital 5.1-channel decoding and 16 speakers, two of which are mounted in the shoulders of each front seat.

Other features include Enhanced Intelligent Key, which remembers last used audio, navigation and climate control settings for each key, Bluetooth® Hands-free Phone System, dual-zone automatic temperature control, and available next-generation Infiniti Hard Drive Navigation System with 8-inch WVGA color touch-screen display. Building on Infiniti's focus to make owners' lives easier, the Q70 comes with Infiniti Connection™ telematics services, which include the Infiniti Personal Assistant™, a 24/7 personal concierge service.

Intelligent performance, composed comfort

Staying true to its roots of sporty precision, the new Q70 is the result of methodical calibration by Infiniti engineers who have utilized smart technologies to achieve the exact balance of ride comfort and handling, performance and fuel economy.

A range of powerful and highly efficient powertrains is available, starting with the 3.7-liter V6 and 5.6-liter V8 petrol engines, both of which are equipped with Variable Valve Event & Lift (VVEL®) that combines hydraulic-controlled variable valve timing and electronically controlled variable valve lift on the intake side to help improve performance and response.

The refined 3.7-liter aluminum-alloy DOHC 24-valve V6 is rated at 330 hp @ 7,000 rpm and 366 Nm (270 lb/ft) of torque @ 5,200 rpm, while the powerful 5.6-liter Direct Injection Gasoline (DIG) aluminum-alloy DOHC 32-valve V8 is rated at 420 hp and 565 Nm (417 lb/ft) of torque for the standard model and 416 hp and 561 Nm (414 lb/ft) of torque for the long wheelbase version.

Also available is an award-winning hybrid powertrain featuring the Infiniti Direct Response Hybrid® system with Intelligent Dual Clutch Control.

It combines a 3.5-liter 24-valve DOHC aluminum-alloy V6 and compact laminated lithium-ion battery design with an innovative one-motor/two-clutch motor control. The system's V6 is rated at 302 hp @ 6,800 rpm and 350 Nm (258 lb/ft) of torque @ 5,000 rpm, while the advanced 50 kW electric motor is rated at 67 hp and 290 Nm (214 lb/ft) of torque. Infiniti's approach to petrol-electric hybrids is to use the electric motor to boost performance and power, much like how a traditional supercharger would function. This gives the Q70 an immediate surge of torque in the low revs before the 3.5-liter V6 kicks in to push the overall power output to 360 hp.

This hybrid powertrain propelled the then Infiniti M® Hybrid into the Guinness World of Records® as the world's fastest accelerating full-hybrid car in September 2011, and went on to be the only hybrid named to the prestigious "Ward's 10 Best Engines" list in 2012. Billed as a "driver's hybrid", the powertrain delivers speeds that appeal to the sporty driver, and clean power that pleases everyone.

All the engines are matched to an advanced 7-speed automatic transmission, which allows for sportier shifts during spirited driving. Solid magnesium paddle
shifters are also available. Customers can choose between rear-wheel drive or Infiniti's Intelligent All-Wheel Drive system, which uses an advanced torque split control strategy that automatically redistributes torque to the wheels according to road and driving conditions, ensuring sure-footed road holding at all times

In line with the focus on the driver, the new Q70 features technologies that enable individuals to customize the driving feel. The unique Infiniti Drive Mode Selector allows drivers to select from four driving modes – Standard, Eco, Sport or Snow – and the integrated control system will adjust throttle sensitivity and transmission mapping to help optimize performance. To encourage eco-driving behavior, the available Eco Pedal provides feedback directly through the accelerator by giving a slight pushback if driving inefficiently.

The new Q70 utilizes the advanced Front Mid-ship (FM) platform, which positions the engine behind the front axle, resulting in an optimized front-to-rear weight balance. Laser welding is carried out at critical locations to help enhance lateral bending stiffness, torsional stiffness and suspension mounting point stiffness.

Precise handling is provided by an independent double-wishbone design at the front and multi-link independent suspension in the rear, along with front and rear stabilizer bars. The rear suspension geometry has been designed to provide a quiet, comfortable ride. The available double-piston shock absorbers control damping force according to the frequency of input from the road surface for a smoother ride. To increase ride comfort on the new Q70, Infiniti engineers have further tweaked the shock absorbers to respond with greater precision to inconsistences in the road surface so as to minimize uncomfortable "shaking and bobbing" as well as reduce the vibrations when driving on uneven roads.

The steering system on the new Q70 is an electronically controlled speed-sensitive variable-assist power rack-and-pinion design. Helping the driver to maintain control of the vehicle at all times is Infiniti's advanced Vehicle Dynamic Control with Traction Control System. The available Active Trace Control feature also adjusts engine torque and braking at each wheel to help enhance cornering performance.

Advanced safety, trusted security

Infiniti places maximum value on integral safety, going above and beyond the measures assessed by safety institutions. A core element of that strategy is the Infiniti Safety Shield®, a comprehensive approach to safety that offers layered technologies to help provide safety and convenience by monitoring conditions, helping drivers avoid a collision, and helping protect vehicle occupants if one occurs.

Infiniti adds four innovative technologies to the Q70's long list of safety and security systems, which are available depending on the series.

The new Predictive Forward Collision Warning system, which debuted on the Q50 and warns the drivers of risks that lie beyond the driver's field of view, can sense not only the relative velocity and distance of a vehicle directly ahead, but also of a vehicle traveling in front of the preceding one.

Another advanced technology is the Around View® Monitor system, which takes the hassle out of parallel parking. The feature shows a bird's-eye view of the vehicle in relation to parking lines, using four vehicle-mounted cameras that create a 360-degree view of what surrounds the vehicle and displaying it via the in-dash screen. The system includes Moving Object Detection which alerts the driver to moving objects around the vehicle when pulling out of a parking space or backing up.

Adding another layer of safety, the Backup Collision Intervention® system is a pioneering technology which intelligently senses what the driver may miss when backing up, and can apply the brakes momentarily to help avoid a collision with vehicles and objects crossing its path.

Forward Emergency Braking detects danger of collision with a vehicle ahead and warns the driver with visual and audible warnings. If the driver fails to decelerate, the system will apply an emergency brake and decelerate to either help avoid a collision or mitigate the damage if the collision could not be avoided.

Other safety and driver assist systems continue to give the driver and passengers peace of mind. Both the Lane Departure Warning and Lane Departure Prevention (LDP) systems help keep the Q70 from unintentionally drifting into an adjacent lane in case the driver is distracted. Using a small camera behind the windshield to detect lane markers ahead, the technologies calculate the vehicle's position relative to those lane markers and warn the driver of a potential unintended lane departure with visual and audible cues. If the driver does not steer the vehicle back toward the center of the lane, the LDP system assists the driver with a gentle application of brakes.

The driver will also have greater confidence when changing lanes with two technologies that target the blind spots. Blind Spot Warning helps alert the driver to vehicles detected in the blind spot area, while Blind Spot Intervention® actively intervenes by selectively braking if the driver ignores both visual and audible warnings and attempts to steer into the path of the vehicle in the blind spot.

Other safety features such as Intelligent Cruise Control and Distance Control Assist take the stress out of driving so the driver can arrive at his destination relaxed.

"The new Q70 is a no-compromise premium sedan," said Gillet. "It pushes every boundary in performance and comfort, delivering a drive that's exhilarating and rewarding every time."