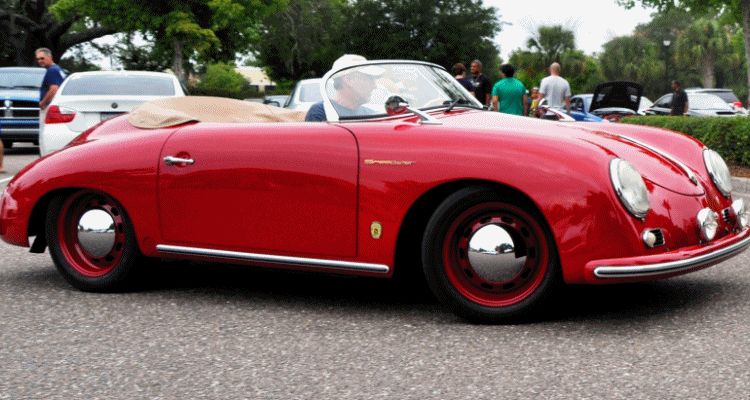 The thing that really strikes you when seeing the 1955 Porsche Speedster up close is its absolutely tiny scale. It is dwarfed by the Cayman sitting next to it, as well as any modern-sized human.
This ultra-small and ultra-smooth style earned Porsche quite the following among those who rejected the two-ton ideal of American cars of the era. In fact, the light and lean mantra became a turning point in defining all sportscars in the post-war era.
The aesthetic of hyper-curved panels is not just for beauty or aero sleekness, either. Such huge and deeply-stamped bodywork gave the 356 extra rigidity and allowed the use of extremely thin metal in the bodywork. Adding lightness, indeed!
The windshield graphic and sunken cab is seen in the Porsche Speedster of 1989 and 1994 as well.
1955 Porsche 356 1500S Speedster
Official Details from Porsche
1955 Porsche 356, Coupé, Cabrio, Speedster
In September 1954 Porsche launched a new model which was to become a legend – the Speedster. The new open-topped Porsche intended specially for the American market complied with the motto: "Less is more". The spartan features made the car not only lighter but also cheaper and the Speedster thus became the most likely way to enjoy driving made by Porsche.
The racy line with the low windshield was retained even with the closed emergency cover. The many fans of the Speedster driving machine can permit a smile at the comment made by TÜV Stuttgart when the vehicle type was first accepted: "When the roof is closed the emergency seats would only be usable for persons over 1.6 meters if a hole for the head of each person were to be cut in the top."
The 55 Porsche range, however, was not only graced with new bodywork: From November 1954 the engines acquired a three-part crankcase and driving safety benefited from a front stabilizer and reinforced steering knuckles.
Technical Specifications

Engine:

four cylinder Boxer, air-cooled, central camshaft

Power:

engine model 506 no. 22001 -22245, 44 HP (32 kW) at 4200/min

engine model 546 no. 33901 -35790, 55 HP (40 kW) at 4400/min

engine model 589/2 no. 50101-50127, 60 HP (44 kW) at 5500/min

engine model 528/2 no. 41001-41999, 70 HP (51 kW) at 5000/min

Speedster:
engine model 546/2 no. 33901 -35790, 55 HP (40 kW) at 4400/min

engine model 528/2 no. 41001 -41999, 70 HP (51 kW) at 5000/min

Displacement:

engine model 506 no. 22001 -22245 and engine model 546 no. 33901 -35790, 1290 ccm

engine model 589/2 no. 50101-50127and engine model 528/2 no. 41001-41999, 1488 ccm

Speedster:

engine model 589/2 no. 50101-50127 and engine model 528/2 no. 41001-41999, 1488 ccm

Fuel system:

two Solex downdraft carburettors,

tank capacity 50 litres

Transmission:

four speed gearbox

Chassis:

Coupé no. 52532-54223,

Cabrio no. 60723-61000,

Speedster no. 80201-81234

steel plate box-type chassis with all-steel bodywork

Dimensions and weight:

wheel base: 2,100 mm
length: 3,950 mm
width: 1,660 mm
height: 1,300 mm

weight: 830 kg

Speedster:
wheel base: 2,100 mm
length: 3,950 mm
width: 1,660 mm
height: 1,220 mm

weight: 760 kg

Performance:

1300: 145 km/h

1500: 160 km/h

1300 S: 160 km/h

1500 S: 175 km/h

Speedster:

1500: 160 km/h

1500 S: 175 km/h