Lovely days in Montgomery, Alabama visiting the Hyundai Motor Manufacturing America plant for the national media launch of the 2015 Sonata!
Full drive impressions and reviews of the various models have to wait until next week when the press embargo is up on 12:01am on Monday — but these photos are fair game…

The car looks outstanding in person versus my initial impressions when the car debuted at the New York Auto Show earlier this year. The new Sonata is very distinct across its standard, Eco and Sport trims – with the Sport my obvious preference due to its dark front grille and trims, side sill extensions and LED brake lights.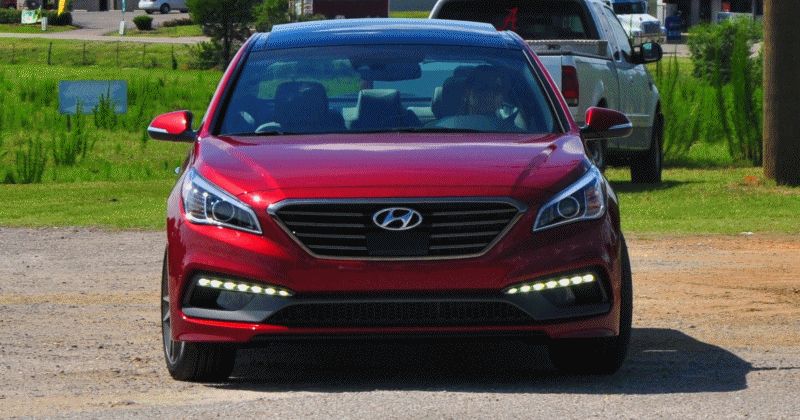 Sticking out back, the Sport 2.0T packs quad exhaust pipes that add a real premium appeal to this affordable mid-size sedan.
Midsize? It is huge in here!
Yes, mid-size in price but a Large Car by EPA cabin volume — where the new Sonata is comfortably close to the scale of large luxury cars.
INTERIOR – 2015 Hyundai Sonata Sport 2.0T

EXTERIOR – 2015 Hyundai Sonata Sport 2.0T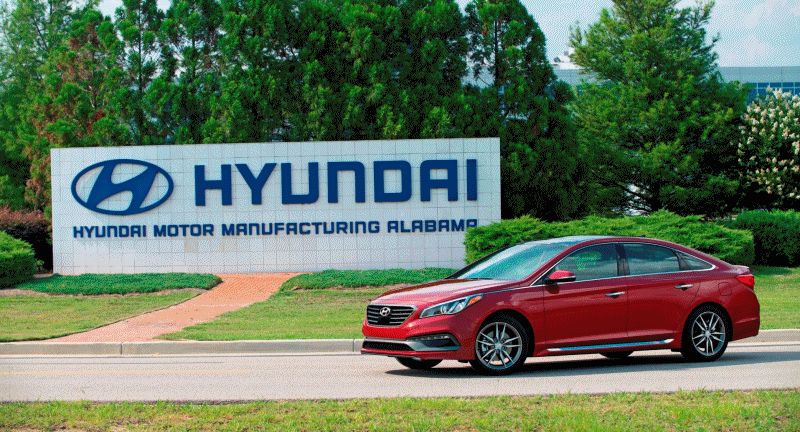 Official Details from Hyundai Below.
Sonata Evolves with Fluidic Sculpture 2.0 Design Language and Class-Above Features
NEW YORK, April 16, 2014 – Hyundai today introduced its all-new seventh-generation 2015 Sonata at the New York International Auto Show. Following the incredible success of the outgoing Sonata, the all-new generation offers a more refined look through a new Fluidic Sculpture 2.0 design language, stiffer body structure, better ride quality, reduced noise, vibration and harshness and advanced safety and convenience features. Sonata truly democratizes the premium design and convenient technology of the Genesis sedan for the mid-size class. The new 2015 Hyundai Sonata will be built at the Hyundai Motor Manufacturing Alabama plant in Montgomery, Ala. and go on sale early this summer.