Hot off the presses!  Initial thoughts? Much improved! The dark trims really make the sedan's nose much more appealing. This dark trim is available on the five-door as well – in either SE Appearance package or the SE Sport (or the SE EcoBoost!) pack, which goes even darker for the wheels to gloss black. The specs are below.
2015 Ford Focus – TIRES AND WHEELS
S  15-in. steel wi th silver painted cover, 195/65R15 all-season BSW

SE  16-in. painted al uminum, 215/55R16 all-season BSW

SE SFE Package  16-in. painted al uminum, 215/55R16 LRR all-season BSW
SE Sport Package
SE EcoBoost Package
17-in. black gloss al uminum, 215/50R17 all-season BSW
SE Appearance Package
17-in. dark painted al uminum, 215/50R17 all-season BSW; 
SE Black Pack
17-in. machined and black painted al uminum, 215/50R17 all-season BSW
Titanium
17-in. painted al umi num, 215/50R17 BSW
Titanium Handling Package
Initial SPECS PDF download
The SE Black pack is shown on the blue sedan here – as black wheels with a machined-alloy face. Pretty cool!
The new Focus is arriving in the second half of 2014, for an August on-sale date at the earliest (we project).

The Good News:
The tail of the hatch is also much cleaner in its appearance from directly behind, while the production-spec Focus Electric goes from the looker of the bunch to a bit eco-wimpy. The dark grille of the sedan is by far the best and biggest single improvement.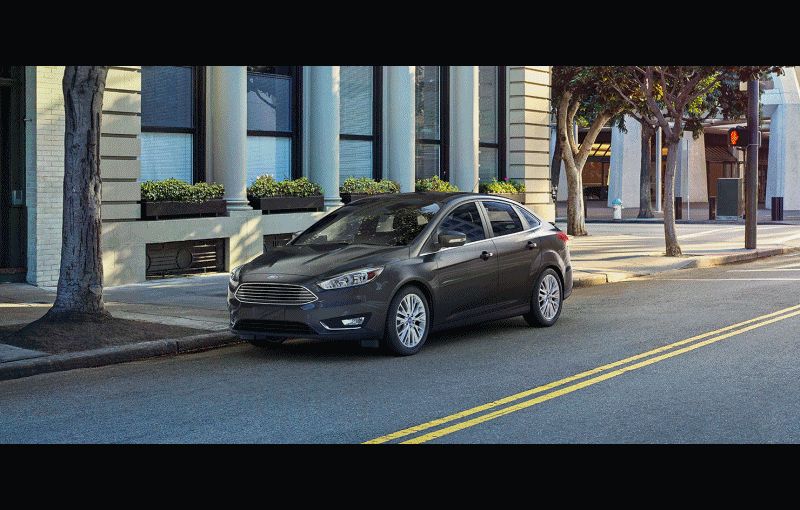 The Not-So-Good News:
The latest US Focus does still appear to lack the bi-xenon lighting from the European model, but there is an LED accent in the top of the lighting element for US cars.
 2015 US-Spec Ford FOCUS
Official Details from Ford below.
FORD REVEALS ALL-NEW FOCUS SEDAN, RETAINS WORLD'S BEST-SELLING NAMEPLATE TITLE FOR 2013

09/04/14
Ford Focus ranks as the best-selling vehicle nameplate in the world, based on just-released Polk new vehicle registration data for the 2013 calendar year

Focus gains momentum with 50 percent sales growth in Chinese market

New Focus four-door sedan globally unveiled, featuring leading combination of technology, fuel economy and power

Ford Focus retains its title as world's best-selling vehicle nameplate for 2013, according to Ford analysis of the just-released full-year Polk new vehicle registration data from IHS Automotive. The news comes as a new Focus four-door sedan prepares to make its debut at next week's 2014 New York International Auto Show.

 

Registrations of the compact Focus were up 8.1 percent with 1,097,618 cars sold worldwide last year. That compares with global Focus sales of 1,014,965 in 2012.

Market gains for Focus continue to be driven by consumer demand in China. China registrations were up 50 percent in 2013 to 403,219 vehicles, up from 268,354 vehicles in 2012. China now is responsible for just more than one out of three Focus vehicles sold globally, based on Polk data.

The debut of the new Focus four-door sedan and the Focus Electric in New York follows the Geneva Motor Show debut in March of the Focus three- and five-door hatchback and wagon. A new version of the performance Focus ST will be shown later this year.
The redesigned Ford Focus offers a bolder exterior design, a more intuitive and upscale interior, a host of technologies uncommon for a compact car and the additional powertrain option of Ford's award-winning 1.0-liter EcoBoost® engine with a new six-speed manual transmission in the U.S.-spec Focus. While U.S. EPA fuel economy ratings are not yet available, Ford expects the 1.0-liter EcoBoost Focus to raise the bar in fuel efficiency among non-hybrid compact vehicles.

For 2015, Focus adds an SE Sport Package, which includes new body treatments, paddle shifters (requires automatic transmission), a revised touring suspension, 17-inch black gloss aluminum wheels and P215/50 HR-17 tires.

The paddle shift feature provides drivers an additional element of control by allowing them to simulate the manual gear selection aspects of a manual transmission and extract more power from their engines.

Also notable for 2015, Ford's popular MyKey® feature will be standard on all trim levels. An all-new heated steering wheel will be available as well as 10 different wheels as factory options.
2015 US-Spec FOCUS 5-Door

"It is remarkable to see Focus again lead the industry as the No. 1-selling vehicle nameplate on the planet," said Jim Farley, Ford executive vice president, Ford Motor Company Global Marketing, Sales and Service and Lincoln. "With the new car, we've raised the bar again, showcasing Ford's commitment to continuous improvement – adding better technology for drivers and a sleeker, more modern exterior across the entire Focus family."
While the latest Focus is essentially the same worldwide, color preference varies. In the U.S. market, Sterling Gray is the most popular at 21 percent of sales, with Tuxedo Black second at 15 percent. In China, Crystal Solid White is overwhelmingly the most popular with just more than 50 percent of sales. Candy Red is second at 17 percent.

Fiesta world's best-selling subcompact
Ford's analysis of Polk new vehicle registrations also confirms Ford Fiesta earned the top spot as the best-selling subcompact car globally, with 735,299 registrations for 2013.

Together, registrations of Ford's small cars – Fiesta and Focus – totaled 1,832,917 vehicles last year, which is a 4.3 percent increase from 2012.

Award-winning 1.0-liter EcoBoost
In addition to a host of styling and technology advances, the new Focus will offer the efficient, fun-to-drive 1.0-liter EcoBoost engine with a six-speed manual transmission. Automotive journalists globally named it International Engine of the Year for 2012 and 2013.

"The 1.0-liter EcoBoost engine is proof that excellent fuel economy and performance can come in one package," said Raj Nair, group vice president, Ford Global Product Development. "Focus is already known for bringing together efficiency and fun, and our latest offering will bring consumers a whole new level of enjoyment – on the road and in what they'll save at the pump."

The smallest engine in Ford's growing EcoBoost family – already available in Fiesta – will come standard in Focus with an Auto Start-Stop feature that automatically shuts down the engine at stops and instantly turns it back on at takeoff.

EcoBoost technology combines smaller-displacement engines with turbocharging, direct injection, variable valve timing and proprietary Ford software to bring customers outstanding performance and fuel economy. Ford EcoBoost engines can deliver significantly better fuel economy than larger-displacement gasoline engines.

New Focus customers also will enjoy a quieter ride, achieved by thicker carpets and side window glass and improved engine-bay insulation.

Stylish new Focus
The new Focus arrives with a bolder look. It features a restyled hood and grille, signature LED lighting for headlamps and taillamps, new rear lamp clusters and a restyled trunk lid. Four-door and five-door versions will be available in the United States.

 
2015 FOCUS Electric