I want to like the BMW i3. I really do.
But this little pumpkin just doesn't light my jack-0-lantern. It is so unbelievably fugly that it makes the Prius look sexy.
Hell, the i3 makes the Prius V look sexy.
Here are all the stats and 199 photos of the violently repugnant 2015 BMW i3.
If this car is anywhere near as successful as BMW hopes it will be, I will eat a rotten pumpkin whole. There is just no way people will pay $50,000 to drive this hideous turd.
Yes, the dashboard is nice.
But that is the only praise I can offer.
And, it seems to look decent in the pitch-black of nighttime. Not good.
Perhaps time behind the wheel would enlighten me. But I remain deeply skeptical of this roofline on any car. Especially a BMW.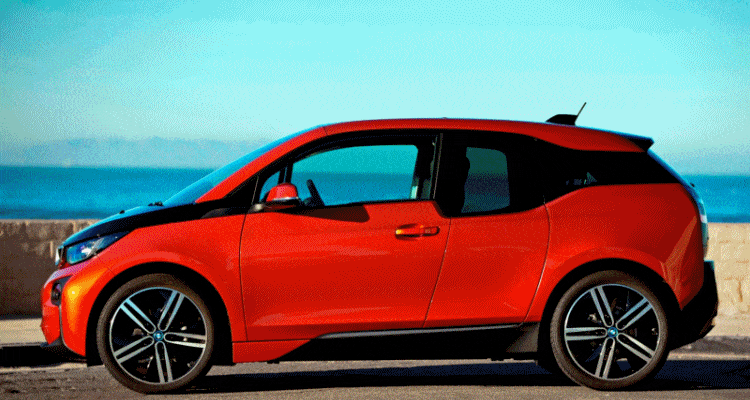 2014 BMW i3 Is Ugliest Car Since The Isetta - Makes Prius V Look Sexy
BMW i3 Quick-Reference Highlights.
Pricing (before federal or local incentives) starts at $41,350; $45,200 for Range Extender model. Destination & Handling Fee not included.

On Sale: Q2 of 2014 in the USA.

Preliminary Dimensions (subject to change for US models):

o Length: 157.4"
o Width: 69.9"
o Height: 62.1"
o Wheelbase: 101.2"
o Turning Circle: 32.4 feet
o Curb Weight (DIN) 2,635 lbs. (2,899 lbs. for i3 with Range Extender)
BMW's 360 Electric electro mobility services:BMW Navigation is standard.

Home Charging
Public Charging
Assistance Services
Flexible Mobility.
Driving.
170-hp, 184 lb-ft hybrid-synchronous electric motor with max. revs of 11,400 rpm.

80-100 mile real-world EV range.

22-kWh lithium-ion battery, which weighs 450 lbs.

650cc gasoline powered Range Extender optional; holds charge, doesn't power wheels.

0-30mph in 3.5 seconds, 0-60mph in approximately 7.2 seconds (preliminary).

Top speed of 93 mph, electronically limited to preserve efficiency.

BMW's signature, near-perfect 50-50 weight distribution.

Ultra-tight turning radius (32.3 ft), which is ideal for city driving.

Macpherson strut front and 5-link rear suspension set up.

Single Pedal Driving Concept with Brake Energy Regeneration, which feeds power back into battery.

3 drive modes: Comfort, ECO PRO and ECO PRO+.

3 hour 220 V @32 amps charging time.

Optional SAE DC Combo Fast Charging allows for 80% charge in 20mins; 100% in 30 mins.
Chassis and Body.
Purpose built construction. World's first mass-produced CFRP-constructed electric vehicle.

Built on innovative LifeDrive architecture composed of two parts: Life Module and Drive Module.

Life Module is essentially the cabin, constructed from Carbon Fiber Reinforced Plastic (CFRP).

Drive Module is where all of the powertrain components are housed.

Drive Module is made from 100% aluminum.

Magnesium cross-member for instrument panel saves 20% weight vs. steel.

BMW 1 Series external footprint with BMW 3 Series interior space.

LED headlights and taillights (standard in US market).

Weighs in at roughly 2,700 lbs.

No space-consuming transmission tunnel dividing car's interior.

Pillar-less design with rear coach doors allow for easy entry and exit to rear seats.

Driver-oriented super-ergonomic controls.

Three vehicle Worlds (trim levels): Mega (standard in US), Giga, and Tera.

Standard 19-inch light alloy wheels with unique 155/70 all-season tires. 20-inch light alloy wheels optional.

No transmission tunnel and low console allows for Slide-through Experience, which benefits urban driving by the ability to exit from the passenger side.
Sustainability.
Made with sustainable, renewable materials.Dashboard wood trim crafted from responsibly-forested eucalyptus.

Instrument panel surround and door trim use fibers from Kenaf plant.
Carbon fiber reinforced plastic (CFRP) roof panel is made partially with recycled CFRP from manufacturing process of other components
25% of plastic used in interior comprised of recycled materials.

CFRP components are sustainably produced in Moses Lake, WA, USA, where the factory uses hydroelectric power.

The Leipzig, Germany assembly plant uses wind-generated electricity.

Olive-leaf extract is used to tan interior leather surfaces.
 
Features & Specs

Height (* with roof fin)
62(*63) in
Front - rear overhang
27.8 - 28.4 in
Luggage compartment volume
2.8 –11.8 ft
Weight, unladen, according to DIN/EU
2899/3064
Max permissible weight / load
3814 / 915 lbs
Drive system
Type of electric motor
BMW eDrive technology:
Hybrid synchronous motor with integrated power electronics, charger and generator mode for recuperation
Energy capacity (gross/net)
22/18./ kWh
Storage technology
Lithium-ion
Combustion engine
Config / No of cyls / Valves per cyl
in-line / 2 / 4
Stroke / bore
66 (2.6) / 79 (3.1) in
Output / at rpm
25 / 34 / 4300
Driving dynamics
Drive concept
Rear-wheel drive
Front suspension
Aluminium single-joint MacPherson spring strut with anti-dive
Rear suspension
Five-link axle directly mounted to the Drive module
Tires front / rear
155/70 R19 / 175/65 R19
Transmission
Type of transmission
Automatic, single speed with fixed ratio
Performance
Power-to-weight ratio (DIN)
10.5
Range in everyday driving
Charging Times
80% in < 20 min at 50 kW DC fast charge
100% in ~ 3 h with Level 2 rated 240v @ 32 amps (J1772)