Only one of these LT1-powered road cars was officially made by McLaren. At the time, "by McLaren" literally meant that Bruce's racing crew had created a road car for the boss.
The saying goes that the original M6GT was his daily driver: attending events and developing the production plans of this racing prototype for the road.
His plan was for a run of 250 cars, but only three more were created by Trojan, a fellow racing shop with the ability to complete the street-legal fiberglass bodywork, doors, and all the other trimmings like wipers and blinkers.
It was a learning process - as evidenced in the parking lights integrated into the nose, but the flip-lamps above having a slight finger hole in their leading edge.
Yep, these were functional: to lift and lock the lamps into their open position. The Trojan cars featured a shrouded lamp setup.
The M6GT is clearly a long-body prototype, with the shape still echoed in the F1 LM's extra length versus the standard F1.

There is clear lineage in the McLaren road car family - particularly how the overlay images are so close for the M6GT versus the F1 versus the P1.

Hypercar Evolution - 1969 McLaren M6GT vs. 1995 McLaren F1 vs. 2014 McLaren P1
They are very, very close - despite quite different wheelbase lengths.
Aside from the strikingly-similar sihouettes and daylight-openings, the M6GT really shows progress in aerodynamics by dropping the back glass altogether in the F1 and P1.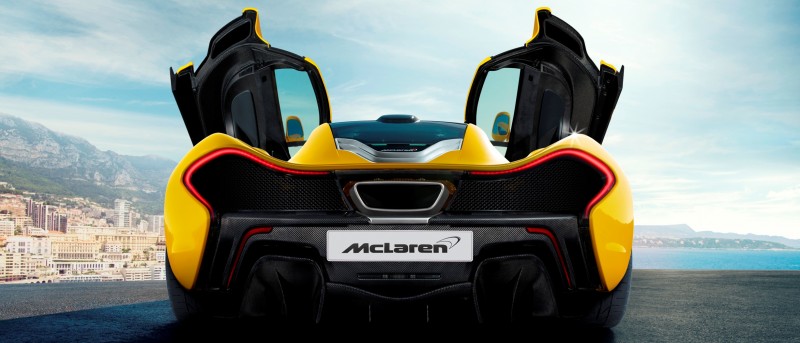 The P1 in particular seems to almost create a negative space in this shape - it looks like there should or could be glass there, but it is pure air.

Additionally, the tail of the P1 is quite special versus the F1 and M6GT. The effectiveness of its scoop-shaped, push-rod actuated spoiler allows the tail to be far more rounded than possible before.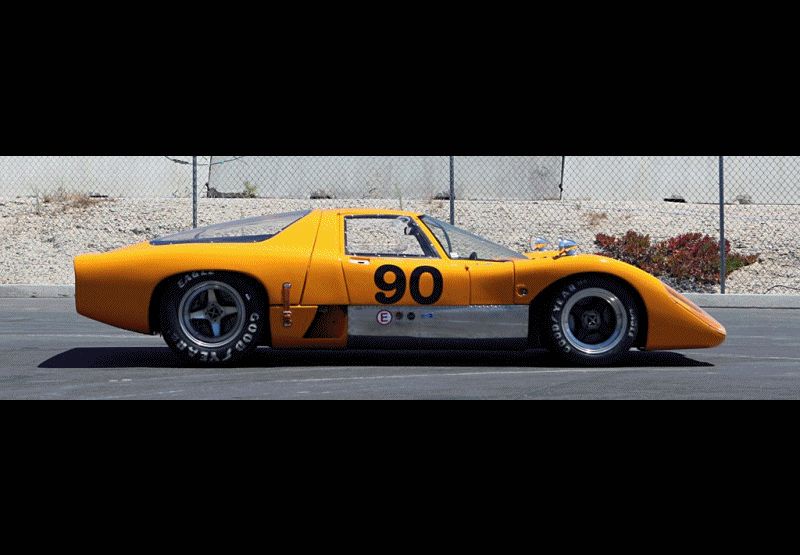 What all three of these McLaren's also share is the swing-switch door that includes part of the sill frame in its lower edge for all McLaren's so far.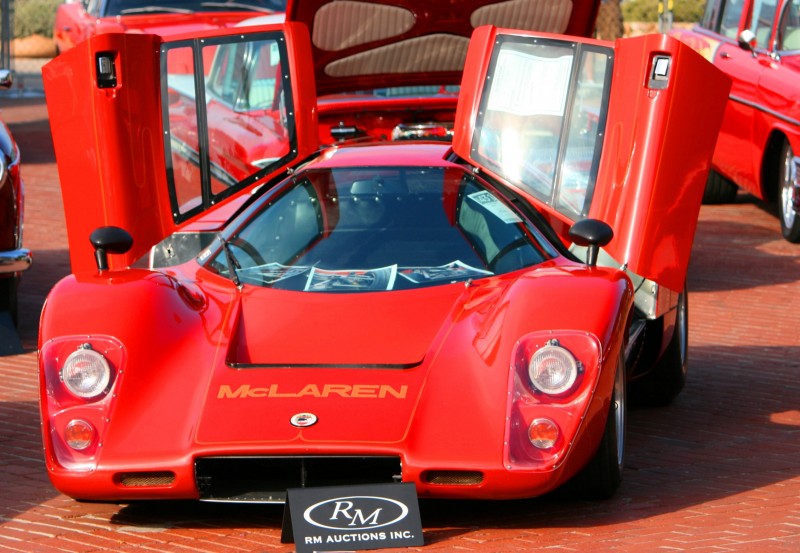 For the M6GT, the doors are fairly terrifying in how little space they allow a driver for access.  Of course, by this time, Bruce could have leapt in the window slit from ten paces.
Or perhaps not. The M7 follow-up to this car is an open-wheel racer with no doors at all.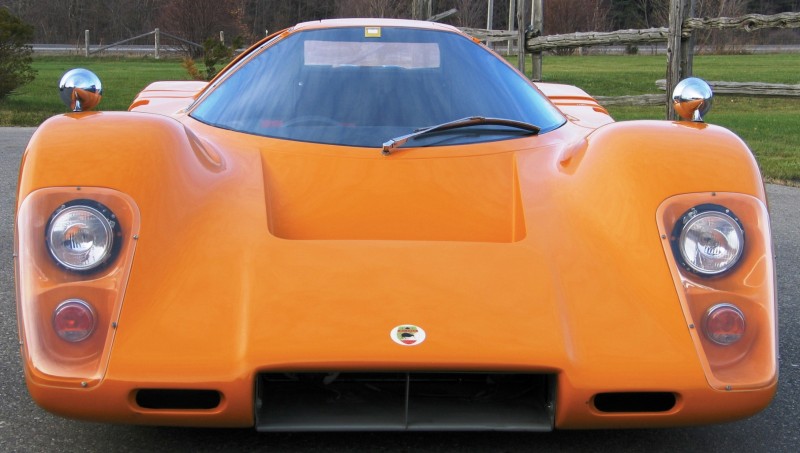 Specifications Comparison - M6GT versus F1 versus P1
| | | | |
| --- | --- | --- | --- |
| SPECIFICATION | 1969 - McLaren M6GT | 1993 - McLaren F1 | 2013 - McLaren P1 |
| Type/Formula | Road car | Roadcar | Road car |
| Year of production | 1969 | 1993 - 1998 | 2013 |
| Designer | Bruce McLaren/Gordon Coppuck | Gordon Murray/Peter Stevens | Frank Stephenson/Dan Parry-Williams |
| Examples built | 1 (+ 3 Trojan built) | 64 | Production limited to 375 |
| Engine | Chevrolet LT1 | BMW V12 | McLaren M838T + electric motor |
| Power output | 370bhp | 627bhp | 916PS (903 hp) |
| Engine | Chevrolet LT1 90º V8 | BMW S70/2 GTR LM 60º V12 | M383T 90º V8 |
| Configuration | Mid, longitudinally mounted | Mid, longitudinally mounted | Mid, longitudinally mounted |
| Location | cast-iron block and head | alloy block and head | aluminium block and head |
| Construction | 5.735 liter / 350 cu in | 6.064 liter / 370 cu in | 3.799 liter / 231.8 cu in |
| Displacement | 101.6 mm (4 in) / 88.4 mm (3.5 in) | 86.0 mm (3.4 in) / 87.0 mm (3.4 in) | 93.0 mm (3.7 in) / 69.9 mm (2.8 in) |
| Bore / Stroke | 11.0:1 | 11.0:1 | 8.7:1 |
| Compression | 2 valves / cylinder, OHV | 4 valves / cylinder, DOHC | 4 valves / cylinder, DOHC, Dual VVT |
| Valvetrain | 4 Weber Twin choke Carburettors | Fuel Injection | Fuel Injection |
| Fuel feed | Naturally Aspirated | Naturally Aspirated | Twin Turbo |
| Aspiration | 370 bhp / 276 KW @ 5800 rpm | 680 bhp / 507 KW @ 7800 rpm | 727 bhp / 542 KW @ 7500 rpm |
| Power | 502 Nm / 370 ft lbs @ 4000 rpm | 705 Nm / 520 ft lbs @ 4500 rpm | 720 Nm / 531 ft lbs @ 4000 rpm |
| Torque | 65 bhp / liter | 112 bhp / liter | 191 bhp / liter |
| BHP/Liter | 101.6 mm (4 in) / 88.4 mm (3.5 in) | 86.0 mm (3.4 in) / 87.0 mm (3.4 in) | 93.0 mm (3.7 in) / 69.9 mm (2.8 in) |
| Bore / Stroke | 11.0:1 | 11.0:1 | 8.7:1 |
| Compression | 2 valves / cylinder, OHV | 4 valves / cylinder, DOHC | 4 valves / cylinder, DOHC, Dual VVT |
| Valvetrain | 4 Weber Twin choke Carburettors | Fuel Injection | Fuel Injection |
| Fuel feed | Naturally Aspirated | Naturally Aspirated | Twin Turbo |
| Aspiration | 370 bhp / 276 KW @ 5800 rpm | 680 bhp / 507 KW @ 7800 rpm | 727 bhp / 542 KW @ 7500 rpm |
| Power | 502 Nm / 370 ft lbs @ 4000 rpm | 705 Nm / 520 ft lbs @ 4500 rpm | 720 Nm / 531 ft lbs @ 4000 rpm |
| Torque | 65 bhp / liter | 112 bhp / liter | 191 bhp / liter |
| Weight | 800 kilo / 1763.7 lbs | 1062 kilo / 2341.3 lbs | 1395 kilo / 3075.4 lbs |
| Length / Width / Height | 4114 mm (162 in) / 1854 mm (73 in) / 1016 mm (40 in) | 4365 mm (171.9 in) / 1920 mm (75.6 in) / 1120 mm (44.1 in) | 4588 mm (180.6 in) / 1946 mm (76.6 in) / 118 mm (44.6 in) |
| Wheelbase / Track (fr/r) | 2450 mm (96.5 in) / 1350 mm (53.1 in) / 1350 mm (53.1 in) | 2718 mm (107 in) / 1570 mm (61.8 in) / 1464 mm (57.6 in) | 2670 mm (105.1 in) / 1658 mm (65.3 in) / 1604 mm (63.1 in) |
| Power to weight | 0.46 bhp / kg | 0.64 bhp / kg | 0.65 bhp / kg |
| Top Speed | 290 km/h (180 mph) | 362 km/h (225 mph) | 350 km/h (217 mph) (limited) |
| 0-60 mph | 4.2 s | 2.9 s | 2.8 s |
Enjoy these images of the M6GT, courtesy of a variety of places:
UltimateCarPages.com
SimRaceway Renderings
McLaren Cars Limited
RM Auctions
1968 McLaren M6GT - McLaren Orange
1968 McLaren M6GT - Red

Comparison Images with F1 and P1