Does something or someone become more beautiful the more you love it?
I think we all know that the answer is: Yes.
Such were my feelings after driving the 2014 Hyundai Genesis Coupe 3.8. Coming home, I find some of the most stunning photos and time-consuming angles of any car in recent memory – and the car is looking stellar. Sporty, lightweight, expensive and fast – but most of all, bright red.
Was I so smitten that I kept snapping away long after I had the basics for a road test review? It would clearly seem that way.
After all, I have always felt pretty blase about the Genesis Coupe. I actually should have been driving the big new Genesis sedan during this silly photo shoot, but couldn't peel my eyes or camera lens away.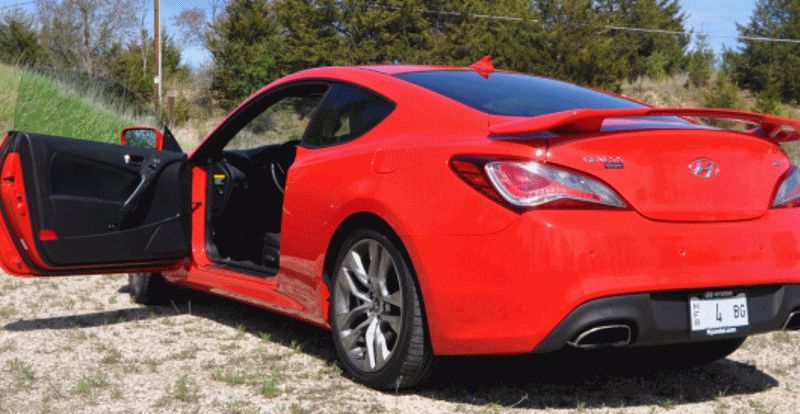 EXTERIOR
The Genesis Coupe 3.8 is the top-line model for 2014, in a line that also includes the turbo four-cylinder powerplant. (For 2015, rumors are swirling that the Genesis Coupe will go V6-only)
The cars all carry very similar exterior treatments, regardless of engine or trim level – but there are differences.
This test car was the R-Spec, which includes Brembo brakes and the limited-slip differential out back – but not the LED daytime-running-lights in front.
Those appear to be a feature reserved for the Grand Touring and Ultimate trim levels, which are slightly more expensive and generally a bit plusher overall.
The GT lacks the LSD and Brembo brakes, while the Ultimate adds them back. Only the GT is not offered with the manual transmission.

INTERIOR
The interior of the R-Spec Genesis Coupe adds extra side bolsters to the seats this year, in response to the car's willingness to drift and be driven hard with the R-Spec standard limited-slip-differential. This is a seriously fun car to flog on the roads, and especially on the track.
The cabin might be the single biggest let-down of the car, however. The materials feel very much like Nissan quality levels versus Infiniti or BMW, as Hyundai aspires are its competitive set.
Moreover, things are really grey inside and very plastic-y when leather feels like it might be nicer. Granted, the cabin is far nicer than most sports cars in the under-$30,000 range — as the R-Spec's $29,000 base price slides under.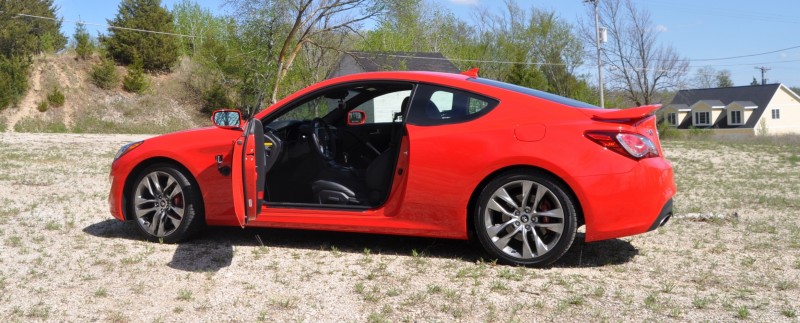 Sharing the trim with the even-cheaper 2.0T models hurts the Genesis Coupe's appeal inside, but then again: even the loaded Ultimate model is only $34,000 — which is more than $10,000 less than the NISMO 370Z and a few thousand less than the 370Z Premium.
One bummer on our drive that could be specific to this one car was a resonance or rattle of some kind in the dashboard under high revs. You can probably hear it slightly in the video here, but in the cabin it was pretty pronounced at about 5000-rpm onward.

PERFORMANCE
A few tweaks are in the Genesis Coupe this year, including new carbon-coated synchronizer rings for the manual-transmission. This improves feel and crispness of the shifts when driving hard, and the GC's manual box certainly felt up to the task.
This year the eight-speed automatic also gains rev-matched downshifts – but overall things hold steady.
The Genesis Coupe is much more powerful by overall horsepower tallies than the Infiniti Q60 and BMW 435i, as compared in the below chart.
The Gensis Coupe indeed feelts very quick and lively under power, with excellent brake feel and a tossable demeanor overall. It feels much lighter and more playful than both the Nissan 370Z NISMO and the Chevrolet Camaro RS — both of which are quite heavy-feeling by comparison.
The Genesis Coupe's steering truly felt great. It was weighty but easily lightened up with more speed and encouragement from big power. The rear end felt planted but not quite stuck to the tarmac like the Camaro RS and 370Z — which might have too much grip, in fact.
Overall, the Genesis Coupe felt fun and fling-able. I closely compare its driving manners with those of the BMW M235i – which is high praise indeed!
To reiterate: the steering felt awesome, and the rear-drive power was impressive! A final treat? The Lambda V6 engine sounds really outstanding – even better than the Accord V6 Coupe's throaty growl. One caveat: the Genesis Coupe does feel a bit down on torque versus the BMW and Accord Coupe, but overall much quicker than the Camaro RS and just as powerful as the NISMO 370Z's 350-horsepower.

2014
Genesis
Coupe 3.8
2014
Infiniti Q60
Coupe
2014
BMW 435i
Coupe
Engine
3.8L V6
3.7L V6
3.0L I6 turbo
HP @ RPM
348* @ 6400
330 @ 7000
300 @ 5800
Power-to-Weight (lbs./HP)
10.0:1
11.0:1
11.9:1
Torque @ RPM
295* @ 5100
270 @ 5200
300 @ 1300-5000
PRICING
Well worth the pricing at all trim levels.
Model Engine Transmission Retail
Genesis Coupe 2.0T 2.0L Turbo 4-Cyl 8-Speed A/T with SHIFTRONIC® $26,350

Genesis Coupe 2.0T R-Spec 2.0L Turbo 4-Cyl 6-Speed M/T $27,200

Genesis Coupe 2.0T Premium 2.0L Turbo 4-Cyl 8-Speed A/T with SHIFTRONIC® $29,300
Genesis Coupe 3.8 R-Spec 3.8L V6 6-Speed M/T $29,350

Genesis Coupe 3.8 Grand Touring 3.8L V6 8-Speed A/T with SHIFTRONIC® $32,150

Genesis Coupe 3.8 Ultimate 3.8L V6 6-Speed M/T $33,400

Genesis Coupe 3.8 Ultimate 3.8L V6 8-Speed A/T with SHIFTRONIC® $34,600

SUMMARY
The Genesis Coupe is outstanding value, extremely fun, very beautiful after some time behind the wheel, and a great sports-car overall.
Thrilled to discover its excellent and meaty steering feel, good brake firmness and its throaty engine growl. It is a solid machine overall, and one that should definitely be on the radar of everyone from Mustang V6 shoppers to people who might have settled for a Focus ST or WRX as a way to get big sportiness and big power for less than $30,000.
Overall, a solid "A" grade for the Genesis Coupe in 2014.
2014 GENESIS COUPE OFFERS POWERTRAIN ENHANCEMENTS, NEW FEATURES AND ASSURANCE CONNECTED CARE TELEMATICS SERVICES
New Feature Packaging Provides even more Appeal for Rear-drive Sport Coupe Buyers
Hyundai's Assurance Connected Care, Powered by the Blue Link® Telematics System, offers both Proactive Safety Features and Car Care Services Standard for Three Years
FOUNTAIN VALLEY, Calif., January 28, 2014 – Hyundai's popular Genesis Coupe continues building its appeal in the fiercely-competitive sport coupe segment. For 2014, Genesis Coupe offers a number of key features and enhancements that add to its recognized market success as a rear-drive, high-output performance sport coupe for everyday enthusiasts.
2014 Genesis Highlights
Engine RPM downshift rev-matching standard with 8-speed automatic transmission
High-performance carbon-coated synchronizer rings added to manual transmission
Hill-start Assist feature standard on manual transmission
Engine intake sound induction pipe added to 2.0L Turbo models
Fog lights, cruise control, auto-dimming inside mirror with HomeLink®, heated mirrors and floor mats are standard on all models
Enhanced seat bolsters for R-Spec models
Enhanced navigation system function
Five new exterior colors and new cloth interior scheme
Revised feature packaging for greater buyer appeal at every trim level
Hyundai Assurance Connected Care telematics services standard for three years via the available Blue Link® telematics platform (3.8 Grand Touring/Ultimate and 2.0T Premium)
Safety and Car Care features standard on all Blue Link-equipped models

Automatic Collision Notification, SOS Emergency Assistance, Enhanced Roadside Assistance
Car Care: Monthly Vehicle Health Report, Maintenance Alert, Automatic Diagnostics Trouble Code Notification, Recall Advisor and in-vehicle Car Care maintenance scheduling
 
AGGRESSIVE DESIGN TO MATCH DYNAMIC PERFORMANCE
The Genesis Coupe strikes a menacing demeanor, with an aggressively designed front fascia, grille, headlights, LED daytime running lights, fog lights and hood with heat extractor cues. The side view reveals aggressive 18- and 19-inch alloy wheel designs with deep dimensional sculpting. Finally, the rear taillights provide a visual spark via premium LED illumination and new contours. Traditional rear-drive sport coupe proportions are clearly evident, with a long wheelbase and short front and rear overhangs producing a classic wedge-like profile. Genesis Coupe's bodyside character line is an innovative "Z"-shaped design that integrates seamlessly with a unique, drop-beltline rear window graphic. Also, for 2014, heated outside mirrors and fog lights are standard on all Genesis Coupes.
Genesis Coupe's arching roofline and tapering greenhouse highlight the exterior profile and emphasize the car's broad shoulders and wide stance. To complete the aggressive sports car look, the depth between the fenders and the greenhouse is maximized. Large openings in the front fascia allow for optimal engine breathing coupled with an aggressive look. Dual asymmetrical exhaust tips integrated with the blackout rear diffuser treatment complete the performance message from the rear.
 
POWERTRAIN
Both 4-cylinder and V6 engines offer sophisticated engine technology, with direct-injection on the 3.8 liter engine and a precise twin-scroll turbocharger with a large intercooler for the 2.0-liter turbocharged engine.
The 3.8-liter Lambda DOHC V6 engine produces 348 peak horsepower at 6,400 RPM, with peak torque of 295 lb.-ft. at 5,100 RPM on premium fuel. In addition, Lambda-engine anti-knock technology gives this V6 the versatility to run on regular fuel whenever required. This direct-injected engine will easily propel the Genesis Coupe from zero to 60 mph in the lower five-second range on its way to an impressive 149 mph electronically-limited top speed. The Lambda V6 intake system also employs an intake sound induction pipe into the cabin to ensure this engine's aural character matches its visceral appeal.
To further broaden the power band, the 3.8-liter engine uses Dual Continuously Variable Valve Timing (Dual CVVT) and a Variable Intake System (VIS) that helps cylinders breathe most efficiently at both low and high RPM. The combination of high-pressure, precisely-metered direct injection with efficient cylinder breathing results in outstanding throttle response and off-the-line acceleration coupled with remarkable fuel efficiency. The V6 engine uses an alloy block and cylinder heads for lighter weight and thermal efficiency and features durable, quiet timing chains with no scheduled maintenance.
All these technologies serve to give Genesis Coupe 3.8 an impressive power-to-weight ratio of only 10.0:1, significantly lower than the more expensive Infiniti Q60 and BMW 435i.


2014 Genesis Coupe 3.8-liter Lambda direct-injected DOHC V6 Engine
2014
Genesis
Coupe 3.8

2014
Infiniti Q60
Coupe

2014
BMW 435i
Coupe

Engine

3.8L V6

3.7L V6

3.0L I6 turbo

HP @ RPM

348* @ 6400

330 @ 7000

300 @ 5800

Power-to-Weight (lbs./HP)

10.0:1

11.0:1

11.9:1

Torque @ RPM

295* @ 5100

270 @ 5200

300 @ 1300-5000
* Ratings based on Premium Fuel
The turbocharged, intercooled 2.0-liter DOHC inline four-cylinder utilizes a twin-scroll design for its turbocharger with a large intercooler for enhanced thermal efficiency. The twin-scroll design is more efficient at recovering exhaust energy and produces cooler cylinder temperatures compared with a single-scroll design. In addition, a twin-scroll design is more precise, with improved combustion efficiency, reduced turbo lag, leaner air/fuel ratios and more evenly distributed pressure in the exhaust ports, resulting in simultaneous power, efficiency and emissions benefits over a single-scroll type. Also, a large intercooler further reduces intake temperatures, providing denser, cooler air from which to develop even more power.