WISKO racing is based in Virginia and is an official Radical distributor in the United States -- which is a bit of a relief for me as a car writer.
Why? As you may note in the below photos, there is a "For Sale" placard in the windshield, which would be worrying for such a new car in any other circumstances...!
But not for this amazing machine, which delivers such LeMans levels of down-force that it becomes nearly unflappable in any track scenario.
All the better to put down some race-ready laptimes..!
The RXC is priced from just under 100,000 Pounds Sterling in its UK home market, which at current exchange rates tallies about $170,000 for U.S. customers.
I did a build-out that was a bit more than the $170,000 estimated below, and there is a new RXC Turbo available now as well... Very tempting!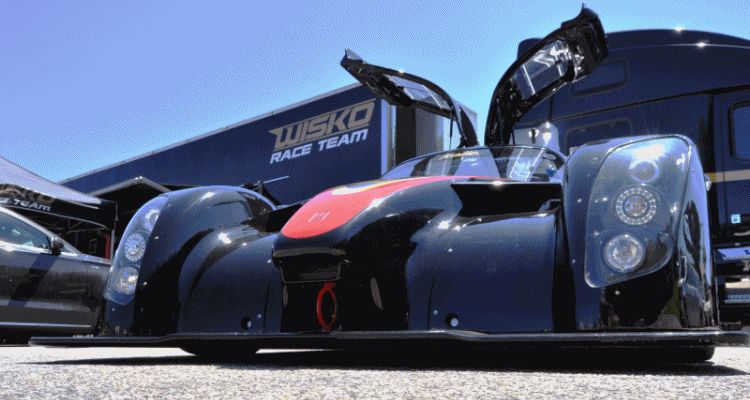 Radical RXC USA
TECHNICAL DETAILS from Radical.
>

Suspension & Brakes
For the first time on a Radical the RXC features a bespoke Intrax Racing Suspension inboard push rod suspension system with double wishbones all round to reduce unsprung mass and further improve Radical's class-leading ride quality and handling. Four-way adjustment is available as an option on the RXC-optimised dampers, with all cars benefitting from GT3-style camber and suspension geometry adjustment.350mm front and 310mm rear fully-floating disc brakes with six-pot calipers take care of braking. Carbon ceramic discs and calipers are available as an option. The brakes sit inside 17" Braid centre-lock wheels front and rear – the biggest ever fitted to a Radical production car.

>

Electronics
The AiM MXL LCD multifunction dashboard provides a comprehensive snapshot of both engine information and performance figures. The optional datalogging system adds a comprehensive portfolio of configurable inputs, from brake pressure and temperature logging to G forces and suspension travel. AiM's acclaimed SmartyCam system can also be added to the system to provide video with a realtime overlay of data, ideal for lap time improvement or corporate use.

>

Interior
Not only is the RXC Radical's most technically advanced car but it is also comprehensively specified. The interior of the RXC features a multi-function fully adjustable steering wheel, EPAS power steering, electrically adjustable and heated wing mirrors, air conditioning, heated windscreen with single wiper and an adjustable pedal box. Occupants sit in bespoke Corbeau FIA-compliant trimmed bucket seats with six-point racing harnesses.
>

Chassis
Cooling for the engine and braking systems is directed through cents in the nose and sidepods whilst a GT3-specification rear wing is adjustable to suit different circuit configurations. The cockpit is easily accessed by the gullwing doors, part of the most complex body that Radical has ever produced and incorporating both composite and carbon fibre sections. This multi-piece bodywork comes in a wide palette of colours and is designed to be easily and cost-effectively repaired or replaced.The bodywork clothes a high-tensile, laser-cut CDS tubular steel spaceframe, developed in the same way as Radical's FIA-approved SR series chassis. The integral rollcage ensures maximum occupant safety and vehicle stiffness, with both the nose and tail of the car boasting monocoque crash boxes. To prove the strength and very high level of safety the chassis has been subjected to the comprehensive crash test for European type approval compliance, which it passed with flying colours.
 
Additional Options (choose your requirements)

 

| | |
| --- | --- |
| Air Jack System (£2,150) | |
| Air Conditioning (£2,995) | |
| Six-point race harnesses (driver & passenger) (£540) | |
| Lightweight 'Makrolon' side windows with sliding opening panel (£500) | |
| Dash-adjustable brake bias (£212) | |
| Electrically-activated Fire Extinguisher (£656) | |
| Rear-facing/reversing camera (£1,450) | |
| Set of spare Cast wheels (£1,720) | |
| Set of spare Forged wheels (£2,975) | |
| Set of spare slicks (£1,282) | |
| Set of spare wets (£1,282) | |
| High-downforce, carbon-composite rear wing(£1,450) | |
| Storage Preparation kit (£210) | |
| European travel safety kit (£55) | |
| Factory decal set (£510) | |
| Road Registration Fees (UK only) (£895) | |
| Bespoke nine-piece carbon body detail kit (£1,900) | |
| Race logger/dash (£3,221) | |
| SmartyCam System with GPS module (£1,343) | |
| Bespoke flush windscreen tear-offs x2 (£495) | |