Unless I am in Chicago traffic from O'Hare to Wrigleyville, I rarely like to toot my own horn.
But the Superlite SLC Le Mans world debut might be a seriously exclusive piece of supercar news - seen only by readers of Car-Revs-Daily.com, so far.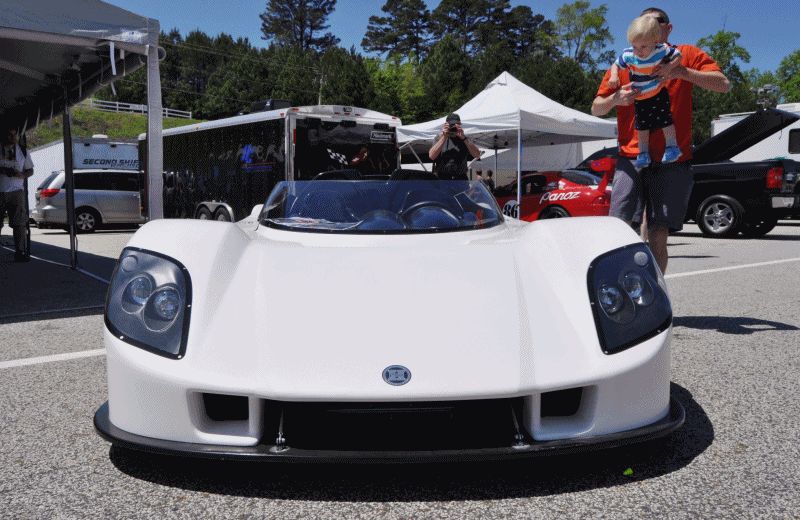 Why? The Spyder (or Roadster) SLC Le Mans is absolutely brand new and has never before been shown in public.
This is the first complete prototype of the full Le Mans Spyder bodystyle of the Superlite SLC Coupe, an it is magnificent.
Completed with a Chevrolet LS3 V8 engine and Porsche transaxle by H Craft Customs of Buford, Georgia, this SLC Spyder is the first of many track-attack specials to begin roaring around the nation's racetracks very soon.
The best part - even better than that amazing chopped-plexiglass windshield? The price!
Itemized below by Superlite in rolling chassis form, the SLC is remarkably affordable for the performance and style it brings to the table.
$44,000 gets you in a full and complete rolling chassis - with the engine and transmission choice then up to you.
Even ball-parking a $25,000 tally for the assembly, plus engine and transmission procurement/installation - this is still the widest, sexiest and lowest racing prototype available for under $70,000. Perhaps ever!
Very exciting, especially versus the $65,000 US entry price for the Lotus Elise and others of this track-day focus.
Also much faster, more exclusive, more customizable and far more challenging due to the huge speed available.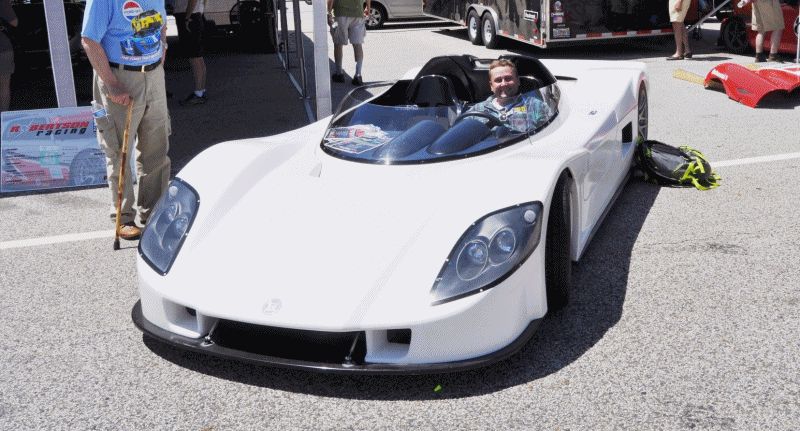 SAFETY FEATURES?
ABS or traction or stability control? Or airbags or TPMS?
Ummmm...
A driver's internal G-meter and butt-clench-sensor will be the best safety features when piloting such a machine around the world's racetracks.
This car will take time to master. But that is half the fun.
It will turn a boy into a man!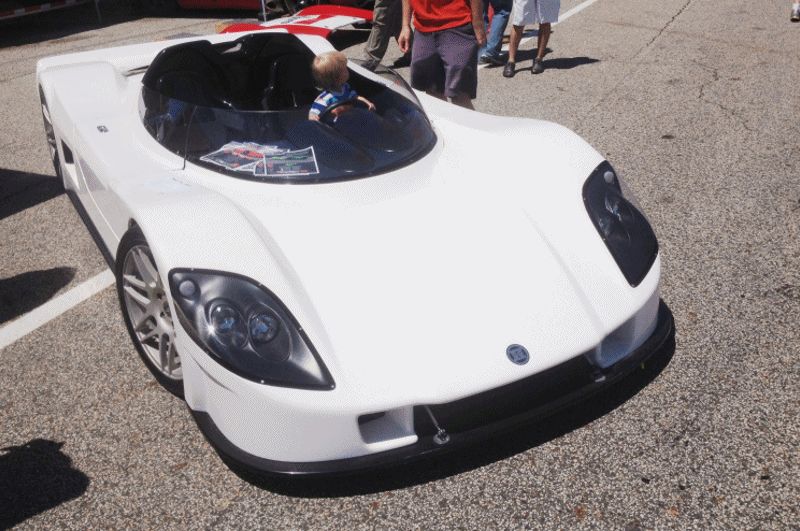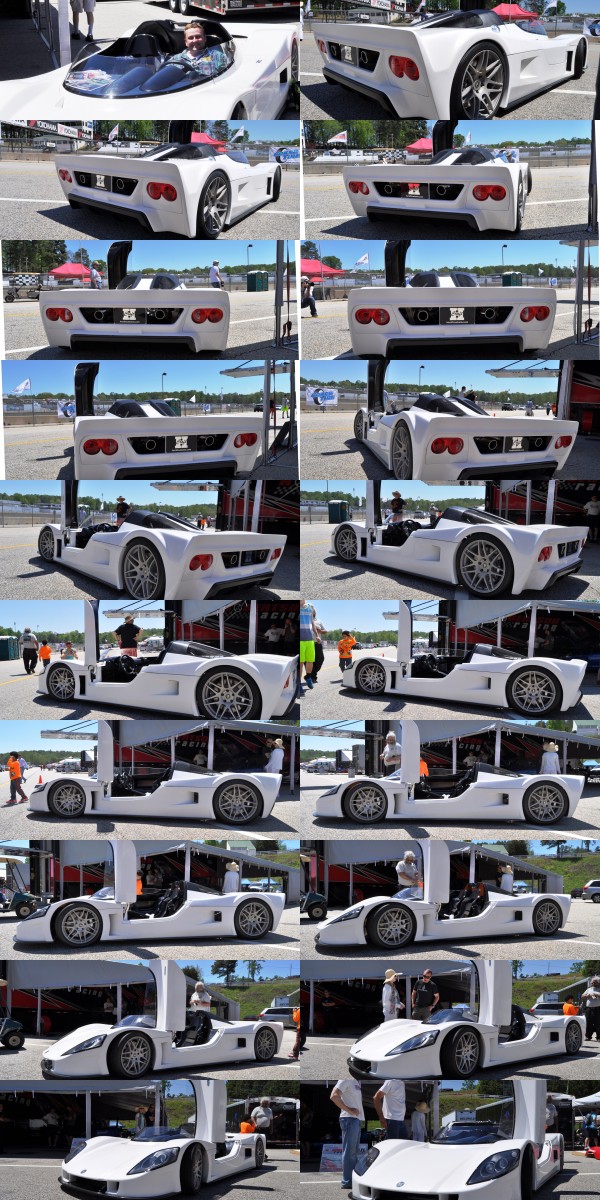 ROAD LEGAL?
Will the SLC Le Mans Spyder be road legal from the factory? No, it will not.
It will require single type approval after the engine is added, and the license plates may or may not be forthcoming depending on the strictness of your state's laws about one-off machines.
This H Craft Customs build in Georgia notes that road or track options are available -  the road choice with lighting and blinkers is highly recommended.
But even as a trailered track-day car, few existing cars at any price have the visual and performance presence of this all-new, just-debuted SLC Le Mans Spyder from Superlite.

A CAR SO COOL IT MIGHT BE FROM MARS?
So where did this space oddity come from? Who is Superlite?
Superlite is a Michigan-based racing house that builds the well-regarded SLC Coupe and a few other track-day curios - mostly resembling Westfields or Ariel Atoms until now.
The SLC Coupe is gorgeous.
At its monstrous pace around racetracks, it is an LMP2 car of unknown origin.
The idea of using one on the street is extremely ambitious, of course, but still highly desirable. A racer's flinty ride is a sure thing outside the glassy pavement of most circuits, but still.
Just admire is beauty, proportions, flexibility to carry nearly any drivetrain, and affordability.
Tell me this exclusive supercar photoshoot and buyer details article is not the Scoop of the Year!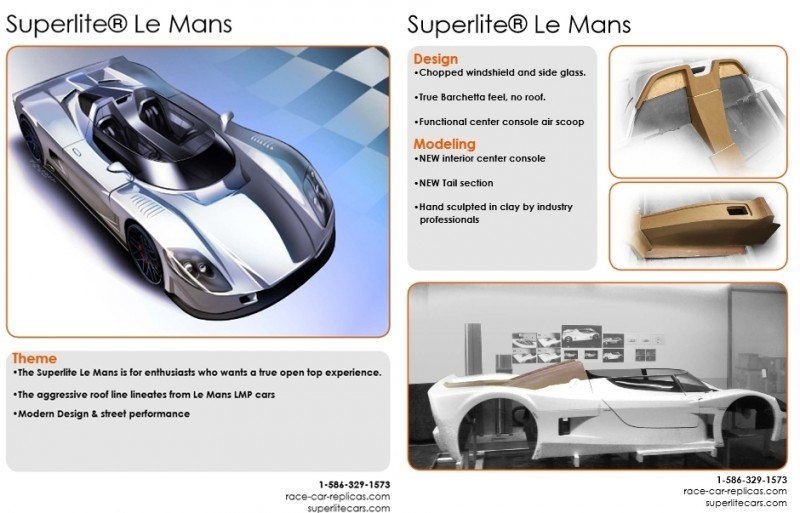 WHERE AND HOW TO BUY?
To order the full SLC Le Mans - which includes nice options like A/C , roll cages and custom gel paintwork - buyers will work with Superlite directly via the below links.
The car comes as a rolling chassis, however, so most guys would want to get a recommendation on shipping the chassis directly to a great mechanic's shop.
H Customs of Buford, Georgia completed this example, as noted, and will be a great first-place-to-look when ordering your own. They have already handled the LS3 V8 fitment and finishing tests on this first-ever model, giving the team at H Customs some insight that will be missing elsewhere.
But truly, any skilled racing mechanic will be able to get the SLC Le Mans Spyder into not just rolling... but ROARING form in just a few short weeks.
BUILD FINISHING / FINAL ASSEMBLY
The below table shows the build components, and is broken into stages for the self-completed versions.
But most will want to go right for the full $44,000 rolling example, which includes all of the standard items below. It still will need extensive final assembly upon arrival to your race mechanic - and we recommend asking Superlite for an estimated hours needed to complete the build, to give a better sense of how much the final tally may be. Budgeting $25,000 for the engine and build seems about right - but one-off cars are often uniquely challenging....
But also uniquely rewarding - especially on tracks increasingly clogged with identical Gallardo Spyders and Corvettes. This SLC Le Mans Spyder is out-of-this-world exactly for these reasons.
Go for it!
GEL COAT COLOR OPTIONS
These gel paints are very nice to have on the options sheet. But my preference? The pure porcelain-like glow of this unpainted fiberglass looks divine all by itself.

LINKS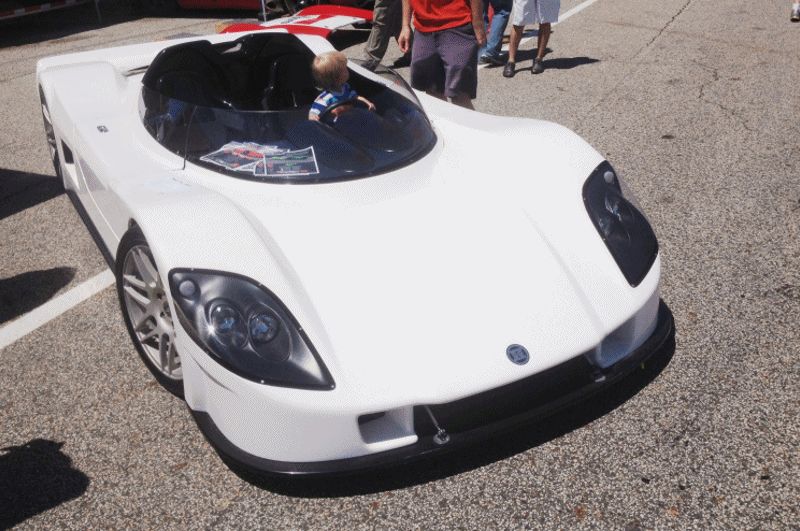 | | |
| --- | --- |
| Stage 1 – Chassis |   |
| Aluminum Semi-Monocoque completely TIG welded for strength and appearance. Front  Chassis Extension Panels (Sides and Floor) |  $9,995 |
|   |   |
| Engine bay will accept most longitudinal engine trans packages |   |
|   |   |
| Engine mount towers for LS-series engines standard, many others available at extra cost. |   |
|   |   |
| Drilled and tapped as needed for installation of bulkhead, firewall and footwell inspection covers |   |
|   |   |
| Chassis can be provided in RHD or LHD at no extra cost. |   |
|   |   |
|   |   |
| Suspension |   |
| CNC billet aluminum unequal length front upper arms |   |
|   |   |
| CNC billet aluminum unequal length front lower arms |   |
|   |   |
| CNC billet aluminum front uprights – 4 piece |   |
|   |   |
| CNC billet aluminum unequal length rear upper arms |   |
|   |   |
| CNC billet aluminum unequal length rear lower arms |   |
|   |   |
| CNC billet aluminum rear uprights – 3 piece |   |
|   |   |
| Pushrods for rear suspension |   |
|   |   |
| Rear Pushrod Mount Pins |   |
|   |   |
| CNC Billet Aluminum Bell Cranks (Rockers) with bearings & assembly hardware |   |
|   |   |
| CNC Billet rear suspension spring mounts |   |
|   |   |
| Toe links for adjustable rear suspension |   |
|   |   |
|  6 x Front U Brackets |   |
|   |   |
| 6 x Front Shear Plates |   |
|   |   |
| 12 x Rear U Brackets |   |
|   |   |
| 6 x Rear Shear Plates |   |
|   |   |
| Front Lower Shock Mounting Pins |   |
|   |   |
| Billet Front Lower Arm Pockets |   |
|   |   |
|   |   |
| Stage 2 – Chassis Extras | $1,195 |
| Waterjetted and CNC formed: |   |
|   |   |
| Rear aluminum firewall |   |
|   |   |
| Removable rear bulkhead cover |   |
|   |   |
| Removable front footwell inspection covers |   |
|   |   |
| Front chassis extension cross brace |   |
|   |   |
| Fuel tank lower cover |   |
|   |   |
|   |   |
| Stage 3 – 6 Point Cage | $1,695 |
| Constructed using CNC-bent DOM seamless steel tubing (and is completely hidden behind optional interior panels). Designed as a bolt in, so can be installed and easily removed with no welding. Delivered painted black, can be provided in any powdercoat color at additional cost at time of order. |   |
|   |   |
| Includes: |   |
|   |   |
| Windshield-area hoop with required brackets to bolt to monocoque |   |
|   |   |
| Rear hoop over occupants with cross bar suitable for wrapping harnesses, and all required brackets to bolt to monocoque |   |
|   |   |
| Rear braces tied to rear suspension supports, including all brackets to bolt to the rest of the cage and chassis. |   |
|   |   |
| Engine bay cross brace, including rod ends and brackets as needed to bolt to chassis. |   |
|   |   |
| See options section for Race Cage. |   |
|   |   |
|   |   |
| Stage 4 – Body | $9,495 |
| Central spider section with door openings, molded openings for fuel filler, locks, etc |   |
|   |   |
| Rear section with molded openings for tail lights, side scoops, body locating pins, clamshell locks, etc. Your choice of the "street" version with an integrated spoiler, or the "race" version that is  complimented by the optional rear-mounted wing. |   |
|   |   |
| Front section with molded openings for headlights, turn indicators, radiator air inlet, brake duct inlets, radiator air outlet, etc. |   |
|   |   |
| Left and right side door assemblies, including molded openings for interior and exterior door handles, and inner and outer panels pre-bonded and trimmed |   |
|   |   |
| Stainless steel body alignment pins as required for front and rear sections, on both sides. |   |
|   |   |
| Fiberglass splitter, constructed of lightweight core with a fiberglass covering for strength and light weight, as well as low replacement cost. |   |
|   |   |
| Fiberglass side skirts, constructed entirely of lightweight fiberglass. |   |
|   |   |
|   |   |
| Stage 5 – Hinges, Latches and Handles | $1,195 |
| Vertical door opening hinges |   |
|   |   |
| Vertical door opening gas-assist struts and hardware for easy opening and closing of both doors |   |
|   |   |
| Pair Slim-line safety 2-stage door latches, can be updated with electric door openers (see options list) |   |
|   |   |
| Pair Door Strikers |   |
|   |   |
| Production quality exterior door handles |   |
|   |   |
| Production quality interior door handles |   |
|   |   |
| Front and rear lightweight, concealed latches to secure the front and rear body sections |   |
|   |   |
| Rear section mount and hinge |   |
|   |   |
| Custom fiberglass covers for tail lights |   |
|   |   |
| Custom hydraulic assist nose hinges |   |
|   |   |
|   |   |
| Stage 6 – Suspension Fitment Kit | $2,875 |
| Shocks and Springs |   |
|   |   |
| QA1 aluminum-tube double-adjustable shocks with 24 compression and 24 rebound settings, linear spaced valving for ease of setup. 2 front shocks, 2 rear shocks |   |
|   |   |
| QA1 Pair Front Springs |   |
|   |   |
| QA1 Pair Rear Springs |   |
|   |   |
| Mounting Hardware, including necessary adjustable perches, etc |   |
|   |   |
| Fitment & Assembly |   |
|   |   |
| 4 x HD Rod Ends for outer suspension connections |   |
|   |   |
| 16 x HD Rod Ends for inner suspension connections |   |
|   |   |
| Pair Front Lower Ball Joints |   |
|   |   |
| Pair Rear Lower Ball Joints |   |
|   |   |
| Mounting Hardware, brackets and fasteners |   |
|   |   |
|   |   |
| Stage 7 – Steering | $1,245 |
| Steering Rack |   |
|   |   |
| Lightweight sports steering rack with integrated adjustable ends, 2.5 turns lock-to-lock. |   |
|   |   |
| Mounting hardware & brackets for steering rack. |   |
|   |   |
| Steering Column |   |
|   |   |
| NEW GM steering column with full electric tilt and telescopic functions, OEM plastics for professional appearance, support for OEM and aftermarket steering wheels, collapsible steering column feature, OEM turn signal, headlight, wiper, horn, driving or fog lights, etc. switches and wiring pigtails. (See options page for a lightweight column designed for racing with no switches, plastic covers, electric assist, etc). Includes all universal joints & bearings. Fitted with spline for quick release. Also available as an cost-reducing option – Light Weight Race Column. |   |
|   |   |
| Mounting hardware for steering column. |   |
|   |   |
| Pair steering column pigtail plugs |   |
|   |   |
| Steering Wheel & Boss |   |
|   |   |
| Standard Sport steering wheel |   |
|   |   |
| Quick-release steering wheel assembly pre-mounted on column (ready to bolt on most any aftermarket steering wheel). |   |
|   |   |
|   |   |
| Stage 8 – Brake Components | $2,195 |
| Calipers and Rotors |   |
|   |   |
| Brembo Pair Front 4-piston calipers (with OEM dust seals for Worldwide street compliance) |   |
|   |   |
| Brembo Pair Rear 4-piston calipers(with OEM dust seals for Worldwide street compliance) |   |
|   |   |
| Brembo Pair Front vented 355mm rotors |   |
|   |   |
| Brembo Pair Rear vented 365mm rotors |   |
|   |   |
| Genuine Brembo Front Brake pads |   |
|   |   |
| Genuine Brembo Rear Brake pads |   |
|   |   |
| Stainless steel retainers and pins |   |
|   |   |
|   |   |
| Pedal Box Assembly & Master Cylinders | $895 |
| Floor-mounted triple race-proven pedal assembly (pedals for clutch, brakes and throttle) manufactured in forged aluminum with adjustable pedals to produce different pedal ratios as needed..  Suitable for cable or electronic throttle. Includes front/rear brake bias balance bar. Can be mounted on a sliding mount to accommodate different drivers |   |
|   |   |
| Tilton dual brake master cylinders (1 each for front and rear brakes), including remote-mount reservoirs and appropriate low-pressure lines to master cylinders & fittings. |   |
|   |   |
| Tilton clutch master cylinder, including remote reservoir and appropriate low-pressure lines to master cylinder |   |
|   |   |
|   |   |
| Brake Lines and Fittings | $1,095 |
| Custom CNC-bent stainless steel brake lines from pedals to brakes |   |
|   |   |
| Custom CNC-bent stainless steel clutch line from pedals to transaxle area (builder supplies flex line to their selection of transaxle as needed) |   |
|   |   |
| Stainless-steel braided, Teflon-lines flex brake hoses from hard lines to calipers and master cylinders to hard lines. |   |
|   |   |
| Hardware kit, including residual valves, brake light switch, stainless mounting clips and all fittings. |   |
|   |   |
| While the standard Brembo brake package is very aggressive and offers outstanding braking capability, even greater braking capacity is available in the options list below. |   |
|   |   |
|   |   |
| Stage 9 – Drivetrain fitting package | $3,805 |
| Front Custom RCR HD wheel bearings, including wheel speed sprockets in front, with heavy-duty wheel studs installed. |   |
|   |   |
| Rear Custom RCR HD wheel bearings with splined centres for drive shaft stub axle fitment, with heavy-duty wheel studs installed |   |
|   |   |
| Mount hardware for front and rear wheel bearings |   |
|   |   |
| Pair CV joint stub axles suitable for Porsche-style CV joints |   |
|   |   |
| Double Jam Nuts for each stub axle |   |
|   |   |
| High-performance axles rated for 1000 HP, constructed with 300M material and heavy-duty CV joints. If over 1000 HP is anticipated, or racing use is contemplated, check the options list for ultra-heavy duty CV joint upgrades. Some modifications may need to be done to your selected transaxle- please consult with RCR. |   |
|   |   |
|   |   |
| Custom CNC billet engine-to-transaxle adaptor plate. Available at no upcharge for LS/Ricardo, LS/Porsche G50, Small-block Chevy/Porsche G50. Other combinations on request, at additional cost, including Mazda Rotary to Porsche G50, etc. The SL-C is designed to accept almost any longitudinal drivetrain; please contact RCR for more information to see if your preferred drivetrain will fit. |   |
|   |   |
| CNC Cut and TIG Welded Mounting Brackets for Adaptor Plate |   |
|   |   |
| Cable gear shifter for either Ricardo or Porsche transaxles. Includes shifter and mount. Please see options list for custom cables. Builder to supply shift knob. |   |
|   |   |
|   |   |
| Stage 10 – Cooling System | $855 |
| Custom aluminum radiator, rated for 600+ HP |   |
|   |   |
| Radiator mount hardware Twin electric fans |   |
|   |   |
| 1.5? stainless steel cooling tube kit- builder to provide silicone hose as needed for connections. |   |
|   |   |
|   |   |
| Stage 11 – Fuel System | $920 |
| Custom aluminum baffled fuel tank with all necessary threaded fitment bungs and fuel filler inlet. Default capacity is about 18 gallons. Tank mounted behind seats and inside the chassis per LeMans specs for improved safety and handling. |   |
|   |   |
| Flush-mounted aluminum filler cap. |   |
|   |   |
| Fuel Filler Neck |   |
|   |   |
| Welded-on fuel-level flange |   |
|   |   |
| See options list below for addition tank options, including race-legal fuel cells. |   |
|   |   |
|   |   |
| Stage 12 – Electrical | $495 |
| Koso RX-2N with large analog tachometer (10,000 RPM) |   |
|   |   |
| Specific fuel-level sender for Koso and SLC standard tank (not for other uses) |   |
|   |   |
| Koso -specific oil and water temp senders |   |
|   |   |
| Speed sensor for speedometer in Koso gauge |   |
|   |   |
| Koso Wiring Loom Kit |   |
|   |   |
| Koso-specific connections to ISIS harness as needed |   |
|   |   |
|   |   |
| Lighting & Safety |   |
| 2 Hella DOT-approved Projector Low beam headlights | $245 |
|   |   |
|   |   |
| 2 Hella DOT-approved High beam headlights | $110 |
|   |   |
| 2 Hella DOT-approved High beam headlights |   |
|   |   |
| Bulbs and Bulb Holders for Low and High Beam Headlights |   |
|   |   |
| Pair DOT-approved, production quality tail lights. Lights include integrated brake, turn and backup lenses. Builder to provide bulbs and pigtails |   |
|   |   |
|   |   |
| Pair LED front indicator lights, including connectors and necessary pigtails | $40 |
|   |   |
|   |   |
| Pair Custom Mirrors with integrated LED turn signals, including wiring pigtails; builder to supply necessary wiring, including switches. Consult RCR for options. | $295 |
|   |   |
|   |   |
| Advanced electrical system from ISIS | $1,395 |
| Custom plug & play SLC-specific wiring harness to suit ISIS system. |   |
|   |   |
| 2 ISIS Powercells |   |
|   |   |
| 1  ISIS Mastercell |   |
|   |   |
| 1 Key fob remote for security system in ISIS system |   |
|   |   |
| All needed connectors, fuses, wire needed for ISIS system as designed |   |
|   |   |
| Battery cables |   |
|   |   |
|   |   |
| Windshield Wiper motor system | $280 |
| Direct-drive, single windshield wiper system with up to two speeds, auto-park, adjustable sweep and supports optional intermittent, rain-sensing module. Includes wiper arm, and necessary adapter. Builder to supply wiper blade. |   |
|   |   |
|   |   |
| Stage 13 – Air Conditioning | $1,895 |
| Air conditioner and heater. This powerful and compact unit keeps the occupants cool or warm, no matter the outside temp. Specifically engineered for the SLC, this unit includes the compressor, condenser, drier, super efficient and compact evaporator, a trinary switch and rotating, closing dash outlets designed for the standard dash. Provided with hard and soft lines and hose ends. A professional AC shop will normally be required to charge the system. |   |
|   |   |
| AC Compressor Mounting Bracket |   |
|   |   |
| AC Fiberglass dash manifold |   |
|   |   |
| AC evaporator mount and duct system |   |
|   |   |
|   |   |
| Stage 14 – Body Glass, Windows and Covers | $1,995 |
| DOT-approved windshield, including factory black edging and transition tint |   |
|   |   |
| Custom lexan side windows |   |
|   |   |
| Custom lexan rear engine cover screen |   |
|   |   |
| Custom lexan headlight covers |   |
|   |   |
| All lexan windows and covers are provided with a proprietary "scratch-proof" finish, are cut to exact size, and are provided with polished edges for perfect visual presentation and easy fitting. |   |
|   |   |
|   |   |
| Stage 15 – Interior |   |
| Production-style dashboard in fiberglass, including support for AC and defrost vents, space for double-DIN LCD screen in center stack, and custom molding for perfect fit around the standard steering column and DigiDash. Can be provided in RHD or LHD versions at no extra cost. | $495 |
|   |   |
| Custom Fiberglass seats (see options list below for a wider version of these as required to fit a broad range of occupants). These are SLC-specific seats that are designed to maximize the available space in the cockpit. These seats optimize the available seating height which is especially important for taller drivers. Our experience is that for taller drivers, very few aftermarket seats will fit as they tend to be too high, and often foul the door with shoulder wings that are too wide. | $495 |
|   |   |
| Pair Side interior panels | $345 |
|   |   |
| See options list below for a complete list of optional interior panels, which are able to be provided in raw, finished fiberglass, or with optional carbon fiber trim, or as completely trimmed in your choice of coverings (leather, alcantara, suede, etc) |   |
|   |   |
|   |   |
| Stage 16 – Wheels | $1,250 |
| Front 18X9.5 multi-spoke aluminum alloy wheels |   |
|   |   |
| Rear 19X12 multi-spoke aluminum alloy wheels |   |
|   |   |
| Set of Wheel nuts |   |
|   |   |
| See options list for race spec wheels. The SLC uses the popular GM 5-hole, 120.5MM PCD to accommodate a very wide range of aftermarket wheels. Please consult RCR for more information if you want alternative wheels. |   |
|   |   |
| Several wheel styles are available at this price Contact Superlite Cars for details. |   |
|   |   |
|   |   |
| Stage 17 -Wing and mount |   |
| Fiberglass rear wing, GTP profile, chassis mounted. Suitable for "race" rear clip. Comes with aluminum side plates. Wing is designed to fit the width of the SLC; most aftermarket wings are too narrow.  See the options area for CF wings. | $995 |
|   |   |
|   |   |
| Aluminum wing stanchions with hinging mount allowing easy engine access | $450 |
|   |   |
|   |   |
| Assembly to Rolling Kit Stage | $1,750 |
|   |   |
|   |   |
|   |   |
| Total Stages: | $49,700 |
|   |   |
| Discounted price for purchasing all stages at order time | $43,995 |
|   |   |
| Options |   |
| New street tail section with fully functional air scoops ,enclosed transaxle bay with integrated rear diffuser ,complete with hinge and mounting brackets. This is a no-cost option when ordered with the car; you can select either the Race tail or the Street tail at no cost (but only one).  If you want a spare, or want to order both, use this price in calculating your selection. | $2,995 |
|   |   |
|   |   |
| Brake Upgrade Package. Front 15″ Brembo floating GT discs with 6-piston Brembo GT Monoblock calipers; rear: 14″ Brembo floating GT discs with 6-piston Brembo GT Monoblock Calipers. | $6,850 |
|   |   |
|   |   |
| Electric/Hydraulic lift kit for one axle (front or rear). Lifts the front or rear of the car about 3" for improved clearance over speed bumps, on steep driveways, etc. Invaluable to protect your splitter and front end from scraping. Includes pump (one pump can lift one or both ends of the car), 2 spring mounts, 2 lift units, remote reservoir, appropriate lines to pump, switch, and flex lines to lift units from pump.  The standard ISIS electrical system is pre-configured for this kit, so wiring it is plug-and-play.  Once the first lift unit has been purchased, the other end can be plumbed in using the same pump, and at a lower cost than the alternative of having to buy two separate lift systems.  You will need to source shorter springs when using this lift kit, and some machining may be needed on the shock collar.   Call Superlite Cars for details. | $1,850 |
|   |   |
|   |   |
| Handbrake assembly. Handbrakes are required for certain licensing situations, and Superlite provides a subsystem that meets the demanding Australian ADR and UK IVA regulations that actually measure effectiveness. Consists of Brembo-sourced calipers, a custom handbrake lever and all necessary lines and fittings. Designed for the standard brakes, but available with extra cost for the upgraded brake package. | $995 |
|   |   |
|   |   |
| Interior panel Kit. This comprehensive kit is all that is needed to form the foundation of a world-class interior for the Superlite Coupe. As seen in turnkey cars, it includes a custom roof cover, 2 A-pillar covers, 2 lower door trim panels, 2 door blend transition covers, and a custom bulkhead cover. Furnished in fiberglass, and trimming with appropriate covering is required for a world-class appearance.  These panels are also available in carbon fiber, on a limited basis.  Individual panels are quoted on request, and prices will vary with the current cost of carbon fiber and resin, as these often change due to fluctuations in supply.  Contact Superlite Cars for more details. | 1295 from  1995 carbon |
|   |   |
|   |   |
| Fully-trimmed supercar-quality interior. Consists of all optional panels, fitted and trimmed in your specification for materials. Because the materials and details vary, these can only be quoted on an individual basis, after the materials and design are finalized….turn key builds only. | $POA |
|   |   |
|   |   |
| FIA Bladder fuel tank. For racing purposes, or just extra safety on the street that exceeds production car standards, a fuel cell is required. These cells are custom-fabricated to our size and plumbing specifications, and meet all applicable FIA, SCCA, NASA and other sanctioning body rules and requirements, per the manufacturer. Price varies, depending on options and size. | 3400 |
|   |   |
|   |   |
| Sway bars, front and rear. This comprehensive kit uses NASCAR-style bars so they are easy to swap out for tuning purposes, as well as allowing fine-tuning by use of the included adjustable links. | $1,995 |
|   |   |
|   |   |
| Sway bars, front and rear, for race applications.  These bars are the ultimate in adjustability, and are the same technology and design as seen on current ALMS and Grand-AM Daytona Prototype and GT cars.  They come with controls that allow the driver to adjust the settings on the fly, during the race, for both front and rear bars.  Expensive, but the same as the pros use. | $4,995 |
|   |   |
|   |   |
|  Wheel Upgrade: Rotary-forged wheels , very light weight, in 18X10 (or 18X11) for the front, and 18X13  in the rear. Available in natural finish only; you may powdercoat or anodize as needed. Specifically sized to fit the Superlite Coupe, these are a tremendous value considering their size, weight and strength. They look great, too! | $3,900 |
|   |   |
|   |   |
|  Race front splitter. Consists of a splitter with a longer, deeper fascia that allows more air to be pushed up, instead of under the car. Designed for very low clearance race applications, not suitable for street use. Designed in conjunction with a renowned NASCAR aerodynamicist and uses a proprietary design to evacuate air from under the car using tunnel-effect construction. | $585 |
|   |   |
|   |   |
|  Street front splitter. This comes with the standard kit, but is often damaged in use, so is listed here as a replacement part.  Not a bad idea to have a spare, so you don't have to wait for new stock to be made and shipped when you prang the one on your car.  Using a lift kit (above) helps considerably to reduce the chance of damage due to hitting curbs, speed humps, etc.. | $379 |
|   |   |
|  Splitter tunnels for Street splitter.  These simple fiberglass tunnels are epoxied to the street splitter to create a venturi effect under the splitter, and are almost as effective as the race splitter.  A great upgrade to a Street splitter, with no loss of ground clearance as found in the Race splitter.  Must be epoxied in by the builder, and openings cut into the Street splitter. | $279 |
|   |   |
|   |   |
|  Factory Body fitment. Consists of aligning the body on the chassis, fitting and hinging the doors, assembling and adjusting the door strikers and handles, aligning the front and rear sections to the central spider section, installing the front and rear body latches, installing hinges (if purchased) and installing and testing the gas struts for the doors. | $1,590 |
|   |   |
|   |   |
|  Factory Body prep. Consists of cutting out all apertures for lights and scoops, trimming side scoops and roof mount with grille material. | $590 |
|   |   |
|   |   |
|  Fender vents.  These vents, made in fiberglass, are strong and functional, allowing air to escape from the front fender area, which will increase front downforce.  Can be glassed in for a smooth OEM look, or cut in for a race style installation that allows for fast, easy replacement if damaged. | $399 |
|   |   |
|   |   |
|  Fender Louvres/vents.  Same as above, but in beautiful carbon fiber. | $499 |
|   |   |
|   |   |
|  Factory Body sealing panels.  Seals the body to the rear bulkhead for a watertight seal in this critical area.  Consists of specific fiberglass panels that are epoxied in place by the builder.  These are a standard part  in the kit, but are available for older kits without them. | $99 |
|   |   |
|   |   |
|  Upgrade to wider "Gentleman's" seats. Approximately 2 inches wider than the standard seats, these can accommodate occupants that cannot fit comfortably in the standard seats. The extra width may require them to be offset slightly relative to the steering column centerline, but the column may be moved to re-center with the seats if needed.  The price is additive to the normal seats in the kit. | $199 |
|   |   |
|   |   |
| Inner fender panel kit, front and rear also available in carbon…individual panels also available | from $895 |
|   |   |
|   |   |
|  Racing harnesses.  This kit does not come with seat belts as experience has shown that every builder wants a different belt solution.  Superlite Cars can provide certified racing harnesses at advantageous prices, or can recommend harness providers.  5-point lap, shoulder and sub-belt harnesses begin at: | from $399/pair |
|   |   |
|   |   |
|  Track day door side bars.  Most sanctioning bodies allow the SLC to run track days with the standard "roof structure".  But most track cars are equipped with door bars that increase the stiffness of the chassis, and provide increased resistance to intrusion into the cockpit in the event of a side-hit.  These can be ordered at the same time as the kit, and they generally preclude use of the optional dood cover panels as they interfere (they fit fine with the standard doors, of course). | from $395 |
|   |   |
|   |   |
|  Side exhaust cover plates.  When using a side exhaust, the pipes exit through the body.  These plates, available in aluminum or carbon fiber, protect the body from excessive heat and look good doing it.  Prices start at: | $145 |
|   |   |
|   |   |
|  Race Roll cage Upgrade. Adds increased stiffness, and meets FIA, NASA and SCCA regulations for race car safety in most of their series- consult RCR for details before you select this option. Includes side bars that dramatically stiffen the door openings, tie-in bars to the front suspension area, additional cross bracing inside the monocoque in the front to add stiffness in the front, and other miscellaneous changes to the cage. Bolts in, and requires no welding, so it is easy to remove if you decide to convert to the street, or upgrades are added later. Interferes with the optional lower door panels (which are not needed in a race car). | from    $3995 |
|   |   |
|   |   |
|  Race column. This is a traditional, lightweight racing steering column with no switches, no collapsible internals, and no electric anything. Price reflects discount from appropriate stage or complete kit as it replaces the normal tilt/tele column. | $295 |
|   |   |
|   |   |
|  Electric power steering- race or track only.  This option uses a powerful electric power steering unit that mounts on the race column (it does not fit the standard street steering column) and is adjustable by the driver during competition to get just the right amount of assist for the conditions.  Can be switched off if a fault develops, leaving the standard steering in place with no additional steering effort. | $2,995 |
|   |   |
|   |   |
|   |   |
|  Adjustable pedals. Consists of a CNC aluminum plate mounted to the monocoque that allows the pedal set to be moved forward or backward as needed for different drivers. Requires that a nut be loosened, after which the pedal assembly can be re-located further forward or backward. Simple, lightweight and inexpensive. | $195 |
|   |   |
|   |   |
|  CV Joint Upgrade. The standard CVs and axles are rated for 1000 HP. For more powerful engines, or drag race duty, even stronger joints are available. Please contact RCR before the complete kit or axles are purchased as this is a replacement option, not an add-on. These upgraded CVs are in use at the highest levels of motorsport, and are almost unbreakable. | from $1395 |
|   |   |
|   |   |
|  Custom shift cables. RCR can assist with procuring reliable shift cables from it's extensive supplier network. These cables are reliable, resistant to heat (though not immune to extreme temps, so routing and insulation must be considered), and are custom made to fit the requirements of each car. Since every builder can locate the shifter where it works best, the cable lengths must vary as well. Also, routing differences will alter the nominal length. When you are ready to install the shift cables, contact RCR to help in learning how to measure the correct length. RCR will then procure the correct cables. Prices vary but are in the $300-400 range. | $POA |
|   |   |
|   |   |
|  Chassis-mounted Carbon Fiber wing, including mounting brackets and required hardware. This wing is substantially lighter than the fiberglass wing, and has a more developed chord for increased downforce. It is constructed of a very lightweight honeycomb base with strong carbon fiber applied for strength. The wing has the "dry" carbon fiber look characteristic of autoclave-built products, but has been covered with a clear coat to display and protect the intrinsic beauty of the carbon fiber. Comes with aluminum side plates. Designed to allow on-track adjustability of angle of attack for tuning rear downforce for different circuits. | $2,895 |
|   |   |
|   |   |
|  Aluminum  hinging rear wing mounting system, suitable for either wing, not applicable  with "street" rear clip | $495 |
|   |   |
|   |   |
|  Adjustable motor mount system. Allows any engine to be mounted in the SLC without the need for welding, or for chassis changes.  Standard in all current kits, listed here for those who want to update their existing cars | $495 |
|   |   |
|   |   |
|  Racing Suspension Kit.  This suspension kit mounts to the stock mounting points, but is designed for racing use, where the stresses are higher, and ultimate strength and adjustability is paramount.  Not for street use, as the amount of movement in the race suspension is insufficient for street use.  As proven on the National Championship-winning factory race SLC in 2011.  Consists of specific uprights with 1-degree camber shims, machining for race calipers and offsets for race brake systems. Also includes race-specific control arms that are lighter, stronger, use encapsulated bearings (instead of rod-ends, as on the street suspension).  Talk to Superlite Cars before you order this, to coordinate your selection of brakes. | $7,850 |
|   |   |
|   |   |
|  Racing Brake system.  Superlite Cars has developed several racing brake systems.  Contact them for details to discuss your needs, including any class restrictions. | $POA |
|   |   |
|   |   |
|  Custom Race wiring harness.  Racing demands the very best in harness preparation and Superlite Cars has worked with PRS to develop the optimal race-proven harness for your race SLC.  Contact Superlite Cars for more details. | $POA |
|   |   |
|   |   |
|  DigiDash racing dash.  This dash instrument panel allows the driver to track lap times, and can be fitted with an optional GPS receiver for improved track mapping.  Comes with analysis and setup software, and all necessary cables , documentation and needed fuel sender.  Replaces the Koso gauge panel.  Price shown is for a swap from the Koso gauge system to the DigiDash, which can only be done at kit order time.  Outright purchase is an additional $495. | $995 |
|   |   |
|   |   |
|  Custom engine adapters.  Superlite Cars has developed a wide range of adapters to mate almost any popular engine to the common transaxles in use on the SLC.  If you need to mate a Ford mod motor to a Porsche transaxle, or an LS engine to a Ford transaxle, Superlite Cars has already done it, or can design and fabricate one that works for you, and the SLC.   Contact Superlite Cars for more details. | $POA |
|   |   |
|   |   |
|  GM LS-engine accessory drives.  Often the hardest part of installing an engine in the SLC is finalizing the way the alternator, AC compressor and other parts will be installed on the engine, as space is tight.  Superlite Cars offers a proven solution for a front accessory drive for the LS engine series.  These vary in price somewhat based on the engine in question, so call Superlite Cars  for details and prices. | $POA |
|   |   |
|   |   |
| Note: Specifications and pricing subject to change without notice. Kit is supplied as a roller for shipping purposes only i.e. nothing is torqued etc. |   |

LINKS