By Special Contributor Anthony Alaniz

Look out in your driveway.
Go look.
We'll wait.
Did you see it?
The best-selling car in the country? It's very possible you have one, two, maybe even three Toyota Camrys lounging out there in front of your house.
Since 1983, 10.2 million Camrys have been sold. It is the best-selling car in America for a reason—though the reason is still unbeknownst to us.
The Camry exudes beige and boring like a badge. So, it should come as no surprise that the Camry has received an update for 2015 for the ever increasing competitive mid-sized car market.
At the 2014 New York auto show reveal, Bill Fay, Toyota Division Group Vice President and General Manager, said the Camry is the latest in an apparently long line of recent reveals that embraces the concept of "heart-racing excitement."

That excitement looks like it is still pretty relaxed at the wheel in the new, 2015 Camry.
The exterior styling is of questionable character, but will offer LED low and high-beams for the first time, as well as LED DRLs down below.
[Ed's Note: All Camry's look a little less-than-stellar when first debuted. We'll see how it looks over the years of Camry ubiquity nationwide=]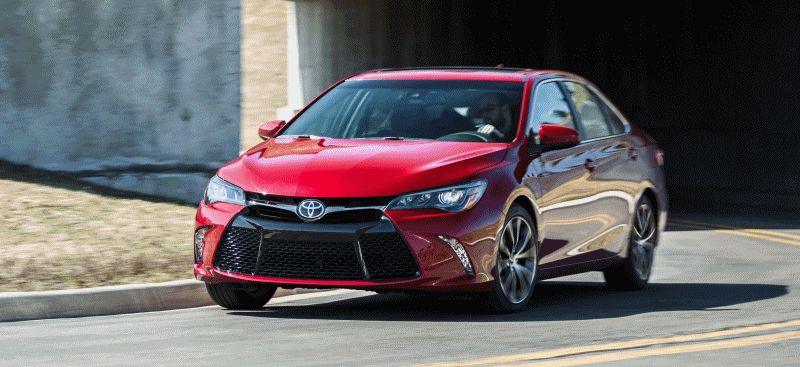 EXTERIOR
While Toyota is trying to zing up the young vote by trekking where Scion valiantly failed, the Camry has gone from a sensible family sedan to something that should have been left on the designers' draft boards (do they even use draft boards anymore?).
Drafting 'Screens' is probably more like it…
The gaping grille has been reworked to look even more ridiculous. The slanted headlights look menacing, but the rest of the car is a smorgasbord of lines, creases, and designers desperately hoping to be on the FR-S team. The whole design language of mumbo jumbo is lost at the rear of the car.
The taillight design is reminiscent of the Avalon, which is a car that exudes subdued luxury, but looks out of place on the Camry. The oval exhaust pipes are the last attempt of presenting a sporty vehicle, but look haphazardly done.

INTERIOR
While the 2015 refresh has sportier styling, interior upgrades and performance upgrades like sportier suspension tuning and revisions to the electric power steering system to improve feel.
Toyota hopes to seize younger, more enthusiastic buyers by painting the Camry as a sporty offering, not unlike the Mazda 6 and Ford Fusion. Those cars are known for their engaging driving dynamics and feeling of up-level luxury and sportiness—as much as a family sedan can be.

POWERTRAIN
But the 2015 Camry is still a Camry—a car perceived to be best suited for long, sedate drives to the supermarket.
The engines are carryover, cautiously propelling the family sedan with either a 2.5- or 3.5-liter engine, or a magical hybrid powertrain. Six-speed automatics are standard, along with a CVT for the hybrid.
Expect to see the new Camry on dealership lots this fall, and in your driveway shortly after that.
By Special Contributor Anthony Alaniz
About the Author:
Anthony

Alaniz is a freelance writer and Michigan native living in Tecumseh. After three years at Car and Driver focusing on web production and video engagement management, he branched out to focus on establishing a writing career. Currently he writes for a number of outlets covering the automotive industry, business, technology and breaking news.

 
Follow Anthony on LinkedIn and Twitter!
Official Details from Toyota Below.
More Than Skin Deep: America's Best-Selling Car Gets Even Better With a Sweeping Redesign for 2015

Toyota Camry rebuilt from the ground up with almost 2,000 new parts
New, sporty XSE and Hybrid SE grades amp up driving dynamics
Most upscale interior in segment with soft-touch materials throughout
Produced by over 7,000 American team members