Uh Oh. Old habits really do die hard, apparently.
This new Sonata shows that some vile old standard-operating-procedures are back in vogue at Hyundai-Kia, in a BIG way:
-- shoddy design
-- shoddy performance
-- shoddy quality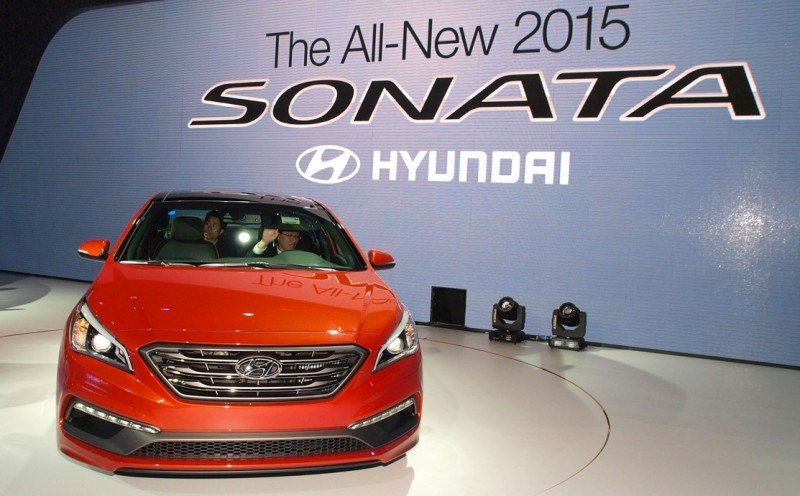 We could also add Shoddy Strategy and Shady Promises for handling, efficiency, value....
EXPLAIN: WHAT DO YOU MEAN?
The recent model range changes from Hyundai are very, very bizarre in chucking the baby out with the bathwater. Three years of great sales have emboldened the team to go back to its roots in the worst possible ways.
The latest 'Busch-league' maneuver?
Ditching the refined mid-size shape of the Sonata in favor of a gigantic (and gigantically-bland) redesign and Super-Size Me makeover.
Impala, Taurus, Chrysler 300 and Buick Lacrosse all come to mind far quicker than any Camry or Accord.
That makes sense when you look at the new Sonata's EPA classification of "Large Car" versus mid-size.
This is problematic for Hyundai, despite the giant trunk and interior dimensions the new shape will bring to customers. Large cars are not sexy or cute or desirable or sale-able in anywhere near the same scale.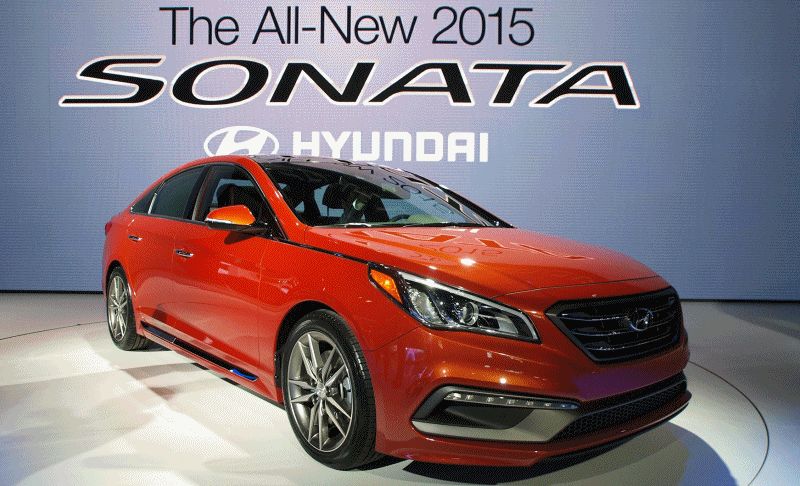 It will instantly add twenty years to the average age of shoppers, while offering no replacement to those who prefer the nimbler and easier-to-handle size of the previous Sonata.
In addition, guess who the largest segment for Large Cars is? Fleets.
Fleets do not, excluding rental companies, buy imported cars of any kind.
Guess who the other segment for jumbo boat sedans is? Persons aged 60-plus. These folks are also some of the least likely import shoppers. This is what we mean by "shoddy strategy."
About the design?
Well... it does look acceptable from the front.
But everywhere else, it could easily be any number of the seemingly-random cars above the Hyundai-Kia $30,000 mark -- including the Azera, Kia Cadena, Kia K900, Hyundai Genesis...
They
all

look equally bad from

all

angles except dead-on from the front.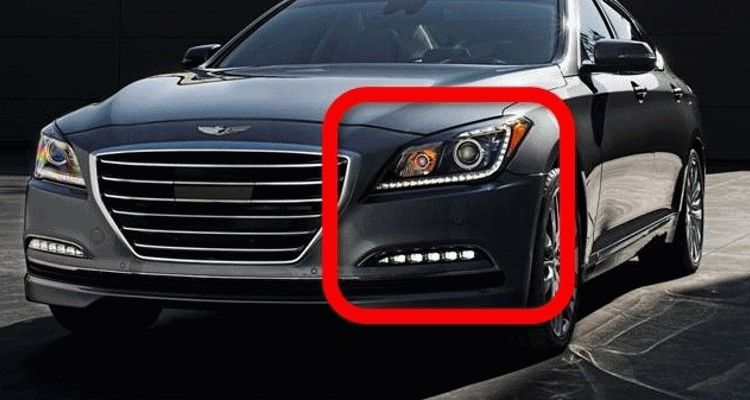 GENESIS ABOVE - Compared with HCD-14 Concept
SONATA BELOW
See, it looks okay from up front, right?
BAM! Check the profile.
Ouch!
It is hard to see why Hyundai would abandon this mid-size segment in favor of super-sizing itself. The large sedan market is in permanent decline versus the mid-size segment.
Additionally, Hyundai has nothing larger than the Elantra to offer city-dwelling young people now.
OKAY, SO IT WANTS TO BE A BUICK. THAT IS OKAY?
Interior Refinement and quality will therefore become extremely important. I regret to add this segment to the article, but cannot help being shocked by the poor materials, design, quality and assembly quality demonstrated here. This is the cheapest, nastiest interior this side of a 2002 Chrysler Town & Country van.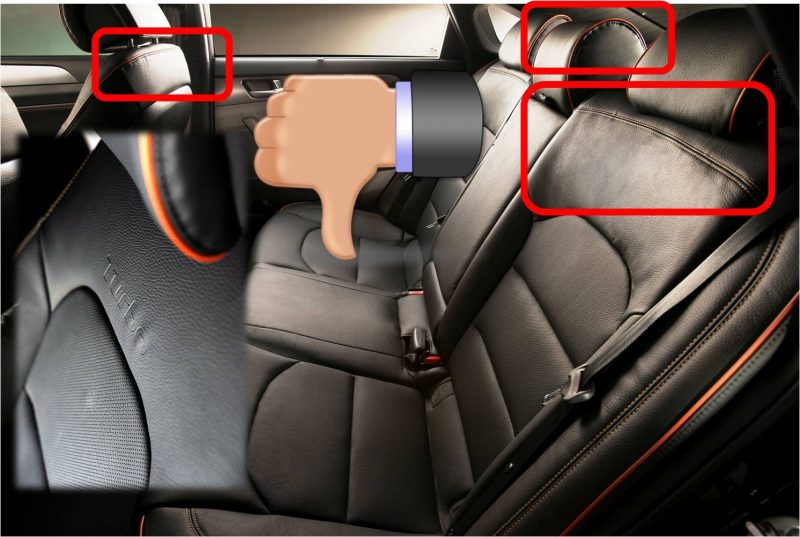 Some shaky strategic foundations are starting to really showing cracks with this latest set of abysmal decisions. Sales are sure to suffer.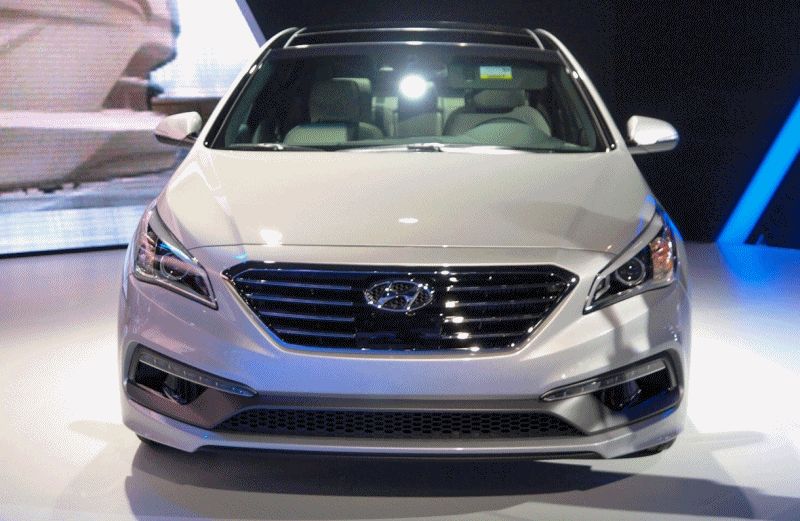 Official Details from Hyundai Below.
Sonata Evolves with Fluidic Sculpture 2.0 Design Language and Class-Above Features
NEW YORK, April 16, 2014 – Hyundai today introduced its all-new seventh-generation 2015 Sonata at the New York International Auto Show. Following the incredible success of the outgoing Sonata, the all-new generation offers a more refined look through a new Fluidic Sculpture 2.0 design language, stiffer body structure, better ride quality, reduced noise, vibration and harshness and advanced safety and convenience features. Sonata truly democratizes the premium design and convenient technology of the Genesis sedan for the mid-size class. The new 2015 Hyundai Sonata will be built at the Hyundai Motor Manufacturing Alabama plant in Montgomery, Ala. and go on sale early this summer.
EXTERIOR DESIGN

The 2011 Sonata raised the bar for design in the mid-size sedan segment when it was introduced in 2009. Consumers noticed the groundbreaking design and so did the competition. Sonata's design matures for the 2015 model year with energetic and crisp lines complimented by smooth and subtle surfaces. Fluidic Sculpture 2.0 is a confident evolution of the original fluidic sculpture design language that perfectly expresses Sonata's premium look and excellent value.
A larger, more refined grille with a wide air intake defines the face of the 2015 Sonata. Simple, harmonious lines adorn the exterior while hinting at the improved dynamic performance and human-machine connection Sonata provides. Taut, horizontal rocker panels reflect the chassis' increased stability and surefootedness while the signature Sonata beltline is now stretched tight to accentuate the sedan's strength. The coupe-like roofline remains, but it is balanced by a larger window graphic that emphasizes the roomier interior. Horizontal lines in the rear underscore Sonata's width and give the car a planted look. This purposeful shape achieves a remarkable drag coefficient of just 0.27, lower than any non-hybrid in the mid-size sedan class.
Shoppers looking for a traditional design will appreciate the 2015 Sonata SE's exterior styling that includes standard LED daytime running lights, 16-inch alloy wheels, a rear lip spoiler and chrome surround for the day light opening. Sonata Limited adds rocker panel extensions and dual exhaust for a premium look.
Sonata Sport features a more aggressive front grille and bumper, side rocker extensions and side chrome molding. Sport models powered by the 2.4-liter four-cylinder engine feature dual exhaust while Sport 2.0T models feature a unique rear bumper fascia, quad exhaust tips and 18-inch alloy wheels. The Sport model is expected to be the most popular Sonata. With the 2015 Hyundai Sonata Sport 2.0T, performance is something you taste and the Fluidic Sculpture 2.0 design language certainly whets the appetite.
"We crafted the shape of the 2015 Sonata in the same way an award-winning chef refines his recipe over the years," said Chris Chapman, chief designer, Hyundai Design North America. "With the 2011 Sonata, Hyundai took the mid-size sedan from a meal to a gourmet dinner. The evolution to Fluidic Sculpture 2.0's more taut, modern lines reflect the improvements in refinement and driving dynamics for 2015."
INTERIOR DESIGN

Confident, energetic lines define the 2015 Sonata's exterior and are complimented inside the cabin by a premium interior with a special emphasis on ergonomics. Intuitive buttons and controls are placed on the center stack, which is angled toward the driver to make the controls easier to reach. Hyundai's core interior design principles are safety, intuitiveness and simplicity and Sonata delivers in spades.
Controls are grouped logically and placed in the most convenient position for the driver. To create a unified experience inside the cabin, designers met with various suppliers to make sure all buttons and switchgear have a consistent feel. The height of the display screen for the audio display or 8-inch navigation system and instrument cluster are optimized for visibility and reside on the same plane to enhance readability during a quick glance. These ergonomic enhancements help the driver remain focused on the road ahead and provide confidence behind the wheel.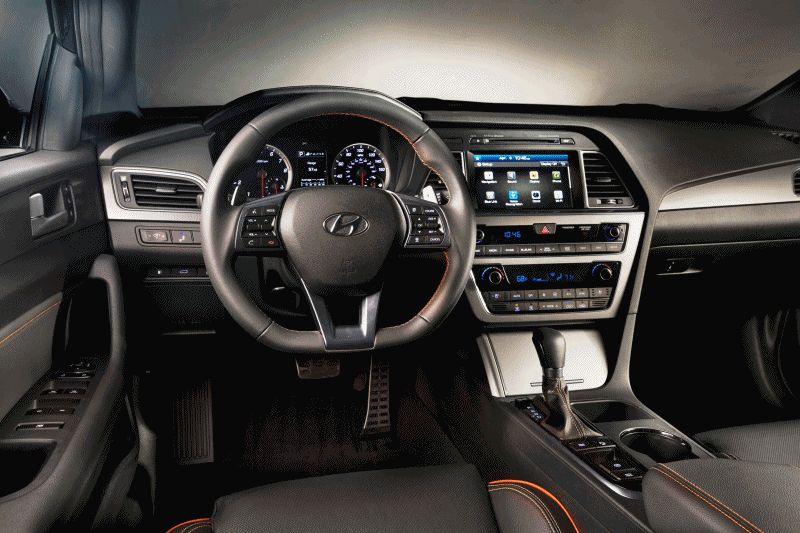 All components inside the cabin were examined and opportunities for improvement were taken very seriously. Even the steering wheel went through extensive testing to determine the ideal diameter, shape and tactile feel to maximize driver confidence. Improvements in the design of the steering wheel and changes to the layout of the instrument cluster necessitated a new steering column design. Designers and engineers sweated every detail in their quest to make the interior as safe, intuitive and simple as possible while delivering convenient features with pleasing aesthetics.
Sonata Sport 2.0T receives a unique interior that enhances its more dynamic personality. A D-cut steering wheel and paddle shifters help provide the confidence enthusiastic drivers expect while the sport instrument cluster with six o'clock needle position hints at the improved performance from the more responsive 2.0-liter turbocharged engine.
Reducing undesired noise inside the cabin was a top priority for the 2015 Sonata. Engineers reduced the size of the apertures in the bulkhead and increased use of sound deadening materials in the dashboard to prevent unwanted noise from entering the cabin. Engine notes were tuned to be pleasing to the ear without being intrusive. More sound absorption materials are used under the floorpan and an underbody tray made of fibrous glass expansion board improves aerodynamics while reducing unwanted road noise.
The 2015 Sonata's efficient packaging delivers outstanding passenger and interior volume. With 106.1 cu. ft. of passenger volume and a total interior volume of 122.4 cu. ft., 2015 Sonata is classified as a large car by the EPA.
2015

Sonata

2014

Camry

2014

Accord

2014

Altima

2014

Fusion

2014

Malibu

2014

Passat

Passenger volume (cu. ft.)

106.1

102.7

103.2

101.9

102.8

100.0

102.0

Cargo Volume (cu. ft.)

16.3

15.4

15.8

15.4

16.0

16.3

15.9

Total Interior Volume (cu. ft.)

122.4

118.1

119.0

117.3

118.8

116.3

117.9

EPA Size Classification

Large

Midsize

Midsize

Midsize

Midsize

Midsize

Midsize
ADVANCED HIGH-STRENGTH STEEL PLATFORM

A rigid platform is essential for a great car. Everything from ride quality to crash test performance is enhanced with a stiffer platform. The 2015 Sonata uses advanced high-strength steel for more than 50 percent of total platform composition, which results in 41 percent stiffer torsional rigidity and 35 percent greater bending strength. Advanced high strength steel is twice as rigid as traditional steel while weighing 10 percent less. More hot-stamped components are used, especially in the B-pillar area.
A revised multilink rear suspension design enhances responsiveness, handling and stability while reducing impact harshness. Dual lower suspension arms replace the old single-arm design and distribute lateral forces more effectively to improve ride quality without sacrificing handling. The new rear suspension geometry helps keep Sonata more stable under hard braking and helps provide shorter stopping distances.
Reinforced side and cross members strengthen sub-frame mounting points and improve suspension responsiveness. Revised front sub-frame bushings are 17 percent stiffer than before and contribute to better steering feel and improved responsiveness. 2015 Sonata Sport 2.0T utilizes a new rack-mounted dual-pinion electric power steering system that offers more natural steering feel. Sport 2.0T models receive a unique sport-tuned suspension and larger 12.6-inch front brakes. These upgrades deliver increased driver confidence and a premium driving experience.
Improvements in ride and handling were validated at Hyundai's world-class facilities in Namyang, the Mojave proving grounds in California and the new test center located at the famed Nurburgring. Validating the 2015 Sonata's performance at world-class test tracks resulted in a world-class mid-size sedan that inspires confidence in a wide variety of driving conditions.
POWERTRAIN

Hyundai continues its all four-cylinder engine lineup for the 2015 Sonata. A revised 2.4-liter Theta II GDI four-cylinder engine powers SE, Limited and Sport models. The 2.4-liter four-cylinder produces 185 horsepower and 178 lb. ft. of torque. Hyundai's powertrain engineers slightly reduced peak power for the 2015 Sonata to shift the powerband downward for better responsiveness in lower-RPM situations where customers spend the majority of their time. The new Electronic Intake Continuously Variable Valve Timing (E-CVVT) improves performance in low temperatures and reduces emissions.
A revised 2.0-liter Theta II turbocharged GDI, also featuring E-CVVT, powers Sport 2.0T models. The 2.0-liter turbocharged engine is also optimized for lower-RPM drivability and it produces 245 horsepower and 260 lb. ft. of torque. The turbocharger features a smaller turbine and compressor wheel, which provide better responsiveness and more torque in the low and mid RPM range. Both Theta engines are paired with a six-speed SHIFTRONIC® automatic transmission.
SAFETY FEATURES

Sonata comes standard with seven airbags, including a new driver's knee airbag designed to help prevent the driver from sliding down the seat in a collision, which allows the other restraint systems to be more effective. Electronic Stability Control, Vehicle Stability Management, Traction Control, ABS and a Tire Pressure Monitoring System with individual tire pressure display are also standard. Projector headlamps are standard while HID headlamps are available.
Hyundai engineers implemented many active safety technologies for the 2015 Sonata to assist drivers and help prevent accidents. No longer reserved for luxury cars, advanced safety technologies such as Forward Collision Warning, Blind Spot Detection, Rear Cross Traffic Alert and a Lane Departure Warning System are all available in this midsize sedan.
Sonata's advanced Blind Spot Detection system is designed to alert drivers of an approaching vehicle in the next lane if the turn signal is activated. This Lane Change Assist technology is a segment-exclusive active safety feature. Drivers are first alerted of a vehicle in the blind spot by warning lights in the side mirrors. When the turn signal is activated, the Lane Change Assist system determines the closing speed of any vehicle in the adjacent lane to determine if the lane change is safe. If the system determines the vehicle in the other lane is closing too quickly, it sounds an audible alarm to warn the driver that the lane change is unsafe. The Lane Departure Warning System uses a forward-facing camera to recognize lane markers. If the system detects the vehicle is headed outside the lane markers, a warning light on the dashboard illuminates and an audible sound alerts the driver.
Rear Cross-traffic Alert (RCTA) is another feature derived from the 2015 Sonata's advanced Blind Spot Detection system. RCTA scans the areas to each side of the 2015 Sonata when drivers are backing out of parking spaces. If the system detects another vehicle is approaching from the side, the Sonata driver is given an audible alert. This system is another tool that helps Sonata drivers utilize the active safety technology.
CONVENIENT TECHNOLOGY

The 2015 Sonata embodies Hyundai's Modern Premium brand direction by providing convenient technology formerly reserved for luxury sedans in the mid-size segment without the premium price tag. Switching the high beams on and off manually doesn't seem like a hassle, but Sonata's High Beam Assist allows the driver to keep their eyes on the road and let the headlamps deliver maximum visibility without accidentally blinding oncoming traffic. Bright LED daytime running lights give the 2015 Sonata's face a premium look. Smart Cruise Control (SCC) with full stop capability helps make driving on the freeway less stressful. This system allows full function down to zero mph to operate seamlessly using the front-grille-mounted radar sensor. SCC enables the 2015 Sonata to help maintain safer, consistent spacing with the vehicle ahead in varied traffic conditions.
Smart trunk gives drivers a convenient hands-free way to open the trunk while keeping both feet firmly planted on the ground. The owner simply needs to approach the Sonata's trunk with the key fob in a purse or pocket and wait three seconds. The trunk will automatically open, making it easy to place groceries or luggage inside when hands are full. Rear seat passengers are treated to segment-exclusive sunshades, an option typically found on luxury cars. Feedback from current Sonata owners resulted in a height-adjustable passenger seat and now both front seats can be heated and ventilated. Even rear-seat passengers enjoy the luxury of heated seats on a cold day. A heated steering wheel will be a favorite feature for owners of the 2015 Sonata Limited equipped with the Tech package. The desire to deliver class-above value allows these convenient technologies to trickle down from the all-new Genesis to the all-new Sonata making it the most sophisticated mid-size sedan available.
MULTIMEDIA

All 2015 Sonatas come standard with iPod®/USB and auxiliary input jacks, SiriusXM® satellite radio and Bluetooth® phone connectivity with phonebook transfer and voice-recognition. Available upgrades include an 8.0-inch navigation system with downloadable apps, HD radio, Dimension or 400-watt Infinity premium audio systems with next-generation Blue Link® telematics.
Hyundai's 8.0-inch navigation system offers an enhanced display with improved touch sensitivity, a map and music split screen display and the ability to record SiriusXM presets 1-6. Switching to a preset station in the middle of your favorite song won't be an annoyance any longer. Rewind up to 22 minutes to listen to the full song or catch up on a sports broadcast. SiriusXM Travel Link® provides access to traffic information, sports scores, weather, stock prices, fuel prices and local movie times. All 2015 Sonatas equipped with navigation will also support Pandora® and SoundHound applications as well as "Eyes Free" Siri integration, which allows drivers to perform a variety of functions without taking their eyes off the road. Apple CarPlay will take iPhone integration to the next level on the 2015 Sonata later this year.
MORE BLUE LINK ENHANCEMENTS ARRIVE WITH 2015 SONATA
2015 Sonata will be the second Hyundai vehicle to offer the next-generation Blue Link system. The debut of the all-new Sonata coincides with the launch of a new Hyundai Assurance Car Care in-vehicle app.
NEXT-GENERATION BLUE LINK FEATURES
Destination Search powered by Google

– users will be able to take advantage of Google's powerful destination search via the Blue Link button (voice recognition) and navigation display, or through myhyundai.com and the Blue Link mobile app sending a destination to their 2015 Sonata

Remote Start

– now includes a timer (from 1 to 10 min.), remote stop, remote climate control and remote defroster available via the mobile app

Hyundai Assurance Car Care in-vehicle app

– gives owners another convenient option for scheduling service at their favorite dealership
HYUNDAI ASSURANCE CAR CARE IN-VEHICLE APP
The Blue Link in-vehicle car care app will be available for download onto the head unit screen of 2015 Sonatas equipped with navigation. The in-vehicle app will have similar features to the Hyundai Assurance Car Care mobile app and gives 2015 Sonata owners another convenient option for scheduling service at their favorite dealership. Features include:
Car care services

Service scheduling
Maintenance information
Warranty information
Warnings and indicators guide
Owner's manual information
Quick reference guides
Dealer locator
Roadside assistance
Blue Link information

Blue Link is an innovative telematics solution that brings seamless connectivity for safety, car care and infotainment capabilities and is offered in three packages: Assurance Connected Care, Remote and Guidance. More details regarding Hyundai Blue Link are available at www.HyundaiBlueLink.com.

TECHNICAL SPECIFICATIONS
 
2015Sonata 2.4 GDI & Sonata 2.0T
ENGINE
2.4 GDI
Type
DOHC D-CVVT (Dual Continuously Variable Valve Timing) 4-cylinder
Materials
Aluminum block and heads
Bore & Stroke
88.0 mm x 97.0 mm
Displacement
2.4 liters / 2,359 cc
Horsepower
SE/Sport/Limited: 185 @ 6,000 rpm
Torque
SE/Sport/Limited: 178 lb-ft @ 4,000 rpm
Valves per cylinder
4
Compression Ratio
11.3
2.0L Turbo
Type
DOHC D-CVVT (Dual Continuously Variable Valve Timing) 4-cylinder
Turbo Type
Twin Scroll
Materials
Aluminum block and heads
Bore & Stroke
86.0 mm x 86.0 mm
Displacement
2.0 liters / 1,998 cc
Horsepower
245 @ 6,000 rpm
Torque
260 lb-ft @ 1,350 – 4,000 rpm
Valves per cylinder
4
Compression Ratio
10.0
TRANSMISSION
6-speed electronic automatic with OD lock-up torque converter, shift lock and SHIFTRONIC™ manual shift mode
Gear ratios               
SE/Sport/Limited 2.4 GDI
2.0T
First
4.212
4.766
Second
2.637
2.946
Third
1.800
1.917
Fourth
1.386
1.420
Fifth
1.000
1.000
Sixth
0.772
0.772
Reverse
3.385
3.393
Final drive
2.885
2.885
SUSPENSION
Front
MacPherson strut with gas-charged Mando Dual Flow Damper (DFD) shock absorbers and 23-mm stabilizer bar (SE/Sport/Limited 2.4L)
MacPherson strut with gas-charged Mando Dual Flow Damper (DFD) shock absorbers and 24-mm stabilizer bar (2.0T Sport)
Rear
Independent multi-link design with coil springs, gas-charged Mando Dual Flow Damper (DFD) shock absorbers and stabilizer bar (17-mm for SE/Sport/Limited)
Independent multi-link design with stiffer coil springs, gas-charged Mando Dual Flow Damper (DFD) shock absorbers and stabilizer bar (18-mm for 2.0T Sport)
STEERING
Type
Motor-Driven Power Steering (MDPS) column-mounted, Rack-and-Pinion, Engine-RPM-Sensing (2.0T Sport is dual-pinion rack-mounted design)
Overall Ratio
14.3:1
Turns, lock to lock
2.78
Turning circle, curb to curb
35.8 ft.
BRAKES/TIRES/WHEELS
Front
Dual diagonal, split circuit, power-assisted 12.0-in. ventilated disc with pressure proportioning valves (SE/Sport/Limited 2.4L)
Dual diagonal, split circuit, power-assisted 12.6-in. ventilated disc with pressure proportioning valves (2.0T Sport, Optional on Limited)
Rear
Dual diagonal, split circuit, power-assisted 11.2-in. solid disc with pressure proportioning valves
ABS
4-wheel, 4-channel and 4-sensor with Electronic Brake-force Distribution (EBD) and ESC
Tires
P205/65R16 (SE)P215/55R17 (2.4L Sport/Limited)P235/45R18 (2.0T)T125/80D16 (Compact temporary use spare tire)
Wheels
16 x 6.5-in. alloy wheel (SE)17 x 7.0-in. alloy wheel (2.4L Sport/Limited)18 x 7.5-in. Hyper Silver alloy wheel (2.0T)
EXTERIOR DIMENSIONS
Wheelbase
110.4 in.
Overall length
191.1 in.
Overall width
73.4 in.
Overall height
58.1 in.
Tread width (front/rear)
16-in. wheels
63.5 in. / 63.8 in.
17-in. wheels
63.1 in. / 63.3 in.
18-in. wheels
62.9 in. / 63.1 in.
Coefficient of drag
0.27
Minimum ground clearance
5.3 in.
INTERIOR DIMENSIONS
Head room
Front
40.4 in.
Rear
38.0 in.
Leg room
Front
45.5 in.
Rear
35.6 in.
Shoulder room
Front
57.9 in.
Rear
56.5 in.
Hip room
Front
55.3 in.
Rear
56.1 in.
EPA passenger volume
106.1 cu.ft.
EPA cargo volume
16.3 cu. ft.
EPA total volume
122.4 cu.ft.
CAPACITIES
Fuel
18.5 gallons
CURB WEIGHT
2.4 GDI
3,252 – 3,466 lbs
2.0L Turbo
3,505 – 3,616 lbs
FUEL ECONOMY
City
Highway
Combined
2.4 GDI
TBD
TBD
TBD
2.0L Turbo
TBD
TBD
TBD
TOWING CAPACITY
Maximum towing capacity
Not Recommended
FEATURES BY TRIM LEVEL
2015 Sonata 2.4 & Sonata Sport 2.0T
nstandard     o optional   --   not available
FUNCTIONAL FEATURES
SE
Sport
Limited
Sport 2.0T
Body Construction
High-tensile steel unibody
n
n
n
n
Engine
2.4L GDI DOHC 16-valve Inline 4-cylinder
n
n
n
--
2.0L Turbo-GDI DOHC 16-valve Inline 4-cylinder
--
--
--
n
Steering
Motor-Driven Power Steering (MDPS) column-mounted, Rack-and-Pinion, Power Assisted, Engine-RPM-Sensing
n
n
n
--
Motor-Driven Power Steering (MDPS) rack-mounted, Dual-Pinion, Power Assisted, Engine-RPM-Sensing
--
--
--
n
Suspension
Front: MacPherson strut with Mando Dual Flow Damper (DFD) shock absorbers and 23-mm stabilizer bar
n
n
n
--
Front: MacPherson strut with Mando Dual Flow Damper (DFD) shock absorbers and 24-mm stabilizer bar
--
--
--
n
Rear: Independent multi-link design with coil springs, Mando Dual Flow Damper (DFD) shock absorbers and 17-mm stabilizer bar
n
n
n
--
Rear: Independent multi-link design with stiffer coil springs, Mando Dual Flow Damper (DFD) shock absorbers and 18-mm stabilizer bar
--
--
--
n
TRANSMISSION/DRIVE SYSTEMS
SE
Sport
Limited
Sport 2.0T
6-speed electronic automatic with OD lock-up torque converter, shift lock and SHIFTRONIC™ manual shift mode
n
n
n
n
Drive Mode Select
n
n
n
n
Steering wheel-mounted paddle shifters
--
--
--
n
EXTERIOR FEATURES
SE
Sport
Limited
Sport 2.0T
Folding outside mirrors, bodycolor with dual power
n
--
--
--
Folding outside mirrors, bodycolor, heated with dual power
--
n
n
n
Driver spotter mirror
n
n
--
--
Blind Spot Detection (BSD) System
--
o
n
n
Side mirror-mounted turn signal indicators
--
n
n
n
Bumpers, bodycolor
n
n
n
n
Grille, satin finish
n
--
--
--
Sport grille, 3-bar design
--
n
--
n
Grille, dark chrome
--
--
n
o
Chrome Day Light Opening (DLO)
n
n
n
n
Door handles, bodycolor
n
n
--
--
Door handles, chrome with welcome light
--
o
n
n
Rear bumper with parking sensor
--
--
o
o
Solar control glass
n
n
n
n
Front windshield, 2-speed with variable intermittent, speed sensitive
n
n
n
n
Panoramic sunroof, power glass
--
--
o
o
Door trim (DLO), glossy
--
--
o
o
Sport front bumper fascia
--
n
--
n
Sport rear diffuser
--
--
--
n
Side rocker panels w/ chrome molding
--
n
n
n
Single, chrome-tipped rear exhaust
n
--
--
--
Dual, chrome-tipped rear exhaust
--
n
n
--
Quad, chrome-tipped rear exhaust
--
--
--
n
Headlights, jeweled projector-lens
n
n
n
--
Headlights, HID Xenon
--
--
o
n
DRLs, LED
n
n
n
n
Automatic light control
o
n
n
n
Automatic High Beam
--
--
o
o
Center High Mount Stop Lamp (CHMSL)
n
n
n
n
Taillights, combination lamps
n
n
--
--
Taillights, LED
--
--
n
n
Rear lip spoiler
n
n
n
n
TIRES & WHEELS
SE
Sport
Limited
Sport 2.0T
16 x 6.5J aluminum alloy wheel w/ P205/65R16 tires
n
--
--
--
17 x 7.0J aluminum alloy w/ P215/55R17 tires
--
n
n
--
18 x 7.5J Hyper Silver aluminum alloy w/ P235/45R18 tires
--
--
--
n
Spare tire, compact temporary use (T125/80D16)
o
n
n
n
Tire mending kit
n
--
--
--
INTERIOR FEATURES
SE
Sport
Limited
Sport 2.0T
Roof trim, cloth
n
n
n
n
Metalgrain interior accents, beige and gray
n
--
--
--
Carbon fiber appearance, gray and black interiors
--
n
--
--
Woodgrain interior accents, all interior colors
--
--
n
--
3D tech appearance accents, gray and black interiors
--
--
--
n
Door sill scuff plates, plastic
n
n
--
--
Door sill scuff plates, premium metal grain
--
--
n
n
Aluminum pedals, gas & brake
--
--
--
n
Door trim, simulated leather inserts
o
n
--
--
Door trim, leather inserts with accent stitching
--
--
n
n
Door handles, chrome
--
n
n
n
Door armrest, integrated
n
n
n
n
Door pockets, small map w/ bottle holders
n
n
n
n
Sunvisors with illuminated driver and passenger vanity mirror
n
n
n
n
Shift knob, leather-wrapped
--
o
n
n
Foot brake
n
n
n
n
Electronic Parking Brake (EPB)
--
--
o
o
Floor covering, full cut-pile carpeting
n
n
n
n
Trunk lid liner
n
n
n
n
Air conditioning
n
n
n
n
Heater
n
n
n
n
Floor console-mounted rear seat vents
--
--
n
n
Cabin air filter
n
n
n
n
Dual fully automatic climate control
--
o
n
n
Rear window defroster, electronic with timer
n
n
n
n
Steering wheel, urethane
n
n
--
--
Steering wheel, leather-wrapped
--
o
n
--
Steering wheel, leather-wrapped, D-cut w/ contrast stitching
--
--
--
n
Steering wheel, tilt and telescopic
n
n
n
n
Steering wheel, audio, phone, and cruise controls
n
n
n
n
Heated steering wheel
--
--
o
--
INTERIOR ILLUMINATION
SE
Sport
Limited
Sport 2.0T
LED central dome light (door activated)
n
n
n
n
LED rear reading lights (door activated)
--
--
o(w/ Sunroof)
o(w/ Sunroof)
LED front map lights
n
n
n
n
Glove compartment light, cargo area light
n
n
n
n
Illuminated ignition key cylinder surround
n
n
n
n
I/P switch illumination (hazard)
n
n
n
n
CONVENIENCE FEATURES
SE
Sport
Limited
Sport 2.0T
Smart Cruise Control w/ Full-Stop
--
--
o
o
Electronic Parking Brake w/ Automatic Vehicle Hold
--
--
o
o
Smart Trunk, hands-free open
--
o
n
n
Power windows (w/ driver auto up/down) & door locks (auto-lock function can be enabled by dealer)
n
n
n
n
Passenger window auto up/down
--
o
n
n
Remote keyless entry system with integrated fob, alarm/panic
n
n
n
n
Proximity entry key with push button start
--
o
n
n
Remote releases, hood, trunk and fuel filler door
n
n
n
n
Front center console, fixed armrest storage box
n
n
n
n
Cupholders, (2) Front & (2) Center armrest
n
n
n
n
Door panel bottle holders (4)
n
n
n
n
12-volt outlet, center stack mounted (3)
n
n
n
n
Assist grips (4)
n
n
n
n
Rear coat hanger (1)
n
n
n
n
Glove compartment, locking with damper
n
n
n
n
Inside rearview mirror, manual day/night
n
n
--
--
Inside rearview mirror, electrochromic auto-dimming with HomeLink® & compass
--
o
n
n
Rear window manual sunshades
--
--
n
o
SEATS
SE
Sport
Limited
Sport 2.0T
Capacity
5
5
5
5
Seating surface, premium cloth
n
n
--
--
Seating surface, leather bolster/cloth insert w/ sport bolsters
--
o
--
--
Seating surface, leather
--
--
n
--
Seating surface, leather w/ contrast stitching and sport bolsters
--
--
--
n
Multi-adjustable front seats with height adjust, and seatback pockets
n
n
n
n
8-way power driver's seat with power lumbar support
o
n
n
n
6-way power front passenger's seat
--
--
n
o
Ventilated front seats
--
--
o
o
Heated front seats (adjustable temperature control)
--
n
n
n
Integrated Memory System, driver's seat and side mirrors
--
--
o
o
Heated rear seat bottom cushions
--
--
n
o
Rear seat, 60/40 split fold-down with head restraints and center armrest
n
n
n
n
Center armrest with dual cup holders
n
n
n
n
SAFETY/SECURITY FEATURES
SE
Sport
Limited
Sport 2.0T
Rearview Camera
o
n
n
n
Blind Spot Detection System (BSD)
--
o
n
n
Forward Collision Warning System (FCWS)
--
--
o
o
Lane Departure Warning System (LDWS)
--
--
o
o
Occupant Classification System (OCS)
n
n
n
n
Advanced airbags, driver and front passenger
n
n
n
n
Driver and front passenger side-impact airbags (2)
n
n
n
n
Side air curtains, front and rear passengers (2)
n
n
n
n
Driver's knee airbag
n
n
n
n
3-point outboard seatbelts
n
n
n
n
3-point inboard seatbelts (rear)
n
n
n
n
Height adjustable front-seat shoulder belt anchors
n
n
n
n
Front seatbelt pretensioners and force limiters
n
n
n
n
LATCH Lower Anchors (2 rear) and Upper Tether (3 rear) Anchors
n
n
n
n
Rear seat low-profile head restraints (rear, center, left)
n
n
n
n
Power window lock-out button
n
n
n
n
Vehicle Stability Management (VSM) and Traction Control System (TCS)
n
n
n
n
Anti-lock Braking System (ABS) with Electronic Brake-force Distribution (EBD) and Brake Assist
n
n
n
n
Tire Pressure Monitoring System (TPMS) – Individual tires
n
n
n
n
Hill-start Assist Control
n
n
n
n
Energy-absorbing Steering Column
n
n
n
n
Front and rear Crumple Zones
n
n
n
n
5-MPH Bumpers
n
n
n
n
Hood buckling creases and safety stops
n
n
n
n
Bodyside reinforcements
n
n
n
n
Shift interlock system
n
n
n
n
Steering wheel locks when key is removed
n
n
n
n
Anti-theft system integrated with remote keyless entry system and panic
n
n
n
n
Emergency internal trunk release
n
n
n
n
Immobilizer
--
o
n
n
INSTRUMENTATION
SE
Sport
Limited
Sport 2.0T
Meters/Gauges: Speedometer, tachometer, coolant temperature, fuel level, odometer, trip odometer and clock
n
n
n
n
Indicators: PRND, cruise control, turn signal/hazard, high beam, ESC/TCS and Drive Mode Select
n
n
n
n
Warning lights: Oil pressure, charge, door ajar, airbag, seatbelt, low fuel, trunk lid open, brake, check engine, ABS and TPMS
n
n
n
n
Warning chimes: Key-in-ignition with door ajar or proximity key removed w/ vehicle on and seatbelt
n
n
n
n
Drive Mode Select
n
n
n
n
4.2-inch Color LCD Trip Computer
--
o
o
o
AUDIO/CONNECTIVITY
SE
Sport
Limited
Sport 2.0T
AM/FM/SiriusXM/CD/MP3 audio system with 6 speakers (2 front-door-mounted speakers, 2 tweeters and 2 rear speakers)
n
--
--
--
5-in. color touchscreen AM/FM/SiriusXM/CD/MP3 audio system with 6 speakers (2 front-door-mounted speakers, 2 tweeters and 2 rear speakers) with multicasting and rearview camera
o
n
--
n
5-in. color touchscreen AM/FM/SiriusXM/CD/MP3 audio system with 7 Dimension® speakers (2 front speakers, 2 tweeters and 2 rear speakers), subwoofer and external amplifier (360 watts)
--
--
n
--
8-in. color touchscreen audio system with 7 Dimension® speakers (2 front speakers, 2 tweeters and 2 rear speakers), subwoofer and external amplifier with HD Radio Technology
--
o
--
--
8-in. color touchscreen navigation/audio system with 9 Infinity® speakers (2 front-door-mounted speakers, 2 tweeters and 4 rear speakers with coaxial mounted tweeters), subwoofer and external Infinity® amplifier (400 watt), with HD Radio Technology, multicasting and rearview camera
--
--
o
o
iPod®/USB and auxiliary input jacks
n
n
n
n
HD Radio Technology with multicasting
--
o
o
o
Antenna, shark fin design with SiriusXM reception
n
n
n
n
Antenna, diversity shark fin (with navigation + premium audio)
--
o
o
o
Blue Link® Telematics Gen 1
o
n
n
n
Blue Link® Telematics Gen 2
--
o
o
o
OPTIONAL FEATURES
SE
Sport
Limited
Sport 2.0T
Popular Equipment Package includes automatic light control, power driver seat with lumbar support (10-way), 5-inch color touchscreen audio display w/ rearview backup camera, Hyundai Blue Link Telematics system (Gen 1), temporary spare tire
o
--
--
--
Premium Package includes Blind Spot Detection system (BSD), chrome exterior door handles, door handle welcome light, proximity key entry w/ push button start, Smart Trunk, sport seats (leather bolster w/ cloth inserts), leather-wrapped steering wheel & shift knob, dual automatic temperature control and auto up/down front passenger window
--
o
--
--
Tech Package (requires Sport Premium Package) includes 8-inch navigation system, HD Radio Technology, Dimension premium audio, Hyundai Blue Link Telematics system (Gen 2), 4.2-inch color LCD trip computer, auto-dimming rearview mirror with HomeLink and compass
--
o
--
--
Tech Package includes panoramic sunroof, high-gloss window surround, HID headlights, 4.2-inch color LCD trip computer, 8-inch navigation system, HD Radio Technology, Infinity premium audio system, Hyundai Blue Link Telematics system (Gen 2), IMS – driver seat and outside mirrors, ventilated front seats and heated steering wheel
--
--
o
--
Ultimate Package (requires Limited Tech Package) includes Smart Cruise Control, Electronic Parking Brake (EPB), larger brakes, Lane Departure Warning System (LDWS), Forward Collision Warning (FCW), automatic high beam and Rear Parking Assistance System
--
--
o
--
Ultimate Package includes panoramic sunroof, high-gloss window surround, Lane Departure Warning System (LDWS), Forward Collision Warning (FCW), automatic high beam, Rear Parking Assistance System, Smart Cruise Control, Electronic Parking Brake (EPB), power passenger seat (6-way), rear window manual sunshades, 4.2-inch color LCD trip computer, 8-inch navigation system, Infinity premium audio system, HD Radio Technology, Hyundai Blue Link Telematics system (Gen 2), IMS – driver seat and outside mirrors, ventilated front seats and heated rear seats
--
--
--
o