Update1: A pretty glaring fact error in this article, but kindly pointed out by a loyal reader. The error surrounds the Tigershark engines versus the MultiAir engines – only the smallest 1.4-liter is a turbocharged unit.
The larger 2.0-liter and 2.4-liter Tigershark engines are naturally aspirated – meaning any horsepower gains will be more than just an ECU re-flash away.
Even so, a cold-air intake and a less-restrictive exhaust setup are sure to liberate an extra 15 ponies each – along with this engine's true shriek!
Orig Published Dec 23, 2013 @ 13:04
The Dodge Dart GT is the sportiest model in the range, and it has some really amazing styling and potential as a sport compact tuner machine.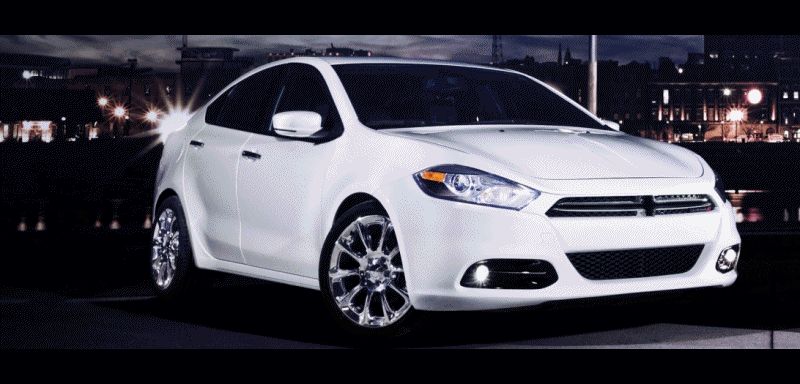 As Dodge showed at SEMA 2013, the Scat Pack Club tuning kits can turn this from a Corolla-fighter into a track-able Viper chase car.
Let's assume all OEM turbo/intercooled cars are tuned for efficiency and regular gasoline. This is certainly the case for the Dart Aero, which does not require premium fuel.

The core package of this Dart GT is the 2.4-liter Tigershark engine, which comes with the GT's six-speed manual from just $21,000.
This is a new "metric" I just made up. But imagine the tradition power-to-weight or bang/buck ratios, except this time we are looking for the maximum turbo engine displacement, divided by cost.
At 2.4-liters and delivering 184 horsepower and 171 pound-feet of torque, this Tigershark turbocharger is not working very hard.

Edit: the 2.4-liter is not turbocharged.
The 1.4-liter MultiAir is the only turbocharged engine in the range.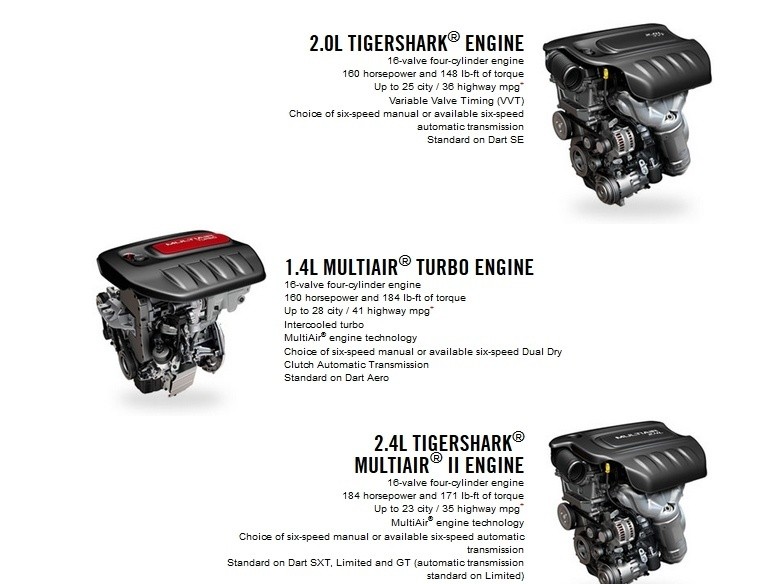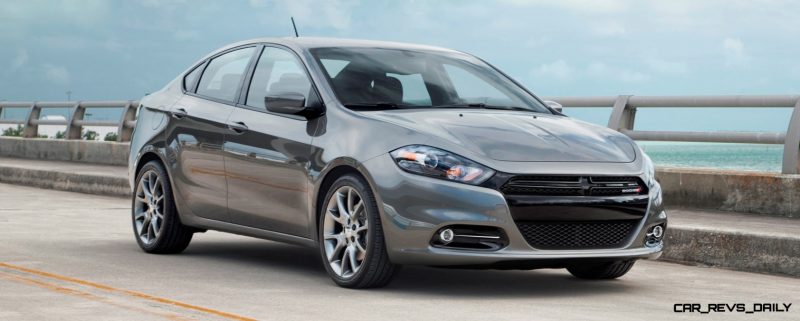 Across other uses in the Abarth 500 and others, this engine runs max boost levels between 18 and 22 PSI from stock. If the Tigershark MultiAir 1.4L were to hit these boost levels, and is running premium fuel, a conservative power estimate is 220 horsepower.
The top-rated chip tuning kits are about $600.
As far as induction and exhaust, let's say the Dart's 2.4-liter could hit 205 horsepower.
The math adds up to a Dodge Dart that could be running 6.3-second sprints to 60 mph — with just a tiny bit of aftermarket assistance.
2014 Dodge Dart – Exteriors